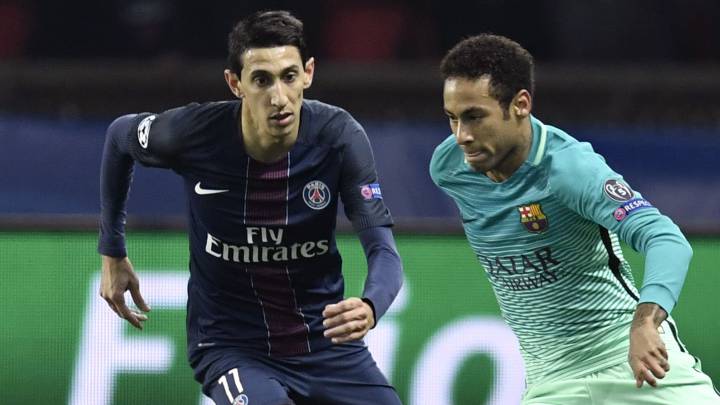 Paris Saint-Germain are looking to find ways to sidestep paying the extortionate taxes and other fees that would be incurred by triggering Neymar's buy-out clause. On top of the 222 million euros stipulated in the player's buy-out, an additional 70 million would also need to be paid in services taxes. That simply isn't a viable option for the French club, who hope they can sit down with Barça to find an alternative which will suit both parties.
PSG willing to include trio in Neymar deal
Sources close to PSG have told AS that the club is willing to include one or more players in the operation to deter Neymar from turning up at LaLiga's Madrid headquarters to buy himself out of his contract with Barcelona. The players who PSG are open to trade are: Ángel Di María (the punitive clause which Real Madrid inserted into his contract with Manchester United in 2014, which prohibited him from joining Barcelona, has now expired), Blaise Matuidi (who is on Juventus' agenda) and Lucas Moura, a close friend of Neymar's.

Barcelona president Josep Maria Bartomeu is not prepared, at least not right at this moment, to sit down with PSG directors to discuss Neymar. And furthermore, Barça General Counsel Román Gomez Ponti, who is on his way back to Spain for issues relating to the US tour, has been instructed that the club is not prepared to negociate Neymar's transfer even while there is a chance the buy-out could be triggered.