Depor 0-3 Real Madrid LaLiga 2017: Match report, Bale scores, Ramos sent off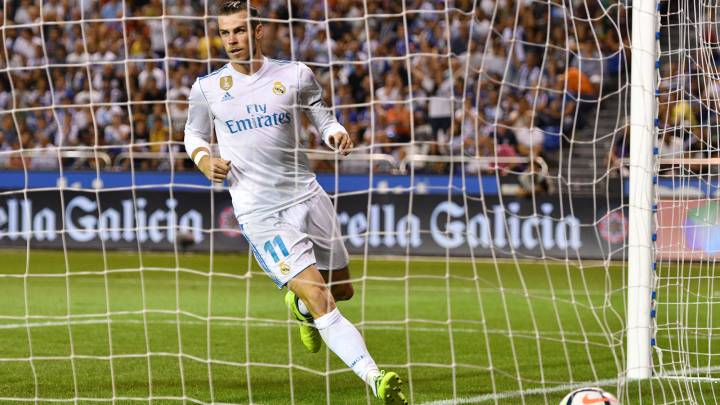 Deportivo la Coruña 0-3 Real Madrid: match report
Real Madrid started the defence of their Liga title up north in A Coruña at the Riazor as Pepe Mel's Depor looked to put a spanner in the works of what many believe will be a stroll to another league title winning season.
Depor were putting that theory to the test early on and Florin Andone had already tested Keylor Navas twice from one-on-ones but failed to beat him on both occasions.
Zakaria Bakkali was lively too if not a little rash and he headed a decent chance from a corner over the bar just minutes after Andone's two chances.
None of that seemed to matter after 20 minutes as a Modric shot from distance was parried by Ruben Martinez and Benzema got a toe to the rebound only for Bale, unmarked, to poke it home at the far post. Real Madrid were up and running.
Just seven minutes later, two of Real Madrid's Brazilians teamed up as Marcelo drilled a low, hard cross to the back post and Casemiro was at the back post to tap that one home. If Real Madrid weren't excellent, they were proving prolific in front of goal.
Andone continued to wage a war against Real Madrid's back four with Nacho and Dani Carvajal in line for some particularly explosive affairs. Ramos was not left out either and when the Romanian was out on the left side, himself and the Real Madrid captain had a couple of flashpoints.
That was how the half would end with Real Madrid two goals to the good and Andone continuing to knock on their back door with no answer.
Sergio Ramos was lucky not to see red in the second half as he put a clear hand up into Fabian Schär's face and only received a booking. Just moments later, Ramos cleared off the line to foil Andone once again.

The game, at that stage, was still tense and if you asked a Depor fan, up for the taking. That was before Toni Kroos, after 62 minutes got on the end of a Bale cutback after good work from Benzema to put the Welshman through. The German drove home the third and all of a sudden an uphill battle was starting to look like a monumental one.
Guilherme rattled a shot off the crossbar and Depor tried but it was futile as Real Madrid were always able to keep their three goal lead and Depor couldn't get close. There was still time for late drama though as Dani Carvajal went through Bruna Gama and gave away a penalty before Florin Andone stepped up and missed it.
And then, Sergio Ramos, on a yellow, jumped in the air with Borje Valle and was adjudged to have caught him to receive his second yellow and his marching orders to receive the 23rd red card of his career.
Real Madrid would have liked an easier game to start their LaLiga season but the three points will surely ease their tired bodies. Depor might have been half expecting the result given how much Real Madrid were talked up after the Super Cup.
In any case, it's three points out of three for Real Madrid and back to the drawing board for Pepe Mel.
Deportivo vs Real Madrid live stream online: latest news
 That's it from Riazor!
90'+2' Ramos is sent off. An elbow on Borja Valle in the air and he's gone.
90'  Andone misses. Navas gets a finger tip to it and it's a corner. Poor Andone. He has battled all night and probably deserved something. But that's football.
88'  Carvajal takes Bruno Gama down in the box and they win the penalty. 
87'  Just a few minutes left but time enough for a little battle between Ramos and Andone as the Depor striker turns the defender upside down with a shoulder charge. Free Real Madrid.
85'  Asensio wins a free. He gets up and brushes himself off to take it too. Martinez has to punch it away.
84'  Carvajal flying into enemy territory and gets a little pull back. Book comes out and Mosquera goes into it. 
80' Bale is taken off for Lucas Vazquez.
78'  Asensio with a lovely cross and Benzema takes it down and passes to Bale. The Welshman plays it back to Modric but he dribbles one wide with a partly mishit shot.
75'  Marcelo with a volley after a half-cleared ball falls to him. Miles over the bar but worth an effort and there was nothing else he could do.
72' Marcos Llorente makes his debut for Real Madrid. Casemiro the man to go off.
69'  Bale has a speculative effort but it goes well over.
66' Asensio comes on for Isco. 
65' Adrian on for Celso Borges.
64'  Guilherme makes space for himself in the box after it looked like the chance was gone and absolutely belts one against the crossbar. Navas didn't know where it was! 
62' GOAL! Bale pulls it back to Kroos and the German makes absolutely no mistake. That should be the end of that!
61' A Casemiro style challenge on Casemiro as Cartabia takes down the midfielder as he breaks forward. Booked for it too.
59'  Andone again. He plays it towards goal and Ramos stops it on the line and Navas smothers it. Close call.
58'  Corner Depor. 
57' Modric booked now. A very frustrating night in general for Real Madrid. He pulled down Luisinho.
55'  Modric walking through Depor's defense but doesn't make enough space and time to shoot. He does eventually and it's blocked ad put out for a corner. Comes to nothing.
52'  Yellow for both. Ramos and Schar. But the replays show that Ramos threw his hand into the defender's face.
52'  It's all kicking off. Ramos is said to have hit Schar. Both are booked.
51'  Kroos with a shot after Modric thought he was fouled. Takes a nick of Sidnei and Real Madrid have a corner.
48'  Guilherme with a strike but it's deflected straight into the arms of Keylor Navas.
No changes for either side at half-time.
46'  We are back underway at the Riazor.
Hard to properly appraise the situation at the moment. Real Madrid far from convincing but 2-0 up. Depor haven't been bad but might be being saved by Andone's dynamism and determination.
45'+1'  HALF-TIME! Bale and Casemiro goals give Real Madrid the advantage.
45'  Bakkali on thin ice now as he jumps in on Nacho. Already on a yellow from earlier.
44'  Andone battling Ramos again and he falls to the ground and says the defender threw an elbow. Referee doesn't even blink. No dice!
43'  Andone with another header and this time Navas is comfortable. He is everywhere tonight.
41'  Depor break and Andone again probind and asking questions but loses out to Marcelo this time.
39'  Nacho fouls Andone again. No card.
37'  Luisinho with the cross and Andone heads it but it flies over the bar. 
35'  Bakkali tries with a cross after some decent work down the left but it's far too long. 
31'  Andone gives away a throw with Nacho looking after him but he swears to the ref that he didn't touch it. Ref knows better.
29'  Carvajal is down and Depor keep playing. Real Madrid want them to put the ball out but they don't. 
26' Casemiro slots home at the back post. Marcelo sends a cross flying straight across the mouth of the goal and the defensive midfielder is there to knock it home.
24' Bakkali tries to go around Carvajal and when the right-back jumps in front of him and positions himself to win the ball, Bakkali takes him out of it. Silly and erratic challenge.
22'  Nacho with a foul on Andone as Depor try to build something. Gets away with a card too and the Riazor wanted one.
20' GOAL! Bale. Shot comes in from Modric and Ruben Martinez parries. Benzema gets a touch to it and Bale is there to just tap it home. Handy. Depor will be upset with that one after such a good start.
19'  Bakkali with a cross after a good move by Depor. Nacho clears with the header and Bakkali goes in again with it. Depor far more physical than Real Madrid and it seems the reigning champions weren't expecting it.
18'  Kroos in the box and under serious pressure from Juanfran. He skies his shot and has a look at the ref for a penalty but nothing.
16'  Guilherme gets the rebound from the free and drives the shot over from outside the box.
16'  Ramos takes down Andone now as he gets revenge. Quite the battle going on between the two.
15'  Bale lurking at the back post again. Ramos fouled by Andone as Depor try to break.
13'  Depor are not happy to let Real Madrid have it all their own way tonight. Casemiro fouled.
11'  And up the other end as Nacho and Bakkali battle for a long ball, Bakkali fouls the defender. Riazor don't agree but of course they wouldn't!
11'  Casemiro with a foul on Juanfran. 
9'  Bale arrives slightly late on Sidnei in the air. Free to Depor.
8'  Bakkali free from the corner as Marcelo lets him go. he heads over though.
8'  What a pass and Andone caught out by Andone. He is one on one and Navas saves. Ramos really caught napping there. 
7'  Up the other end and Andone and he gets a strike away that tests Keylor Navas. Nice move from Depor and has the Riazor on their feet! 
6'  Dani Carvajal takes it down and sends one towards Benzema but Schar steps in front of it.
5'  All Real Madrid early on as expected.
This little lad won't see his favourite player tonight...but maybe he'll work out the right way to put on a shirt ;-) 

3'  Ball into the box for Bale but he sends it down towards goal and Depor get it away.
1'  We are underway at the Riazor! 
A minute's silence for the victoms of the Barcelona attacks respectfully observed.
Deportivo coach Pepe Mel spoke ahead of the game about one of Madrid's new, and rising, young stars, Marco Asensio. He may then be delighted to see him on the bench.
We were talking before about racheting up consecutive achievements, and if Zidane's boys score at Riazor tonight it will be 69 games without failing to do so. Utterly incredible! Here's how they got to 67...and then there was the second leg in the Spanish Super Cup.

The Real Madrid starting line up is as expected so the question will just be how Zidane gets them shaped. Some people are expecting a 4-4-2 but it'll likely feel more like a 4-3-1-2 with Isco supporting Bale and Benzema.
The benches for both teams look like this:Deportivo subs: Tyton, Navarro, Arribas, Adrián, Borja Valle, Bruno Gama, Edu ExpósitoReal Madrid subs: Kiko Casilla, Varane, Theo, Lucas Vázquez, Llorente, Asensio, Ceballos
Real Madrid XI: Keylor Navas, Carvajal, Ramos, Nacho, Marcelo, Casemiro, Kroos, Modric, Isco, Bale, Benzema
Deportivo XI: Rubén, Juanfran, Schär, Sidnei, Luisinho, Mosquera, Guilherme, Borges, Cartabia, Andone, Bakkali
The visitors tonight will be targeting a ninth consecutive opening day victory in LaLiga. Last year Los Blancos scored three without reply away to Real Sociedad.
Real Madrid's most likely title rivals, as is the case most seasons, are in action at the moment. Coming up to half an hour played and there have been no goals to shout about. You can follow all the action here.

Deportivo vs Real Madrid live stream: LaLiga match preview
Depor host reigning Liga champions Real Madrid at Riazor looking to build on the improvement generated last season after the arrival of Pepe Mel in March. Zinedine Zidane's side will be aiming to maintain a record of scoring in every game that stretches back 68 games to the semi-finals of the 2015-16 Champions League, when Manchester City became the last side to shut out the free-scoring Merengues.
Real Madrid
Zidane has overseen a successful start to the season at the Bernabéu with victories over Manchester United in the European Super Cup and Barcelona in the national equivalent, beating the eternal rival 5-1 on aggregate. Madrid were defeated just three times last season, by Sevilla, Valencia and Barcelona, and thrashed Depor 6-2 in this fixture during the run-in as Zidane's side claimed a first Liga title since 2011-12.
The Real boss has few injury concerns going into the opening game of the season and as his side showed over two legs against Barcelona, plenty of options available in a campaign that will see the Liga and European champions attempt to pull off an unprecedented single-season sextuple.
Zidane will have to manage without Cristiano Ronaldo, the Portuguese currently serving a five-match ban for shoving the referee during the opening leg of the Super Cup tie against Barcelona but in Marco Asensio he has the most exciting young player in the league at his disposal to cover for the absence of a player with 11 career Liga goals against Sunday's opposition.
Gareth Bale could be in line for a first Liga start in four months after missing the end of 2016-17 with a calf problem while Karim Benzema found his form in the 2-0 victory over Barcelona in the Bernabéu last Wednesday, scoring a fine goal and looking sharp and participative throughout the game.
Casemiro and Isco were both rested in the Bernabéu and will probably return to the starting line-up in Riazor with the back four likely to be unchanged.
Deportivo
Mel came in to steady the ship with Depor in 16th and guided the side to safety – albeit with no improvement in league position – but it was the manner of the Galician's survival that suggested there could be more to come this season. Barcelona were beaten in Riazor and Atlético held while Mel managed to avoid the pitfall of losing to any side outside the top 10 during his three-month tenure, a key component of his successful fireman's job.
Depor have not profited in terms of squad depth from the summer window, losing seasoned campaigners in Pablo Ínsua, Oriol Riera, Fayçal Fajr and Alex Bergantiños while also seeing some of their attacking verve in the shape of Marlos Moreno and Gaël Kakuta return to their parent clubs.
Mel's side struggled for goals last season, scoring just 43, and desperately missed the keen eye for the onion bag of Lucas Pérez. Negotiations are ongoing to bring the 28-year-old back from his Arsenal purgatory but it will not happen in time to aid Depor against Madrid.
Encouragement for Depor fans was abundant in pre-season, Mel's side scoring freely in friendly matches against lower-league opposition and loan deals for Aston Villa's Carles Gil, Valencia's Zakaria Bakkali and Real Madrid's Fede Valverde should provide some youthful verve throughout the campaign, although the Castilla youngster is ineligible for this one courtesy of the so-called "fear clause."
However, the side's only game against an opponent of similar standing to Madrid during the off-season ended in a 4-0 defeat at Porto.
---
Deportivo vs Real Madrid live stream online: potential line-ups
Deportivo XI: Rubén, Juanfran, Schär, Sidnei, Luisinho, Cartabia, Borges, Guilherme, Mosquera, Bakkali, Andone
Real Madrid XI: Navas, Carvajal, Nacho, Ramos, Marcelo/Theo, Modric, Casemiro, Kroos, Isco, Bale, Benzema
---
Deportivo vs Real Madrid live online: LaLiga live betting
Depor are chalked up at fairly long odds of 17/2 to cause an upset in Riazor with Real priced at 3/10. In the goalscorer stakes, Karim Benzema is favourite to hit the net first at 11/4 with Depor's closest challenger, Florin Andone, at 11/1. Casemiro, who has been in good scoring form of late, is chalked up at 22/1.
Place your bet on Deportivo vs Real Madrid here