Real Madrid 2-1 Fiorentina: Trofeo Santiago Bernabéu, match report, as it happened, goals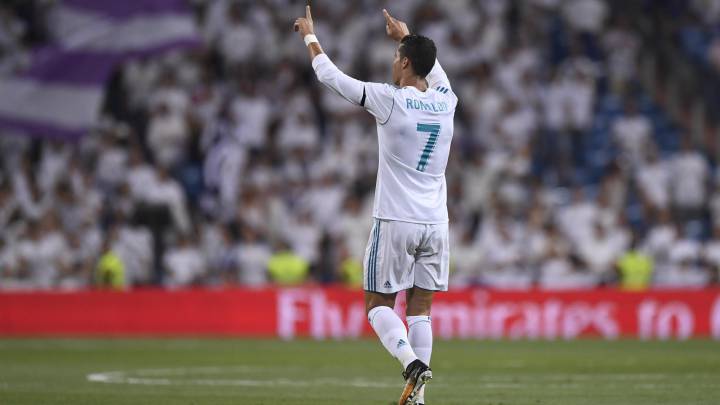 Real Madrid 2-1 Fiorentina: match report
Real Madrid won the 39th edition of the Santiago Bernabeu Trophy on Wednesday night with a 2-1 victory over Fiorentina with goals from Borja Mayoral and Cristiano Ronaldo striking out an opener from Jordan Veretout.
Fiorentina started far better than their opponents and had the lead after four minutes when Jordan Veretout fired home from just outside the box as Kiko Casilla stood still watching the ball go in off the post.
It wasn't long though before Real Madrid had them pegged back when Borja Mayoral scored three minutes later when Ronaldo made space for himself on the left and let fly with a cross/shot that found Mayoral at the back post and he poked home.
It was Ronaldo involved later to send Real Madrid ahead too and it was the moment of the match. Ronaldo got the ball in a similar position as the one before. He did a stepover and cut inside before waiting for the perfect chance to unleash a curling right footed effort into the top corner. No chance for Sportiello as he watched it sail over his head.
Real Madrid were ahead and that's where they would stay.
Zinedine Zidane made a number of changes in the second half with Ronaldo, Achraf and Theo the only players staying on for the entire game with those players unlikely to play any part on Sunday in LaLiga against Valencia.
In any case, Real Madrid won a tame affair to claim their 12th consecutive Bernabeu Trophy and their 27th time in it's history. Most importantly, however, is that they have Valencia on Sunday at their home stadium and appeared to get through tonight with a clean bill of health.

Real Madrid vs Fiorentina live stream online: latest news
That's it! Tame second half but Real Madrid win the game thanks to a wonder strike from Ronaldo.
86'  Arrives out to Tejero and he lets fly. Very close. He was miled out too.
85'  Theo Hernandez wins a corner. Kroos line sit up. 
82'  Shot by Isco is saved and put into Ronaldo's path by Dragowski. Ronaldo drives the shot back towards goal and it hits the post and flies clear. So close.
80'  Luca Zidane makes a dog's dinner of a routine cross. he spills it and nearly lets Fiorentina in. Carlos Sanchez ends up with a shot but it's blocked.
78'  Ronaldo takes off down the left but comes back inside and passes. Not overdoing it tonight. Nobody is.
77'  Achraf with a cross and it takes a deflection but Dragowski grabs it before it cross the endline. Looked like it went out. 
76'  Benassi with a chance on his left foot but it hits the side netting. Never looked entirely comfortable.
72'  A host of new changes for Real Madrid. Vazquez, Llorente, Ceballos and Mayoral off with Bale, Kroos, Casemiro and Oscar on.
69'  Isco with a lovely pass into Lucas Vazquez who had made a wonderful run in behind the back. He skies it though.
68'  Cristoforo booked for a foul on Llorente.
66'  Ball comes in from a free. Fiorentina get a head to it. Carlos Sanchez falls to the ground and wants something but referee isn't giving it.
64'  Theo with a cross. Gradowski gathers. Theo been unusually subdued tonight. 
61' Asensio coming off for Isco. The player gets a huge round of applause and a massive cheer for "Asensioooo..Asensioooo..." He is replaced by another Bernabeu hero in Isco.
58'  Vazquez with the corner and Fiorentina beat it away again. REal Madrid really pushing for a third now.
57'  Ronaldo looking for another goal. Ball in behind by Achraf but Fiorentina clear it.
56'  Hagi with a corner and Cristoforo arrives with the header shotrly after but it's way wide. 
54'  Achraf down the left and he waits before trying to send it back across but it's blocked. Nice move. Just after that, and from the corner, Asensio is through and he pulls it back to Mayoral. The striker gets it lost between his feet and Fiorentina live to fight another day.
53'  Asensio gives Ceballos the thumbs up after he tries to thread one through to his teammate. 
Big cheer rings around the Bernabeu as Isco warms up.
52'  Ronaldo sends Theo away but too much pace on it.
51'  Long ball into Babacar is far too long. 
49' Benassi booked for a tackle on Ceballos. There had been a few prior to that and the ref said enough was enough.
48'  Achraf fouled.
47' Luca Zidane in goals instead of Casilla to start the second half. Nacho replaced by Manu and Alvaro Tejero replaces Sergio Ramos.
46'  We are back underway at the Bernabeu.
Ronaldo takes the captain's armband off Ramos as the central defender heads to the bench for the second half.
45'  HALF-TIME! 2-1 thanks to a wonder goal by Ronaldo. Mayoral with the leveller after Fiorentina had taken the lead.
45'  Ceballos with some neat footwork before he lets a cross into the box. Can't be reached by Ronaldo and a couple more Real Madrid attackers lurking around that area.
44'  Mayoral gets the ball from Achraf out on the right and drives a shot at Sportiello. The keeper puts it out for a corner. Good effort from outside the box.
42'  Ronaldo fouled. Real Madrid remain in possession.
41'  Mayoral tries to go around Pezzella but the defender stands firm and Mayoral loses out.
40'  They try to break by Vazquez was fouled and they won the ball back unfairly. Free Real Madrid.
39'  Long ball over the top and Ronaldo tries to head it into the path of Achraf but it goes out for a throw instead. Can Fiorentina mount a challenge before the end of the first half. Chasing shadows at the moment.
37'  Ronaldo really took the sting out of Fiorentina's challenge. It had been flagging but that goal was brilliant. All Real Madrid now.
33' GOAL! What a finish by Ronaldo. Incredible as he takes the ball down the left, cuts inside and feigns a shot before unleashing one beyond Sportiello. No chance for the keeper. 
32'  Lucas takes Badelj down and hurts himself in the process. Free to Fiorentina as the Real Madrid player picks himself up off the ground.
30'  Nacho backheel sets up Vazquez to send the ball into the box. His cross is met by a Fiorentina head though and cleared.
29'  Veretout catches Dani Ceballos and the midfielder grabs his ankle. Free to Real Madrid. Still 1-1. 
26'  Simeone doing down that left hand side. His cross has too much meat on it this time though.
23'  Theo with the low cross to the front post. Blocked and out for a corner that Asensio races out to take. Nacho meets it and puts it just over the bar.
21'  A corner in fact. Fiorentina causing problems for Real Madrid at set-pieces. But that one isn't troubling anybody as the ball goes way too far over the top. 
21'  Gio Simeone chased down by Nacho and Giorentina win a throw.
19'  Corner for Fiorentina. And the ball comes back off the crossbar. Astori with the effort and as it comes down off the bar, it hits Casilla, who knew nothing about it.
16'  Achraf with the ball on the right. He cuts inside on his left and the cross is too low. Clearly not his stronger foot. Good work to get the chance though. The youngster is looking comfortable at right-back in this side.
14'  Ronaldo flicks the ball to the back post. Mayoral and Asensio there and the former sees his shot blocked. Fiorentina taking the optional approach to defending when Real Madrid break. 
13'  Real Madrid in control of this one. Fiorentina started well but can't get a hold of the ball now. Lucas Vazquez gets upturned and loses possession before Gio Simeone breaks and gets his shot blocked.
11'  Ronaldo with another cross that nearly reaches the back post but Fiorentina manage to get it away.
9'  Corner for Fiorentina.
7' GOAL! Ronaldo with the stepover on the left before he fires across goal and Mayoral taps home.
5'  Achraf with poor control and lets the ball go out for a throw. Fiorentina did not come to Madrid for the sake of it. Playing some very attacking stuff. 
4' GOAL!Veretour with the finish. 1-0. Nice finish too as he drives home from the edge of the penalty area with the help of the post.
3'  Long ball down the left is too long for Achraf.
1'  Very early chance for Fiorentina. Ball comes in from the right and Simeone heads towards Casilla but the keeper saves. 
1'  We are underway! 
A minute's silence before the game. 
Two teams emerge onto the field for the 39th edition of the Santiago Bernabeu Trophy! 
And in Real Madrid go as they get ready for a final pep talk from Zidane before the game.
Real Madrid have scored in 69 games, which is close to Santos' record but tonight won't count. It shouldn't stop Ronaldo from looking to get on the scoresheet though.
Apparently 35 teams asked about Marcos Llorente this summer. He's starting tonight and came on against Depor as he seems to be starting to feature in Zidane's plans.
Real Madrid currently warming up as Antonio Pintus puts them through their paces.
Former Real Betis player German Pezzella starts too.
Ronaldo starts as does Ramos, who is suspended for the game at the weekend. Meanwhile, Achraf gets a chance having been drafted into the first team squad to back up Dani Carvajal recently and Theo Hernandez gets a chance too.
Real Madrid team news: Casilla; Achraf, Ramos, Nacho, Theo; Lucas, Llorente, Ceballos, Asensio; Ronaldo, Mayoral.
There were 880 tickets available for the game earlier, which is a sign that there is plenty of interest in this Real Madrid side. Sure to be close to a full house in Madrid tonight.
Just a quick recap of the Real Madrid squad for tonight: Goalkeepers: Navas, Casilla and Luca. Defenders: Carvajal, Ramos, Nacho, Marcelo, Theo, Achraf, Tejero and M. Hernando. Midfielders: Kroos, Modric, Casemiro, Asensio, Isco, Ceballos, M. Llorente and Óscar. Forwards: Cristiano Ronaldo, Bale, Benzema, Lucas Vázquez and B. Mayoral.
Wondering how to see the game in your neck of the woods? Here's how. But seriously, why would you choose not to join our Robbie for his insight, wit and Irish charm? It may only be a friendly but he's buzzing to bring you all the action.
Hello and welcome to our build up to the Santiago Bernabéu Trophy match that tonight sees Real Madrid welcome Italian side Fiorentina.
Real Madrid vs Fiorentina live stream online: match preview
On their way to 11 consecutive wins in the exhibition game, Real Madrid have beaten Mexico's Pumas, Anderlecht, Partizan, Sporting Clube de Portugal, Rosenborg, Peñarol, Millonarios, Al-Sadd, Galatasaray twice and Stade de Reims.
Real Madrid
Zinedine Zidane admits that he has the squad he wants now and hopes it doesn't change. There are a few question marks over some on the bench, however, and more who didn't make the squad against Deportivo la Coruña and it will be a good chance for Zidane and fans alike to appraise the talent at the other end of the squad.
The reigning Liga champions welcome Valencia to the same venue on Sunday night and will want to ensure that they avoid injury but you can expect a balance of the more veteran members of the panel along with some of the youth that arrived during the summer.
Cristiano Ronaldo was handed down a five-game ban, which was uphelp by TAD on Wedensday night, and still has three of those encounters to go before he can wear the white strip again this season. He missed the entire preseason and only arrived back after Real Madrid had played Barcelona in the Miami Clásico but is in perfect shape. Zidane has confirmed he will play the Portuguese star the full 90 minutes to get him gametime and hone his match sharpness ahead of the international break and his eventual return to the first team setup.
Zidane says, "Let's hope that we continue on in the same vein. We've made a really good start but we're aware that it's a long old season. The LaLiga campaign has only started and there are 38 matchdays in total and it'll require a massive effort. We're happy with how we're performing. We want to continue in the same vein, particularly in terms of the way that we're playing. If we can continue to play well then we'll be happy".
Fiorentina
The Italians suffered a comprehensive 3-0 loss to Inter Milan to start their Serie A adventure. They have added Carlos Sanchez from Aston Villa along with Marco Benassi from Torino but the main signing, and the one many Madrid fans will be watching tomorrow night is Gio Simeone, the song of Atletico Madrid manager Diego Simeone. He was brought in during the summer from Genoa for €15 million. All three are in the squad tomorrow including Jordan Veretout, another former Aston Villa player and the Real Betis player currently on loan in Italy, German Pezzella.
Fiorentina squad:
Astori, Badelj, Benassi, Biraghi, Cerofolini, Chiesa, Cristoforo, Dias, Dragowski, Eysseric, Gaspar, Hagi, Babacar, Mati Fernandez, Milenkovic, Olivera, Hristov, Pezzella, Sanchez, Simeone, Sportiello, Tomovic, Veretout, Vitor Hugo, Zekhnini.
Trofeo Santiago Bernabeú Trophy honours list
Real Madrid 26
Bayern Munich 3
Milan 2
Inter 2
Hamburg 1
Dynamo Kiev 1
Ajax 1
Pumas 1