2018 WORLD CUP | SPAIN
Sergio Ramos: "Piqué has always been a shining example for Spain"
"All we ask is that we all pull together in the same direction. Diverting attention with the whole whistling issue doesn't help anyone", said the Spain captain.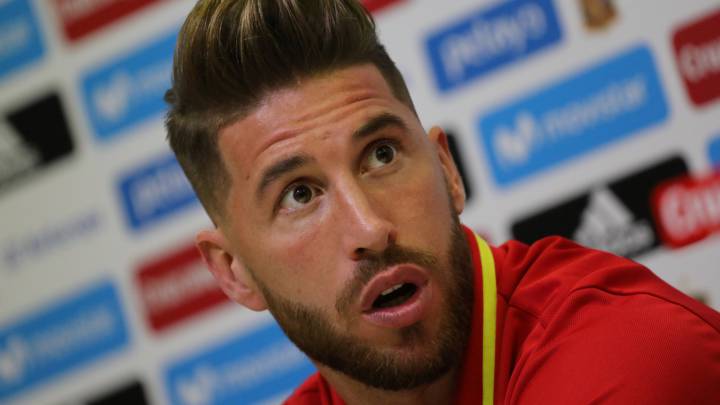 Sergio Ramos faced reporters today to preview tomorrow's clash with Italy at the Bernabéu. The captain made a plea to fans not to whistle his central defensive partner Gerard Piqué.
Italy, strong at the back: "Italy are a great team - not just defensively although traditionally they have always been very resilient and difficult to break down. They also have a lot of quality in attack. There's a lot at stake for both of us tomorrow, being at the World Cup depends on it but we are at home - at the Bernabéu, which obliges visiting teams to show respect; we are hoping to have a lot of support from our fans. It's going to be a special, unique day for football lovers. We'll be trying to impose our philosophy and take all three points".
Possibly Ramos' last World Cup?
The end of a hugely successful generation: "I always take each day as it comes and try to enjoy every moment of this fantastic sport. I am not thinking that this might be my last World Cup - quite the opposite; I'm only thinking about the objective which is to make sure we are in Russia. I'd be lying if I told you that the idea that this is my last World Cup is on my mind. I will be trying to prolong my career for as much as I can because football has brought me so much happiness - if something makes you happy, why would you want it to end?"
Bernabéu packed to the rafters: "We have to generate a great atmospher - like what we experienced in Turin. This is a very important game against a great rival. We want Italy to notiice our fans presence and hear them".
Keeping the younger players level-headed
Asensio: "He is in a golden moment but it's important to remember that it's not a good idea to heap praise on younger players. He's relaxed and his feet are firmly on the ground... As I say, it's not good for him to be overloaded with pressure - at Real Madrid or with the national team; he should be just enjoying it. He's a wonderful player. His progression is all down to him alone. My job as the captain is top advise the younger players. I don't think that Marco's going to have any problems nor will he let things go to his head"
Ramos calls for support and respect
Whistling Piqué: "The whole whistling issue always crops up every time the national team is on duty and there are always questions. We have made our feelings absolutely clear - we have said many times now that the players who wear the national team shirt and play for their country deserve the utmost respect. Piqué has always set a good example for the national team and we ask the fans to get behind us and make us feel like we are playing at home. Previous games at the Bernabéu have sold out and with the fans behind us, we've been flying. That's what we want, that all of us are as one and pushing in the same direction. Diverting attention with the whole whistling issue doesn't help anyone".