Spain 3-0 Italy 2018 World Cup qualifier: match report, goals, action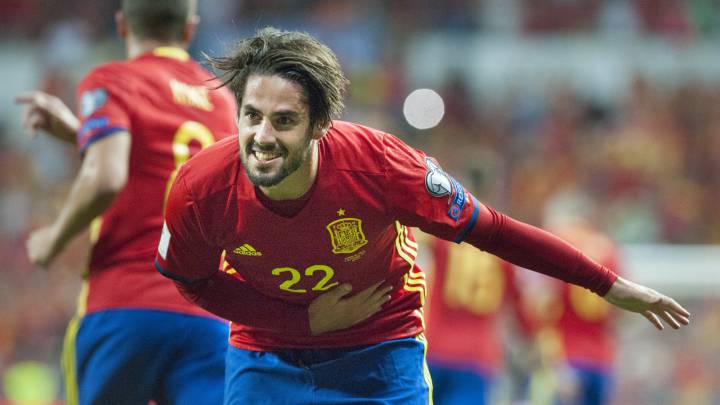 Spain 3-0 Italy: match report
In a game that has been looked forward to since the draw was made as both a spectacle and to iron out the summit of Group G, Italy fell apart while Julen Lopetegui's side put in perhaps their best performance under his watch.
The return game in Italy had finished in a goalless stalemate but after 14 minutes, we were assured that a bore draw would not be repeated. Marco Asensio, making his first competitive international start, was taken down by Leonardo Bonucci outide the box and Isco stepped up to guide the free perfectly over the wall and beyond Gianluigi Buffon's reach.
It was the earliest signs of what would become a man-of-the-match performance by the 25-year-old and the start of a Italy's true frustrations. Set up to sit deep and defend, they had been breached and there was little or nothing they could do to draw level, let alone go ahead of a well-drilled, exceptionally talented Spain side.
That frustration grew exponentially on 40 minutes when Iniesta found Isco at the edge of the box and he cut inside before shooting back across his body with his left and beyond Buffon yet again. it was as though Spain had found the formula to dismantle Italy's catenaccio - and it came in the form of a bearded, long-haired attacking midfielder from Malaga. It was Isco who was delivering the killer blows but the combination of Iniesta's vision and execution along with Asensio's speed was creating massive problems for the visitors. The hosts were perfect all night and provided the ideal blend of defensive solidity with ambition in attack.
The half-time whistle arrived and Giampiero Ventura would have a chance to freshen up his instructions and try to get his side back into contention. A tall task that proved impossible.
That never happened though because Isco was having a night to remember, which was capped off with a wonderful nutmeg of Marco Verratti as he lost two Italian players before creating yet another attack. He was proving himself to be as slippery as an eel and Italy couldn't get a hold on him. Lopetegui had trained with a false nine and with Isco dropping deep into influential positions, Italy were in trouble from the off.
Alvaro Morata returned to the Santiago Bernabeu just a few weeks after leaving to sign with Chelsea and he got straight back to business as both he and his former club teammate, Sergio Ramos, combined before Morata finished to the roof of the net after 70 minutes. Spain were soaring while Italy's hopes of an automatic qualification spot were disappearing into the night sky.
David Villa returned for his first appearance in a Spain shirt since the 2014 World Cup and while he only got a couple of minutes, the crowd was more than pleased to see him back. There was a divide in the Bernabeu over whether to boo or cheer Gerard Piqué but there was no such cognitive dissonance when Villa was sprang from the bench.
The good news was endless for Spain fans as the clock ticked down. Isco was a world apart from anyone on the night, Morata scored on his return to the Bernabeu and Villa is back on the scene but the bottom line is that Spain are back in control of their own destiny atop Group G with three games to play while Italy will be faced with some very difficult questions as to their tactics and display on a night when nothing went right for them.
Spain vs Italy live stream online: latest news
90'+2' No time left. Spain beat Italy 3-0. That was comprehensive. 
90'+2'  One last chance for De Gea to show off his skills. Gabbiadini in around the back and De Gea stands tall, saved and Italy again searching for that first goal! 
90'  Morata breaks down the left. Stops, goes again, and then shoots. Wide! 
90'  And the same for Villa. A true Spanish legend.
90' Villa replaing Isco. A rousing round of applause for the Malagueño. 
88'  Spinazzola forces a save from De Gea. Excellent save. Italy foiled again.
86'  Cheers as David Villa looks set to come on. Some of the biggest cheers of the night. A legend! 
82'  Morata and Spinazzola on the ground. The Italian ran into the back of him and seemed to hurt his ankle. Both back up and back on though.
82'  Ramos hits one on the bounce with his left foot. Wide. 
81'  Spain not happy with 3-0. Morata breaks free and then turns. Busquets plays it to Carvajal and he wins a corner. Bernabeu is loud at the moment!
79' Gabbiadini replaces Ciro Immobile.
78' Asensio replaced by Saul Ñiguez.
77' Game, set and match! Ramos and Morata break free. Morata plays it to Ramos and continues his run into the box. Ramos crosses and Morata finishes to the roof of the net. Game over!
75'  Darmian takes it down but Spain force them back again.
73'  Isco is on fire. He plays Morata through but the Chelsea striker is pushed off the ball too easily by Barzagli.
73'  This has turned into somewhat of a stalemate. Spain comfortable and Italy had zero ideas.
72' Morata returns to the Bernabeu. He replaces Iniesta.
71'  You get the sense that Spain are toying with Italy now. Asensio handles the ball but before that, Iniesta and Isco involved in some lovely passing.
70' Double change for Italy. Bernardeschi and Eder on for Candreva and Belotti. 
68'  What a chance. Isco loses two Italian players and then spreads it to Carvajal. His first touch is lovely but as he tries to chip Buffon, the Juventus keeper gets a hand to it.
66'  Candreva with a shot. Straight over the crossbar. And a bit wide too.
65'  Candreva looks for Immobile and Spain win again.
63'  Darmian with a little clip at the heels of Asensio. Free Spain. Ventura getting upset on the sideline. 
62'  Carvajal with a talking to as he fouls Insigne. Just goes in slightly late. 
61'  Some patience on display for Spain. It pays off too as Silva sees a chance and he strikes. Blocked before it falls to Koke soon after. He strike just over Buddon's crossbar.
59'  Game suffering now. Spain in no hurry to open up and push for a third. Italy have no chance of getting even one, based on what we have seen so far. Spain content. 
59'  Jordi Alba fouls Candreva. 
57'  Another frustrated pass from Italy. They're forcing the issue now but Spain holding very firm. Barely been breached tonight.
55'  Asensio brushes off the cobwebs from his left foot and strikes. Buffon has it covered but makes him think. Whizzes wide.
53'  Candreva wins Italy a corner. Belotti at the back post as Barzagli sends it back towards goal. He heads it over.
52'  Italy with a little more possession but still not doing much to hurt Spain. 
51'  Immobile wants to get on the score sheet but he's offside from a Candreva flick.
49'  De Gea saves from Innsigne. Candreva follows up with a shot from the rebound but he hits it very awkwardly. Ball hits Belotti, then Busquets and lands in De Gea's palms.
48'  Ramos wants a penalty from the corner. He jumps highest and falls but nothing much in it.
47'  Isco wins it back. Silva puts pressure on Barzagli and wins a corner. Barzagli might have run himself into trouble for that one.
47'  Jordi Alba looks for Isco. He finds him but is in between two Italian defenders. Hard for him to control. 
46'  We have action. 
Spain back out on the field. Joined by Italy. No changes for either side, it seems. 
Reports from the stadium suggest it's 75% cheers for Piqué and 25% boos. The hardcore Real Madrid fans.
Lovely finish. If Asensio doesn't do the business, Isco very well will.
45'  Half-time at the Isco show. What a display by Spain. Isco with a couple of goals. They have been magnificent.
43'  Italian fans unhappy with the way their side has set up too. 
43'  Italy have no response. Spain have been excellent. 
40' GOAL! ISCO! What a finish. Asensio to Iniesta and Isco then outside the box. He puts it onto his left and strikes low and out of Buffon's reach.
39'  Jordi Alba has an issue with his eye. He isn't happy with the ref for missing it. He's saying it was an elbow but the replays show there was nothing in it.
38'  Italy breakd and Iniesta intercepts a pass. Asensio and Isco link up befoe they turn around and give it to Iniesta. 
38'  Silva delivers but it's coming down on top of Ramos and even if he can reach it, he wouldn't have been able to do anything from it. 
37'  Busquets spreads it out wide to Asensio but he loses control of it. Italy can do nothing with it either as Carvajal breaks. He has no options ahead of him so he strikes and has his shot deflected out for a corner. Close! 
35'  Silva offside. He was in acres of space but had strayed just beyong the halfway line. Iniesta with the vision and the pass to match. Silva very unlucky.
34'  Spinazzola takes off and is fouled by Busquets. It might have been his own speed that put him off balance there and that's what Busquets argues. Free nonetheless.
31'  A comedy of erros. Belotti struggles to get the ball under control a number of times... he was offside and the ref blows the whistle as he continues to push forward. Everyone else stops before Belotti realises the play is dead. Replays show he was not offside! 
30'  Dodgy kick-out is nearly intercepted by David Silva. 
28'  Italy with a spell but Ramos clears with the bicycle kick. All Belotti has to do is put his head near that and it's a penalty for a high foot.
26'  Spain win it back and Koke delivers a lovely cross. Ramos' centre-half partner, Gerard Piqué heads over. Lovely cross by Koke.
26'  Ramos making a move from the corner. It flies over his head.
25'  Pressure from Spain almost leads to a howler. Veratti plays it back to Buffon but it comes off his foot as he tries to control it up high. He gives away the corner. 
24'  Candreva with the delivery. De Rossi close but Ramos heads it away. Immobile with the foul and Spain can clear.
23'  Jordi Alba fouls Candreva and Italy with a chance for a cross. 
22'  Darmian delivers a lovely cross. Belotti does really well to get the header away and De Gea saves. More of a reflex save but in a perfect position to make it.
21'  Italy sitting deep and doing quite well to prevent Spain from breaking through. That goal hurts them but the don't seem too concerned as yet.
20'  Isco fouls Darmian after some good, but slightly stale, possession. 
17'  Veratti fouled by Isco. He has a shout at the ref too, who isn't happy with his display after the free. 
15'  Italy trying to respond. They need to come out of their shell now. That goal will help this game to open up. Although Spain doing their best to do that since the start.
13'  That is sublime. 
13' Isco! GOAL! He strikes the free-kick and finishes. What a lovely strike. Buffon stretching but no luck.
12'  Iniesta with the perfect ball through Italy's defense. Bonucci slightly cynical there and it might have been red. The ball might have gotten away from Asensio so not a clear-cut chance.
12' Bonucci takes down Asensio and gets booked.
11'  Koke sends Carvajal free and he cuts inside but overcooks his first touch. Italy win it back before Spain squeeze them and win it back themselves. 
11'  Spain win it back and bring it back down. Italy revert to their defensive shape. 
10'  Ramos heads away a Darmian cross. throw for Italy. 
9'  Carvajal does well by keeping up with Insigne as he tkes off down the left. Pique joins in to help but they concede the free.
7'  Ramos takes it and puts it over. Asesnio the man of the moment and he probably should have hit that one. 
7'  Asensio and Ramos lining this up. 
7'  Koke fouled now by De Rossi just outside the penalty area.
5'  Candreva moving down the right but his through ball looking for a teammate is too heavy. Goal-kick to Spain.
4' Busquets fouled by Veratti. And the PSG player is booked. Very early for that.
4'  Spain with close to 99% possession so far.
3'  Jordi Alba squares to Iniesta on the break but it's too far away from him.
2'  Asensio puts Barzagli under pressure. Too much pressure as he pushed him in the back. Free to Italy.
1'  Ramos launches it long. Carvajal running down the wing but no chance of getting to that.
1'  Piqué with the ball and he's being whistled already.
1'  We are underway! 
   Buffon and Ramos meet in the middle with the refs again! They're getting used to this.
And now time for the Spanish national anthem. 
The Italian anthem up first. Buffon singing with gusto.
The players attempts to turn the crowd in his favour has worked! Well done. 
Pique cheered at the Bernabeu.
A list of all games between Spain and Italy.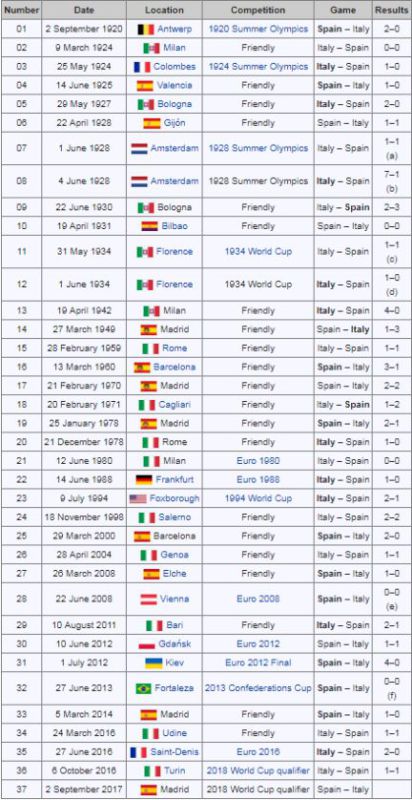 Andrea Belotti has scored four in nine games for Italy. Can he do the same again? he scored a cracker against Sassuolo recently and looks to be in as good form this year as he was last year. 
No draws for Italy in their last four either. This might be prime for a draw but with the absence of Chiellini, I think Italy will be more open and Spain will score meaning Italy have to come out of their shell. Also interesting to see what Immobile can do against Spain's defense. He had some spells in Sevilla and Borussia but is back in Italy with Lazio now. He has scored three in three games this season. 
Spain haven't drawn in four consecutive games. Is tonight the time for one? Spain have gone 4 consecutive matches without a draw.
Worth noting that the players in the squad have been on the offensive all week trying to make sure Piqué is not booed. 
Daniele De Rossi with 114 caps for Spain and he is still nowhere near the top ranking appearance maker in this team. Gigi Buffon has 168!
Italy have not conceded a single solitary goal in their last three games. With Chiellini out, that Spanish side is really going to test them.
Italy will line up: Buffon; Darmian, Barzagli, Bonucci, Spinazzola; De Rossi, Verratti; Candreva, Belotti, Immobile, Insigne
So Asensio will be playing in the false nine role, and the Spain fans will be hoping he pops a fair few of his thunderous left-footers from distance at the Italian goal.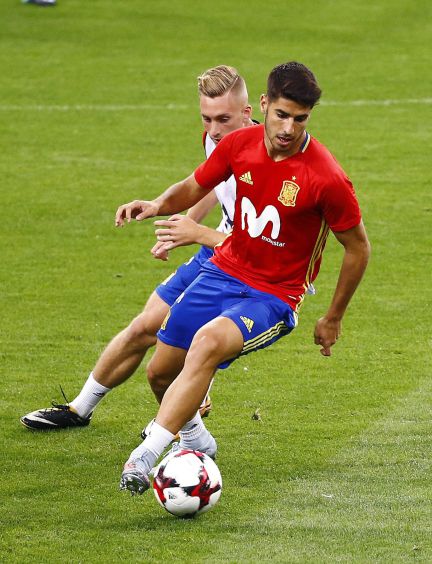 Bright sunshine at the moment in Madrid, and it's still 28 degrees. Sunset is one minute before kick-off, at 20:44, and it'll be around 26 degrees by then. 
Most of the Spanish team, Ramos included, the Spanish minister for Sport and our very own editor, Alfredo Relaño, have pleaded with the Bernabéu not to boo and whistle Piqué tonight... let's see what happens...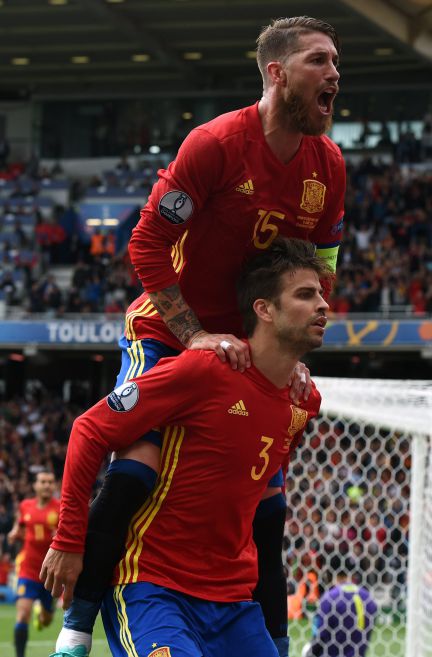 Happy memories for Italy at the Bernabéu, this is the first time they've played here since they beat West Germany 3-1 in the final of the World Cup in 1982. Rossi, Tardelli and Altobelli were the goalscorers that night.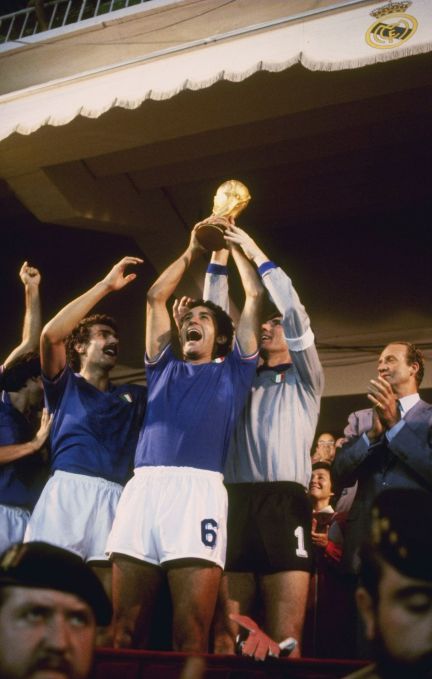 And there will be a sell-out crowd to see if Spain can make it 29 wins in the north of Madrid. All 75,600 tickets were sold out by Thursday. 
This will be La Roja's 45th match at the Bernabéu. They've won 28, drawn 8, and lost 9.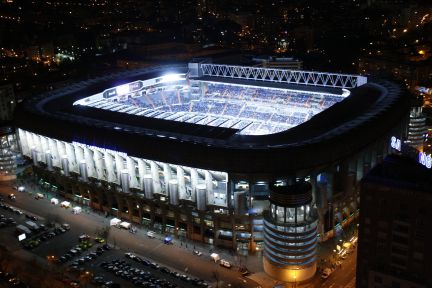 Bjorn Kuipers will be the referee at the Bernabéu this evening. The 44-year-old Dutchman was in charge of the 2014 Champions League final, when Real Madrid beat neighbours Atlético 4-1 in Lisbon. 
Spain have a pretty good record against Italy on home soil... you have to go all the way back to 1949 for the last time Italy beat Spain at home. The Azzuri won 1-3 at the Bernabéu in March 1949.
Sergio Ramos and Gerard Piqué spend much of the club-careers at loggerheads. Yet while together on international duty, the perpetual wind-ups have ceased and, hang on, what have we here? A glimmer of warmth. "Piqué has always been a shining example for Spain," says Ramos.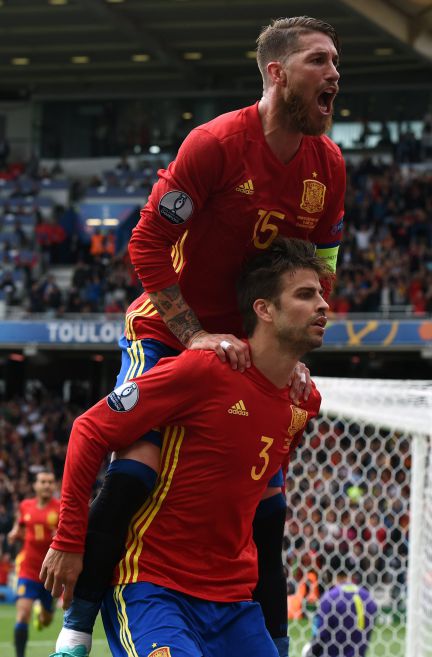 Alfredo Relaño, the editor of Diario AS, has urged the fans in the Bernabéu this evening to refrain from booing Gerard Piqué in his editorial today.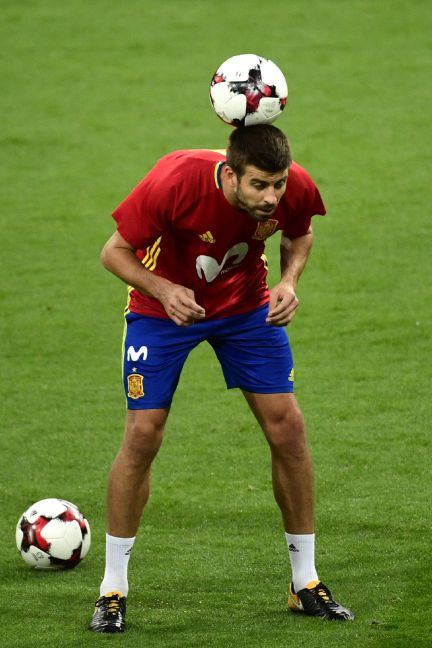 Julen Lopetegui's team-selection is far from certain. Yet he has dropped some clues in training, with Marco Asensio operating as a 'false 9' during a session earlier in the week.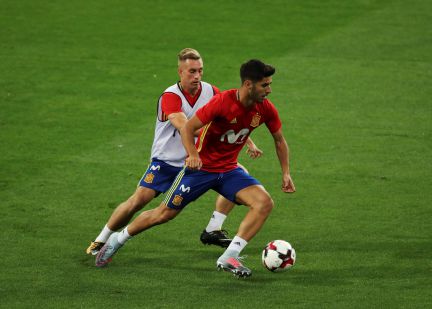 Italy's fabled defensive 'BBC' will not be on show at the Bernabéu. Barzagli and Bonucci will be present and correct, but Chiellini has been ruled out through injury. His Juventus team-mate Daniele Rugani is expected to play in his absence. 
It was all happy families at the Bernabéu on Thursday night, after Spain took part in an open training session. Ramos Jr. showing a distinct lack of interest in the football here.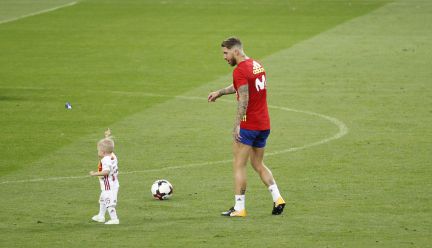 Good morning! Join us for the build-up ahead of tonight's crucial Group G match-up in Madrid!
Spain vs Italy live online: World Cup qualifying preview
A sold-out Bernabéu will host the pick of the matches from this round of international fixtures, as Spain host Italy in a crucial 2018 Russia World Cup qualifier.
Both sides are perched at the top of Group G on 16 points, with Spain narrowly ahead on goal difference. La Roja (2010) and the Azzuri (1934, 1938, 1982, 2006) have both lifted the Jules Rimet Trophy before, but one of the two will have to quality for Russia 2018 via the play-offs. The outcome of the match on Saturday evening will go a long way to determining whether that is Spain or Italy.
Spain team news
Julen Lopetegui has called up David 'El Guaje' Villa to the Spain squad for the first time in three years. Villa, Spain's all-time leading goal-scorer with 59 goals, has remained potent on the other side of the pond with New York City. The two go back a long way. A 19-year-old Villa scored his first goal as a professional for Sporting Gijón in a friendly against Rayo Vallecano, whose keeper that day was none other than Lopetegui.
The ongoing uncertainty around Diego Costa's future means the Brazil-born striker has not been called up, while Kepa and Suso are the only uncapped players.
Marco Asensio is the name on everyone's lips, and he has featured as a false nine in training.
Italy team news
Giorgio Chiellini is injured, meaning Daniele Rugani is likely to slot in alongside Barzagli and Bonucci in the formidable Italian defence. This will come as pleasant news for Spain striker Álvaro Morata, who provided the fabulous line "playing against Chiellini is like going in to a gorilla's cage and robbing his food."
Coach Gian Piero Ventura has favoured a 4-4-2 formation since taking over from Antonio Conte, but he looks like to revert to the three-man defence that served the Azzuri so well in the 2016 European Championship.
Andrea Belotti, who scored 26 goals for Torino last season, will be the chief source of bother for Gerard Piqué and Sergio Ramos.
---
Spain vs Italy live: potential line-ups
Spain XI: De Gea; Carvajal, Ramos, Piqué, Alba; Isco, Busquets, Iniesta; Asensio, Morata, Pedro.
Head coach: Julen Lopetegui
Italy XI: Buffon; Barzagli, Bonucci, Rugani; Candreva, Montolivo, Verratti, Rossi, Darmian; Insigne, Immobile.
Head coach: Gian Piero Ventura
---
Spain vs Italy live stream online: betting and odds
Italy have not lost a World Cup or Euros qualifier since 2006, a run stretching back 54 matches. A draw appears a likely result, with 2-2 available at 21/1.
Place your bet on Spain vs Italy here.