Primera predictions: week 3
The Oracle has awoken from his international-break slumber and foresees a draw at Mestalla, wins for Real and Barça and a Monday night mope-fest in Málaga.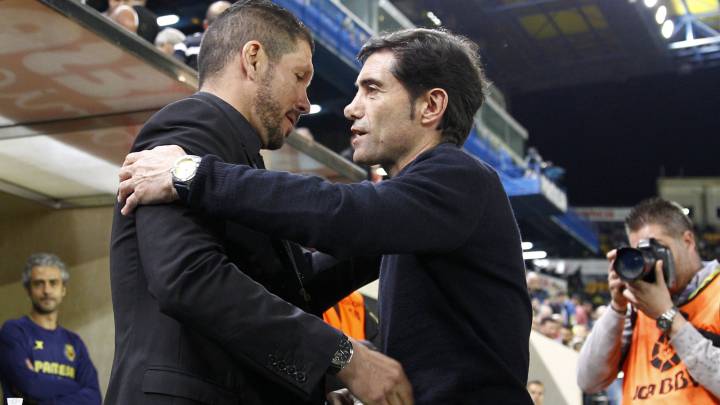 Leganés – Getafe (Friday 21:00) Prediction: home win
Getafe have yet to score in LaLiga after promotion last season and despite attempts to lure both Inter's Italy under-19 striker Andrea Pinamonti and Real Madrid's Borja Mayoral they go into the season with a serious shortage of quality forwards. Leganés have won both of their matches so far by a single goal and there's little to suggest any wildly different outcome in Butarque.
Real Madrid – Levante (Saturday 13:00) Prediction: home win
You have to roll back the years to 2011 to find Levante's last victory over Real Madrid, when Arouna Koné bagged the only goal of the game in the Cuitat de Valencia. Real went on to win the league and Levante finished in sixth, positions both would no doubt settle for next May. However, Levante's fight is elsewhere and although José Ramón Muñiz's side have proven their Primera mettle in the opening two fixtures, it's a bit of a stretch to see then adding just a third defeat of Zinedine Zidane's Liga tenure at the Bernabéu. The only sides to pull that off on the Frenchman's watch are Atlético and Barcelona.
Valencia – Atlético (Saturday 16:15) Prediction: draw
Arguably the game of the weekend has been scheduled in the Saturday siesta slot but it should be enough to keep spectators from nodding off as Marcelino's tasty-looking Valencia host Diego Simeone's free-scoring Atleti. The Madrid-based side eviscerated Las Palmas last time out while Valencia had their chances to win the game against Real Madrid in the Bernabéu. Carlos Soler and Toni Lato shone against Zidane's side and Simone Zaza will pose a threat to an Atlético defence that has yet to keep a clean sheet. Goals are assured. A draw is not but that's what we're going for in what should be an open game.
Sevilla – Eibar (Saturday 18:30) Prediction: home win
Sevilla have yet to get into third gear this season as they adjust to new manager Eduardo Berizzo but squeezed out a largely uninspiring victory against Getafe in the last round of fixtures to at least tick the box marked "get three points on the board." What remains is for Berizzo to get his current side playing with the vim of Celta last season and Eibar will be without Pedro León for this one.
Barcelona – Espanyol (Saturday 20:45) Prediction: home win
When is a crisis not a crisis? When your side is second in LaLiga and one of only three sides not to have conceded yet, we'd suggest. But of course that is not enough for some sections of the Barça support, who are a little disgruntled about the club's business – or lack thereof – this summer. The arrival of Ousmane Dembélé and the return from injury of Luis Suárez should give the home support something to cheer in the derby and a well-organised Espanyol side will be hard pushed to get anything out of Camp Nou after slumping to defeat at Leganés in their last game in a performance lacking in drive and ideas.
Deportivo – Real Sociedad (Sunday 12:00) Prediction: away win
La Real have come out of the blocks quickly this season and sit atop LaLiga after two victories and six goals scored. No side has faced more shots this season than Depor and Sociedad lead the way in shots on target so it's likely to be a busy afternoon for the home defence. Depor thrashed the visitors 5-1 in this fixture last season but La Real are clear favourites and blew Villarreal away two weeks ago. Carry that form into Riazor and there's only winner.
Athletic – Girona (Sunday 16:15) Prediction: home win
Athletic have yet to concede but Girona have made an eye-catching start to life in LaLiga, putting two past Atlético before being pegged back to 2-2 and then backing that up with a 1-0 win over Málaga. Reality has to bite at some stage through and the Catedral of San Mamés is just the place for that to happen. Athletic have scored just once so far and will be eyeing this fixture as a fine time to set that record straight.
Celta – Alavés (Sunday 18:30) Prediction: home win
Neither side is off the mark this season and Alavés particularly look horribly vulnerable at the back. Celta's capture of Emre Mor for a club record fee should provide the spark the Galicians have lacked in the early rounds and Iago Aspas was on target for Spain in midweek after a couple of Liga blanks thus far for his club. Even without the Spain striker's contribution Maxi Gómez has bagged three in two games while Alavés entire squad have failed to score once.
Villarreal – Betis (Sunday 20:45) Prediction: away win
Villarreal look to be in dire straits at the moment and whatever Fran Escribá is attempting to get across looks to be written in a language his players don't understand in the midst of an early-season injury crisis. The Yellow Submarine, variously tipped for the Champions or Europa League places by our illustrious panel, are sinking swiftly and need a result sooner rather than later. They won't get it here though, with Quique Setién making Betis fun to watch again while reminding rock-bottom Las Palmas of just what an amazing job he did there before it all went south.
Málaga – Las Palmas (Monday 21:00) Prediction: draw
It isn't a huge leap of the imagination to suggest that either Míchel or Manolo Márquez are favourites to be the first managerial casualty of the season and that either could be gone before the leaves start to fall in Spain. Las Palmas were shockingly inept against Atlético and are bottom of the division on goal difference. Málaga are in their standard state of undress, with honcho Abdullah Al-Thani involved in a salty exchange with the club's Frente Bokerón ultras this week and Míchel simmering on the sidelines after being largely ignored in the club's summer transfer dealings. Ach, it's going to be a draw to prolong the misery of both sets of supporters for another week at least.