Madison Keys-Sloane Stephens: US Open final as it happened
The world number 83 completed an extraordinary comeback from injury to lift her maiden Grand Slam title in a 6-3, 6-0 destruction of her compatriot.Nadal vs Thiem live online: 2018 French Open final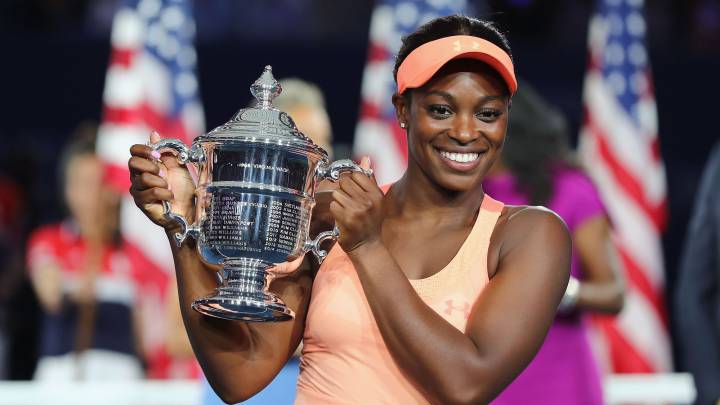 Sloane Stephens put on an incredible display of consistency and tactical acumen to win the US Open in New York just weeks after returning to the WTA Tour after an injury lay-off of almost a year that saw her ranking plummet to 957.
Madison Keys remained true to her power-hitting style, which floored CoCo Vandeweghe in the semi-finals after the world number 22 had ousted Karolina Pliskova a round earlier, but racked up such an unforced error count that at times it seemed all Stephens had to do was keep the ball in play and wait for her opponent to blink first.
Whereas against Vandeweghe everything Keys hit found its mark, in the final she sprayed 30 unforced errors around Arthur Ashe in return for just 18 winners and failed to take any of her three break point opportunities. Stephens, meanwhile, made just six unforced errors and broke five times in a one-sided contest, claiming the title after just an hour of play.
As a result of her victory, Stephens will rise to world number 17 when the new rankings are released on Monday.
Madison Keys 0-2 Sloane Stephens. As it happened
And Stephens has done it! She is the US Open champion. A long, heartfelt hug at the net and the world number 83 raises her arms in victory. Keys slumps in her seat in tears. She really didn't do herself justice, as anyone who saw her destroy CoCo Vandeweghe in the semis can attest.
And back to deuce as Keys nets. A forehand from Stephens at such an an angle it would have had Pythagorus scratching his head and it's match point again...
And Keys saves again! A long rally ensues and Keys shows her court movement to deny Stephens again. She's determined to make her serve it out. Advantage Keys...
Another wild, wild backhand from Keys and Stephens has another Championship point.
Saved! Stephens dumps a forehand into the net and Keys survives for now.
Long again from Keys, called out by the umpire not the line judge. She doesn't bother challenging though. Stephens goes for a thundebolt forehand but misses, she does have a decent margin for error though. Another Keys error and it's match point!
Back to deuce as Keys hammer a forehand. Stephens comes into the net again and takes it back to advantage with another expert volley. Keys finds the net with a resigned looking forehand and she will serve to stay in the match.
A wonderful point! The best rally of the game so far and Stephens gets the better of it with excellent court coverage and shot selection, finally clipping a volley into open court after sending Keys to Staten Island and back along the baseline. And its advantage Stephens...
Stephens saves the first with a gutsy backhand that clips the line and then the second with a forehand swipe down the line. 30-40.
Keys brings up 0-30 and the crowd raises a cheer for the struggling 15th seed. Stephens sends a forehand wide and suddenly Keys has three break points...
A fine Keys forehand down the line brings it back to 30-40 but, and that's cruel at this stage, a double fault hands the game to Stephens.
A perfectly executed point brings up three break points for the world 83, who is controlling every aspect of this match at the moment.
Keys whacks her foot with her racket as another forehand hits the net. Stephens then pulls out a cracking forehand for 0-30.
And, unsurprisingly, Keys belts her return long on a second serve. Stephens is firmly in the driving seat and her opponent will have to try something different if she is to get back into this contest.
Keys wraps her forehand around a drive volley from the back court and this one does hit the target, 15-30, but Stephens shows deft hands at the net to volley for 30-30. Another error from Keys and Stephens is a point away from a hold...
An ace is fired down and Stephens has one chance left... and she takes it with a fizzing forehand on the run that Keys at full stretch can't get a racket on! 2-0 in the second set.
A glorious passing shot from Stephens! 0-40... Keys saves the first.
Keys' unforced error count is up to 20 now and even the rush to the net fails her as she pops a volley wide. 0-30 and the pressure is on....
Long again from Keys and Stephens holds. Nerves are going to play as much of a part in this set as the players and there were a few on show there from the unseeded player.
Stephens frames a forehand return and Keys is back in the hunt at 30-30. The 15th seed admonishes herself after belting another forehand plum into the net but a rare error from Stephens brings it back to deuce. 
Two more wild slams from Keys and Stephens moves to 30-0.
And it's long from Keys on the backhand wing! Stephens takes the opening set 6-3!
Set point for Stephen again, second serve...
A backhand into the net though and Keys claws it back to deuce. Something that has been a talking point at this year's US Open has been the number of net cords and whether the nets are a tad high and there have been plenty this evening already. Keys wastes a game point and we're back to deuce. Touch of nerves perhaps...
Another forehand error from Keys as Stephens sits one up invitingly and back to 30s. A backhand onto the baseline sees Keys call for hawkeye but its flat on the paint. Set point for Stephens...
Seven of eight net points won by Keys now and she's clearly thinking about mixing up her tactics against Stephens' unerring accuracy. 30-15 as Stephens nets a regulation forehand.
No challange from Stephens as a forehand clobber from Keys seems to miss the line by a whisker but it matters little as another huge Stephens serve seals the game. Keys serving to stay in the set.
Stephens is finding the back line now and putting Keys under pressure. 40-0 up quickly enough but Keys rushes the net again and that is one tactic Stephens doesn't seem to have an answer for.
New balls, Stephens to serve for a 5-3 advantage.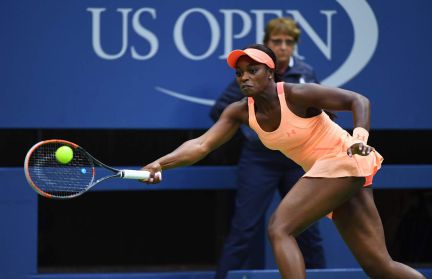 Keys comes into the net again and punches a pair of volleys away for game point. A deep forehand catches Stephens on the back foot and it's a hold for the 15th seed, albeit it one not without its difficulties.
Another big forehand from Stephens and Keys punches it long again. 30s.
Boom! That was one punishing forehand from Stephens, who is starting to chance her arm a little more now. A huge serve out wide and Keys is back on top, 30-15.
Lindsay Davenport, the last non-Williams US player to lift the title at Flushing Meadows is looking a tad concerned in the players' box as Keys dumps a forehand into the net. Stephens holds.
That unforced error count is up to 10 now. Still zip for Stephens.
Keys lookig more and more willing to come into the net and does to to good effect, plonking a volley down that even Stephens can't get to for 15-30.
A big game for Stephens there, holding her nerve, chasing everything down and eventually forcing Keys into the telling error. She'll serve to consolidate now... 
Stephens breaks! Keys pushes another forehand long and it's first blood to the world number 83.
Stephens had 0-30 there but a hammer of a backhand on the line pulls Keys back. Break point though...
Keys' unforced error count is up to five already - to Stephens' zero, and that is an element of her game that sometimes doesn't help her out. Going for every shot as though it's the last did work a treat against Vandeweghe though.
It's a quick hold for Stephens, a net cord helping her out as Keys started turning the screw. Another booming first serve, Keys nets and it's a hold to love for the 24-year-old.
All smiles.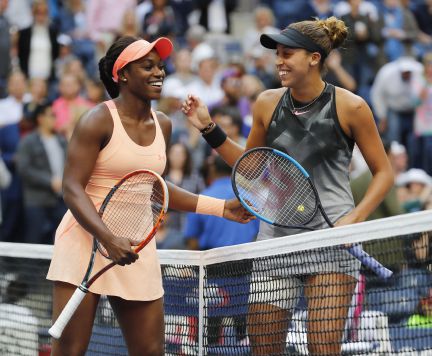 Keys is finding her range and pounds Stephens back past the baseline. An awkward kick serve catches Stephens off guard and she skews one long - having a quick word with the umpire to check. Keys pushes her opponent back with some hefty ground strokes and then rushes the net, putting Stephens under enough pressure to net. Hold to 15.
Keys leaps on a second serve - by far the weakest element of Stephens' armoury - but the unseeded player belts back a forehand to cover. A couple of line-tickling shots from Keys later and Stephens holds with minimum fuss.
She isn't hanging around, Keys, as she pummels down three unreturnable serves in a row and then sends Stephens charging around the baseline with that exocet forehand of hers for a comfortable hold to 15.
Keys to get us underway...
The warm-up is underway now.
The players are preparing to make their entrance now, the obligatory, and one would think quite unnerving, pre-warm up microphone being wielded as they make their way to court.
Stephens, meanwhile, has been through three three-setters in her last three.
First round: beat Roberta Vinci (Italy) 7-5 6-1
Second round: beat Dominika Cibulkova (Slovakia) 6-2 5-7 7-3
Third round: beat Ashleigh Barty (Australia) 6-2 6-4
Fourth round: beat Julia Goerges (Germany)3-6 6-3 6-1
Quarter-finals: beat Anastasija Sevastova (Latvia) 6-3 3-6 7-6(4)
Semi-finals: beat Venus Williams (U.S.) 6-1 0-6 7-5
Keys' run to the final looks ominous though. the 15th seed has dropped just nine games in her last two matches.
First round: beat Elise Mertens (Belgium) 6-3 7-6(6)
Second round: beat Tatja Maria (Germany) 6-3 6-4
Third round: beat Elena Vesnina (Russia) 2-6 6-4 6-1
Fourth round: beat Elina Svitolina (Ukraine) 7-6(2) 1-6 6-4
Quarter-finals: beat Kaia Kanepi (Estonia) 6-3 6-3
Semi-finals: beat CoCo Vandeweghe (U.S.) 6-1 6-2
There has only been one meeting before between these two players, and close friends, with Stephens making light work of Keys in Miami in a 6-4, 6-2 victory.
We are only 15 minutes away now from the players coming out on court.
US Open 2017 women's final live online: match preview
Madison Keys and Sloane Stephens will meet in an all-American final at the US open in a changing of the guard for women's tennis. Keys, 22, demolished her compatriot CoCo Vandeweghe for the loss of just three games to reach her first Grand Slam final while Stephens, 24, defeated Venus Williams in three sets to book her spot in the showpiece game.
The rise of the US' young guard has been a steady process interrupted in the cases of Keys and Stephens by injury, the former undergoing two wrist operations over the course of the last year and the latter having only recently recovered from surgery on her foot that kept her off the WTA Tour for 11 months.
Stephens only returned to the courts at Wimbledon, by which stage her ranking had plummeted to 957 but in a stunning turnaround she reached the semi-finals in Toronto and Cincinnati before ousting Williams in the last four at Flushing Meadows.
The match represents the first time since 2002 that two Americans will contest the US Open final and the first time this century that one of those players will not bear the surname of Williams. In 1998 Keys' current coach, Lindsay Davenport, entered the record books as the last non-Williams US player to lift the title at Flushing Meadows when she beat Martina Hingis, before Venus and Serena shared out the next four between them.
Davenport will be more than happy to see that chapter in history erased by her charge, as Keys has finally made the breakthrough her early promise and runs to the Australian Open semis and Wimbledon quarters in 2015 heralded. Stephens, though, proved against Williams that she has also found a steely edge to add her to her incredible athleticism and now, fully recovered, will shoot back up the rankings from her current place of world number 83 regardless of the result.
Madison Keys
The 22-year-old is making her first Grand Slam final appearance after a 2015 loss to Serena Williams in the Australian Open last four – after she had seen off Venus in three sets in the previous round.
Williams predicted after that game that Keys would one day be a world number one.
Keys rose to prominence as a youngster, winning her first Tour-level match at the age of 14, her first Grand Slam game at 16 and first entering the top-10 last season after a title run in Birmingham.
Sloane Stephens
Stephens has not yet cracked the top 10 on the WTA Tour, her highest ranking to date coming in October 2013 when she reached a career high of number 11.
The 24-year-old also broke into the upper echelons of the Tour early, mirroring Keys' Australian Open and Wimbledon runs two years earlier than her opponent on Saturday. However, that remained her Grand Slam highlights reel until her current showing at Flushing Meadows as injuries began to take their toll on her consistency.
If she is successful on Arthur Ashe, Stephens will become the fourth-lowest ranked player since the 1975 introduction of the computer ranking system to win a Grand Slam and only the fifth unseeded player in the Open Era to do so and her ranking next week will be as high as 15 in victory or 22 if she loses.
Head-to-head
Close friends Keys and Stephens have met just once before, in the round of 64 in Miami in 2015, Stephens winning 6-4, 6-2.