Barcelona 5-0 Espanyol LaLiga: match report, goals, action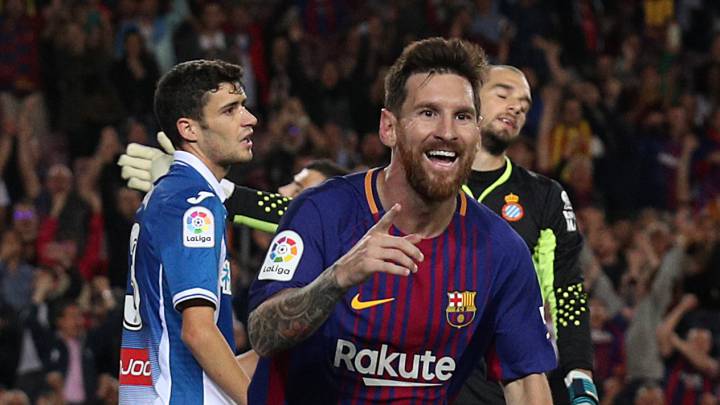 Barcelona 5-0 Espanyol: match report
Barcelona's board can't seem to do much right off the field lately but Messi and his cohorts can't put a foot wrong. They have played three games this season in the league, won all three, scored nine and not conceded a goal either on that run.
With their likely rivals for the title dropping points in two of their first three games, Barcelona now sit atop the Liga table until at least Sunday when Real Sociedad play as they have also won their first two.
Lionel Messi scored his 16th goal in 22 Catalan derbies in the 26th minute from a clearly offside position to give Barcelona a lead they would never relinquish. The Argentinian was slowly making his way back towards the ball when Rakitic found him with a lovely defense splitting pass. The whistle never sounded, however, and Messi carried on, driving to the roof of the net to give Barca the lead.
He had his second after a nice move involving Jordi Alba as the left-back poked it towards Messi at the front post and he helped it beyond Pau Lopez as Barcelona were looking increasingly comfortable againt their Catalan neighbours.
Pablo Piatti drove a shot off the post that rebounded back into play and that was as close as Espanyol would come as they were struggling to find the balance between flooding Barca's defense and minding the house to make sure there was something to play for in the second half.
They managed to keep it together until the break but it was more of the same from Barca after it.
They had chances with Messi and Suarez lurking for more goals before Messi did make it 3-0 and sealed his hat-trick in the process. The number 10 started the move with a pass to Suarez and when the Uruguyuan lost out, it fell to Alba and he cut it back to Messi before the Argentinian slotted home to send Barcelone truly on the way.
Ousmane Dembele came on to the cheers of the Camp Nou crowd but at that stage, the three points were in the bag. Paulinho entered the fray too in place of Busquets as Barcelona showed off their summer business with Andre Gomes joining them late on from the bench.
It was one of their stalwarts, however, who added the fourth when Gerard Piqué rose highest for a corner and headed home with just minutes remaining. That wasn't it though as Andre Gomes found Dembele, who must have been keen to score on his debut, but he decided to hit Luis Suarez in stride and the Uruguyuan finished with a lovely left-footed finish to make it 5-0 and turn it into a proper humiliation for Espanyol.
Valverde had the chance to rest Busquets and as they sit and wait for Juventus in the Camp Nou on Tuesday as they try to kickstart their Champions League in the same fashion as they started their Liga campaign. As for Espanyol? That game was never one that had chalked down for a win but the manner of the defeat is troubling considering how little they created and how easily they came undone when Messi landed the first.
Barcelona 2-0 Espanyol live stream online:

90'  That was just glorious. Andre Gomes with a lovely pass to Dembele and he squares it to Suarez. The striker finishes first time with a weird left-footed finish.
90'  Round of applause for Semedo. He has been excellent today.
87'  That's four. Gerard Piqué headers home the corner.
86'  Messi with the free. It hits the wall and goes wide.
85'  Diop with two fouls in quick succession. This time on Surez. Ref has a look at who it was and decides not to book him.
84' Messi with a run and is fouled by about 37 players befor ehe foes down. Lovely run. Diop eventually fingered for the crime.
83'  Suarez pulls it back to Messi but he can't get his shot on target. That's usually trademark from Messi but Espanyol do enough to put him off.
82'  We have a goal? No? Yes? No... Ter Stegen pushed in the back. No goal. Ter Stegen yet to concede in the league this season.
81'  Ball into the back post and it's nearly perfect from Suarez. Paulinho slides but can't quite reach it.
81'  So close. That pullback from Alba yet again causing problems. It's just out of Suarez' reach though.
80'  Semedo and Dembele break down the right. That combination is going to be fun to watch in the future.
79'  Barcelona comfortable now on the ball. Espanyol chasing shadows.
77' Iniesta off and Andre Gomes on.
76'  Ter Stegen boxes clear. Corner for Espanyol.
75' Vila replaces Sergi Darder.
74' Aaron with a yellow card for a foul on Dembele. 
73' Paulinho on for Busquets.
72'  Dembele with a defense piercing run into the box. He passes to Semedo but he was offside.
70' Espanyol really not happy with refs performance. David Lopez clearly chests the ball and ref blows him up for handball. he falls to the ground in disbelief. Sergi Darder booked for whatever it is he said to the referee.
68'  Dembele replaces Deulofeu.
67' Hat-trick! Messi. Lovely goal too. Suarez breaks through and he loses out but it falls to Jordi Alba and instead of driving it through the crowd, he pulls it back to Messi and he makes absolutely no mistake. Absolutely expert finish.
65'  Dembele receives his last instructions from Valverde. He looks to keen to just come on!
63'  Dembele coming on. His debut is imminent.
63'  Messi to Deulofeu and he nearly sneaks it in behind Aaron but he was offside anyway.
61'  Baptistao fails to finish. What a chance. Ball comes in, he takes it down in space and drives it towards goal but Umtiti blocks it.
60' Victor Sanchez booked for a foul, an arm to the face, of Jordi Alba.
58' Sergio Garcia, former Barcelona player, on for Pablo Piatti. Didn't work out for Piatti today.
57'  Messi with an almost perfect pass in behind to Iniesta. Pau Lopez out like a light to close him down.
56'  Dembele out warming up and gets a massive cheer from the Camp Nou.
55'  Alba gets to a ball at the end line and plays it back to Rakitic. He lobs one over to Messi and instead of shooting, Messi pulls back to Suarez and he misses with the left. Would have been a spectacular goal. Hard to live with Barca when they move like that.
54'  Diop is lucky not to be booked. He chops down Busquets and gives away the foul.
53'  Messi drives a shot just wide. It took a nick but it was headed that was anyway. Corner that Espanyol deal with.
50'  Pablo Piatti with a chance. He tries to lob Ter Stegen after a mistake by Alba but it goes just wide.
48'  Deulofeu with a run into the box. He plays it to Suarez but he swings and misses. Ball comes back and Suarez backheels it towards Lopez, an excellent chance, but keeper saves. Would have been a lovely goal!
46'  We are back underway.
Players back out on the field!
45'  And that's it for the first half.
45'  Suarez takes the ball down and nearly beats Pau Lopez to it but the keeper gathers.
43'  Long ball and Pique heads but only into the path of Piatti and he drives a shot that hits the post and rebounds clear. So close.
42'  Important for Espanyol to not concede before the break. But they'll struggle regardless. BArcelona comfortable at the moment.
40'  Darder fouls Deulofeu as he slides in from behind and takes the Barcelona attacker down. No card.
39'  Messi with an absolutely perfect pass to Suarez over the top and an equally precise run by his teammate. He drives over the bar though. 
38'  Victor Sanchez with a cross that goes a mile wide. He must have mishit that because no excuse for such a poor delivery.
37'  Messi wants another before half-time but has to suffice with the corner. Rakitic heads that corner towards goal and Pau Lopez saves.
36'  A disaster for Espanyol opposed to anything truly special from Barcelona. Messi with a handy enough finish. He'll take it.
35' 2-0. Alba and Messi combining now. Alba gets it and squares to Messi, who pokes home at the near post. 
34'  Busquets with another fouls as Gerard Moreno tries to break free.
34'  Ball comes flying in from the right and Semedo heads away. Corner. 
33'  Another decent spell by Espanyol. Cross arrived in and Ter Stegen has to punch away.
30'  Messi and Rakitic terrorising Espanyol's defense again. 1-2 between the pair and Rakitic's shot well saved by Pau Lopez. It falls to Messi but he could get it under control to take a decent shot.
29' David Lopez booked for a handball. Looked like it might have hit his chest but ref not messing around.
28'  That should incite plenty of debate. He was offside. 
26' And just when I say that. Messi gives Barcelona the lead. Semedo to Rakitic and he finds Messi, who is a half a yard offside, and he buries it in the back of the net.
25'  Normal business resumes. Barcelona back on top.
24'  Baptistao with the ball inside the box. He uses his quick feet but there are too many Barca defenders around him. Barca counter.
23'  Espanyol growing into this one now. They've had the ball and used it wisely in the last few minutes. No chances yet, but it's an improvement.
22'  Iniesta throws his leg around Piatti to win the ball and gives away the free.
21'  A chance for Espanyol to relieve the pressure.
21' Busquets fouled for checking Leo Baptistao as he waltzed past him.
20'  Espanyol struggling to get even a touch of the ball.
19'  Suarez has it from way out. Pau Lopez palms it down to himself and then wins it at the second time of asking.
18'  Messi and Iniesta combine but Darder fouls the Argentinian. Chance for them to throw one into the box. 
17'  Baptistao called up for offside. He had otten the wrong side of Piqué. 
17'  Barcelona picking things up slightly now. 
15'  Nice move by Barcelona. Long ball by Rakitic out to Alba. He taps it down to Oniesta, who finds Messi. Messi crosses and it almost lands at Rakitic's toe. He had continued his run into the box. Awkward header down by Suarez.
13'  Umtiti tries to header the ball back to Ter Stegen but he's way off. Corner Espanyol.
12'  Leo Baptistao fouled, it looks like, but Jesus Gil doesn't give it. The attacker won't let it go either. He chases Gil and explains he was fouled. Still no free.
10'  Espanyol with very little going forward. Another attack breaks down.
8'  Luis suarez fouls Victor Sanchez now. A little unlucky as they just collided but it was a free. He pleads his case to the ref.
6'  Free to Javi Fuego as he is impeded and pulled to the ground by Rakitic. Some good olf-fashioned WWE grappling!
6'  Deulofeu wins a corner for Barcelona.
5'  Just five minutes in but they really don't look comfortable at all.
5'  Busquets whips one towards Messi but he's squeezed and Espanyol recover. 
3'  Messi coming in from the right. He tries with his left but doesn't get the bend he wanted and needed on it. A mile wide.
2'  Iniesta pitches a lovely pass to Deulofeu. His backheel fails but it falls to him again and he nearly makes it 1-0. Espanyol put it out for a corner.
2'  Messi with his first involvement. He wants a free for handball outside the box. No dice.
1'  Deulofeu considers running in behind but Semedo doesn't risk it. He goes back and recycles.
1'  We have action at the Camp Nou.
Two teams out onto the field for the Catalan derby.
In 21 games against Espanyol, Messi has scored 15 goals with six assists.
Robert Fernandez assures that Iniesta stays at Barcelona. "He will stay with us and his agreement with us is special because he has earned it."
Espanyol's last win in the last 21 meetings came in February 2009. You can look at that two ways. A - they are an inferior team or B - they are due a win.
The Camp Nou will be busy over the next couple of days. Barcelona welcome Juventus on Tuesday and will want to make sure that this game is out of reach, if they can, so that they can rest the likes of Iniesta. He played 72 minutes against Italy and 90 against Liechtenstein
And Ivan Rakitic's hamstring injury seems to have cleared up. Interesting to see for how long he plays tonight.
Credit to Ernesto Valverde for resisting the temptation to throw Dembele straight in. Deulofeu returned this summer to fight for a place and it wouldn't be very fair if he was cast aside as soon as a new signing arrived. He might lose his place eventually but they are two for two with Deulofeu in the team.
Just in case you missed it. Atletico dropped points earlier with a hard-fought draw at Valencia. And Real Madrid dropped points too with a draw against Levante at home.
Plenty made of Barcelona's four signings. Two of them start today and two on the bench.
And here's what Ernesto Valverde thinks: "It motivates us to play against Espanyol. I expect them to play aggressively and on the counter attack. Our idea is to win and to be very concentrated." With regards to new signing Dembélé, the coach has been encouraged by the young Frenchman's attitude. "Every day he gets better and more involved in the group. He's ready."
Here are Sanchez Flores' thoughts on the game: "Some of my players know much more about the derby than I do. It's just three points, but with so many emotions attached. We have to be strong and do something for our fans, who find it so hard to be Espanyol in Barcelona. We don't know what Barça will be like after so many players were away on international duty, but they've got a lot of diversity."
This is how it looks like Sanchez Flores will line out. Pau Lopez, David Lopez, Hermoso, Caricol, Fuego, Diop, Darder, Victor Sanchez, Piatti, Moreno, Baptistao.
Some interesting comments from Mario Kempes, who says that Lionel Messi is not happy. He says, "in order to win things you have to be happy, and Messi is not happy". Messi was never the most animated of footballers and prefers to let his football do the talking. But if Kempes is right, I wonder how that will manifest itself throughout the season. More importantly, I wonder if that will prevent him from signing a new contract.

Actually, a very interesting interview with Quique Sanches Flores here.
Very interesting but in Graham Hunter's podcast during the Barcelona - Espanyol preview. Quique Sanches Flores is the Godson of Alfredo di Stefano. Can he do a favour for his Godfather's old team tonight?
And if you need a quick LaLiga fix right now, you can tune in to Robbie's fantastic coverage of Valencia - Atlético, kicking off in about three minutes time. Could be a cracker.

In other football news Manchester City have trounced Liverpool 5-0, taking full advantage of the visitors going down to 10 men when Mané was sent off for dangerous play. 

 Good news for Barcelona... Real Madrid have been held to a draw by Levante at the Bernabéu. Zidane rotated after the international break and it backfired with a stubborn Levante opening the scoring and holding on after Lucas Vázquez had levelled to take a famous point. Marcelo also got himself sent off for a daft kick out on Lerma. 

You can check how to watch the match right here. But of course we'd be delighted if you stayed with us throughout and enjoyed Robbie's inimitable commentary. 

Good afternoon and welcome to our live coverage of Barcelona v Espanyol, the first Catalan derby of the season! Kick off is at 20:45 tonight CEST. 
Barcelona v Espanyol live stream online: match preview
The Camp Nou is the venue for the first Catalan derby of the season as Quique Sanches Flores tries to get his first win over Barcelona since arriving in Catalonia. Barcelona's perpetual pursuit of Philippe Coutinho was stopped not due to failure or rebuffing but because of time constraints and Barcelona's director have been asked some difficult questions of their disheveled summer.
Neymar is a distant memory but the answers Josep Bartomeu provided have not been sufficient and a run of good results, and then some, are needed to put the nightmare that was this summer's transfer dealing behind them. Espanyol, on the other hand, made little or no noise during the window and for better or worse face into the season with a similar squad to the one they had last season.
Barcelona
Most of Barcelona's headlines have been made off the field since the league started but that could change as the chaos of the transfer window closes and Ernesto Valverde gets to figure out just what sort of Barcelona squad he has at his disposal.
Ousmane Dembele could make his first start for the club having signed for €140 million as he looks to replicate Neymar's form and recreate the fear the Brazilian put in opponent full-backs when he was in the side.
Ivan Rakitic could miss out having been taken off for Croatia against Kosovo due to a hamstring issue and was not risked just days later against Turkey.
Regardless of the issue in the palco, Barcelona are yet to concede a goal this season and have six points from six with wins over Real Betis and Alavés. The closing of the window will help them and they have all eight of their international representatives back for training and in reasonably good health. Gerard Piqué, Jordi Alba, Sergio, Andrés Iniesta and Gerard Deulofeu returned unscathed from Spain duty while Lionel Messi and Javier Mascherano returned from Argentina to train on Friday along with Arda Turan, who returned after a spell with Turkey - he has since been linked with a move to Galatasaray but has rejected the chance to leave Barcelona.
Luis Suarez could return having featured for Uruguay during the international break. He recovered from a knee injury that kept him out of Barca's opening two games of the season to play against Argentina before being subbed off with what appeared to be a cramp in his calf.
Rafinha is still recovering from knee surgery and will miss out as his recovery is not going entirely as planned.
Espanyol
A 3-0 loss followed by a 1-4 one was the sum of what Quique Sanches Flores' side could muster against Barcelona last season. The former Atletico Madrid and Watford manager was criticised for having a joke with Lionel Messi after the defeat at the Camp Nou back in December, in which Messi put on a clinic of close control and keeping the ball.
The 0-3 loss at RCDE Stadium was far better from the Blanquiazules and they managed to keep Barca off the scoresheet beyond half-time but a mistake by Jose Manuel Jurado gifted Luis Suarez a goal before they marched to a 3-0 win.
A patchy start to the season for Espanyol started with a 1-1 draw against Sevilla but they failed to build on that positive result when they were beaten by Leganes at home the week after. There was little business done on transfer deadline day by the club and the outgoings were offset by incomings of a similar nature with no real splash made.
There is concern in that for the Catalan side as they failed to consolidate themselves where they needed to be last season and are now faced with an almost impossible task as they face their Catalan neighbours in a season where they will surely have one optimistic eye on Europe.