Edgardo Bauza replaces Van Marwijk as Saudi Arabia coach
The veteran Dutch tactician left his post just nine days after securing World Cup qualification and will be replaced by former Argentina coach.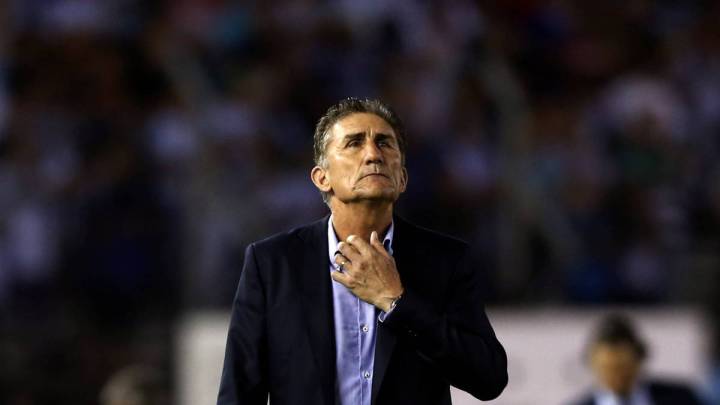 Saudi Arabia have appointed Edgardo Bauza to lead the team at the 2018 FIFA World Cup in Russia.
"Bauza will lead the Saudi team in the next period that includes participation in the 2018 World Cup in Russia and the stages of preparation that precede [the competition]," the Saudi Arabia Football Federation (SAFF) said in a statement on Thursday.
The announcement came just nine days after the Green Falcons, guided by Bert Van Marwijk, secured a spot in the World Cup.
Van Marwijk, who was appointed in August 2015, led Saudi Arabia to a World Cup spot for the first time since 2006 with a 1-0 victory over Japan.
The Dutch coach achieved the highest winning rate in the history of Saudi Arabia's national team at 65 percent.
Van Marwijk departure a shock move
According to reports by local press, SAFF wanted to replace some of the members of Van Marwjik's coaching team. They also wanted him to spend more time in the country, as the Dutchman tended to hand over domestic duties to his staff.
Speaking to the Dutch broadcaster NOS, Van Marwijk revealed there were some aspects that he was not willing to negotiate in case of renewing his contract.
"Last week, after qualifying for the World Cup, a number of people were sacked from my staff, which I think is unacceptable, Van Marwijk said. "I now hear from the media that there is a successor. So now I know it's over.
"I'm not going to negotiate over moving to Saudi Arabia. I don't want to live there permanently. [The players] think it's incomprehensible that I had to leave. They really wanted to go to Russia with me. I would like to go to the World Cup, because that's why I started this job two years ago. But I will not let anyone tell me how to do my job."
A short trip for Bauza
Bauza, who had a brief spell in charge of the United Arab Emirates earlier this year, will make the short trip to Saudi Arabia.
The 59-year-old will be the third Argentinean to lead Saudi Arabia at a World Cup, after Jorge Solari in 1994 and Gabriel Calderón in 2006.
Bauza, who won the Copa Libertadores with two different clubs, Liga de Quito and San Lorenzo, was appointed head coach of Argentina in August 2016. However, due to several poor results he was fired just nine months after his arrival.