Bale, a stunning goal in the desert
Real Madrid forward Gareth Bale's impressive goal against Real Sociedad made up for his modest performance against Real Sociedad, a game in which he struggled to get involved.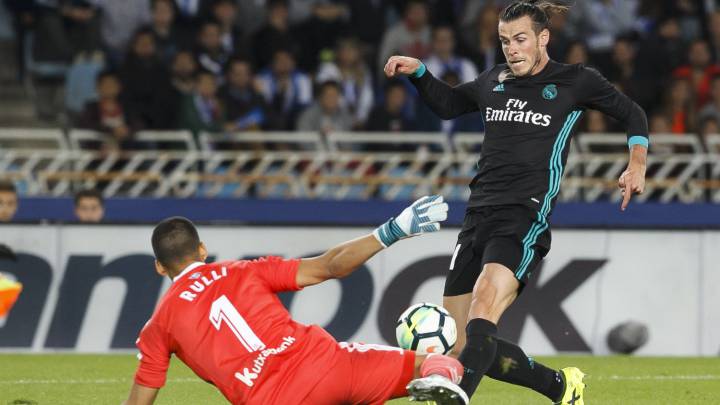 It was the 61st minute of Real Sociedad v Real Madrid at Anoeta when Isco came up with one of those tricks that's seen him called a magician. A spectacular and effective pass in behind the Real Sociedad defence, which found Bale, who had burst out of the starting blocks in his own half, hitting 35 km/hour, and who needed just two touches to control the ball and delicately lift the ball over Rulli, and to celebrate a goal that was more vital for his confidence than for his side, who were leading 2-1 and didn't look like struggling to hold on.
Bale had little impact beyond his goal
The goal justified Bale's presence in Real Madrid's starting line-up against a Real Sociedad side who up to that point had watched how he meandered from side to side, with almost no impact on the game. Because prior to the goal, and afterwards too, there was little to highlight: 19 completed passes, six failed pass attempts, a shot that didn't reach the goal, a cross with nobody on the end of it, two tackles, one ball recovered, two attempts to beat his man, one of which came off, one foul received, one offside...
Statistics that are a far cry from what's expected of a player of his category, and yet, appear to be sufficient when coupled with his outrageous sprint. And while the players hugged, Zidane wore a smile of one whose plans (almost) have almost all come together. "I told you so" he seemed to grin. Real Madrid's French coach had backed the Welshman in his press conference before the game and would do so again after the win. Though he did demand more of the Welshman: "Bale offers so much, not just counter-attacking. When there's no space he's also so good".
The Bernabéu want more from Bale
That phrase from Zidane, that the player from Cardiff is much more than just a sprinter, is what the Bernabéu are demanding from him: continuity and commitment. That his goals aren't occasional flourishes, but his constant baseline. It's up to Bale now, whether his goal in Anoeta, his favoured hunting ground where he's bagged six goals in five visits, becomes the starting point on the road back to the best version of himself, or whether it's just another mirage in a barren desert.



LaLiga Santander
*Update 18 de septiembre de 2017