Barcelona 6-1 Eibar LaLiga Santander: match report, goals, action
Barcelona 6-1 Eibar: match report
Barcelona made it five for five with Ernesto Valverde at the helm in LaLiga with a 6-1 win over Eibar at the Camp Nou on Tuesday night.
It wasn't the eventual winners who started brightest, however, as Sergi Enrich and Eibar take that accolade. The attacker was set free after just three minutes and went one-on-one with Ter Stegen only to fire at Ter Stegen, who made the save with his foot.
They would rue that chance soon after because Lionel Messi was on the scoreboard without having to be asked twice. Alejandro Galvez went through the back of Nelson Semedo in the penalty area and the referee pointed to the spot. Messi lofted the penalty over Dmitrovic in unorthodox fashion, as the ball had no pace on it, but the keeper still had no chance.
The goal emboldened Barca and forced Eibar to remember where they were and who they were playing, it seemed. They were in Barcelona's house.
They were reminded yet again after 38 minutes when Paulinho arrived late from a corner and headed home Barcelona's second. A killer blow before half-time in agame they were already going to struggle to get anything out of.
That got worse in the second half as Barcelona held the ball like they typically do and forced Eibar into a position where they had to come out and attack, leaving them vulnerable at the back in the process.
They did attack, and had a couple of chances, but Barcelona's counter-attack was in flying form with Messi too. And the feeding frenzy began.
Messi struck a shot with his trusty left foot that Dmitrovic managed to save but it fell to Denis Suarez for him to strike home after 53 minutes. It was the second game on the trot that Paulinho and Suárez managed to get on the scoresheet.
Eibar responded as there was a little flicker of a hope of a game. Enrich guided the ball home with his right from a Junca cross that left Ter Stegen flat-footed.
The tiny flicker of a hope was dashed when Lionel Messi got the ball in that zone outside the box that he loves. He dropped his shoulder and moved forward before sliding home a trademark left-footed shot.
It was about to get worse for Eibar because Barcelona executed another lethal counter. Messi gave it to Paulinho, who returned the favour. Despite being pulled and dragged, he slid under an advancing Dmitrovic for his hat-trick and to put the final nail in the coffin that was the game.
Messi wasn't done though as Aleix Vidal, fresh off the bench, put the ball on the plate for him to pass home after a neat one-two with the Argentine for him to notch his ninth in five games this season as he leads the Pichici race by a country mile before Ronaldo gets off the mark.
Barcelona – Eibar live stream online: live updates
90'+2' Game over. Ref calls a halt to a hiding. Tough break for Eibar after their good start but Barcelona in the mood for scoring! Top class.
90'+1' Inui drives a shot towards goal and Mascherano heads clear. Looked like a really sore one as he caught it coming at him full speed.
90' When your luck is out! Charles tries to lob one over Ter Stegen and it comes back off the post.
88' Messi to Vidal. Vidal to Messi and Messi passes it into the back of the net. The substitute was put it on a plate for Messi. Lethal.
86' Arbilla, who has been one of Eibar's best tonight, wriggles free in Barcelona's box. He's right of the goal and strikes across it but the shot strikes the base of the post and comes back across the box. So unlucky.
85' Inui tries to make something down the left but his low cross is dealt with by Mascherano. Cleared!
81' Messi strikes and has a rare bad effort. Goes high, not as high as Galvez' kick, but pretty high and over the bar. Messi not happy with himself.
81' Galvez picks up the ball and launched it into the air and gets booked.
80' Reall excellent run by Sergi Roberto and he is pulled back by Arbilla. He was steaming through the middle. Player had no interest in playing the ball.
78' Aleix Vidal makes it to the end line and tries to cross but linesman says it was out.
76' All the changes now. Rivera replaces Eibar captain Dani Garcia.
73' Aleix Vidal enters the fray. He replaces Deulofeu. 
70' Digne breaks free and has an effort and time. He strikes with the left but Dmitrovic makes himself big and the left-back hits it straight at him.
67' Deulofeu chases down a ball that Dmitrovic comes well out of his goals for. He makes it to it first and drives it clear.
64' Busquets is replaced by Ivan Rakitic.
63' Iniesta replaced by Sergi Roberto. 
62' Messi hat-trick. After a break from Eibar that ended with a shot by Inui and save by Ter Stegen, Barcelona are at it again with their very own, very lethal counter attack. Paulinho to Messi, who looks to be fouled, but he pokes home for his triple. 42 in 40 games in 2017.
59' Messi again. He has seven goals after five games. That's Pichici kind of form. He slides it home with his left from just inside the box. 
58' Iniesta creating headaches for Eibar now. He plays it out wide to Suarez in the penalty area but his cross is cleared.
57' And sometimes when they attack, it's a goal! Like this time, Sergi Enrich guides it home from a Junca cross. Lovely finish.
57' This is the problem now for Eibar. They attack and Barcelona counter. Deulofeu this time with support. He tries to get it to Messi in the penalty area but Eibar scramble it away. 
55' Suarez and Paulinho score again for the second game running.
53' What a break!  Messi through. He cuts back and strikes and with his left, unleashes one that Dmitrovic saves but can only parry it as far as Denis Suarez. He buries it with his right. No chance for the keeper.
53' Eibar finally get their foot on the ball. Arbilla heads across the field, passes out wide, and Deulofeu there to pick it off.
51' Barcelona toying with Eibar now. Eibar struggling to get involved since the second half started.
48' Mascherano crashes into the back of Jordan. Could have been a yellow but the speed the Eibar player gets up maybe makes up the ref's mind for him.
48' Deulofeu travels at speed forward but is picked off. He chases back but Eibar keep it under pressure.
47' Barca feeling out Eibar for the second half to start.
46' We are underway for the second half. 
  Barcelona were accused of being a little reactionary against Getafe and only responding when they went a goal down. Has to be said that it was the same tonight although Eibar didn't have the goal to show for it. Slow starters could be fine for some games but if it's a systematic issue, Valverde will have to answer some questions on it.
  Difficult half for Eibar. They were right in it until that foul for the penalty when Semedo was seemingly going nowhere with the ball. That improved Barca's confidence and hurt Eibar's. But even then, Eibar were battling and creating but the second goal really took the sting out of the game.
46' Arbilla strikes it again the wall. Over for a corner but the referee says there's not time for any more action in the first half.
45' Enrich in behind Pique. He takes it on his chest and passes to Escalante. He is fouled by Masherano as he tries a cross-field pass. Free to Eibar in a decent position but maybe a little central and too far out to do much with it.
44' Barcelona threatening again with time running out in the first. Cross lands to Paulinho but the ball won't fall for him.
42' Mascherano with a poor pass that leaves Digne with too much to do and Eibar win the throw.
40' Really difficult for Eibar now, who have been struggling to create anything meaningful since the first chance of the game for Sergi Enrich.
38' Paulinho makes it two from the corner. Denis Suarez with the corner and Paulino arrives late to slam it home.
37' Deulofeu flicks one towards Messi but slightly too much on it. Then Messi strikes with his left, low this time, and Dmitrovic gets down and beats it away. Corner
37' Arbilla slide in from behind Denis and Barcelona win a corner.
35' Eibar have responded well but Barcelona have grown in confidence since the goal. Very even game so far.
33' Paulinho stopped on the run and plays it Semedo. Eibar win it back and they win a corner as Inui battles Semedo at the back post.
31' Messi trying to wriggle his way through on goal but he's surrounded. He hits the deck and the Camp Nou let out a speculative cry for a penalty but ref barely flinches. Dmitrovic restarts.
30' Enrich with a chance again. Flicked in towards goal and Enrich beats Pique to it. He heads it after it bounces but he can't bend it towards the post.
28' Inui now on the right again. They've been attacking down that side predominantly. Drives a shot and it's blocked for a corner.
27' Enrich in the box with Pique for company. He can't do anything and plays to Arbilla. He goes down under a tackle from Paulinho but the ref tells him to get up.
26' Messi gets it outside the box. One of this ones we have seen Messi score so often. Left footed curler but Dmitrovic grabs it with both hands.
25' Free for Eibar and Escalante gets a head to it but it bounced nicely into Ter Stegen's arms.
24' Barcelona motoring now.
23' Messi on the move now. He plops it out to Deulofeu and his cross is way off. Goes out for a throw.
22' Iniesta plays Deulofeu through on goal. He's offside but the replay show he was a half a yard onside.
21' Messi lifts the penalty over Dmitrovic. He guessed the right way but it loops just over him.
20' On second look, it was a penalty. Semedo, the 23-year-old, using the guile of a 33-year-old.
20' Ooooooooh! A really dodge penalty. Semedo goes down for what looks like a push in the back from Galvez.
18' More pressure for Semedo and Piqué but this time Deulofeu offers himself and he gets it before Barcleona spread it out left.
17' Capa wins a throw of Digne. Capa finds himself very high up the field so far.
16' Busquets flicks it into the box. Junca takes a chance as it bounces but flicks it out of Messi's reach and clears. Eibar back on the ball after a spell for the home side.
15' Enrich's earlier chance the best of the bunch so far.
15' For the triple, Barcelona take it short and Messi lofts it into Dmitrovic's hands.
15' Messi seemed to mishit the corner but it lands at the front post and Eibar head away again. Another corner.
14' From the corner, Oliviera heads out for another one.
14' Lovely ball by Mascherano to Messi but Galvez is forced to header away for a corner. Messi would have blindsided him had he left it for the keeper. He took the safer option. 
13' Barcelona finally have the chance to take the ball down and create something. They're being forced back all the way though. Semedo back to Ter Stegen. Denis wins a throw on the left.
12' Iniesta with some wizadry to break free. Messi is tackled by Garcia and loses out with no free awarded. Eibar attack again.
10' Corner Jordan. Deulofeu tries to counter and gets pulled back. Yellow, and an early one, for Capa.
10'   Eibar with a throw and it eventually arrives in from Arbilla. Inui picks it up at the back post, strikes and forces a save from Ter Stegen. 
9'   More pressure from Eibar as they cut off Ter Stegen's options, force him to go short with a risky pass to Busqiets and he plays it to Pique, who loses it. 
8'   Another ball in behind the back to Capa, this time, and Pique forced to head away when he delivers a nice cross in the box.
7'   Barca put under pressure and force Semedo to clear long where they recover and attack. Semedo concedes the throw in the end. 
6'   Busquets wants a free but it was fair and Eibar on the ball. Lands back at Dmitrovic's feet and he launches it long into his opposite number's hands.
6'   A brief attack comes to an end for Barca. Eibar clear and Pique plays it back to Ter Stegen.
5'   Beautiful stuff from Eibar who are pressuring Barcelona at ever chance. Problem is when their energy starts to go. 
4'   What a chance! Sergi Enrich through in a one-on-one and he tries to beat Ter Stegen with the right. The German keeper saves. Barcelona break.
2' Barcelona win a free after Eibar get a feel of the ball. 
1' We are underway!
Iniesta and Garcia up for the coin flip! We are ready for action.
Barcelona sporting t-shirts that says "Courage Ousmane" after their new signing went under the knife today in Finland for a ruptured tendon behind his knee.
Eibar are doing just fine with two wins after four games. They will find it hard to top their 10th place finish last year but they do have a top quality side and play like one of the bigger teams despite being a city with a population of less than 30,000 people.
Sampaoli takes his seat in the palco. 
Obviously Barcelona can push that lead to six with victory tonight. Eibar can join them on nine points but with a far inferior scoring difference.
Tonight's other game has just ended with a 5-0 victory for Valencia. They are third, and three points behind Barcelona. They are unbeaten. 
Barcelona will be striving to extend their brilliant 11-match winning run in this competition tonight. That's not drawsor unbeaten. That's wins. 
Barcelona have played Eibar six times and won all six. You could look at that two ways; Eibar are either due a win or they have no chance. Also, Barcelona have score four against them in their last three and have never scored less than two. The 4-2 last year on the last day was the closest Eibar came and the only time they scored twice. 
The other 'novelty' as they say in Spain tonight for Barcelona is Javier Mascherano. He hasn't played since the opening day against Real Betis. He replaced Umtiti tonight and it's helpful for him as Jorge Sampaoli is at the Camp Nou.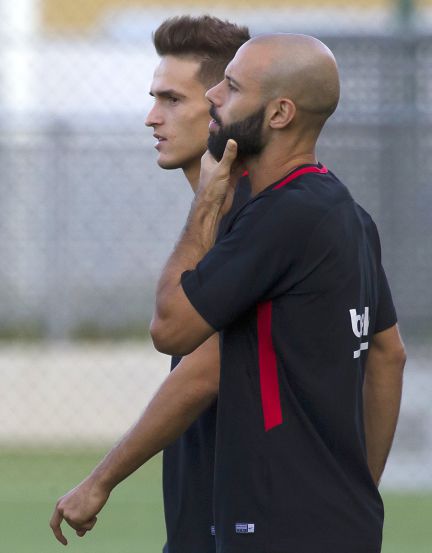 Denis Suarez might be deployed on that left flank in an effort to curb Ander Capa on Eibar's right. The only problem might be Messi playing in a centre-forward's role as it takes away so much of a threat from them at the number 10 position. He will likely drop deeper to collect it at times but that leaves a massive void that neither Deulofeu or Denis can fill. 
The Oracle has sent in the predictions for the mid-week games. Valencia and Malaga is currently underway and we have Barcelona and Eibar later, obviously, but there are games on Wednesday night and Thursday night too. 
One of the rotations is David Junca. The left-back starts tonight and will make his first appearance in LaLiga this year by doing so. 
Bebe is sacrificed as Mendilibar brings in Escalante to counter Barcelona's three man midfielder. He will keep Inui, Kike and Enrich up front.
Really interesting from Valverde. He obviously had his eye on tonight as the night he would rotate. Paulinho and Suarez obviously did enough to merit their place tonight. Paulinho likely to take Rakitic's place and after that, it's anyone's guess really. Deulofeu and Denis either side of Messi as a striker?
Barcelona team news is in: Ter Stegen, Semedo, Pique, Mascherano, Digne, Busquets, Iniesta, Paulinho, Denis, Deulofeu, Messi.
Actually, the last three goals to be conceded by Barcelona in LaLiga were by Gaku and Inui. Ter Stegen had kept clean sheets in all of his games soi far this season. To be fair, what a goal it was that he was beaten by on Saturday - that volley from Shibasaki. 
Sampaoli's start as Argentinian manager hasn't gone as well as expected but he will be at the Camp Nou tonight having met with Messi and Mascherano yesterday reportedly. 
Eibar were competent against Leganes during their 1-0 although the rain really had an affect on the way they typically play. Inui has started the season in excellent form. Gaki Shibasaki became the first Japanese player to score against Real Madrid and Barcelona in official games when he scored on Saturday for Getafe. Both Gaku and Inui have scored against the Catalans recently and Inui has a chance to do so again tonight (he scored twice when the side last met). 
Neymar is the news again. We have thrown together somewhat of a compilation of some of his most memorable fights on the field including Fernando Torres, Juanfran, Ralston, Zuniga and many more...
He might have been ruled out for the next three months with his new team but Ousmane Dembele is one of the players who made the list of finalists for the Golden Boy 2017 for what he did with Borussia Dortmund last year. The former winners include Wayne Rooney, Isco, Cesc Fabregas and Sergio Aguero so it is high company indeed.
  This piece in The Players' Tribune from Ivan Rakitic is rather good and worth a read.... His life in Seville, how he met his wife Raquel and move to FC Barcelona....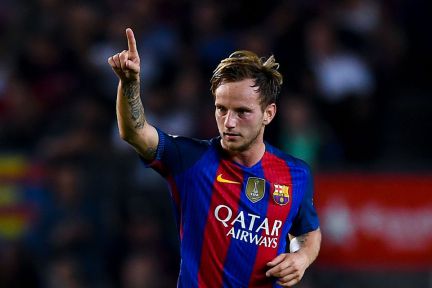 As they did last season at Camp Nou, Eibar will play in the green & white hoops. A nod to Glasgow Celtic who were guests at the club's 75th anniversary match in Ipurua in July 2015.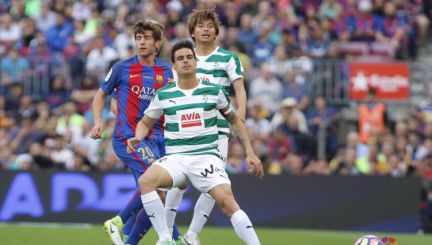 Despite the negative sporting downside on Dembele's injury, the folk in the FCB accounting departmemt will see a saving of 10 million euro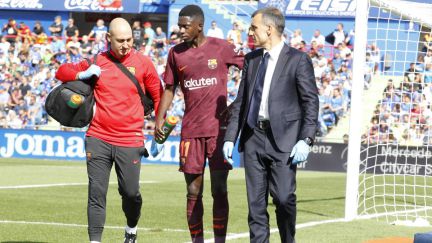 Barcelona boss Ernesto Valverde claimimg that Dembele's atempted back-heel during saturday's away geme in Getafe was a contributing factor in his unfortunate injury.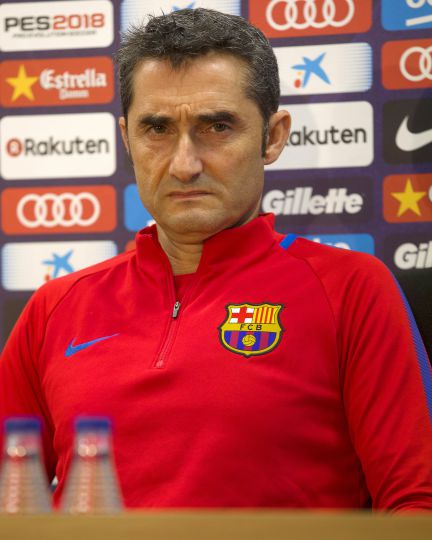 Barcelona and Eibar came face-to-face at Camp Nou in the last game of the 2016/17 campaugn with a home win. Here's how the game panned out.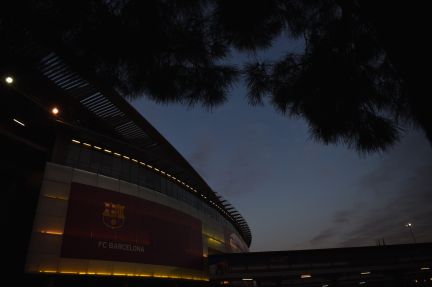 Made a few years back, this Copa 90 docu.
covering Barcelona's first ever trip to Ipurua
 to face Eibar is a fascinating insight into the Basque side.
With Dembélé out, it remains to be seen how Valverde will set up the attack. Deulofeu will likely be going down the right, with Alba bombing up and down the left. Suárez will be the spearhead of the attack with the ever-lethal Messi in his floating role behind, inside, outside and all about. Eibar will do their best to keep tabs on him.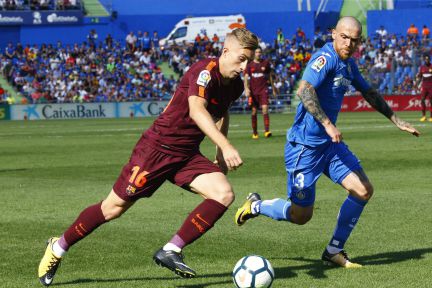 Good morning and the very warmest of welcomes to our live coverage of tonight's LaLiga match between Barcelona and Eibar, at the Camp Nou, with kick-off at 22:00 CEST. Valverde's side are top of the table, having won their opening four matches, although they struggled somewhat against Getafe on Saturday, and were hit with an almighty hammerblow when new, record, signing Dembélé tried a backheel and ruptured a tendon. Eibar meanwhile are down in 13th having won their first two matches, but lost the last two, against Sevilla and Leganés.
Barcelona – Eibar live stream online: match preview
Barcelona news
Four wins from four, 11 goals and just one conceded will go some way to quelling unrest from the stands against Barcelona the team, although president Josep Maria Bartomeu can expect some further chants aimed towards his continued employment at the helm of the club after what many fans view as a compromising summer of transfer activity.
That undercurrent of angst will not have been helped by the club's record acquisition, Ousmane Dembélé, pulling up in Getafe and subsequently being ruled out for three to four months with question marks over his inclusion in that game from the outset after the former Dortmund forward's lack of a solid pre-season and apparent discomfort during the warm-up.
However, Leo Messi and Luis Suárez remain and will pose the chief threat to Eibar's back four, with Gerard Deulofeu the most likely option to come in for the stricken Dembélé.
Valverde has elected to rest Samuel Umtiti for Tuesday's game and is also without Paco Alcácer and André Gomes. Arda Turan, despite being available for selection, continues in his personal calvary at the club and did not make the squad.
Eibar news
The Basque side have got off to a decent start in LaLiga this season with two wins from two and sit comfortably in mid-table. Other than a bit of a thrashing in the Sánchez Pizjuán, José Luis Mendilibar's side have looked solid at the back and employ a high-pressing style similar to the style that Getafe adopted last weekend, the newly promoted side taking the lead against Barça before eventually succumbing to goals from Barça substitutes Deulofeu and Paulinho.
Eibar know they have the ability to take the game to Barça; last season, in the final round of matches with Luis Enrique's side needing to win to have any chance of snatching the Liga title from Real Madrid's clutches, the Gunners went 2-0 up through a Takashi Inui double but couldn't hold back the claret-and-blue tide and went down 4-2.
However, fortune does not favour the bold in this particular mini-league. Eibar have never beaten Barcelona or claimed so much of a point against the Liga giants, losing six out of six since their promotion with an aggregate scoreline of 20-2.
Barcelona vs Eibar live stream online: potential line-ups.
Barcelona XI: Ter Stegen; Sergi Roberto, Piqué, Mascherano, Alba; Busquets, Paulinho, Iniesta; Messi, Suárez, Deulofeu.
Coach: Ernesto Valverde
Eibar XI: Dmitrovic; Arbilla, Capa, Gálvez, José Ángel; Bebé, Jordán, Dani Garcia, Inui; Charles, Enrich.
Coach: José Luis Mendilibar