PSG 6-2 Bordeaux Ligue 1 2017/18: match report, goals, action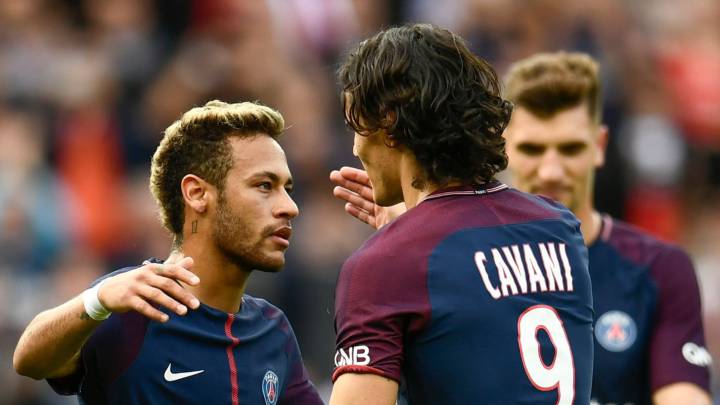 PSG 6-2 Bordeaux: match report
PSG got back to winning ways in Ligue 1 with a relatively straight-forward thonking of third-placed Bordeaux at the Parc des Princes on Saturday night with all of their big guns getting on the score sheet.
Neymar, on his return to league action having missed the trip to Montpellier, opened the scoring with a perfeclty-executed free-kick from 35 yards out as he continues to make a case for being handed all set piece duties in the future.
He put one on a plate for Cavani on 12 minutes, seven after the opener, as his teammate and rival all at once poked home underneath Benoit Costil as it looked like PSG would walk away with it. It was three nil after 21 minutes when Meunier drove home a cross from the left that Mbappé tried to connect with but missed and, in the process, put off a raft of Bordeaux defenders.
Bordeaux were attacking quite well despite the score and were on the scoresheet when Sankhare eased the ball home after Nicolas De Prenville put it on a plate for his teammate.
A silly handball by Otavio ended up with Neymar placing the ball on the penalty spot. He slotted home to put the game out of Bordeaux's reach one again and Draxler made it 5-1 when he slammed home a perfect Mbappé cross on the brink of half-time.
The only PSG goal of the second half came when Mbappé slotted past Costil to make it 6-1 after 58 minutes as the game's intensity took a massive hit with the goal. It had struggled to live up to the heights of the first half in any case. We had out eight and final goal of the game on 90 minutes when Cafu was hauled down by Meunier and Malcom buried the penalty.
PSG retain their grip on first place as Bordeaux can take solace in the fact that many very good teams will be leaving Parc des Princes with their tail between their legs with the attacking talent in this side.
PSG vs Bordeaux live stream online: as it happened
90' GAME OVER! PSG back to winning ways.
89' Malcom absolutely buries it! 6-2.
88' PENALTY to Bordeaux. Cafu hits the deck as Meunier slides in on him. Slightly silly buy won't make too much of a difference.
86' Neymar with a lovely defense-splitting pass to Di Maria. He cuts it back towards goal but no chance of that beating any keeper.
85' Two Bordeaux players on the ground in different parts of the field. Lerager down after a tackle from Kimpembe and Malcom down with a muscular problem? He wasn't touched. Both back up now though and play continues.
82' Bordeaux with a free from the right. Malcom goes close. It hits the side netting and looks like it went in but Areola had it covered if it did sneak in.
81' Neymar gets it from Di Maria and tries to give it back with a little scooped pass over and in between a couple of defenders. Di Maria pushed off it.
80' Verratti replaced by Nkunku.
79' Chance! Neymar drags a shot wide after a lovely combination with Lo Celso. Left-footed shot blazes by the post.
77' Neymar with some clinical control with his heel as it comes out to him. He makes his way along the penalty area and they eventually lose it. Bordeaux break but Mendy fouls and PSG going back up the field.
76' Mbappé's control lets him down as he tries to continue a PSG attack. Throw to Bordeaux. Can they get a consolation or two?
74' Kamano replaced by Cafu.
74' Gio Lo Celso replaces Adrian Rabiot.
72' Lovely shot by Kamano. Ball lands to him at the back post and he has the chance to drive it towards goal but he places it into the top corner. Areola is equal to it though and tips it over for a corner. 
69' Mendy, the substitute, on the right and he drives a shot towards goal. It rattles the upright and wide. A real driving shot but too tight an angle.
67' Kamano breaks into the penalty area and Rabiot eases him off the ball. No penalty. 
67' Bordeaux really struggling now to create anything. 
65' Di Maria takes the free and sends it over with his left. 
64' Neymar  tries to play it to the right and Sankhare takes him out of it as he passes. Yellow for the Bordeaux player.
62' Angel Di Maria replaces Edinson Cavani.
62' Game suffered after that sixth one. It struggled to really get going in the second hald but that one really took the sting out of it.
57' Draxler breaks free, plays it to Mbappé and he slots it past Costil. Not the cleanest of contacts but it does the trick! 6-1 and there will be more goals in this one.
57' Alex Mendy comes on in place of Nicolas De Preville.
56' Neymar down injured. It was off the ball and clipped from behind. Looking at his knee now but he seems to be okay. Ref can't do anything as he didn't see it.
52' Seven minutes into the second half and no goals. Feel cheated after the first half!
50' Miles over the bar!
49' Free for Bordeaux. To the left of where Neymar rattled the back of the net from.
48' Bordeaux with a chance. Headed cleat by PSG. Then Neymar breaks and he gets dispossessed. Might have been a free but no. 
46' We are back underway for the second half! 
45' A break from all the goals! PSG lead 5-1 at the break through Neymar (2), Cavani, Meunier, Draxler.
45' Meunier  booked for a foul on Kamano. 
44' This game is very strange! Draxler on the volley. Mbappé crosses and the German buries it. Keeper still standing still.
41' 41' A very exciting half of football in the end! five goals. PSG absolutely lethal when they attack. Not great going backwards but this is their second choice defense.
40' Neymar slots it home. He goes straight to Cavani after and celebrates with him.
40' Hand ball is what it was for. Jovanovic booked for protesting. 
39' PSG PENALTY! Here is what we've all been waiting for.
39' Another chance! 
38' Straight up the other end and De Preville strikes. Areola gets his right foot to it and away! This one has kicked into overdrive in the last couple of minutes.
38' Mbappé through and throws his leg at it. Costil with the unorthodox two-kneed save. It's effective though.
37' Otavio crosses to Kamano at the back post. He is under pressure from Areola and heads wide. Really difficult one to convert. PSG not comfortable just yet maybe!
36' PSG nearly rip Bordeaux open again. Drawxler to Mbappé down the left and he tries to square to Neymar but it's cut out. Cavani arriving on the right and that was a certain finish if it mde it across the box.
33' Sabaly is being replaced by Lewczuk.
31' Good work from Pellenard to break free from Verratti and he played it to De Preville. Unselfish from the striker as he put it on a plate for his teammate in a better position.
31' Bordeaux had been building and they get their reward! Sankhare just rolls it home.
30' Malcom tries to cross low but it's blocked and goes out for a corner.
27' Toulalan wins it back off Neymar as the Brazilian gives up completely on it. He walks back into position and Bordeaux start again.
25' Cavani chested it down and got brushed aside. Never a penalty.
24' Neymar fouled by Lerager. Taken quickly into Cavani and he wants a penalty. Referee waves his hands at it and the Uruguayuan is upset.
22' Game over! Meunier slams home from a after Mbappé completely mishits a shot from a cross and it lands to the Belgian. PSG cruising at 3-0.
20' Ball out tot the left by Bodeaux to Kamano but he was offide as another effort to build comes to a halt. PSG back on it now. 
19' Malcom breaks with support on the overlap from Sabaly. He crosses and there's a hint of handball as PSG clear. Referee doesn't say anything about it and Bordeaux keep attacking. 
18' Rabiot seems to be playing in a very, very deep role. He is almost a centre-half.
15' For the record. Bordeaux haven't been bad so far. PSG just look so dangerous every time they attack. They have so much speed and so many options to break you down.
14' PSG on the attack again. Mbappé out wide to Yuri but Draxler steps in and ten plays it to the left-back but he had drifted offside. 
11' GOAL! Neymar puts it on a plate for Cavani and he pokes home. A big hug between the pair as celebration! All good.
10' Bordeaux starting to attack now and find space. Pellenard from left-back wins another corner. PSG head away again.
9' Malcom swings it into the middle and PSG manage to get it away.
9' Bordeaux win a corner. 
7' That was some finish from the Brazilian. Bordeaux in trouble already. Maybe it's a good idea to give Neymar the set-pieces.
5' GOAL! What a free-kick. An absolute golazo! 
5' Mbappé on the move. He does a couple of stepovers and Toulalan takes him down in front of goal, about 10 yards outside the penalty area. Chance for Neymar.
4' Verratti gives it away and Lerager breaks. He turns back and eventually passes to De Preville, who has his back to it. Straight to a PSG man.
4' Ball over the top and De Preville gets goalside of Marquinhos. He absolutely drives his shot over and wide. That was a decent chance but his left foot not in tune yet. That was a dreadful effort.
3' Yuri kicked as he goes past Lerager. No yellow but a free. 
1' Mbappé seems to have started in the middle but it looks like he is on the move and this will be a very dynamic attack from the hosts.
1' We are underway between PSG and Bordeaux.
PSG arrive out at the Parcs des Princes. Handshakes all around as we get ready for kick-off.
Although, it seems Unai Emery is saving his first choice right and left back options for the Champions League. Kimpembe, Berchiche and Meunier start today as Silva, Alves and Kurzawa are rested. Could be a somewhat of a risk for Emery.
Dani Alves left our for a second league game in a row. He was introduced against Montpellier but couldn't make a difference. Is he being blamed for the Cavani-Neymar spat escalating? 
Quite an attacking front four from Unai Emery. They lacked firepower against Montpellier with Thiago Motta in the holding role and he has been replaced today with Draxler and it means Neymar will likely play as the number 10. We will all be watching closely again regarding body language as the whiff of unhappiness involving Neymar and Cavani still lingers in the PSG air.
Bordeaux XI: Costil; Sabaly, Toulalan, Jovanovic, Pellenard; Otavio, Lerager, Sankharé; Malcom, Kamano, De Préville. 
PSG XI: Areola; Meunier, Marquinhos, Kimpembe, Berchiche; Verratti, Rabiot; Mbappé, Draxler, Neymar; Cavani.
TEAM NEWS! 
Unai Emery holds Bordeaux in high regard. The former-Sevilla coach praised this afternoon's opposition in his pre-match press conference: "Bordeaux are having a great start to the season. They are still unbeaten in Ligue 1. They have grown a lot in confidence. Their coach (Jocelyn Gourvennec) has given Paris a tough time in the past, with Bordeaux and Guingamp."
AS Monaco drew 1-1 at home to Montpellier yesterday evening, and thus failed to climb above PSG in to top spot. The two teams are currently level on 19 points, so Les Parisiens will have the opportunity to go three points clear with a win against Bordeaux.
The Neymar vs Cavani dispute appears to have calmed, but another disgruntled player is now threatening to upset the proverbial apple cart in the PSG dressing room. Hatem Ben Arfa has appealed to the French League's legal committee over his banishment to the reserves, which the player's lawyer deems to be against the rules. 
Good morning! Join us for build-up to today's Ligue 1 clash in the French capital!
PSG vs Bordeaux: Ligue 1 match preview
The two remaining unbeaten sides in Ligue 1 meet at Parc des Princes on Saturday afternoon as Paris Saint-Germain host Girondins de Bordeaux.
PSG sit top of the table despite dropping points in the last round of matches with a 0-0 draw against Montpellier. Bordeaux sit in third place, four points behind their Parisian rivals.
Find out how and where you can watch PSG vs Bordeaux.
PSG
Unai Emery's team responded to dropping their first points of the season against Montpellier with an incisive 3-0 victory over Bayern Munich in the Champions League. The attacking trident of Neymar, Edinson Cavani, and Kylian Mbappé were lethal on the counter-attack in the game that cost Carlo Ancelotti his job as the manager of the Bundesliga champions.
Yet the victory against Bayern had a deeper significance than merely regaining momentum after a rare hiccup in Ligue 1. Reports of simmering resentment between Edinson Cavani and Neymar created the impression that all was not well in PSG's footballing utopia. The Uruguayan and the Brazilian both found the net on Wednesday evening, and their regular high-fives and embraces served to draw a public line under the dispute. For now, at least, the matter appears closed.
Argentine midfielder Javier Pastore remains the only absentee for Unai Emery, although he may choose to rotate his side in order to maintain the required freshness to compete on both domestic and European fronts.
Les Parisiens will need to tweak their approach for their return to Ligue 1 action. Against Bayern, they were content to concede possession to the Germans and gallop forward on the counter-attack. In the league, PSG have averaged 65 percent possession across the seven matches they have played so far, and will need to re-adjust to dictating the tempo of play.
With 21 goals in those seven matches, Bordeaux will need to perform stoically to retain their unbeaten status.
Bordeaux
Manager Jocelyn Gourvennec has moulded the team from southwestern France in to a well-balanced outfit, and Bordeaux's fine start to the season reflects that.
Les Girondins are yet to sample the bitter taste of defeat this season, but sit four points behind PSG as a consequence of having drawn two more games. Their strong start to the season represents continued momentum from the back end of 2016-17; Bordeaux are undefeated in 14 Ligue 1 matches if the run is stretched over the summer break. A 2-1 defeat to Nice on April 2 was the last time Gourvennec's side failed to pick up at least a point in the league, although it should be noted that most of the teams faced in that 14-game streak have been mid-to-lower-table opposition.
Bordeaux's showing in Europe has been less impressive. A sixth-place finish in Ligue 1 last season secured a passage to the Europa League qualifying rounds, where the French side came unstuck against Videoton, of Hungary.
Young Brazilian forward Malcom has been a stand-out player this season. And not just for Bordeaux, but in France as a whole. The 20-year-old, who arrived from Corinthians in the summer of 2016, already has three goals and four assists to his name this season. He is ably assisted by Senegalese midfielder Younousse Sankhare, who has already scored five goals across all competitions in the fledgling 2017-18 campaign.
---
PSG vs Bordeaux live online: predicted line-ups
PSG XI: Areola; Meunier, Marquinhos, Thiago Silva, Kurzawa; Rabiot, Verratti, Di María; Mbappé, Cavani, Neymar.
Bordeaux XI: Costil; Sabaly, Toulalan, Jovanovic, Pellenard; Leregar, Otávio, Sankhare; Malcom, Preville, Kamano.
---
PSG vs Bordeaux live online: odds and betting
Malcom is priced at 15/1 to open the scoring at Parc des Princes.
Place your bet on PSG vs Bordeaux.