Chelsea 0 - 1 Manchester City: match report, score, analysis
A Kevin De Bruyne strike was enough to give Man City all three points at Stamford Bridge as they made a further statement of intent towards their title aspirations.Champions League draw live 2017/2018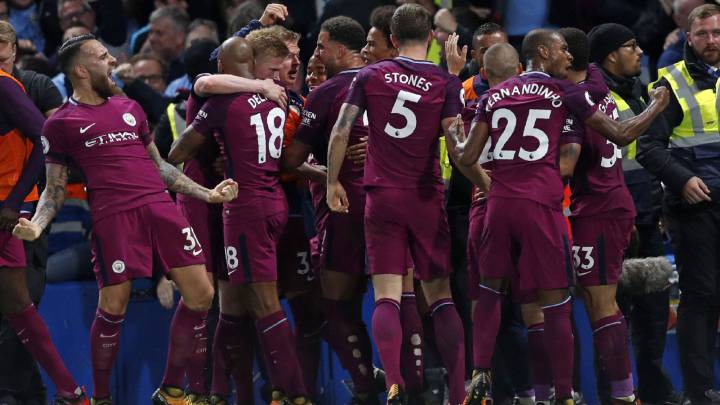 We were live from Stamford Bridge on Saturday evening as Chelsea welcomed Manchester City in week seven of the 2017/18 Premier League. Read our match report and how it all went down as the two heavyweights clashed.
Chelsea vs Manchester City: match report
The blond locks of Belgian midfielder Kevin De Bruyne returned to dent the early season promise of his former club Chelsea with a thunderous left-foot strike in the 66th minute. That goal was the crucial difference in scoreline for Manchester City but the difference in class at Stamford Bridge was as impressive as it was surprising as the Sky Blues returned to the summit of the Premier League. The defeat was one sour point for Chelsea but the loss of their new striker Álvaro Morata just adds to the pain.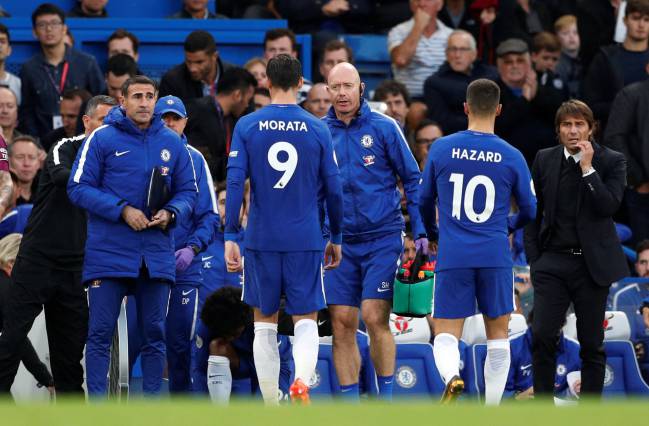 De Bruyne shone throughout
De Bruyne, who left Chelsea for Wolfsburg in January 2014, struck from outside the box midway through the second half, securing a victory that cemented City's status as the early title favourites. They took back their place in the table above neighbours Manchester United on goal difference and move six points clear of Antonio Conte's Chelsea, who were beaten at home for a second time after their shock opening-weekend loss to Burnley.
It represented a forceful return to earth for Chelsea after their excellent Champions League win at Atletico Madrid and their disappointment was compounded by an injury to prolific new striker Alvaro Morata.
Following Chelsea's 0-0 draw against Arsenal in their previous home game, this was the first time Conte had seen one of his teams fail to score in successive games on home turf in his managerial career. And while the former Juventus boss was left to lick his wounds, opposite number Pep Guardiola could revel in a first victory over Chelsea inside 90 minutes in eight games as a manager.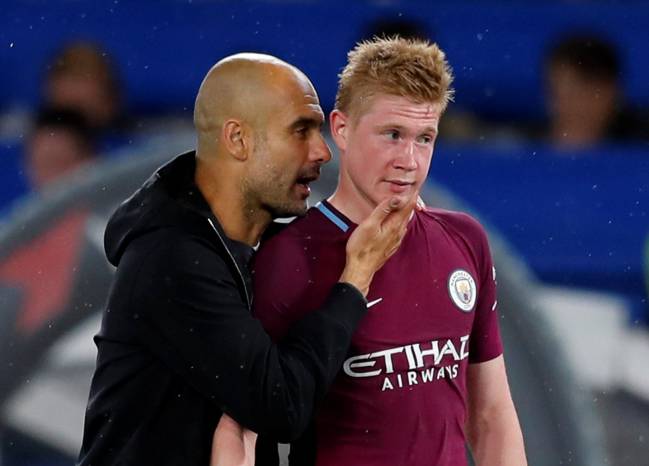 Free scoring City in the winning habit
City had scored 16 goals in their three previous league matches, but in successfully overwhelming the defending champions on their own patch, this was arguably their most impressive performance of the campaign to date. The result also served to equal the club record of five consecutive top-flight away wins, matching sequences established between April and September 1912 and May to September 2015.
Following his star turn in Wednesday's 2-1 win over Atletico, Eden Hazard took his place in the Chelsea starting XI for the first time in a league fixture this season. Conte also retained the same 3-5-1-1 system he had used against Atletico and his men threatened to pick up where they had left off in the Spanish capital, Morata glancing a header wide from N'Golo Kante's cross. But it was to prove a false dawn as City's aggressive pressing and probing possession play kept the champions on the back foot throughout the first half.
Chelsea goalkeeper Thibaut Courtois almost embarrassed himself in the 12th minute when, after playing a one-two with Antonio Rudiger at a goal-kick, he allowed Gabriel Jesus to close him down as he assessed his passing options. Fortunately for the Belgian, after striking the advancing Jesus, the ball bounded over the crossbar for a goal-kick.
Chances grow for City frontline
Raheem Sterling wasted a great opportunity for City when he overhit a cross with Jesus and David Silva racing into the box. Courtois was twice called into direct action, repelling a fierce strike from Silva and then showing sharp reflexes to turn away Fernandinho's bullet header from De Bruyne's corner.
Chelsea were obliged to feed off scraps, particularly after Morata left the fray in the 35th minute, gesturing to his left hamstring, which saw Willian come on to form an unorthodox front two with Hazard.
Cesar Azpilicueta and Hazard worked Ederson either side of half-time, but the City goalkeeper needed only regulation saves on each occasion.
After Marcos Alonso had blocked impressively from Silva, De Bruyne broke through in the 67th minute when he exchanged passes with Jesus before steering a glorious shot inside the right-hand post with his left foot. With four assists and nine goals, the gifted Belgian midfielder has been involved in 13 goals in his last 13 City appearances. Jesus then went close to extending the visitors' lead when his side-foot volley was headed off the line by Rudiger.
Chelsea's charge was late in coming and they came no nearer an equaliser than a header from Andreas Christensen in the last minute that cleared the bar comfortably.
Chelsea vs Manchester City live stream online: how it happened
    Full time: CHELSEA 0 - 1 MAN CITY - Thanks for joining us today and we hope to see you again soon as we bring you more live football than ever before. Stay tuned for our match report.
90'+4' Peep peep peeeeeeep! It's all over. City flex their talented muscles and take an impressive three points back to Manchester.
90'+3' 90'+3' De Bruyne off for Danilo as the final whistle is just an Atkinson puff of air away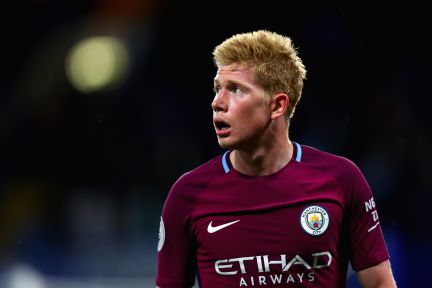 90'+2' Corner taken short and Conte will be frustrated with the wasted final chance.
90'+1' Into the three minutes of added time. Another ball into the area and Walker takes no chances heading away for a corner.
90' Chance! The free kick is whipped into the danger zone by Fabregas and Andreas Christensen almost gets an equaliser for Chelsea with a powerful header. 
89' Card for Otamendi who flies into Willian. What was he thinking?
88' A long ball forward from the Chelsea defence is chased by Michy Batshuayibut Ederson reads it well and comes well out of his area to chest it away from the striker. No hint of a Mané-esque danger moment there.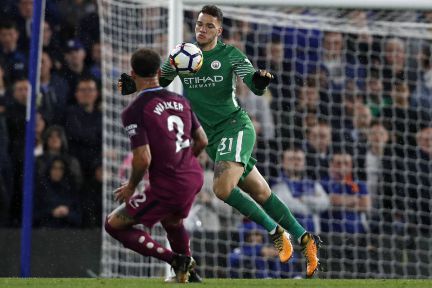 86' City stay in safest part of the pitch for them and keep Chelsea pinned back. Corners come to nothing but again they collect possession and continue to probe.
84' Close! City hurtle towards the home side's goal again. The lifted cross from Sterling on the right picks out Jesus' controlled volley is headed off the line by the excellent Ruediger. That would have clinched it.
82' City have been close to opening up this less compact backline of Chelsea but a white-socked foot seems to always be there. These are the risks you have to take.
80' No surprises that there seems to be more space opening up after the changes by Conte. City trying to keep the ball as much as possible and still press high when not in possession.
78' Azpilicueta more in this and he cuts it back dangerously in the area but only City defenders there and they relieve the pressure. City then get away and De Bruyne almost sneaks in Sané behind the last man.
77' Pedro now for the Blues, gets the ball moving forward. The home side defintely looking to make something happen before they go out of this with a whimper. Much better.
76' Silva off for Silva (Bernard replaces David)
75' Chelsea get forward a couple of times in quick succession and first Cesc then Azpilicueta get balls into the middle. Both defended well.
73' That double change shows Conte's intent to get back into this game in the final quarter of an hour...but also means more space likely for this dangerous City attack.
72' Bakayoko off for Batshuayi 
71' Hazard off for Pedro
71' Perfect example there of the problems Chelsea have. What would normally be a dangerous break - a ball out from the back to Hazard out wide - results in the Belgian turning back and searching out support. City back and cover.
70' Conte immediately looks to the bench. Bats-man will be on soon.
69' Chelsea try to move it forward but City heads are up and they are keen to shut down space, win the ball back quickly, and then build. That goal may mean they look to build slower.
67' Given the ball by Jesus he stepped onto his left and let fly from the edge of the area. Courtois no chance! What have Chelsea got now?
67'    GOOOOAAAAALLL! What a strike from De Bruyne.
65' Chance and chance! Silva in the area gets a shot away after being laid up by Sterling. Blocked! Then again Jesus almost gets onto the end of the pass. It's surely coming for City soon.
63' That shot from Hazard helps this diagram for the home side...although it only takes one to score, of course!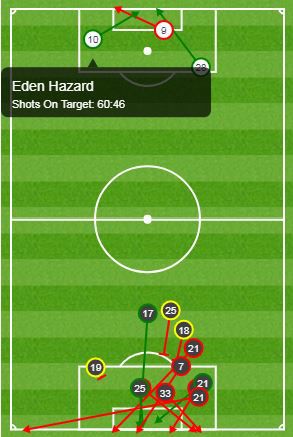 61' And Chelsea do create a meaningful chance. Hazard it is who pulls the trigger and Ederson blocks it well. City will need to be careful of complacency. Unlikely at the Bridge, I'd expect
56' Fernandinho is the first name into the book after he trips Eden Hazard.
56' Kante now, scampers after a ball in midfield, but City clean up as the Frenchman stretches to try and get control. Will tiredness be used as a reason for the home side being second best here? What am I saying, it's 0-0 and I remember Chelsea's game against Spurs a few weeks back. Surely Hazard and co will make some chances.
55' Chelsea just absorbing more and more pressure at the moment as Sterling again tries to feed it into the danger area. It's cleared again.
53' Chance for City again as Sterling puts his laces through it on edge of the box after controlling it nicely on the chest. It has swerve on it but goes well over.
52' Alonso and Walker both down as the clatter into each other so we've got a slight pause in play.
51' Cahill steps out of defence with purpose and links well with Bakayoko in the middle of the park but just as space seems to open up for him to feed his forwards the defender mishits the pass.
49' Lovely quick move from City leads to Silva sliding in Sterling (this time over on the left channel) and Chelsea do well to snuff him out again. The half has started as we left them.
48' Sterling is quick onto a loose ball on the right and tries to lift it into the path of Jesus but Ruediger takes no chances and clears it away for a corner. Nothing comes from the set piece.
46' No changes to the line-ups (Morata leaving the pitch in the first half for anyone just joining us). Chelsea start us off and we'll see how Conte has changed things to get more control
45' Peeep!! Let's go again...
  One reason for this has been the movement of both Silva and De Bruyne looking for openings in the final third for their willing forward runners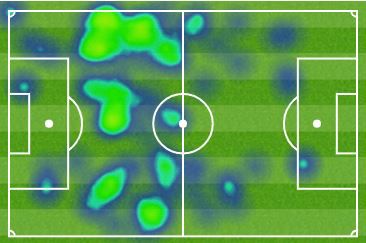 I said we'd look at where the Chelsea wingbacks were impacting the game and as this graphic shows they were getting pushed back further than in other games (whether Alonso and Azpilicueta or others in their role)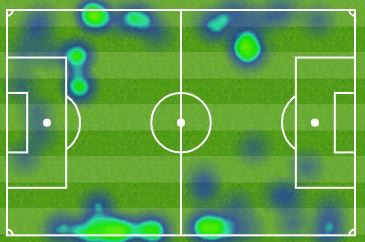 As well as seeing City have the better control of the game, Conte will be concerned that Chelsea's main goal threat will not be able to influence the second half. Morata's injury followed the striker looking dangerous almost every time he got the ball. Crosses in to the area could have been an option to take advantage of the Spaniard's strength in the air for the second 45 so it'll be interesting to see how they approach it after the break.
  Well, that was fun! No goals, and many an onlooker likes a few of these before calling a game entertaining, but that was a half of football with plenty to enjoy. Both teams had their chances but it was City who'll be the happeier with their control.
45'+2' Nothing else to mention as the whistle blows. Let's have a look back on that first half...
45' Save! Courtois gets strong hands to a booming header from Fernandinho as we enter added time. Two minutes of that to go...
43' Another free-kick for City and De Bruyne looks to deliver from deep on the right (Sterling was tripped by Alonso but Atkinson's book stays in his pocket). It's nicely angled, with pace, around the bulk of players in the middle of the area but cleared for a corner.
41' Bakayoko caught offside (I think that's five trapped by Pep's clear tactics of a working high line)
39' De Bruyne now at the other end and lifts it into the danger area. Jesus gets a flick on but it takes it away from Sané coming in at the back post for a goal kick. The striker will prefer more balls into his feet 
37' Some flicks between Hazard and Willian on the left before the latter is upended by De Bruyne. Free kick in the perfect position to find the head of Mora... Cost... Oh! Willian hits the wall so it wouldn't have mattered anyway.
36' A bit of a lull in play - and a drop in noise from the concerned fans - as Chelsea regroup. Willian offers the home side a very different option
33' Willian replaces Morata. We await with interest to see how serious that is
33' Morata looks in some discomfort. Yes, he's coming off
32' City again look to find gaps and go long for Sterling but he can't get the ball across the area. 
30' Otamendi meets a De Bruyne corner but doesn't get enough on it and it skims wide. A decent chance and his reaction shows it.
29' Silva hits a lovely strike while under pressure from Cesc but Courtois parries at the near post.
29' Cesc's corner cleared by Stones (I forgot to mention that he did come back onto the pitch after brief treatment)
28' Now Morata on the edge of the City area, shows quick feet to break into the box on the left but he can't drive it across goal. Corner.
27' City then with a break as De Bruyne releases Sterling in the inside right channel. He's away and just has to roll it across goal for Silva to tap in... the Englishman over hits it.
25' Morata heads out to the right to pick up a throw. He wins another and moves to where he can cause more danger. Great play allows Ruediger to curl a firm cross in across goal but it's cleared.
23' Jesus goes down in midfield after a challange from Bakayoko. Free kick but nothing too bad no matter how dramatic the striker made it look.
21' A little stoppage time as John Stones is down. Could be that he hurt his wrist. He's getting treatment on the sideline as Sterling has another attempt at running 'through' players, but the Chelsea duo clear it.
19' Ping! Block! Delph gets a sweet instep on a dropping ball outside the area and it looked on target. Kante throws himself at it and deflects it for the corner.
18' Cahill trips Silva and the resulting free kick is delivered into the Chelsea area. Poorly though and it goes over everyone and out for  a goal kick.
16' That was a lovely flick under pressure in the centre circle from Jesus to set Sané away on the left. The German gets closed out though before he can bring his teammate back into play although fair play to Jesus who put the afterburners on after the pass to catch up.
13' Morata looked to be in, with City's backline playing high, but the flag's up on the far touchline.
11' Courtois!! The Chelsea keeper waits and waits before clearing the passback from Antonio Ruediger and Jesus is almost on him four yards in front of his goal. The block fires back but just wide of the post. Close!
10' Pep will be content with the start his side have made (following the first couple of minutes) and Walker now bursts towards the area. He lays it to his right to the slick-looking David Silva but he drags his lef-footed strike wide of the far post.
9' Chelsea play if forward to Morata just inside the City have and he takes it down really well and lays it back to Bakayoko who fails to pick out the wide run.
7' Raheem seems well up for this game and goes looking for the ball again. He's got that shaky pre-dribble right foor going.
6' City now with some controlled possession, back into their own half and forward again. Sterling picks it up on the right and decides to dribble head first towards the box and is fouled on the edge. Looked like a free kick but no.
4' Free kick outside the Chelsea area as Sterling goes down under pressure from Bakayoko. De Bruyne hits the target but easy catch for Courtois.
3' Another chance for Morata as Chelsea shift it wide right and Kante swings one in but the Spanish striker can't direct the header on target.
2' First sniff at goal as a quick free kick is taken on the right and Morata almost gets a shot off but is closed off. City need to wake up quickly
1' City start us off in their away burgundy shirts, shorts and socks.
We're off!
A reminder that the last time these two sides met in the league was back in April where Eden Hazard scored two and missed a penalty in the home side's 2-1 victory. The speedy Belgian looked back at it in Madrid on Wednesday and will be looking to run at the City defence every chance he gets.
  Just five minutes till kick off and the teams are in the tunnel
It'll be interesting to see how often Chelsea have Spanish wide men Azpilicueta and Alonso tucking in as a back five. I'll keep an eye on the heat map for the two of them as the game progresses.
Some of the Chelsea fans are looking to get some attention with their dress code tonight...so let's give it to them . It must have taken a while to get ready so well done for making it to the ground in time.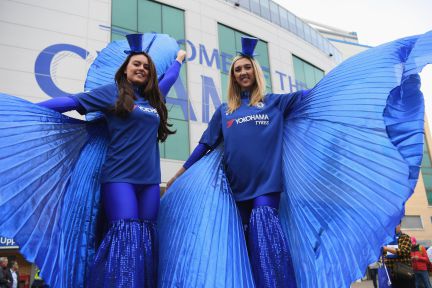 The only real surprise in Pep's line-up is that of Fabian Delph when we thought Danilo would come in for the injured Mendy. No doubt Danilo he'll have passed on some tips on his former Real Madrid teammate striker to the City defence. The Englishman has had to play back up in much of his City career but when called upon has rarely let the side down. He'll be tested today.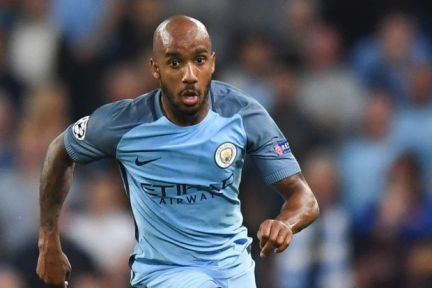 Don't forget that we're also bringing you live build-up followed by minute-by-minute coverage of PSG vs Bordeaux in Ligue 1 this late afternoon/evening at 17:00 CEST. We're told that the men from Paris have a rather useful strikeforce these days.
Agüero himself took to Instagram on Friday to say: "Hurts, but I'm fine" 
  The major talking point in the build-up to this game has, of course, been the news of the car accident involving City striker Sergio Agüero on Thursday evening. The Argentine has suffered a broken rib and is expected to be out for around two to four weeks, with his manager at the Etihad Stadium, Pep Guardiola, saying on Friday: "He's OK - [that's] the most important thing".
Good morning! Join us for build-up to this evening's glamour Premier League match-up in West London!
Chelsea vs Manchester City: Premier League match preview
Anyone who loves their football will be finding a way to get in front of a television, radio or a wonderfully descriptive live text feed(!) for Saturday evening's clash. Both Chelsea and City are purring right now and knowing how it will turn out is anyone's guess. A dazzling run from Eden Hazard, a 30-yard screamer from Kevin de Bruyne or a dodgy penalty decision. Whatever happens there is almost certainly going to be plenty to examine.
Chelsea team news
Diego Simeone said after his Atlético Madrid team was beaten by Chelsea in the Wanda Metropolitano on Wednesday night that Antonio Conte is better than him. Now he may just have been answering the question put to him modestly but there is no doubt that the Italian coach had his Blues right up for the battle in Madrid and will need to get a similar response from his troops at Stamford Bridge for another huge test of their true ambitions.
Questions were asked when big money was paid for young Spaniard, Álvaro Morata, a striker that had scored goals, some key ones too, when called upon but he hadn't been called upon all that much. After just a couple of months, though, few commentators now doubt his finishing - he has seven in seven - and more are seeing the other attributes to his game (these being helped by Conte) that allow others to work off him. The likes of Hazard, just back in the side and already looking like the player we all know he can be, Cesc and Pedro, are showing a good appreciation of how to combine with Morata and the use of Alonso and Moses as wing-backs ensures there will be crosses to feed off. The other plus for Conte is seeing Matic's replacement, Bakayoko, showing the form he did for Monaco last season. He's proving to be an upgrade.
Although Conte may look to freshen things up with only a few days between their tough Champions League trip, he may well stick to his strongest XI ahead of the international break. One forced change is bringing in Andreas Christensen for the suspended David Luis.
Manchester City team news
Pep Guardiola came into the Premier League last summer and looked to blow everyone away from the start with his fluid football, goals-a-plenty and ten wins in the first ten games. He soon found that things can get tough in the Premier League and ended up the campaign in third place, falling short of the title challenge well before May. His response has been to bring in more reinforcements for his already talented squad and signs are good with 26 goals along their seven game winning run.
The big team news ahead of this match is the confirmed absence of both Benjamin Mendy and Sergio Agüero, both within just 48 hours of the game. Mendy will face considerable time out after injuring his knee and their talisman striker is going to miss a few weeks after breaking his ribs. Guardiola is likely to turn to summer signing Danilo (who spent last season working alongside Chelsea's target man) and Gabriel Jesus to fill the sizeable voids. De Bruyne and Silva will be expected to pull the strings in midfield but will find space harder to come by against the grit and organisation of their opposition. This was the venue where City last lost on the road in the league.
Jesus has already shown he knows where the goal is, with or without Kun by his side, and both Sterling and Sané could put pressure on the Chelsea wing-backs not to get caught too far upfield. There's often little point trying to second guess Guardiola's plan so let's instead wait till kick-off and enjoy what is sure to be a technical, tactical and physical test for both sides. We can't wait.
---
Chelsea vs Manchester City: potential line-ups
Chelsea XI: Courtois, Cahill, Christensen, Azpilicueta, Alonso, Kanté, Bakayoko, Moses, Hazard, Pedro, Morata
Head coach: Antonio Conte
Manchester City XI: Ederson, Walker, Stones, Otamendi, Danilo, De Bruyne, Fernandinho, D. Silva, Sterling, Jesus, Sané
Head coach: Pep Guardiola
---
Chelsea vs Manchester City live online: betting odds
With two in-form teams meeting, there's little surprise that the bookmakers can't really separate them, the home side fractionally edging it. So, if you're looking for a little more value you can get Chelsea/draw as a half time/full time result at 14/1. You'll get similar odds if you fancy the mercurial Spaniard David Silva to open the scoring.
Place your bet on Chelsea vs Man City here.