Bulgaria 0-1 France World Cup score and team news: match report, goals, action
A solitary Blaise Matuidi goal in the first half was enough to seal all three points for France as they move back ahead of Sweden at the top of their World Cup qualifying group. Jamaica vs USA: Gold Cup live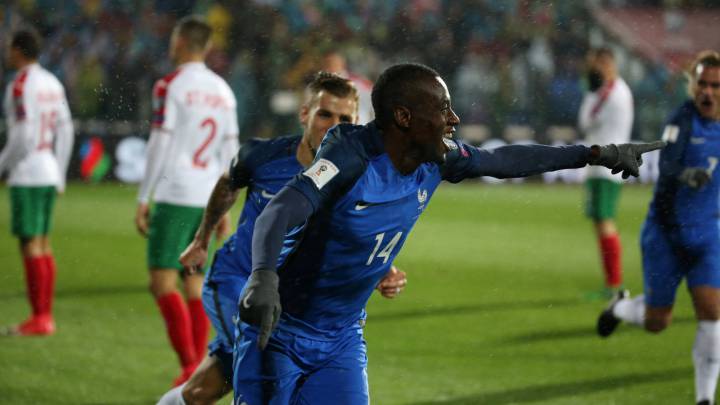 Bulgaria 0-1 France
France beat Bulgaria in Sofia on Saturday night thanks to a goal by Blaise Matuidi early in the first half that set them on their way. After Sweden destroyed Luxembourg earlier in the day by eight goals to nil, France needed a win to move back top of their group.
Didier Deschamps went with a front line of Antoine Griezmann, Alexandre Lacazette and Kylian Mbappé but the three failed to impress as France struggled to really break down the home side apart from the goal.
It came in the third minute when Digne crossed to Griezmann who stabbed it to Matuidi and he drove his shot from an awkward angle into the side of the net as it looked like Bulgaria might have been on the receiving end of a proper beating. That failed to transpire however.
Neither side really looked like scoring as Bulgaria had one on target after that and so did France.
France will play Belarus in their final game on Tuesday knowing a win will lead them to Russia. Sweden play Netherlands away and if the French slip up with a Sweden win, it means a likely playoff for the Euro 2016 winners.
90'+2' That's it. 1-0 and nobody will be too upset with that one being over. France were lacklustre, Bulgaria were worse and you'd have to really wonder what Deschamps' tactics really were for this France team heading to France as one of the tournament favourites were.
90'+2' Cross arrives straight into Lloris' hands.
90' Three minutes of added time.
86' France continually getting themselves into awkward positions. Griezmann breaks and passes out wide to Giroud. He goes out towards the corner flag, ends up getting surrounded and then putting the ball out for a goal-kick. 
83' Giroud replaces Mbappé. He is absolutely raging but France's attack, in general, has been poor tonight. Maybe they were missing a Giroud-like figure.
81' Sent into the box and out the otherside. Comes to nothing. Much like this game, which has been a dreadful affair, if we're being honest.
80' Rabiot lucky not to be booked now as Varane gives it away and Delev breaks before being caught around the ankles by Rabiot. Free from out on the left.
77' Lacazette comes off after a fairly forgetful night in Sofia. Payet is his replacement.
72' Umtiti looks for Matuidi but too much mustard on it. the Juve midfielder doesn't even chase it. 
70' Mbappé with the ball at the edge of the penalty area. Waits, waits, thinks about shooting and then waits again. He eventually strikes and his shot is blocked.
68' Really poor from France. They give the ball away again and Bulgaria can't capitalise but they do manage to win a throw.
66' Another yellow. This time for Manolev as he takes Tolisso out of it. Another silly tackle.
65' More frustration. Lacazette faces goal with Mbappé to his left and Griezmann steaming through the middle he doesn't give it to either of them and he gives the ball away before they even get a shot away.
61' Kraev with an identical tackle to the one before on Tolisso. He gets booked this time for his effort on Varane. Silly and unprofessional tackling as he was very late.
58' Second half hasn't really kicked into life yer. Aside from a few poor tackles, nothing much doing. France rather uninspiring.
53' Getting slightly chippy now. Tolisso fouled again and gets up to have a word with Kraev. Replays show he dived but the tackle was slightly wild from the substitute.
53' Varane clears as Bulgaria contiunue to put the pressure on France.
52' Dangerous ball into the box. Manolev delivers but Kraev can't reach it. 
50' Tolisso the one on the ground. The ref waiting for the player to get to his feet. Zanev the culprit but he is proclaiming his innocence. He went over the ball to be fair and can have no complaint.
49' Mateu  has a yellow in his hand. He just hasn't decided who he is going to give it to yet. 
47' Very early second half change. Galabinov replaced by Kraev.
46' Delev with an early effort but that goes well wide.
46' Back underway for the second half as France look to jump back in front of Sweden at the top of their group!
45' HT in Sofia. France good value for their lead but struggling to really create much else. They won't be too bothered as Bulgaria look stale in front of goal themselves.
45' He took a knock to his ankle in the process. He limps away from it and seems to be okay.
45' Griezmann's free hits the wall, makes its way to Mbappé and he buys a yard for himself before driving wide.
44' Rabiot turned upside down outside the penalty area by Kostadinov. Free for France on the brink of half-time.
40' Long ball towards Lacazette. He bulldozes Bodurov out of the way and wants a free for obstruction but gets a foul given against him for being slightly over zealous.
36' Bulgaria with about eight chances in five seconds! Nedelev first. Then Delev heads back and two more efforts that Lloris saves and then one goes over the bar to end the passage of play. So close to being an equaliser.
33' PSG's Adrien Rabiot replaces the Chelsea midfielder.
33' Bad news for Chelsea. Kante going off with what looks like an issue with his thigh?
31' Mateu blows for offside. Looked dangerously close for France.
29' Four on two break by France. Mbappé tries to play it to a man in support but it flies up in the air as it's deflected. Lacazette shoots and it's blocked for a corner.
27' Griezmann chases back and Bulgaria win a throw. They've failed to get anywhere close to France's penalty area.
25' Griezmann volleys wide. Great ball by Mbappé out wide to him, slip by Bulgarian defender and then Griezmann blazes wide. 
23' France pushing for the second. Kante to Tolisso and onto Sibide. It comes all the way back and France look for a way through.
19' Shot by Tolisso is always off target. goal kick to Bulgaria.
17' Ball flies into Bulgaria's box from the right. Nobody near it and it goes out for a throw on the other side of the field.
15' And another chance. Mbappé through on the left thanks to Kante. He does a stepover and fires at Iliev. Comfortable height for the keeper. He parries it out for a corner.
14' France could have had a second. Griezmann in around the six-yard box but Iliev grabs it and averts the danger.
12' Sibide tries to get into an attacking position but Bulgaria send it out for a throw. All France so far.
11' Matuidi plays Digne through on the left. Keeper thinks about coming for it, does, and then retreats. He has cover and Digne's cross is blocked.
9' Mbappé pulled back by Slavchev. He gets a booking and complains but he hardly has a case. He quite visibly pulled back the youngster.
7' What is Varane doing? He runs into trouble, gets dispossessed and then fouls Delev. Umtiti did something similar a minute ago but was bailed out.
6' Corner from Bulgaria comes whizzing into the box. Cleared by France. Those set-pieces will be dangerous today given the conditions.
3' That didn't take long. Matuidi gives France the lead with a shot from a very tight angle. Digne plays it inside to Griezmann, who played it to Matuidi and the Juventus player buried it into the side of the net. 
1' Bulgaria tip off as we get the ball rolling in Sofia.
Lashing rain in Sofia at Vasil Levski National Stadium. Teams in the tunnel now geatting ready to face the weather and each other! Bulgaria have the slightlest of chances of making it into a playoff. It is very slim though.
Sweden absolutely hammered Luxembourg - 8-0. It means France need a win tonight and most likely on Tuesday against Belarus.
Bulgaria team news: Iliev, Popov, Zanev, Bodurov, Slavchev, Kostadinov, Nedelev, Delev, Manolev, Bozhikov, Galabinov.
Lacazette does indeed lead the line against Bulgaria.
Live Bulgaria vs France live stream online: as it happened
Bulgaria v France live stream online: preview
Mathematically, four teams could still qualify automatically from Group A, the most tightly packed of the European qualifying sections. France, who top the group and Sweden, who are just one point behind them are the best placed to finish in the top two positions but looking at these final two fixtures, the group will likely be resolved when the final games are played on Tuesday.
Didier Deschamps' France must win both of their final two qualifiers to be guaranteed a place at 2018 World Cup Russia. Les Bleus sit in pole position on 17 points having lost just once in the qualifying round – had Ola Toivonen's stoppage-time shot not crossed the line in the June meeting with Sweden, Deschamps' troops would already have booked their tickets for next summer's finals. France have otherwise enjoyed a perfect campaign. They had no problems in their home meeting with Bulgaria – even after going behind to Mihail Aleksandrov's sixth-minute penalty, they had the game wrapped up in under an hour with goals from Kevin Gameiro, Dimitri Payet and Antoine Griezmann.
Not that Deschamps will be in any way underestimating Bulgaria who still have an outside chance of knocking Sweden out of second and will be keen to treat their fans to another sweet victory at the Vasil Levski National stadium where they have beaten all of their group rivals – Belarus, Holland and Sweden.
Bulgaria team news
Coach Petar Hubchev is without midfield pair Ivelin Popov and Ivaylo Chochev who are suspended but otherwise has a full squad to select his team.
Man to watch: Georgi Kostadinov. Curiously, Bulgaria's 13 goals in qualifying have come from 10 different players so Hubchev has goal scorers throughout his team but is without top scorer Popov. Maccabi Haifa midfielder Kostadinov made his debut against France in the October 2016 meeting in Paris and has impressed in all of the five matches he has played since then and is averaging 0.50 goals per game after finding the net against Belarus, Sweden and Holland.
France team news
Deschamps drafted in centre-back Adil Rami after Arsenal defender Laurent Koscielny pulled out of the squad with an Achilles problem and Jordan Amavi was recruited a couple of days ago to replace Layvin Kurzawa who sprained his left knee in Monday's training session. He is also missing Benjamin Mendy, Paul Pogba and Ousmane Dembélé are also out with long-term injuries. The big question is who will line up in attack - Mbappé could get the nod ahead of Kevin Gameiro and Giroud. We'll see...
Man to watch: Kylian Mbappé. The teenage forward has been averageing just under 0.5 goals per game since his summer move to Paris Saint-Germain. He scored after coming on as a second half sub in the 4-0 win over Holland in August. He has already shown to have a good understanding with the rest of France's forwards and is always in the right place at the right time.
Bulgaria v France live stream online: possible line-ups
Bulgaria: Iliev; Manolev, Chorbadzhiyski, Bozhikov, Zanev, Slavchev, Mimitrov, Nedelev, Kostadinov, Milanov, Dimitrov.
France: Lloris; Sidibé, Umtiti, Varane, Digne; Tolisso, Matuidi, Kanté; Lacazette, Griezmann, Mbappé.
Live Bulgaria v France enhanced betting odds:
France are favourites in spite of being the away team at the formidable Vasil Levski stadium, Deschamps' team is at 14/1 to win with odds at 6/1 for the game to end in a draw. Griezmann is 3/1 to score the opening goal and Raphaël Varane is at 20/1 to get his name on the scoresheet. Bulgaria's Kostadinov is at 28/1 to score the first or the last goal of the game
Bet on Bulgaria v France in the 2018 World Cup qualifiers now
Line-ups
19

Ivaylo Dimitrov

12

Bozhidar Kraev

4

Bozhidar Chorbadzhiyski

20

Martin Raynov

23

Blagoy Makendzhiev

1

Mitrev

22

Aleksandar Tsvetkov

21

Kristiyan Malinov