Wales vs Ireland Russia 2018 World Cup qualifier: match report, goals, action
A James McClean strike in the second half was enough to see Ireland overcome Wales and finish second in their group with a playoff the reward.Champions League semi-final draw: live online
Wales 0-1 Republic of Ireland: match report
Ireland did the improbable in Cardiff on Monday night by beating a Wales side who were themselves looking for a playoff spot for the World Cup, and possibly more if results went their way.
In the end, they couldn't control the result on their home patch thanks to a spirited display by Ireland and a wonderful finish by James McClean in a game which they often looked vulnerable but never really looked like losing.
The first half started as expected with Wales in control of possession and how events were playing out but even at that early stage were struggling to break a resolute Ireland down.
Joe Allen picked up a knock midway through the half and had to be substituted and at this point, with Johnny Williams his replacement, started to slowly but surely turn in Ireland's favour.
The home side started the second half in similar fashion to the first but James Chester headed just wide of the post and Robson-Kanu fired a header straight at Darren Randolph during their best spell of the game.
Ireland scored against the run of play in the 57th minute when a ball broke down the right and Jeff Hendrick chased it down when it looked like it was a lost cause. He sent a hopeful ball towards the penalty spot and a stepover from Harry Arter sent three Wales defenders in the wrong direction. Ireland's hero on the night, James McClean rifled a half-volley into the net with Wayne Hennessey left rooted to the spot.
There were still 33 minutes to play and Ireland sat back and tried to close the game off with wave after wave of Wales attack threatening to ruin their dream.
Chris Coleman's side ran out of ideas, however, when Ireland reverted to putting all eleven men closer to their own penalty area than anywhere else on the field. Eventually, Wales would draw a blank as it seemed inevitable that their World Cup dream was over.
Ireland will wait now for the draw on October 17th as their own hopes of a trip to Russia are far from over just yet.
Wales vs Republic of Ireland: as it happened
90'+6' And that's it. Game over and Ireland manage to do the improbable.
90'+6' Meyler takes Hennessey out of it and is booked.
90'+5'   Tom Lawrence with the very last chance and he kicks it out for a throw. He can't even manage to get it into the box.
90'+5'   McClean bundles Williams over and gives away a free. Silly again.
90'+4'   Ramsey has a shot and Randolph saves.
90'+4'  Long ball arrives and Randolphy sees it out. Another chance for Ireland to burn a few second off that clock. Precious, precious seconds.
90'+3'   Ireland really running out of lives!
90'+3'   McClean gets booked for kicking Ramsey in the chest. He will argue he was going for the ball but silly and a little cynical. 
90'+2'   Daryl Murphy replaced by Kevin Long.
90'+1'   Five minutes of added time.
90'   Free for Wales now as Randolph's long ball sees Murphy fouling in the air.
90'   Ireland with a chance to slow things down. 
89'   Another corner. Ramsey fires it in. Gunter strikes and it's blocked. The ball comes straight back in and Chester fouls Randolph. 
89'   Williams with a header at the back post. It hits an Ireland defender and they get it away. This is the definition of backs to the wall here for Ireland.
88'   Whelan clears it. It keeps coming back down on top of the Ireland defense.
87'   Woodburn with a corner. Cleared by Ireland.
86'   McClean still going strong. He's brushed aside by James Chester and Wales start another attack.
85'   Stephen Ward wins a free for Ireland. A good battle with Gunter and Gunter says he was the one being foule but linesman says it's a free to the defender.
85'   Ramsey with an absolutely dreadful free. Way over the bar when he was too far out for a shot.
83'
83' Murphy wins it and sends it down the line. Hennessey out of his book looking for it and gets it. Wales go up the field again. Duffy penalised for climbing on Vokes' back from the long ball. 
81' Woodburn with a dangerous cross. It decieves everyone and Randolph grabs it but the look in his eyes as he looks at his defenders suggest he wasn't entirely sure of what just happened! 
80' Last 10! Can Ireland hold on?
78' Johnny Williams lunges in on Meyler. Meyler wants a yellow...and he gets one. Except it's for Ciaran Clark, who was giving out about Williams not being booked. It was a fairly dangerous tackle but he didn't go over the ball and no intent.
76' Harry Arter is down with an issue with his knee. Glenn Whelan at the ready.
76' Throw for Wales. 
75' Randolph gathers a ball that flew up into the air. He need two attempts at it though.
74' Woodburn pushed in the back and he gives a free to Ireland. A really strange call and Woodburn tells the ref as much.
71' Murphy booked for a hand to the face of a Wales player after what looked like a high foot. 
71' Sam Vokes replaces Robson-Kanu. Decent showing by Robson-Kanu but Randolph saved well from a header and he failed to execute his other couple of half chances. Vokes on now to shake things up.
69' Ramsey drives over after a run down the wing by Gunter. 
69' Unclear as to what's wrong with him. But it looks like he will need to be replaced.
69' Jeff Hendrick down injured now. Ref points to his watch and assures everyone that it's stopped.
69' Ramsey sends a cross in. Robson-Kanu gets a head to it but he nods it over. 
65' And now Ashley Williams forced off to change his jersey as it was ripped to shreds. He had been playing like that for a few minutes.
65' Ben Woodburn replaces Andy King.
65' Ben Davies strikes. It takes a deflection of Duffy and Randolph saves, and saves it from going out for a corner.
63' It was Duffy who got a slice of the ball with his head.
63' Corner eventually arrives in and Brady nearly gets a full head to it! He glances it and Ben Davies is down with a head injury. Referee brings a halt to play.
62' Ireland taking their time over this corner. You ca expect plenty of that in the next half an hour.
61' Daryl Murphy chases it down and wins a corner. Ashley Williams blocks it.
59' Coleman plotting a change here. 
57' Ashley Williams gives it away. Then it's crossed in, Brady steps over it and James McClean absolutely buries it! 
57' McClean scores! What a finish. 
57' McClean heads onto Murphy but Hennessey is off his line like a light.
57' Lawrence pushes Meyler out of the way and gives away a free. He doesn't think it was a free at all as he was in possession of the ball. 
54' Harry Arter pushed in the back but doesn't win a free. Ireland give it away but that was a decent counter. The game is opening up a little bit more now.
53' Robson-Kanu the latest with an effort. He headers at Randolph and he tips it over. That's the best chance of the game. Corner comes to nothing. Wales getting so close and everything it happening down their right hand side. Ireland under increasing pressure.
51' Gunter wins a corner. It's sent in and Chester gets a head to it. It looked like it was in but it hit the side netting. 
50' McClean shoots and it deflects up to Brady. He waits for it to fall to him but it never does. It gets taken off his foot and Wales eventually break. Arter penalised for a late tackle and Wales have a chance to calm things down for a minute. They're trying to build now for the first time in this half.
48' Robson-Kanu fouls Arter as he loses possession. Free Ireland, who have started the second half quite well.
47' Free comes in from Robbie Brady. A couple of Irish heads try to get to it and do but it ends up safely in Hennessey's hands.
46' We are back underway!
  Two teams re-emerge for the second half.
45'+2' Half-time. Ireland will be happy enough with that. Kept themselves in the game for the opening 20 and then started to build with the help of a Joe Allen injury that forced him off. Wales ran out of ideas quickly but still have the technically better football team.
45'+2' Robbie Brady with a half chance from the right as he cuts inside and drives a show with the left towards Hennessey. The keeper gathers.
45' Brady does just that and Duffy ends up on the ground. No penalty but Hennessey gathers and starts a counter. Ireland win it back. They've been doing slightly better since Je Allen went off. Wales lacking that control that he can exert on a game. 
44' Ashley Williams gives a free away as he dives into Daryl Murphy's back. Free Ireland from miles out but a chance to send one into the penalty area.
42' Stephen Ward sends a ball into the box. It is sent up into the air and McClean, in an effort to jostle for position, heads it wide. 
39' Ledley sends it towards goal and it bounces dangerously in front of Ben Davies. He strikes, but timidly, and it goes over. Never enough conviction in his shot.
37' Wales pushing for that opener. Another corner as Johnny Williams strikes and Ireland get a leg to it and put it behind. 
34' Joe Allen needs to be replaced. The physio motions to the bench that he won't be able to continue.
32' McClean and Meyler sandwich Joe Allen and it looks really sore. He was hit in the back by McClean and Meylor arrived to finish him off. He looks rattled after that one.
30' This one works out well though as Duffy fires wide from out on the right. It flies across goal. Decent effort.
30' McClean fouled by Gunter. These fouls aren't really chances for Ireland to attack as much as they are chances for a breather.
28' Daryl Murphy caught out for offside and Wales build again. It had evened out just slightly more recently but Wales back in attack mode again. 
26' Christie arrives late on Andy King. Free to Wales but Ireland cope with it.
25' Lawrence tries his luck from distance. It bounces kindly into Randolph's chest.
23' It comes into the box and Ireland have a chance. Ward can't make clean contact and it flies up into the air. It's bouncing around in the box for a bit before Wales launch it clear!
23' Robbie Brady breaks and wait for support of Cyrus Christie. He crosses but it's put out for a throw.
22' Another corner cleared by Ireland. 
20' Joe Allen drives wide and is taken out of it by Ciaran Clark straight after it. Corner.
19' Robbie Brady takes Davies' legs from under him and gives away the free. Way out on the left but good chance for Wales and their innovative set-piece.
18' Two Ireland players jump for the cross. Both miss it and the follow-up flies over the bar! Not a bad attacking spell from Ireland considering the poor start.
17' Robbie Brady stands over the free. It's headed out and makes its way to McClean. He fires a low cross in and Wales put it out for a corner.
16' Joe Allen booked for a late kick on David Meyler's ankle. He was going for the ball, to be fair, but was way too late. 
15' Ireland apply some pressure and Ashley Williams kicks it out for a throw. Ireland give it straight back to Wales as Brady puts it out for a throw.
14' Ireland continue to defend. Ward tries to head away but it falls to Gunter. He wins a corner. Wales have been patient but Ireland really need to get a few touches or they'll be exhausted by half-time.
11' Clark clears a low Gunter cross.
11' 11' Meyler fouls Ramsey. Free to Wales. Ireland still yet to show up for this one. They've been defending now for the first 11 minutes.
10' Brady whips one in to the back post. McClean is there but no chance of reaching it.
9' McClean with a poor pass and Wales start a counter. It comes to nothing.
8' Ramsey looks for a ball in behind but Ireland clear. He picks it up again, Allen is fouled by McClean and advantage is played. Ramsey fires over with Randolph's hand helping it over. 
6' Another ball in from the right. Gunter again and Ireland head it away. Wales pick it straight back up and set themselves back up to attack again. 
5' James McClean with a crunching tackle and puts the ball out for a throw. Lucky not to have given away a free.
5' Ireland seem slightly nervous to start here. Have failed to take the ball down just yet. Meanwhile, Wales doing their best to assert their control on it. All a little hectic at the moment.
3' Unorthodox set-piece line-up from Wales. Ireland struggle to deal with it, and Robson-Kanu heads just wide of the front post.
2' Gunter crosses and Meyler comes out of nowhere to head clear for a corner.
2' Robson-Kanu tries to break free down the left and ends up being pushed out by Shane Duffy. Throw for Ireland as ref says no free.
2' Ramsey recieves the ball over his shoulder. He flicks it out to the left but Christie clears. 
1' Ireland ready to tip-off. And we are underway!
Fairly chilling rendition of the Welsh national anthem. They've raised the roof off the place at the Cardiff Stadium.
Team retreat to the dressing rooms. The last chance for managers to dispense advice to the team! A massive 45 minutes for both sides about to unfold. 
Wales drew with Hungary, Mexico and Sweden before winning a play-off against Hungary. They eventually lost to Brazil, the team that would win it.
60 years since Wales last got to the World Cup. They made it to the quarter-finals too, in Sweden.
The last time Ireland fell to Wales was back in 1991-92. A Mark Pembridge goal was enough to win it for Wales in the friendly. They have played each other five times since then with Ireland winning two, with three draws.
Many Irish fans are concerned that Ireland won't be attacking enough in their pursuit of victory tonight. Darren Randolph speaking before the game suggests this will be the case as it looks like Ireland will sit back and take what is given to them. "Obviously you want to stay in the game for as long as possible. As the manager has said, you don't want to try and go out and win the game in the first 10 minutes. The longer we stay in the game, the better. It'll definitely be a night for cool heads. Play the game, not the occasion," he said.
The premutations for this game are ridiculous. Serbia need to win but could still be caught at the top of the group. They need to beat Georgia, which shouldn't be difficult given their campaign has been finished for a while and they also haven't won yet in the qualifying stages. A draw, however, and a Wales win would see them pipped at the post. Ireland and Wales are playing a straight playoff for the playoffs. Winner takes all but Wales can also qualify if results elsewhere go their way.
Republic of Ireland manager Martin O'Neill has acknowledged that Seamus Coleman will be in the minds of the players in Cardfiff this evening. The Everton defender suffered a broken leg in the return fixture in Dublin in March after a tackle by Neil Taylor. "I don't know about revenge, but certainly the view among the players is that if Russia was available to us and we could make it there, thoughts about Seamus would be very much in the forefront of our minds," he said.
Full Ireland squad (minus Shane Long)  for tonight's Cardiff clash.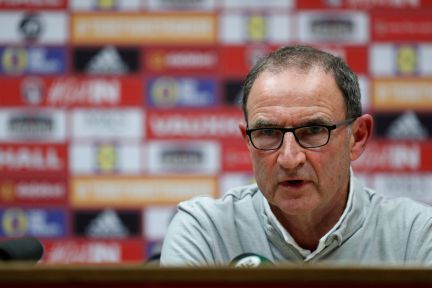 What are the premutations for tonight's game we hear you ask....Here's a quick reference quide of what each team needs to do to secure a play-off place with automatic qualification still a slim possibility should Gerogia surprise Serbia in Belgrade.with a win.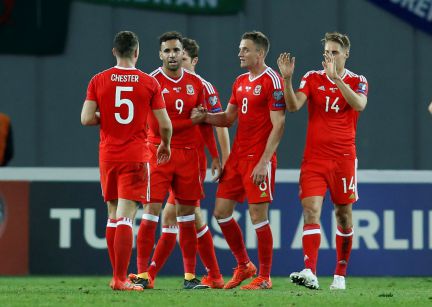 Wales are now famed for their unique pre-match line-up photo. Have a browse at our photo-gallery showcasing the evolution of the pre-match team pix over the past 150 years.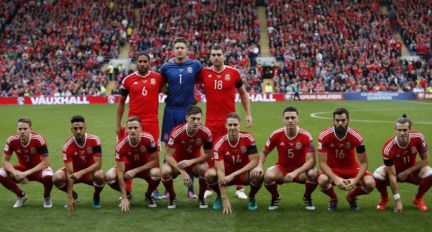 A major blow for Ireland with the news that Southampton striker Shane Long has been ruled out of the action tonight in Cardiff due to injury.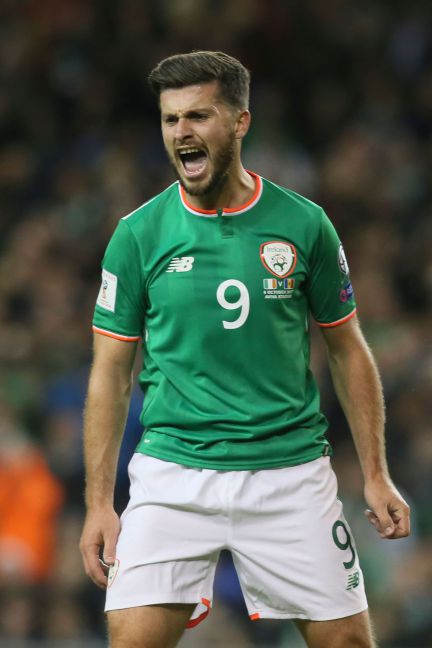 Hello and welcome to our live coverage from Cardiff as Martin O' Neil takes his Republic of Ireland side to Wales in a crucial win-or-bust closing game of the 2018 Road to Russia campaign. Kick-off is at 20:45 but we'll be bring you updates and bullid-up throughout the course of the day.
Wales vs Republic of Ireland live stream online: match preview
Wales host Ireland in the Cardiff City Stadium on Monday night as The Dragons seek to qualify for the World Cup for the first time since 1958. It's as tight as can be at the top of Group D with Serbia currently in pole position for an automatic qualifying spot but either side can still top the group themselves if they are victorious and The Eagles slip up at home to Georgia, although on the evidence of the campaign so far that is fairly unlikely.
If Serbia are victorious Wales and Ireland will duke it out for second place and a possible berth in the playoffs. With only eight of the nine group runners-up going through to the elimination round the result in Cardiff could be pivotal for both sides. As things stand, Wales have 17 points and Ireland 16, with a host of permutations possible in the final round of matches across most of the groups. Although a draw would be enough for Chris Coleman's side to secure second place, it may not see them through to the playoffs while Ireland must win to secure second place at their opponent's expense.
Wales
"We're on dangerous ground if we go in with a game plan of trying to soak the pressure up for 90 minutes," said Coleman ahead of the game. "We are too good to do that. We'll go and attack, go and score goals. We have to do that -- it's our strength. A point may be OK, but we'll go for three points. That's the way it's set up."
Wales will have to contend without their star player Gareth Bale in Cardiff as the Real Madrid forward is out of action with a calf problem, but while they have not been prolific in qualifying a solid defence has conceded only five times and across their last three consecutive victories against Austria, Moldova and Georgia Coleman's side have not been breached once.
Replacing Bale is an onerous task but Derby County striker Tom Lawrence popped up in Georgia to help his side to a crucial 1-0 victory and Coleman's side boast plenty of Premier League experience and have highly rated Liverpool youngster and Wales' Young Player of the Year, Ben Woodburn, to call upon.
Ireland
Ireland have not qualified for a World Cup since 2002 but hold an encouraging record over Wales, who have not won a game between the two nations since 1992. However, the home side have not been beaten on their own soil since September 2013.
The return of Robbie Brady after suspension will add some attacking verve and Southampton striker Shane Long is no stranger to the onion bag, even if he hasn't been firing so far this season.
However, Ireland boss Martin O´Neill identified the long-term absence of Everton attacking full back and national team captain Seamus Coleman as the side's main handicap. Coleman hasn't played since finding himself on the wrong end of a horrific challenge by Neil Taylor in the return fixture last March and the Aston Villa midfielder will doubtless come in for some special attention from the travelling support in the Cardiff City Stadium.
"I think we can win the match," O'Neill said ahead of the crunch fixture. "I felt it was always going to be like this. When we get off to a decent start, the mindset changes a little bit in terms of points.
"But if you had said to me right at the beginning when the group was drawn that we'd have to go to Wales and win -- and we were down as fourth seeds -- I would have taken it. So let's go for it."
Wales vs Ireland live stream online: possible line-ups
Wales: Hennessy; Gunter, Chester, Williams, Davies; King, Allen, Ledley, Ramsey; Lawrence, Vokes.
Ireland: Randolph; Christie, Duffy, Clark, Ward; Hoolahan, Meyler, Brady, McClean; Long, Murphy.
Wales vs Republic of Ireland live stream online: selected betting odds
Wales are slight favourites for the win with the draw priced at 2/1. The retuning Robbie Brady is chalked up at 10/1 to open the scoring with Wales' Sam Vokes the overall bookies' tip at 4/1.