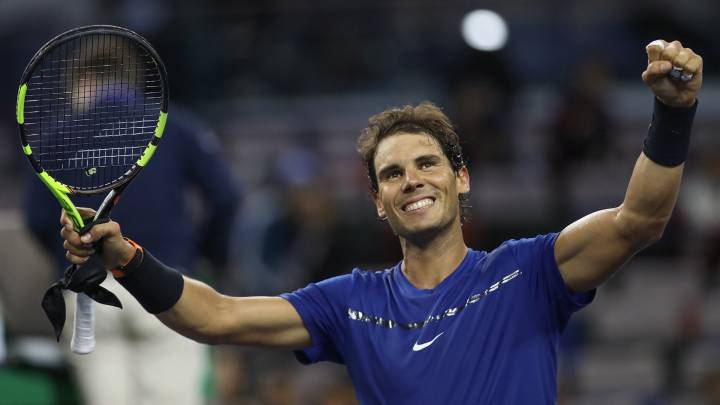 Rafael Nadal made short work of Fabio Fognini to reach the Shanghai Masters quarter-finals on Thursday after Juan Martín del Potro fought back to beat Alexander Zverev, who took his frustrations out on his racquet during the Argentinean's three-set triumph.
Gutsy Del Potro recovered from a set down to win 3-6, 7-6, 6-4 against rising star Zverev and will next play Viktor Troicki or John Isner.
World number one Nadal plays sixth seed Grigor Dimitrov as he pursues one of the few tournaments to have eluded him.
The talented 20-year-old Zverev was going after his sixth title of a breakthrough season and was comfortable in the first set against Del Potro, the 2009 US Open champion and 16th seed.
The German prodigy and the 29-year-old, whose career has been beset by injury, went toe to toe in the second set and the tie break was just as tight until Del Potro grabbed the crucial mini-break.
And then came the turning point -- and the flash of anger from third seed Zverev -- as he yielded the crucial service break to go 3-2 down in the third set.
Zverez: "As you can tell, I'm very pissed off"
"Right now I'm very pissed off, as you can probably tell," said Zverev afterwards, having smashed the racquet on the court, then trodden on it, and brutalised it further as he stomped back to his chair.
A fan at least came away with a demolished racquet after the young German handed it to a spectator.
"I don't understand how I can lose a match where I get broken one time in three sets and not managed to get any chances on his serve," said Zverev, who is tipped to one day make world number one.
"I'm a bit pissed off because I feel like I played well and that's the upsetting part of it -- I could have done great in this tournament."
Delpo: "Remember when Roger used to break racquets?"
Del Potro, pushed to the brink of retirement by four wrist surgeries that saw his ranking slip as low as 1,045 at one point in his career, said Zverev would learn.
"I saw his frustration, for sure... But I think he's still very young and he needs to keep learning, as he's doing now," said the Argentine. "He has everything to be in the top positions in the future, but these things happen. Remember when Roger [Federer] was young? He broke racquets too."
Federer was in action later Thursday against Ukrainian qualifier Alexandr Dolgopolov.
Top seed Nadal underlined his status as the man to beat in Shanghai at he dismissed the Italian Fognini, who was fined $96,000 and hit with a suspended ban from two Grand Slams on Wednesday for insulting a female umpire at the US Open.
The 31-year-old Spaniard was comfortable in seeing off the 28th-ranked Fognini 6-3, 6-1.
His next opponent, Bulgaria's Dimitrov, defeated American Sam Querrey 6-3, 7-6 and Spain's Albert Ramos saw off Germany's Jan-Lennard Struff 7-6, 6-4.
Also through is the fourth seed Marin Cilic.