Dani Carvajal cleared of heart condition, Real Madrid confirm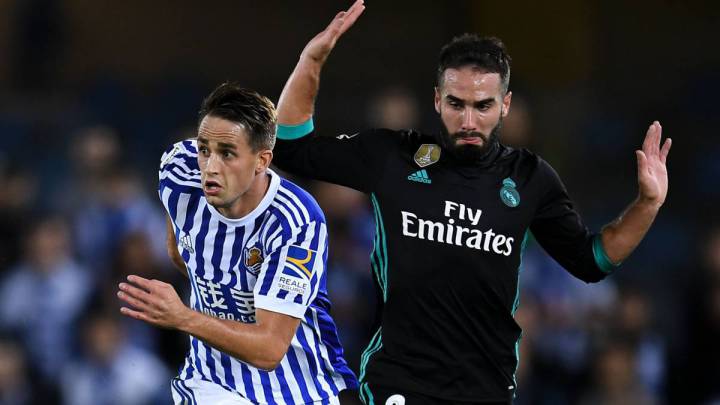 The viral condition causing the pericarditis that 25-year-old Dani Carvajal has been suffering from has already disappeared, according to AS sources close to the player. The treatment he has undergone, consisting of non-steroidal anti-inflammatories and aspirin has proved successful. However, despite seeing the viral illness subsiding it has not resulted in Carvajal being discharged. Madrid's club doctors want to err on the side of caution and have not yet specified a potential return date for the defender. AS resident medic Dr José González estimates the player will need at least a week before returning to training, and possibly two.
Potential dangers to Carvajal
Carvajal has not trained since 30 September, when the club officially announced that he was going to be sidelined for an indefinite period of time due to a pericardium infection. Pericarditis is an inflammation of the membrane lining of the heart, a condition that is more often seen in young people, and which originates from a viral infection. The problem is that even once the virus has died down, exercising ahead of full recovery is not recommended as it can cause arrhythmias, a relapse (constrictive pericarditis), or can have even worse consequences, including pericardial effusion or the appearance of fluid around the heart.
Worries of a Karanka repeat
The fact that the virus has gone has made the Madrid doctors optimistic about his case. Over these past days there was a fear that it may have been a repeat of what was seen with Aitor Karanka, who, when just 24 years old and playing with Madrid, suffered from pericarditis, and was out of the game for four months during the 1998-99 campaign. Karanka was treated by the renowned cardiologist, Jorge Ros Jellici, but the virus then was slow to abate. That has not been the case with Carvajal, who should be training again before the end of October.



LaLiga Santander
*Update 12 de octubre de 2017