Cristiano Ronaldo is The Best as he claims second award at FIFA ceremony in London
Ronaldo thanked his Real Madrid teammates, trainer, president and his family along with Lionel Messi and Neymar as he collected his 2nd The Best.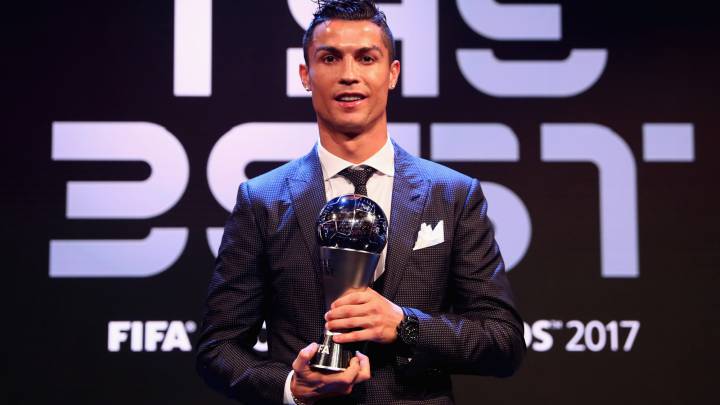 There were no surprises when Brazilian Ronaldo and Diego Maradonna took to the stage to announce the winner of The Best 2017 on Monday night. For the second consecutive year, Real Madrid's Cristiano Ronaldo was awarded the top prize ahead of Lionel Messi and Neymar at the London Palladium.
Ronaldo, at the podium, said: "It has been an extraordinary year. Thanks to the team I have won individual and collective awards, and that is where my ambition lies. Thanks to my family, my girlfriend, my son..I became a Father this year and I will again too. I am very happy, I am living a unique moment in my career. Many thanks to everyone who voted for me too. I don't want to forget Leo Messi, Neymar, Real Madrid, the fans, my teammates, the president, with whom this award would no be possible."
The Portuguese striker, who hugged the FIFA president, Gianni Infantino, along with Maradona and Ronaldo Nazario, celebrated a historic season at Real Madrid where they won the Champions League and LaLiga double and became the first team to successfully defend their Champions League title. Zidane, for his part, was named as the best coach and five Real Madrid players were name in the best XI including Ronaldo, Toni Kroos, Marcelo, Sergio Ramos and Luka Modric.
For the first time, the award spanned the 2016-17 and not the calender year. During this time, Ronaldo won a 12th Champions League for Real Madrid and a 33rd league title along with a Club World Cup and a European SuperCup.
Ronaldo adds this to his four Balón d'Ors, FIFA World Player in 2008, and his other The Best award. Lionel Messi has five Balón d'Ors and one FIFA World Player in 2009. The next battle between the pair will be in December when they go head-to-head for the Balón d'Or yet again.
Voting
The winners were picked by coaches and captains from 209 FIFA federations, a group of journalists from every country (The Spanish representative was Diario AS editor Alfredo Relaño) and fans registered to vote on FIFA.com. Each one of the groups had a 25% say in who would win the award.