Zidane: "There are better coaches than me, I'm not the best"
Real Madrid's coach spoke ahead of tomorrow's Copa tie against Fuenlabrada: "Wanting to learn is a form of sincerity. I'm only thinking about this season".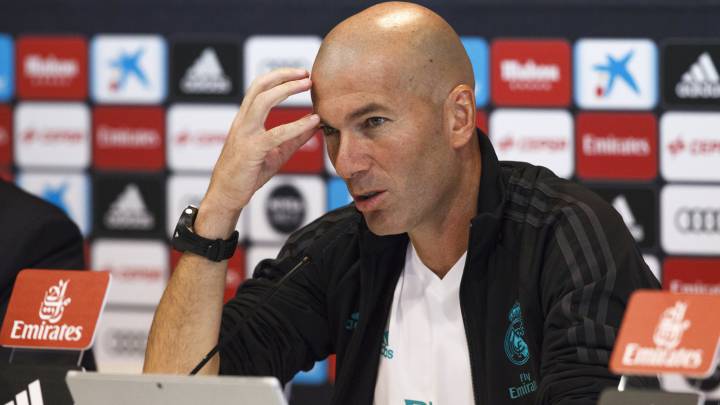 Tomorrow's Copa del Rey meeting with Fuenlabrada was the focus of Zinedine Zidane's press conference after Wednesday's training session. The coach said that there is an extra impetus for Madrid to win this edition of the Cup and added that while he is happy to accept FIFA's The Best award, it doesn't mean for him that he is the best coach in the game. Zizou also gave an update on Dani Carvajal's fitness.
Copa del Rey, high on Madrid's priorities
You've never won the Copa del Rey as a player or as a coach Does that make you more determined to lift it this time? "It's not something personal, it's something which the whole squad wants. We're excited about playing in this Copa del Rey tournament, just as we are about being in every competition. And we want to give the best of ourselves. Tomorrow, we'll be trying to put in a good game and that's all. We're not worried about anything else. No one should think that the Copa doesn't interest us. At Madrid, when you pull on the white shirt, the objective is to win every game".
If this was an instant knockout tie, would you field the same XI? "Of course - exactly the same. I'd do the same. It doesn't depend on whether the tie is played over one or two legs. I have an idea about the game in mind and with my players it's the same. What we have in mind doesn't depend on what happens in the first game or how many goals we manage to score or not. We're convinced about what we want to do tomorrow night".
Zidane: I accept the Copa del Rey format as it is
What are your thoughts on the format of the Copa del Rey. Is it better to play over two legs, or just have one game? "I accept the format as it is. There are other people who are better qualified than I am to think about these things. In other countries the Cup is played in a different way but at the moment, it's played over two games in this country. That's the way it is, so we'll play the two games. What I think doesn't come into it. It's not for me to say… I have to be focused on our matches. I've never won the Copa del Rey. And I have no problems with the number of games (laughs). Maybe we'll win it this year?".
Who is the best coach in the world for you? "I don't know, it's you, the media that talks about those things. I accept the award and I think it was in recognition of the work we did last season. We've won a lot of trophies with this team and I'm very happy; I'm not here to say that I don't deserve it. I do deserve it, I'm only too happy to accept it. But if you are asking me whether I am the best coach in the world, then I'll answer no and that's that. I think there are other coaches who are better than I am. If in 10 years' time I am still coaching and winning, we can talk about it then but right now I'm not the best in the world. Not that I'm bothered about that - I don't really want to know anything about it. What I am concerned about is working, enjoying what I do and nothing else. Other people might like talking about these things but I don't".
What do you value more - tactical awareness or understanding and being able to read the squad? "It's a bit of everything. I know the players, I have learned a lot from being in the dressing room and the areas where I always need knowledge is tactics, physical preparation... everything you need to understand to prepare a team to compete. When I was 34, in my final year as a player, I still wanted to learn. I've always wanted to learn. You can always improve in your job, whatever you do. Having the desire to learn is a form of sincerity. If you think you know it all already... we're lost".
Zidane mulls over relatively short coaching career
Do you think you were a better player than you are now as a coach? "A better player? I don't know, I spent 35 years playing football, and I've been coaching 18 months; there's a big difference".
Guardiola's records: "Everyone's got the right to do what they like. When he gives a press conference he's free to say what he likes. I'm not going to comment on what he says. I'm here to talk about football".
Laso renews to 2020
New contract for [basketball team coach] Pablo Laso: "It's very tiring (laughs). You can do it, you can always do it. As I know the situation, the squad and the workings of this club, I think it'll be quite difficult for me to follow in his footsteps, that's why I prefer to take things one day at a time and make sure we finish this season well".