Barcelona 2-1 Sevilla LaLiga: match report, goals, action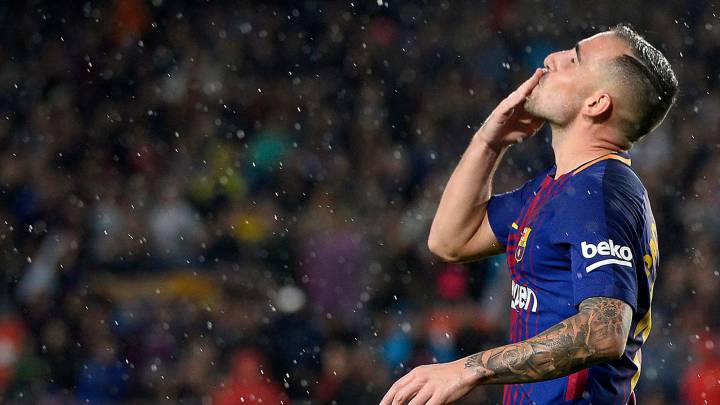 Barcelona 2-1 Sevilla: match report
Barcelona won all three points at a very wet Camp Nou on Saturday night but failed to convince in doing so in what continues in a trend of strange performance for Ernesto Valverde's side. They could have won the game by another two goals but could, as easily, have seen themselves pick up just one point.
The game started at a frantic pace with Sevilla failing to get up to speed. The hosts had a number of chances early on but it wasn't until the 23rd minute when they opened the scoring thanks to some dreadful defending by the visitors. It came from a long Luis Suárez ball to Paco Alcácer as Sergio Escudero failed to control allowing the Barca striker to pounce and slot under David Soria.
Luis Murial was battling hard up front but remained disconnected from his teammates and isolated when he did win the ball. It was a disjointed display in general from Berizzo's side, who are still yet to find their groove under the Argentinian.
They managed to get themselves back into the game when a corner was sent home off Claudio Pizarro's header as all of Barcelona's dominance looked like it would come to nothing. It wasn't against the run of play per se as Sevilla were only sporadically venturing forward in search of goals.
Just when they had a point to lose, however, Paco Alcácer slotted home a dangerous cross as he managed to squeeze between Soria and Kjaer.
Valverde's men have dropped just two points this season in a draw against Atlético Madrid and are top of the table but they have yet to find the formula that offers them chances at a much bigger clip than what they are creating now.
Sevilla, however, will need to reassess their own strategy as they failed to truly hurt a lethargic Barcelona side, who might have been there for the taking.
Barcelona vs Sevilla live stream online: as it happened
90'+4' And that's the end of that. Barcelona win but didn't convince but then again, neither did Sevilla.
90'+4'   Last chance as Deulofeu looks for Suárez with a cross. Doesn't work.
90'+3' Mesis booked as he fouls Escudero and then has a shout at the ref.
90'+2'   Jordi Alba looked to have hurt himself there as he slid in but he's back up and looks okay.
90'+2'   Corchia through down the right but he was two yards offside.
89' Rakitic replaced by Mascherano. That's Valverde's last change.
87'   Lenglet takes Messi down again.
86'   What is Suárez doing? He has time to take it down at the back post but he hits it first time straight into a Sevilla defender.
81'   He had his foot stood on but might have been unlucky.
81'   Rakitic really should have been given a penalty. He goes down grabbing his ankle in the box. Looked like he was pulled back by Escudero but ref doesn't even gesture towards it. 
79'   Banega strikes with a man out to his left. Ter Stegen saves with ease. Had options there and took the wrong one.
78'   Decent move by Sevilla that involes a corner and then a shot from Pizarro that was blocked.
76' Ben Yedder replaces Luis Muriel as Sevilla's last change.
76'   Deulofeu sees a gap to exploit and goes for it. He strikes, sees it blocked and then fouls as he follows it up.
74'   Muriel down and looks to have hurt himself but he gets up and decides he can run it off.
74' Kjaer replaced by Geis.
72'   Messi jumps a pass out from the back by Sevilla and drives a low shot towards goal that he sees saved. 
70'   Messi sends a free towards the danger zone. Boxed away by Soria.
68'   Suárez drives a shot towards goal and Lenglet hits it with his hand. Looked like a penalty but the ref gives a corner.
66' Alcácer on a hat-trick and he is replaced by Deulofeu.
65' GOAL! GOAL! GOAL! Alcácer does it again. Ball comes in from the right and the striker gets between the keeper and Kjaer and directs it towards goal.
64'   Paulinho drives forward. Ball and man taken down with the slide and he gets up unhappy but the ref points at the ball and says it was clean!
63'   Piqué rattles the crossbar. He strikes with the right outside the box and it hits the top of the bar and out for a goal kick. 
62' Sarabia going off in place of Nolito. He's not happy about it either.
60' Iniesta is replaced by Paulinho.
59' GOAL! Pizarro with a lovely header from the corner. Berizzo gives him a salute. 
59'   Muriel breaks and clips it towards Sarabia. Perfect chance and he takes too long as Semedo closes him down. Corner but that was really good chance.
56'   Sevilla with a far more methodical build-up now and they end up losing it when Navas tries a cross that meets a Barca defender. Alcácer breaks on his own before he is caught and then Messi gets it taken off him quite forcefully. Better from Sevilla.
54'   Muriel shoots from miles out! It goes well wide. 
52'   Sevilla with a 5-on-4 situation and have Barcelona back-pedalling. Sarabia gives it away though.
51'   Lenglet is very lucky not to get a yellow card for a swipe at Messi.
50'   A decent break by Sevilla ends when Pizarro gives it away looking for a through ball. 
48'   Suárez to Messi and Messi tries to give it back with a gnelte chip over the top. Too much on it.
47'   Very slick move by Sevilla. Banega lays it off to Muriel and he drives a shot over. Closest they've come tonight.
46'   No changes for either side and we are back underway at the Camp Nou!
45'   HT! Not as much as a second of added time. Alcácer's goal seperates the teams.
45'   Messi looks for a pass on the edge of the penalty area for ages. He is waiting for Alba, who eventually makes it down the line and Messi finds him. Good defending from Sevilla and good patience from Messi. He clips it inside to Alcácer but he slips.
44'   Barcelona can't make anything from the corner but they win it back and go on the attack again.
43'   Messi sends a ball out to Suárez, who drops out to the left. He wins a corner.
41'   Pizarro with a header. Straight to Ter Stegen but better from Sevilla.
39'   Remains tame from Sevilla. Sarabia looking for a through ball but Ter Stegen out and takes it with ease.
37'   Sarabia with a kick at the back of Semedo's leg. He won the ball but the ref givea s free. The right-back for Barca was lucky.
34'   Barcelona over complicate things up front and Sevilla get it away. If anything, it has been too easy for Barca and that's why they are doing that. They have too much time on the ball.
33'   Piqué races forward with the ball, taking it to the end line, before crossing and seeing it bounce into Soria's gloves with the help of a deflection.
31'   Suárez down holding his leg. He took a knock to the shin, it looks like, but he's back up. Not looking entirely comfortable though.
29'   Sevilla counter. Banega to Navas and he crosses but Ter Stegen punches it away.
28'   Lovely move by Barca ends with Suárez crossing with the outside of his boot to Messi. Sevilla scramble it away. It comes back via Rakitic from the right but Alcácer can't apply the finish.
26' And Barcelona comfortable when they win it back.
26'   Sevilla have come to life after that very bad start. They're throwing the ball around now and trying to figure out a way beyond Barca's defense. No solution yet though.
24'   Muriel tries to respond but he's offside.
23' GOAL! Alcácer slots the ball under Soria. That was coming but it was a dreadful mistake by Escudero. Long ball from Suárez and Escudero fails to see the danger and failes to control letting Alcácer in for a nice, neat finish.
21'   Alcácer goes close with a header. Lovely cross by Rakitic and Alcácer gets between two defenders before heading over.
20'   Messi through and tres to square it but he can't. Lenglet clears. He wins it back and gives it to Iniesta, who tries to set Alba free, but he is a mile offside. 
18'   Iniesta drives a shot just wide. Barcelona attacking down the right mostly but are shooting from distance and playing in the box too. They are varying their style in th final third.
15'   Semedo gives a free away in the penalty area of Sevilla. He looks at the ref with surprise. Didn't look like he did anything!?!?
14'   Muriel nicks the ball of Umtiti and he takes Piqué on. He drives a shot just wide of Ter Stegen's post. Good chance but Piqué did well to stand up the attacker.
12'   Semedo down the right and pulls it back to Alcácer but he sees his shot blocked.
12'   Just as I say that they win it back and take it down. Barcelona playing with two strikers.
11'   Sevills haven't gotten a kick in a while Barcelona bossing it.
8'   One more. Alcácer drills wide this time.
7'   Rakitic latest with a strike. Really good start from Barcelona. He catches that one on the half-volley and blazes it wide.
6'   Another one as Suárez breaks through and tries to lob Soria but he can't as the keeper grabs it.
5'   Another chance for Barcelona. Messi runs inside and plays it to Suárez but his poked shot is saved off the line.
4'   Messi with an effort after running from deep. Soria saves but puts it out for a corner.
4'   He hits it and it hits the wall.
3'   Luis Suárez wreselted to the ground by Kjaer outside the box. Chance for a free from Messi. 
1'   We are underway at the Camp Nou.
Jorge Sampaoli in Barcelona for the game.
  Lashing rain in Barcelona! Slick surface, which should make celebrating with a knee slide compulsory.
Hugs in the tunnel for the lads as Rakitic and some of his former teammates meet again. It's been three summers since Rakitic made the move from Andalusia to Catalonia.
Sergi Roberto is out for a number of weeks and so is Andre Gomes so Valverde's options somewhat more limited. Paulinho can play a role but if Semedo gets hurt, they are really in trouble. Thomas Vermaelen is on the bench though as he looks for his first minutes of the season and to convince Valverde he is worth keeping around and giving more chances to.
Sevilla are similar. They have solidified their back line but are struggling to score goals. It will be really interesting to see how Berizzo looks to trouble Barcelona tonight. Looks like he will pack the middle and not allow the hosts settle on the ball in that area meaning less space for Messi, which will force the ball down the flanks.
Barcelona have not fully clicked this season, which sounds strange as they are undefeated, but every big game against a top six side is a potential banana skin and has the possibility of showing weaknesses in Barca's tactics. Luis Suárez remains out of sync with his teammates and Piqué, for example, has gotten off to a slow start too.
We are just 15 minutes away from action at the Camp Nou. Messi makes his 600th start while Eduardo Berizzo and Sevilla look to jump into the Champions League places. They can move into fourth ahead of Real Madrid with Zidane's side also having a game in hand.
Meanwhile, Paco Alcácer gets a start as Valverde tries to provoke a reponse from Luis Suárez or at least compensate for some of the misses that the Uruguayuan has been guily of recently.
No place for Nolito again in Toto Berizzo's side. Ben Yedder, the side's top scorer with 8 goals and more than double any other teammates, left on the bench again too. 
Gerard Piqué and Samuel Umtiti worringly close to yellow card suspensions. A card tonight would mean suspension for Leganés and then free for Valencia two weeks after the international break.
Iniesta is straight back into the line-up having just returned from injury. It shows the faith Valverde has in the midfielder. Luis Enrique wrapped him in cotton wool and played him sparingly, Valverde is willing to risk him regardless!
Barcelona's team news: Ter Stegen, Semedo, Piqué, Umtiti, Jordi Alba; Busquets, Rakitic, Iniesta; Alcácer, Suárez, Messi.
Welcome and thank you for joining us as we build up to a tasty looking game at the Camp Nou this evening. Sevilla are not flying as high as we've become accustomed to in recent years but will have no problem being up for this game against the current Liga pace setters.
Barcelona vs Sevilla live stream online: preview
Ernesto Valverde's team face their toughest test so far in LaLiga but will be drooling at the chance to open up an 11-point lead over Real Madrid 24 hours before Las Palmas' visit the Bernabéu. Sevilla, nine points behind Barça in fifth, will be equally as keen to keep in touch with the front runners and also give the stats a tweak – out of their last 13 visits to Camp Nou, they've lost 12 and their last win there was in December 2002...

In spite of their injury concerns, with Sergi Roberto and André Gomes the latest to succumb to fitness problems, Barcelona have been LaLiga's most consistent side even when their performances have lacked punch. They are the top scorers in the division with 28 goals from 10 games and have been even more impressive at the back. Only Eibar, Atlético de Madrid and Getafe have managed to find the net against the Catalans so far, and the team has kept seven clean sheets. Much of that has been down to Marc-André ter Stegen who is in the form of his life.
Sevilla are slowly taking on board Toto Berizzo's ideas and are starting to gel as a team. They suffered two humiliating defeats – losing 5-1 to Spartak Moscow in the Champions League then an equally harrowing 4-0 drubbing to Valencia hurt them and raised question marks about the team's defending. But they seem to have put those defeats behind them now and have won their last three games and even got their own back on Spartak, beating them at the Sánchez Pizjuán midweek. Sevilla may not quite be the dynamic, energetic side of recent seasons but even when they look dormant, they are still capable of being competitive – as they showed against Liverpool back in September. They are not prolific scorers and have underperformed on the road where they have lost three times – all of the defeats they have suffered so far this season.

Barcelona
Not for the first time this season, Valverde will have to cook up an XI from his available players. Sergi Roberto is out for the next five weeks with hamstring tear while André Gomes also damaged his hamstring and will be sidelined for three to four weeks. Andrés Iniesta has not totally been ruled out despite missing the team's last two games with a muscular sprain. He was given the medical all-clear late on Friday evening and has entered the 18-man squad list, as have Javier Mascherano and Thomas Vermaelen. Long term casualty Ousmane Dembélé is continuing with his recovery process and Arda Turan, who is still recovering from an ankle injury, is the only member of the first team squad who has yet to feature this season.
Man to watch: Leo Messi. It may be obvious, it may be hackneyed but Messi is still the man who has everyone transfixed with those magic moments of wizardry. He has contributed 12 of Barcelona's 28 league goals and that figure would have been higher if he hadn't been denied by the woodwork – like he was against Atleti at the Wanda, just over a fortnight ago.
Sevilla
Like their hosts, Sevilla are also balancing their league campaign with midweek Champions League commitments and go into the game with injury concerns. Éver Banega, full-back Gabriel Mercado and Sarabia picked up injuries against Spartak. Mercado is ruled out with a hamstring injury. Banega also has twinges to his hamstring while Sarabia twisted his ankle against the Russians but both figure in Berizzo's 20-man list for the trip. Nico Pareja, Daniel Carriço, Joaquín Correa and Walter Montoya remain on the injury list but Lionel Carole, Johannes Geis and Borja Lasso also make the cut.
Man to watch: Ben Yedder. Sevilla have needed his firepower this season. The French forward is the team's most productive scorer with eight goals between both competitions and can also be relied on to turn up and put away any stray balls in the box. Great movement, timing and finishing – Ben Yedder is always lurking and Barça will have done their homework on him.
Barcelona vs Sevilla live stream online: enhanced betting odds
Unsurprisingly, Barça are the big favourites to win this one with odds at 9/1 to win 3-1. Gerard Deulofeu is 4/1 to open the scoring, with Paulinho at 5/1 to hit the last goal of the game. Jesús Navas is at 22/1 to find the net at Camp Nou.
Bet on Barcelona vs Sevilla in LaLiga now