Real Madrid 3-0 Las Palmas LaLiga 2017-18: goals, match report, as it happened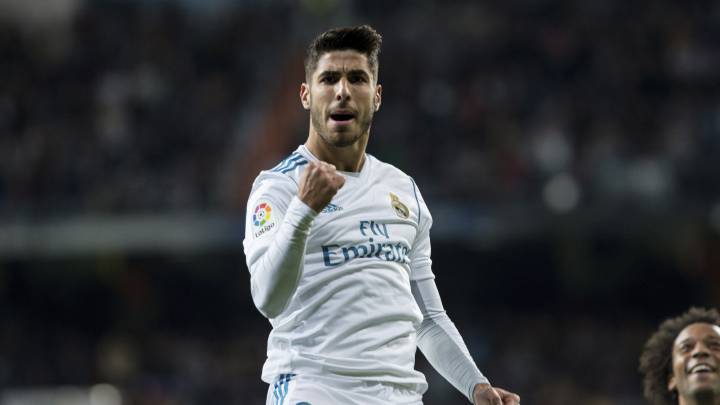 Real Madrid 3-0 Las Palmas: match report
Real Madrid secured a much-needed victory with a 3-0 defeat of Las Palmas at the Bernabéu. Casemiro opened the scoring for Zinedine Zidane's side, Marco Asensio scored a sensational long-range goal after half-time, and Isco rounded off the win with a close-range finish after 74 minutes.
Los Blancos came in to the match in fourth place in LaLiga having suffered consecutive defeats to Girona and Tottenham Hotspur. The 'C word' – Crisis – had begun to circle. Zidane needed to heave Real Madrid's season back on to an even keel. The alarm bells had been ringing for some time on Gran Canaria. Las Palmas manager Pako Ayestarán had only tasted defeat since taking the reins at the end of September.
Luka Modric dropped from the starting line-up following two dreary performances, while Jesús Vallejo made his first start in LaLiga alongside Sergio Ramos in the heart of defence. The visitors had to make do without Jonathan Viera, the midfield glue that holds their constituent parts together.
Karim Benzema was almost immediately presented with a chance to score the opening goal for Madrid. The French striker, who has been much maligned for the elusiveness of his goal-scoring touch, bore down on Raúl in the Las Palmas goal after running on to a Cristiano Ronaldo flick. Benzema stuttered, and fired the ball at the 'keeper's leg. He looks like a striker low on confidence.
Las Palmas had played 33 matches at the Bernabéu before this one, and they had conceded in each one of them. So there was a sense of inevitability as the home side found the net shortly before half time. A Las Palmas defender glanced Asensio's corner at the near post and Casemiro was perfectly placed to direct it in to the bottom corner. It was the first header that Real Madrid have scored in the league this season. In 2016-17, they scored 26.
Marco Asensio added the second in emphatic fashion after 56 minutes. Raúl punched the ball out from Toni Kroos' free-kick and it bobbled invitingly for the Mallorcan. He waited until it skidded off the turf, and cut his boot at the ball with beautiful crispness. It continued rising until it hit thrashed the top corner of the net.
Cristiano Ronaldo provided a pinpoint assist for Isco to put the result beyond doubt with 16 minutes remaining. The Portuguese burst down the right flanks and centred the ball invitingly for Isco to tuck it in to the corner. Ronaldo greeted the goal with a frown, seemingly fed up by his own profligacy in front of goal. Lionel Messi has scored 12 goals from his 69 shots in LaLiga. Cristiano Ronaldo has one goal from 48.
Concerns surrounding the form of Ronaldo and Benzema persist, and this result has not miraculously fixed the problems that will persist at Real Madrid. Yet after the most difficult week of his managerial career, a victory was all that mattered for Zinadine Zidane.
Real Madrid 3-0 Las Palmas: as it happened
Real Madrid cruise past lowly Las Palmas with goals from Casemiro, Marco Asensio, and Isco. 
90'+3'   FT. 
90'+2'   Michel swings in a cross for Calleri. Calleri heads the cross over. That'll probably be that in terms of goal-scoring chances for Las Palmas. 
90'   Three minutes of added time. 
90'   Lucas Vázquez dashes in from the left and takes aim for the near post. It bounces invitingly, allowing Raúl to gather the ball. 
88'   Vallejo once again places himself perfectly to clear danger. Loic Remy is in acres of space on the far side of the pitch, but the young defender intercepts Vitolo's crossfield ball. 
84'   The visitors put together a couple of decent chances. Calleri wastes the first one by straying offside, and Marcelo heads a cross clear to put an end to the second. 
83' Santana replaces Aquilani for Las Palmas. 
83'   Sergio Ramos hits the bar, via a deflection off the back of a defender and a helping hand from Raúl. 
81'   Mauricio Lemos swings, misses, and follows through on to Nacho inside the box. Madrid players bray for a spot-kick, but referee Sánchez Martínez is feeling empathetic towards Las Palmas and lets it go. Seen 'em given. 
79' Blimey. Ximo Navarro is lucky to be on the pitch after a studs-up challenge on Ceballos' ankle. That was nasty. 
78' Real Madrid make their final changes. Ceballos replaces Kroos, and a couple of minutes ago, Vázquez replaced Benzema, who was roundly booed. 
78'   Cristiano Ronaldo shoots, and as is becoming familiar, Cristiano Ronaldo doesn't score. He scoops the ball over with his left foot. 
76'   Marcos Llorente has a tonk from outside the box with his left foot. It goes wide. But on the flipside, his hair looks decent. 
74' GOL GOL GOL! Asensio sets Ronaldo free down the right and continues his run in the the middle. Over yonder at the far post, Isco is all alone as the ball comes in, and he tucks it in to the bottom corner. Ronaldo has a face of thunder, despite providing the assist. Just the one LaLiga goal to his name this season, of course. 
70'   Cristiano Ronaldo collects the ball out on the left and skirts around the defence until he's in a position to wrap his right foot around the ball. The Portuguese hits a beautifully-shaped shot that fizzes marginally wide of the postage stamp. 
67' Zinedine Zidane turns to his bench. It's a like-for-like switch in the middle with Marcos Llorente replacing Casemiro. 
65'   Vitolo bombs forward on the counter-attack courtesy of Calleri blocking off Casemiro as he went in for the tackle. That's not legal in rugby, let alone football. 
65' Las Palmas make their first change of the evening. Loic Remy comes on for Vicente Gómez. 
64' Toni Kroos is deservedly booked for a cynical lunge on Michel. 
61'   That save a, ahem, unorthadox save from Raúl. He gets his right palm to Kroos' shot, even though it is flying to his left. Nevertheless, the ball goes behind for a corner and it doesn't matter who you keep it out, as long as you do. 
59'   Las Palmas remain under lots and lots of cosh. Marcelo shoots wide after completing a lovely lofted one-two with Isco. 
55' GOLAZOOOOOO! What a hit son, what a hit! Raúl punches a free-kick out as far as Asensio, who lets fly with the cleanest of contacts from 35 yards and the ball rises elegantly in to the top corner. 
54'   The free-kick is cleared at the near post but Las Palmas hold on to the ball just outside the box. Vitolo bursts in to the box after a couple of phases of play, and flops down as Casemiro grabs a handful of his shirt. No penalty despite his vociferous protests. 
53'   Vallejo clatters Dani Castellano just outside the box, towards the corner flag, and concedes a clear-as-daylight free-kick. 
51'   Ximo Navarro looks short of ideas as he pondorously moves forward from the back, but out of nowhere he sends a deep cross towards Calleri, who is peeling off the back of Vallejo. It's a little too far ahead of the Argentine striker. 
50'   Real Madrid have made a commanding start to the second period. 
48'   Casemiro is up in nosebleed territory. The goalscorer tries to barge through a rapidly-closing gap between two Las Palmas defenders in the box, falls to the floor, and fails to win a penalty. 
47'   Isco displays lovely feet to bring the ball under control and accelerate away from Michel. He lays the ball out wide to Ronaldo, who after a couple of stepovers, whips the ball to the near post. Las Palmas clear, but Real Madrid continue in possession. 
46' Benzema rolls the ball back to Kroos and the second half gets going. 
The players are back out on the Bernabéu pitch for the second half. 
Las Palmas hold out for 41 minutes until Casemiro scores Madrid's first header of the LaLiga season to put the home side ahead. 
45' HT.
45' Isco becomes the first player to enter the book for a reckless lunge on Vitolo. He's lucky he didn't make more contact with the player, or it could have been an early bath. 
44'   Erstwhile Liverpool flop Alberto Aquilani swings a free-kick to the near post. It looks dangerous for a split second, but the flag goes up for offside. 
41' GOOOOOOL! Asensio lofts the corner to the near post, a Las Palmas head nods it onwards, and Casemiro is waiting at the back post to guide the ball back where it came from and in to the corner. 
40'   Nacho goes all Kieran Tripper for a moment as he meets a long diagonal pass on the volley. It deflects behind for a corner. 
40'   If Benzema had Marcelo's hair he would have scored that... Asensio swings in a teasing corner from the right but he No.9 can't quite stretch to meet it. 
37' Las Palmas are under increased pressure as the match heads towards half-time. Real Madrid swing in a few corners, all of which are dealt with. The ball then spills out to Marcelo, who takes it down on his chest and lets fly. Ice with that slice, Sir? It's wide. 
35'   Ronaldo meets Marcelo's cross with a downward header in to the open arms of Raúl Lizoain. 
34'   Cristiano Ronaldo thunders another free-kick in to the wall, and at chest height, too. It wasn't close to going over. Is it me, or his the Portuguese very much living off reputation when it comes to set piece potency?
32'   Benzema heads a cross from the left out to Nacho. It looks like the right-back has taken a heavy touch, but he recovers to thunder a left-footer towards goal. It deflects behind, and from the subsequent corner Asensio fires over at the edge of the box. 
29'   Vallejo sticks out a toe to make another interception. The 20-year-old plays with positional intelligence beyond his years. 
27'   Nacho lays the ball back to Toni Kroos, who sees his shot blocked with such force that it sets Las Palmas away on a counter-attack. Four yellow shirts surge forward and only Vallejo and Ramos are back for Madrid. The former does well to intercept the ball on his first LaLiga start, and that sets up a counter-counter attack for Madrid, which results in Ronaldo cutting inside from the right and shaving the paintwork on the far post. 
23'   Isco dinks the ball in to the box and against Ximo Navarro. It does hit the defender on the arm, but it was too close for him to do anything about it and the referee waves away penalty appeals. But the ball pops out ot Kroos and he is promptly hauled to the floor 25 yards out. Cristiano stands over the ball, spreads his legs, exhales, and leathers it straight in to the wall. 
21'   Real Madrid allow Las Palmas to come on to them with a 4v3 advantage, as Casemiro and Kroos momentarily pop on an invisibility cloak in the middle. The away side squander the chance as Michel strayed offside to receive the ball on the right. 
20'   Marcelo swings in a cross and thumps it straight in to Michel's dish. Isco tries a cross of his own after receiving the ball from the throw-in, and pumps it over everybody's head and out. Benzema and Ronaldo look dischuffed as they amble back up the pitch. 
17'   Ronaldo backs in to Pedro Bigas and sends the centre-tumbling to the turf as a chipped ball comes in from Kroos. The No.7 spins and hits the ball on his left foot on the bounce, and it flicks the side netting on the way in to the crowd. 
17'   Both teams appear fairly tentative in the opening stages. Low confidence all round. 
14' Dani Castellano cuts out a through-ball aimed towards Cristiano Ronaldo's diagonal run towards the far post. But he stumbles as the ball runs towards the line and he can't prevent the it going out for a corner. Madrid work it short and recycle the ball. 
12'   Fine chance for Vitolo! The kind-of-Atlético-Madrid-player gets his body in front of Sergio Ramos as a pass comes in to him, and pokes the ball towards the far corner. It's an acute angle, and Casilla partially blocks the shot before Vallejo boots it clear from the goalmouth. Good save from the stand-in 'keeper. 
9' Benzema's confidence looks woefully low. He drops deep to pick up the ball and tries to spread it to Nacho on the right flank. It's a straightforward pass, but the French striker doesn't hit it with enough juice, and Dani Castellano nips in for it. 
7'   Real Madrid look to be playing with a flat 4-4-2 formation, with Isco on the left flank and Asensio on the right. 
4'   Karim Benzema latches on to Cristiano Ronaldo's flick and bears down on goal! The linesman's flag stays down and he just has the 'keeper to beat. GOOOOO.... only joking. Benzema takes a heavy final touch, allowing the Raúl to dash out and block. 
2' Las Palmas have started on a firm footing, and have enjoyed the lion's share of possession in the opening two minutes. 
1' Peeep! Las Palmas get us going at the Bernabéu. 
The Bernabéu has just observed a minute of silence for Manolo Sanchís, who passed away recently. 
Cristiano Ronaldo is sat on a step looking very chilled out. Don't you go over-exerting yourself, Cristiano!
The two teams are trotting down the stairs and in to the tunnel. 
Javier Sillés has picked apart the key tactical issues for Real Madrid in Diario AS today. Here is what he identified.  
Real Madrid lost at home to Celta Vigo the last time they played on 5 November. That was back in 2006. 
Six players (6!) scored hat-tricks for Real Madrid against Las Palmas in the 1950s: Pahiño, Alfredo Di Stefano (4), and Ferenc Puskas. No player has taken home the match ball against Las Palmas since Fernando Morientes in 2002... He scored five in a 7-0 win. 
The Real Madrid players are preparing to head out for the pre-match limber up. Messrs Ronaldo and Marcelo have a brief chinwag, and the former has two rather chunky diamond earrings in his ears. Here they come, led by Sergio Ramos. 
If Real Madrid don't manage to edge themselves ahead before the break at the Bernabéu, there isn't much cause for concern. In five of their last six matches, Las Palmas have been drawing at half-time before then going on to lose. 
Here's the full run down on Real Madrid's starting XI...
That could be a smart move from Ayestarán. As this article explains, Real Madrid have a systemic vulnerability to the 'back-three with wing-backs' approach. That said, it is doubtful that Las Palmas have either the tactical discipline, or the personnel to make it work. 
It looks like Pako Ayestarán is going to replicate the systems that Girona and Tottenham used to beat Real Madrid... Ximo Navarro joining Lemos and Bigas in a back-three. Michel and Dani Castellano will provide the width from wing-back.
Las Palmas XI: Raul; Michel, Ximo, Bigas, D. Castellano; Lemos, Gómez, J. Castellano, Aquilani, Vitolo; Calleri.
This will be a first LaLiga start for Jesús Vallejo. The 20-year-old defender has been working his way back to full fitness after an injury-hit start to the season. He featured in the Copa del Rey victory at Fuenlabrada, and Raphael Varane's lack of robustness has now granted him a chance in the league. 

It appears that Zinedine Zidane is reverting to the trusty 4-3-3 formation. At least, that is how Real Madrid TV are laying out the players. 
There is no room for Luka Modric in the centre of the park, and the Croatian can't have too many complaints after a pair of poor showings against Girona and Tottenham. The absence of Achraf means Nacho slots in at right-back, and Jesús Vallejo joins Sergio Ramos in the heart of defence. Marco Asensio is back in after starting the last two matches on the bench. 
Real Madrid XI: Casilla; Nacho, Vallejo, Ramos, Marcelo; Kroos, Casemiro, Isco; Asensio, Benzema, Ronaldo. 
The visiting side are, if nothing else, quite neat on the ball. With a pass accuracy rate of 84.4 percent, Las Palmas are fifth most accurate passers in LaLiga, behind Barcelona, Real Madrid, Real Betis, and Real Sociedad. 
Las Palmas boss Pako Ayestarán is in the midst of an even more disappointing personal run. He has become the first LaLiga coach in history to lose 11 consecutive matches (seven with Valencia, four with Las Palmas). 
Zinedine Zidane lamented the lack of Gareth Bale in attack for much of this season and the Wales forward is in line for a start this evening. Meanwhile, Real have scored 20 fewer goals this season than at the same stage in 2016-17.  

Las Palmas appear the ideal fodder for Real Madrid as they seek to return their season to an even keel. The Canary Islanders have lost their last six matches in LaLiga, conceding 18 goals and scoring a paltry three in the process. 
The last time these two sides met, in March, Las Palmas certainly held their own in the Bernabéu as the game finished 3-3. Real had to rely on a late Cristiano Ronaldo equaliser as the visitors piled on the pressure with goals from Tana, J. Viera and K. Boateng. Gareth Bale also saw red just after the break. 

With Zidane set to ring the changes, this young man will certainly be looking to impress and warm his legs on the pitch, not on the bench, in the foreseable future, particularly with Benzema misfiring and Bale's ongoing injury woes. 

Real Madrid host Las Palmas a provisional 11 points behind LaLiga leaders Barcelona, who saw off Sevilla on Saturday night thanks to a Paco Alcácer double at the Camp Nou.

Good afternoon! Join us for build-up ahead of Real Madrid and Las Palmas's week 11 LaLiga clash tonight!