PSG see unhappy chasm between Neymar and Emery
French media outlet L'Equipe state that the relationship between the Brazilian superstar and his club manager continues to deteriorate.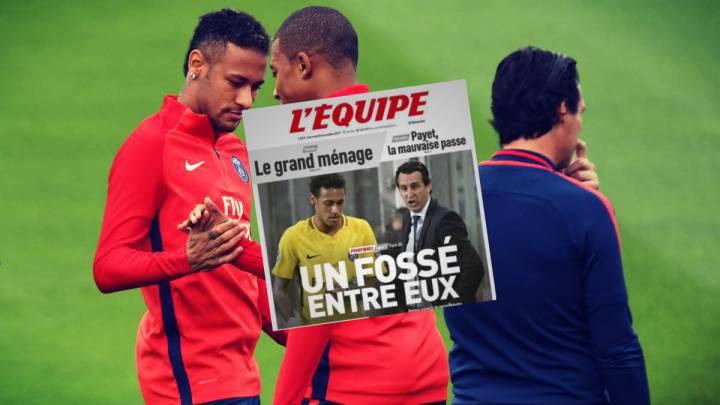 French newspaper L'Equipe leads with the story surrounding the poor relationship between star player, Neymar Jr, and manager, Unai Emery. Their chosen headline: "A chasm between them". The Brazilian arrived from Barcelona on the back of his buyout clause of 222 million euros being handed over, however, despite PSG being unbeaten in all competitions this season, not everything is going as smoothly as anticipated.
Results mask PSG sour atmosphere
The attacker has contributed eleven goals and nine assists in his first twelve games but as the weeks progress, the tension between the record signing and his manager is deteriorating, claim the reports. The paper explains that this has manifested itself several times since his arrival with the controversy with Edinson Cavani over who took set-pieces being the one that made most headlines, and it took Thiago Motta, Thiago Silva and Dani Alves to step in and mediate. Other incidents may have gone more under the radar, such as the day that the Spanish coach didn't allow his star to train - with the intention of resting him - but the player wasn't in agreement and left the ground visibly angry. It has also been reported that the Brazilian hasn't shown much interest during Emery's video sessions, although the coach has denied this.
"His body language is clear," states the article, "sometimes with a wave of his hand, or with a very dark look, he makes it clear to the coach that he does not want to listen, and that he should be left alone".
PSG's turbulent dressing room
The problem for PSG is that the situation continues to worsen each day and the Brazilian is hiding the disagreements with his coach less and less. L'Equipe also points out that Unai Emery has never before managed a team with so many world stars and that this could be one of the reasons for the escalating situation, with results proving a camouflage for the atmosphere in the camp.
"Unbeaten in all competitions, the capital club rides the wave of happiness triggered by the arrivals of Neymar and Mbappé. In psychological terms, however, the Parisian dressing room is not necessarily defined by immense serenity."