Vallejo: "Carvajal has surprised me the most at Real Madrid"
The defender spoke about his first few months in Madrid, Zidane's training sessions and how Sergio Ramos commands his defence and keeps everyone on their toes.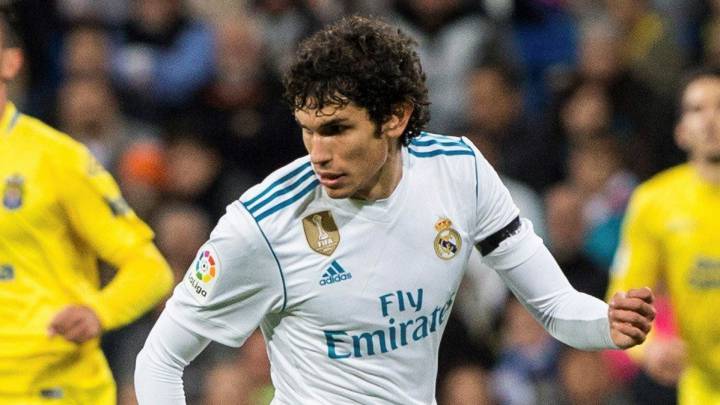 Jesús Vallejo is beginning to find his place in Zidane's Real Madrid. After a troubled start to the season with niggling injuries, the young defender has finally made his debut and is now another option at the back for the coach. Vallejo spoke to a regional newspaper about his first few months in Madrid, his daily routine and how Sergio Ramos commands his defence and keeps everyone on their toes. The 20-year-old also said that the player who has left the biggest impression on him is fellow defender Dani Carvajal.
Vallejo will star for Spain U21s in the European qualifier against Iceland on Thursday 9 November. Here's a guide as to how and where you can follow it.
Zidane makes training a pleasant experience - Vallejo
Zidane: "Our training sessions are enjoyable and dynamic. The boss is always in a good mood, he tells us that we must relax, that things will work out for us and that we should have belief in what we do. As a player, Zidane was one of the greats, but I tend to take notice of the players who play further back, in the centre-backs and midfielders but there's no doubt that he was a legend during his playing days".
Cristiano Ronaldo: "Competitively, he's a beast. He's also a player who really looks after himself; he's a professional and works flat out in every session. You can learn something from him every day because he is constantly trying to be the best. He's impressive to watch in front of goal, he can create chances or score from practically any move and make it all seem so effortless and easy".
Carvajal, an example to all defenders
The player who has surprised you the most: "Carvajal, for the way he competes. Despite the start to the season he's had with his fitness problems, he gives his best in every training session - he gives everything he's got. He's a magnificent example for me to aspire to".
Praise for Las Palmas performance: "It's nice to be given praise but my concern is to not get complacent. I cannot allow myself to get sidetracked. I know that it's not easy for a player of my age to be alongside so many great players but it's not something I dwell on. I loved making my debut, but I'm keen to set myself new challenges and continue contributing to the team".
"Always give 100 per cent"
Playing for Real Madrid: "It's crucial to manage all of the repercussions which go with being a Real Madrid player in a positive way and use it as a stimulus. I take it on board as naturally as I can. If we make mistakes, it's important to remain focused on the game and give the best we've got. A player who gives everything he has got can go home with their conscience clear. That's been my motto throughout my career".
The No.3 shirt: "It's Pepe's old number. There were other numbers available but I think it's always better to take the number of a defender who has performed to a great level - like Pepe did. That was the only reason I chose that number - I don't have any obsessions or numbers that have a special significance for me. All I want is a Real Madrid squad number and to be part of the first team squad, nothing more".
Communication the key in Real Madrid's defence
Sergio Ramos: "He gives me advice on and off the pitch. Because of our squad numbers, we sit next to each other in the dressing room. It's a real pleasure to play alongside him, he is always communicating to the rest of us during the game and that makes life a lot easier because he'll warn you when a certain part of the pitch needs cover or where to be when our rivals are attacking and that helps to make you feel immersed in the game".