Ødegaard: "Real Madrid are pleased with my progress"
The on-loan midfielder has returned to the Norway national side after breaking through at Heerenveen in the Eredivisie, but ruled out an early return to Spain.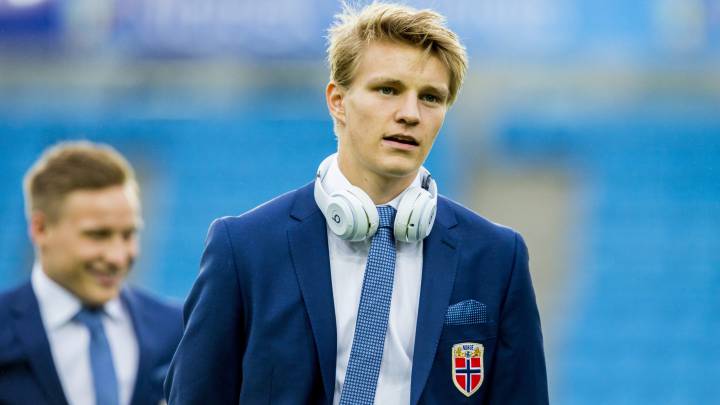 Martin Ødegaard has been called up to the Norway senior national team for the latest round of international fixtures, in a return to the status que before his move to Real Madrid in January 2015. At that point, the teenager was a regular in the Norway side, making his professional debut in a Euro 2016 qualifying match against Bulgaria in October 2014 after becoming the youngest player ever to represent his country in a friendly against the UAE two months earlier.
Ødegaard's return to senior international football has come as a result of his performances for Heerenveen this season, where he is on loan from the Bernabéu. Last season the 18-year-old struggled to make an impact in the Eredivisie but so far this campaign he has been adorning the weekly highlights reels instead of the Dutch side's bench.
"Real Madrid are very pleased with my progress," Ødegaard told Norwegian daily Dagbladet. "They think I am doing very well and that's a good thing."
Ødegaard: "I won't be going back to Real Madrid early"
Ødegaard will celebrate his 19th birthday in December and earning another international cap is an early present after Lars Lägerback relegated him to the under-21s during his early struggles in the Netherlands. If he features against Macedonia on Saturday, Ødegaard will gain his 10th cap for Norway; his last came in a friendly against Finland in March 2016.
Despite renewing his contract at the Bernabéu, Ødegaard said he is not thinking of making an early return to Real Madrid from his 18-month loan deal at Heerenveen. "I won't be heading back in January. I'll go back in June and we'll see from there. I think that in a couple of years I'll be at my best, although I've got a long career to go and sometimes that's something that you forget when you started out at such a young age like I did."