Honduras 0-0 Australia 2018 World Cup Russia play-off: match report, goals, action
The two sides could not be seperated in the first leg of the World Cup qualifier as they return to Syndey and play again next week to see who goes to Russia.Barcelona-Getafe live: LaLiga Santander matchweek 23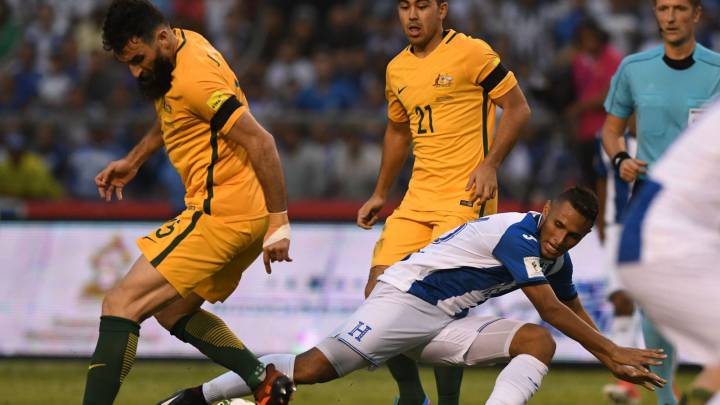 Honduras 0-0 Australia
Australia and Honduras will have to do it all over again in Sydney with 90 minutes between them and the World Cup in Russia 2018 next summer.
On a torn up field in San Pedro Sula, both teams struggled to created chances and while Australia looked the better team all things considered, they were playing within themselves due to the pitch and the fact that they wanted to keep a clean sheet.
They might be a little more confident of a result back in Sydney given how far Honduras have to travel for the away leg and due to the fact that the pitch will surely be more conducive to a gameplan.
It ended 0-0 with neither Honduras or Australia pushing for a goal and the game is on a knife-edge heading for the second leg.
Honduras vs Australia live stream online: latest
GAME OVER!
90'+4'   That's surely it. Australia got dragged down in this one and once they were there, Honduras started to push forward. Interesting tactic from the home side. 
90'+4'   Far too long again.
90'+3'   Martinez booked for a lunge on Mooy. One last chance for Australia to throw one into the box and hope for an away goal. 
90'+2'   You'd think he would be in a hurry to get on with it as it's a home game and they need a goal.
90'+1'   Meija down in a heap after Mooy goes through the back of him. Didn't look to be much in it. 
90'+1'   Four minutes of added time. 
89'   Last roll of the dice for Honduras. No good as Ryan catches another. 
87'   Another chance for Honduras from a free. it comes in from Martinez but there was an offside. Martinez upset with how his teammate strayed off.
85'   Costly chases down a backpass. Costly blocks it but it bounces nicely for Austrlia. Honduras seem to be growing back into this one again as the game draws to a close. Have Australia worn themselves out?
84'   Action on the Australia bench. They're about to make their second sub.
83'   Corner arrives and ryan was impeded as he punches the ball clear.
82'   Maty Ryan forced into a save by Costly. A thumping left-footer from the substitute. Corner.
82'   Jedinak with a really poor pas out for a throw. Chance for Honduras but they give it straight back to Australia.
81'   Honduras being forced further back. This has 0-0 written all over it. Unless Australia can force something that is. 
80'   Mooy dusts himself off and takes the free. A curling one goes over the crossbar.
78'   Mooy fouled by Claros. Fairly tired tackle there. Replay shows he didn't really catch the Australina but lunged in unnecessarily.
76'   Australia starting to run out of ideas now too. Long ball, or was it a shot, floats over Escober's goal.
74' Rogic coming on for Jackson Irvine.
72'   Lozano is replaced by Costly.
71'   It's getting progressively more sloppy here, which might have suited Honduras, but it really doesn't suit anyone.
67'   Honduras long ball tactic not working anymore. Not enough men forward and Ryan off his line at the slightest sense of danger.
66' Martinez on now for Lopez. Pinto really wants to grab a goal and go to Australia knowing their rivals have to score.
65'   Claros fouls Luongo.
64'   Chirinos breaks free on the left but he runs out of real estate and is forced to shoot. It goes out for a throw. Not to suggest it was a bad effort, he just had no other options.
62'   Maty Ryan rushes off his line to grab a through ball. Dangerous but Ryan was all over it.
61'   australia getting closer and closer. Risdon with the cross acrodd the mouth of the goal and Juric overruns it.
61'   Figueroa with a poor pass out from the back.
61' Chirinos replaces Lanza.
60'   Honduras look like they'll bring on a sub. The home crowd delighted with the move.
59'   Another long ball down to Lozano but he fouls Sainsbury with a push in the back.
58'   Irvine looks for a through ball to Juric but it's cut out. 
57'   Decent ball in but it's just about cleared away by the Socceroos.
56'   Handball! Wright caught for handling the ball and Honduras with a chance now to send it into the box.
55'   Corner comes in and Escober flaps at it before Honduras clear. Quioto breaks at speed but finds himself with no options. He crosses to an Australian defender. 
54'   Best chance of the game. Behich down the right and he gets a good cross in. Juric heads straight at Escober. 
53'   Plenty of action around the middle of the field but not much in the final third. Neither team really forcing the issue and the field isn't helping.
53'   Luongo strikes but Escober saves with ease to his right. 
51'   Long ball with Lozano looking to get on the end of it. Maty Ryan comes out and cleared.
50'   Better from Australia. Mooy with the ball on the left. The Brighton and Hove Albion player was instrumental in the Syria game but he has been quiet so far.
48' Another yellow. Sainsbury lucky he wasn't given a more harsh punishment. Claros the one who was fouled.
47' Jurman booked now for a foul on Lozano. He explains to the ref that it was just one foul! Ref is having none of it.
46'   Back in action for the second half. Still 0-0!
45'   That's it from the first half. Honduras started better and then faded before coming back into it when Australia seemed to start getting tired.
44'   Meija fouled by Juric. the Honduran wants a card and none coming so he hits the ground. It was a fairly unnecessary foul but not sure it deserved a yellow.
42'   Wright caught in possession and Australia caught out at the back. Quioto crosses and it's put out for another corner. Much better finish to the first here for the home side. Australia look like the heavy pitch is taking it out of them.
41'   Beckeles sends a lovely ball into Lozano but the striker was offside and he lost out anyway as he waited for the ball.
41'   Quioto looking for a goal. He races in behind but Australia scramble it out for a corner.
40' Ridson booked now for Australia. The first Socceroo in the book. He fouled Quioto.
39'   He sends it towards the penalty area. Cleared.
38' Palacios booked now for a foul on Luongo. A similar position to the earlier free. Mooy ready to throw it in.
37'   Lozano battling again but loses out again. Honduras haven't had a meaningful attack in a while now.
36'   Juric in behind again but Figueroa clears for a throw.
34'   Juric with a nice move to break free and he drives it wide with his left. Ball bobbled before he kicked it. This pitch is very bad. 
33'   A bit of a lull here for the last couple of minutes. Honduras sitting further back and Australia not really forcing the issue.
32'   Some nice link-up play but they're not getting forward enough to really trouble Australia. 
31'   Honduras are quite dodgy defending but very good once the ball gets into their opponents' half of the field.
30'   Quioto jumps a pass, gets fouled, but keeps possession and then loses it. He wants a free but the ref says no. Quioto isn't happy.
29'   Irvine, who has had a very frustrating night so far, fires over. Tough one to hit as it came at him fast.
28'   Ball lands to Risdon at the back post and beyond and ehe can't do anything with it as he miscontrols it.
27'   Mooy tries to cross but Beckeles blocks it and gives away the throw.
26'   Quioto gets the ball in behind. Tries a cross, sees it blocked and then sends a lovely cross into the back post. Lozano heads just wide. Decent chance.
26'   Beckeles down the right and he skips by one tackle before the ball just rolls over the line. Very close and he has plenty of space to run into if that stayed in.
25'   Maty Ryan being put under pressure every time the ball makes it back to him. Clears again but that was close, and the crowd let him know too!
24'   Nice passage of play by Honduras but they can't make it through the Socceroo's defense. Lozano fouls in the end and Australia have the free.
23'   Header by Risbon from a corner. Escober grabs it with little fuss.
22'   Referee and linesman have a chat as they think it might be a penalty, and at the very least a corner. But they decided to award the goal-kick.
21'   It doesn't go fully clear and Wright gets a head on a ball coming back in. Escober seems to catch the Australian.
20'   Mooy sends it in and Beckeles heads it just out.
20'   Beckeles booked for a foul out on the right as Mooy gets the chance to swing one in. 
18'   Luongo fouled in the middle of the field.
17'   Throw for Honduras. 
16'   Sainsbury looks to have bulldozed Lopez out of the way but ref says no. Australia throwing the ball around better now and Honduras looking like they're under more pressure.
12'   Beckeles looks for Lozano with a through ball but it's short. Another foul on Beckeles and Honduras have a chance to keep the ball for a bit. Australis slowly but surely growing into the game and gaining confidence.
12'   Australia's first proper chance and it's a good one. Luongo slaloms his way into the box and forces escober to parry it away. Corner as his teammate heads out. 
11'   Lozano looking for another free. Tangles with Wright this time and comes off worse off but doesn't get anything to show for it. Referee says play on.
10'   irvine on the run down the middle and he gets tripped up. No free as the referee wags his finger.
10'   Juric gets the ball in an advanced position but he's isolated. Palacios is fouled now by Luongo.
9'   Lozano free again and squares but Australia get the ball away.
9'  Figueroa throws himself into a tackle now. Referee gives a free to the Socceroos.
8'   Maty Ryan gives the ball away away and shot comes in from it but it's way over.
7'   This pitch is Sunday league stuff.
6'   Lozano has a think about a dive now. Referee tells him not to do it again! 
5'   Lanza through on goal. How was he not offside! He gets the ball tipped off his tow, and half dives. Cross comes in and is headed to Maty Ryan.
4'   Lozano gets fouled by Sainsbury. He was hit in the back and made a meal out of it.
3'   Beckeles with a foul now and he tries to confront the red but Meija stops him and talks to the ref as Honduras' spokesman.
2'   Henry Figueroa launches himself into a tackle as Juric tries to break free. 
2'   Throw for Honduras. Beckeles puts it back into play. 
1' Izaguirre sends it all the way back to Escober.
1'   Honduras the ones who got us underway!
1'   Must be said. The pitch doesn't look great! 
1' We are underway in Honduras!
Just minutes away from action now in Honduras.
Italy have just been beaten by Sweden and that means there's just two more games on tonight in World Cup qualifying. Australia and Honduras first and then Peru travel to New Zealand. 
Henry Figueroa starts tonight. He says people say he is very similar to Denis Rodman. He has 33 significant tattoos on his body! Nice hair too.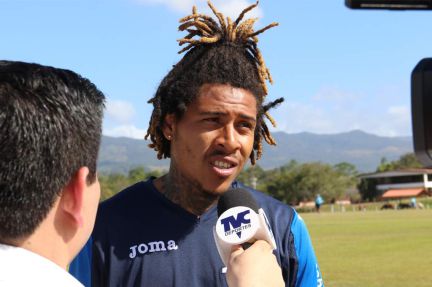 This is what the secretary general of the Honduras federation said, "The yellows for the Australian players were NOT cancelled, only our players enter clean in the play-offs. Go Honduras!"
Some confusion over yellow cards in this game. Australia had their slate cleaned before the Syria game but Honduras have had their slate cleaned before this game. "All players are cleaned by FIFA regulations for this competition so we can commit a yellow card here and the other there and there would be no problem," said Honduras coach Jorge Pinto, according to La Prensa.
Honduras team news: Escober, Figueroa, Palacios, Beckeles, Izaguirre, Claros, Mejía, López, Lozano, Quioto, Lanza.
"The fact of the long trip is going to be equal to both because both are going to be playing hard here and flying to Australia. Both teams will be fine." It's a 24-hour flight from Sydney to Honduras. Surely, one of the longest trips any teams has to take for a game in the qualifiers.
Australia are undefeated in 15 of their last 16 matches!
Australia team news is in: Ryan, Jurman, Sainsbury, Wright, Jedinak, Luongo, Risdon, Behich, Mooy, Irvine, Juric.
Pinto also says Australia are not just one man and that they are all dangerous including their bench. He said, "Because, most likely, Cahill is going to come on, the latest, (with) 20 minutes (to go). I've seen 10-12 videos of the current Australian team, I've also faced them before, there's no one man, the entire team is important."
Team news will be arriving and it seems Tim Cahill has lost his battle to be fit for the game. It would be a huge risk and they also have the second leg to come.
Team news arriving shortly.
Henry Figueroa will be partnered by Johnny Palacios at the back with captain Maynor Figueroa missing the first leg through suspension, along with winger Alberth Elis. Johnny Palacios is the brother of Wilson Palacios.
Honduras qualified for the World Cup in 2014 but were three and out. They lost to France 3-0, Ecuador 2-1 before exiting the tournament with another 3-0 loss, this time to Switzerland.
Jorge Luis Pinto, the Honduras manager, said "on the pitch, it will be a war," and many suggest that this will suit Australia. A war of attrition will certainly suit Honduras given their physical style.
Honduras vs Australia live stream online: match preview
Honduras host Australia in the 40,000-capacity Estadio Olímpico Metropolitano in San Pedro Sula on Friday in the first leg of the inter-confederation playoff between the nations to earn a place in the World Cup finals in Russia next year.
Australia are playoff veterans but have a chequered history in the final round of qualifiers, having lost five between 1966 and 2002 with only one group stage appearance breaking the trend in 1974. Since South Korea and Japan, the Socceroos have qualified for the last three consecutive tournaments and reached the knock-out stages in Germany in 2006, losing 1-0 to Italy in the last 16.
Honduras are aiming for a third consecutive World Cup after qualifying for 2010 and 2014 having only been involved in a single finals beforehand, in Spain in 1982. However, unlike their opponents on Friday, Los Catrachos have never been beyond the group stage.
Honduras
"The ideal scenario would be to take a several goal advantage [into the second leg], but the main thing is that they don't score against us at home," said Honduras coach Jorge Luis Pinto ahead of the match. "It's a game of 180 minutes, it won't be decided in one and we have to work on the basis of both, we have to plan our strategy in that way."
Pinto will be without Wigan Athletic legend and talismanic captain Maynor Figueroa and striker Alberth Elis, both of whom are suspended for the opening leg, but is expected to welcome back recent injury absentees Carlo Costly, Donis Escober, Anthony Lozano and Eddie Hernández.
"Victory at home is imperative," said Necaxa defender Brayan Beckeles. "Even if we don't get it we can still win on the return. There are two games and it's 180 minutes to decide who goes through, so we can't go losing our heads on Friday."
Australia
The big question surrounding the Socceroos ahead of the game is whether or not Melbourne City forward and Australia's record scorer Tim Cahill will be fit to play. The former Everton striker is carrying an ankle problem from last week's game against Sydney FC and is a doubt for the opening leg in San Pedro Sula. "I can't promise anything, but I can promise that I'm working hard [to be fit], the 37-year-old, who has hit 50 goals in 103 internationals, said on arrival in Honduras.
Australia coach Ange Postecoglou will have to contend without two other key figures, Mathew Leckie and Mark Milligan, who are suspended, but the tactician does have an ace up his sleeve in the form of one of the revelations of Huddersfield's eye-catching start to the season, Aaron Mooy.
"The way the boss wants us to play is to go all out and try and win the game," the midfielder said. "It doesn't matter if it's away or home - that's what we will do. And hopefully that will give us a good result to take back to Sydney."
Australia have the advantage of having already come through a tough two-legged tie against Syria in the AFC playoff round, which the Socceroos won 3-2 on aggregate after Cahill's extra time goal in Sydney.
"We're a team that likes to play, we like to press and to have the ball for as long as possible," said keeper Mat Ryan. "That's what gives this side our identity."
---
Honduras vs Australia live online: possible line-ups
Honduras: Donis Escober; Brayan Beckeles, Henry Figueroa, Johny Palacios, Emilio Izaguirre; Alfredo Mejía, Jorge Claros, Alex López, Michaell Chirinos; Romell Quioto, Anthony Lozano.
Coach: Jorge Luis Pinto
Australia: Mathew Ryan; Trent Sainsbury, Milos Degenek, Matt Jurman, Bailey Wright; Mile Jedinak, Jackson Irvine, Aaron Mooy, Tommy Rogic, James Troisi; Tomi Juric.
Coach: Ange Postecoglou
---
Honduras vs Australia live online: selected betting odds
Honduras are clear favourites with the bookies at evens, while Australia are at 3/1 for the win. A score draw is priced at 10/3 and in the scorer stakes you can get Carlo Costly and Eddie Hernández to his the net first at fours, with Australia striker Tomi Juric at sixes.