Leganés 0-3 Barcelona LaLiga: goals, as it happened, match report
Leganés 0-3 Barcelona: match report
It wasn't attractive. It was far from balletic. But Barcelona just keep marching on. Ernesto Valverde's side applied further pressure on their LaLiga challengers with a hard-fought victory in the afternoon sun at Leganés.
Luis Suárez ended a 36-day barren run with an incisive double and Paulinho stabbed in the third goal after a scrappy spell of pinball in the box. The scoreline was a harsh reflection on Asier Garitano's Leganés side, who defended compactly and troubled Barcelona on the break.
Ernesto Valverde gave Paco Alcácer another start in attack following his brace against Sevilla, and opted to continue with Gerard Piqué and Samuel Umtiti in the heart of the defence, despite the fact that both were one match away from a booking.
The match was attritional from the beginning. It took a calamitous goalkeeping error from Ivan Cuellar to allow Suárez to open the scoring on 28 minutes. The 'keeper failed to gather Alcácer's lively shot from the right. It dropped at the Uruguayan's feet, and even in a rut of form, he could not miss.
Elation quickly turned to sourness as Gerard Piqué received a yellow card for a foul on the lively Nordin Amrabat. The centre-half will be suspended for a top-of-the-table clash against Valencia next weekend.
Amrabat and Alexander Szymanowsk both missed good chances to haul Leganés level, but it was Suárez who extended the visitors' lead on the hour mark. Alcácer was the architect once again, forcing Cuellar to parry his shot towards Suárez. The No.9 contorted his body and displayed excellent technique to keep the ball down and shoot through a crowd of players. It cannoned off Rubén Pérez and in to the net. Suárez, who'd tangled with the keeper previously, celebrated right in his face.
Leganés kept pushing, urged on by their rambunctious home crowd. Amrabat went close again. So did Claudio Beauvue. Yet substitute Paulinho dealt a harsh blow to the home side when he closed the game out from close range after tenacious work by Messi.
This Barcelona side are difficult to evaluate. They keep accumulating points, but without really breaking out in to a rhythm. Is that the sign of a good team, or the sign of a team that is riding its luck? The longer this run stretches, the more it appears that the former is correct. Next week, Valencia will provide a true test.
Leganés 0-3 Barcelona: as it happened
Barcelona move 11 points clear of Real Madrid at the summit of LaLiga. Ernesto Valverde's side weren't pretty, and Leganés can feel hard done by. But in the end, a Suárez brace and a late goal from Paulinho secure the win. 
90'+2' Full time! 
90' GOOOOOL! Paulinho pokes the ball in to the net to finish off a five second spell that wouldn't look out of place in a 'Worst moments in the English Second Division in the 1990s' compilation. Messi falls over but somehow scrambles the ball onwards, a defender gets a touch, but it falls for the Brazilian who stabs it inside the near post. This scoreline has really flattered Barça. 
88'   Superb double save from Ivan Cuellar. First, he gets down to thwart Messi's long-ranger rasper. Then he dives to his right to deny Alba on the follow up. 
86'   Busquets shows lovely feet to drag the ball away from Beauvue and find Vidal. But Vidal's return pass is too weak, and Busquets is forced to clatter the livewire forward. Diego Rico wallops the free-kick towards goal from 35 yards. Although it's on target, he can't beat Ter Stegen from that distance. 
83' And a final swap for Barça, too. Denis Suárez replaces Paco Alcácer. He didn't get on the scoresheet, but he did create both goals. 
79' Final Leganés change: Raul Garcia replaces Dimitris Siovas, who was on a yellow card. That's a like-for-like swap in the heart of defence. 
77'   Lega turn up the pressure. Amrabat forces Piqué to block the ball behind for a corner, and the Barça defender appears to have picked up a knock in the process. Nabil El Zhar swings in the resulting corner, which goes behind for another. Eventually, Barcelona clear. 
75'   Barça have two good chances in the space in five seconds. Paulinho finds Suárez, who lays the ball to Alba on the left. Alba plays it back inside to Suárez' who shoots with the outside of his right boot. It looks destined for the corner until Diego Rico gets a leg in the way. The ball then spins towards Aleix Vidal, who inexplicably blasts over. 
72' The big, bearded figure of Dimitris Siovas places a firm arm on Suárez' shoulder to prevent the Uruguayan mounting a counter-attack. The referee flicks a yellow card his way in response. 
69'   Claudio Beauvue has another promising half-chance. The Guadaloupe international lays the ball off to Zaldúa on the right and drifts in to the centre. Zaldua finds him with a sharp ball, which Beaveu skewers over the bar. 
66' Leganés sub: Captain Szymanowski comes off, which is surprising. Ex-Barcelona man Gerard Gumbau comes on. 
63'   Amrabat again, he's bearing down on goal... Ter Stegen thwarts him! That was real Route One stuff from the home side. Cuellar's long kick drops for Beauvue, who heads on for Amrabat. He Piqué and finds himselfs in a one-on-one situation. The chances keep coming for Leganés. But unlike Barça, they can't make them count. 
62'   Amrabat bursts through midfield, holding off Piqué and Umtiti, and lets fly from just outside the box. Ter Stegen's positioning is sure and he gathers the ball with ease. 
60' GOL GOL GOL GOOOOOL! Suárez again! Alcácer swipes the ball towards goal from the left, forcing Cuellar to parry. The ball bounces out to Suárez, who displays lovely technique to get his foot over the ball and shoot in via a deflection off Rubén Pérez' shin. 
58' Ernesto Valverde makes a double change: Nelson Semedo and Andrés Iniesta go off, Aleix Vidal and Paulinho come on. 
55'   Gabriel catches a shot very nicely with his trusty left foot. It dips and swirls, but it's also straight at the 'keeper. 
53' Suárez becomes the second Barça player to have his name noted down in the book. He gives Ivan Cuellar a little nudge as the 'keeper was preparing to kick out of his hands. Cuellar went down like a sack of tatties, but it was petulant from Suárez all the same. He still has that streak to his game. 
52'   Claudio Beauvue, all fresh legs and energy, peels in to the oceanic gap between Umtiti and Alba and runs on to a through-ball from midfield. He bears down on goal, shoots to the far post, and Ter Stegen thwarts him with a strong foot. 
50'    Szymanowski pops up on the left once again. He likes driving crosses in to the box and is usually effective at it, but this one is too close to Ter Stegen and the German international clears. 
48'   Lionel Messi has a curt word with the referee after Gabriel avoids a yellow card for an agricultural challenge on Rakitic. 
46' Second half. Let's 'av it. 
Asier Garitano makes a change at the break, with Claudio Beauvue coming on for Eraso. 
Out stroll the teams for the second half. 
Barcelona have the advantage, but Leganés have carved out the better chances and generally threatened more than the visitors. Szymanowski and Amrabat both had decent chances to score. 
Barcelona lead after Luis Suárez seized on a goalkeeping howler to score his third goal of the season from close range. Gerard Piqué received a yellow card and, as such, will miss the next match against Valencia. 
45' HT. The referee blows his whistle as soon as the clock reaches 45 minutes. 
44'    Szymanowski, the home side's main threat, whips a ball towards the near post, where Umtiti dashes across to cover. Less than a minute later,  Szymanowski is back in the same position and this time opts for the far side of the box. Javi Eraso desperately leaps, but with Ter Stegen beaten and the goal gaping, he can't quite reach high enough.
41'   Gabriel hoofs the ball forward and it drops straight in to Ter Stegen's arms just inside the box. It is unclear whether that was an awful pass, or an awful attempt at goal. 
37'   Oooh, a first episode of hand-baggery! Rakitic falls over. Szymanowski suggets rather forcefully that he could perhaps have remained on his feet. Rakitic pushes Szymanowski. Szymanowski pushes Rakitic. The referee sends them their seperate ways. 
35'   Big, big chance for Alexander Szymanowski! Space opens up for the No.11 after good work from Amrabat to suck in two players and then release the ball on the left. He curls the ball towards the far post, where Ter Stegen flies through the air to parry wide of the goal. Decent chance, good save. It serves as a reminder that this Barça defence is not impermeable. 
33'   Barcelona are knocking the ball around rather nicely after that goal. The pace of the match is still pretty frenetic, though. 
30' Uh-oh! Gerard Piqué is booked for a foul on Amrabat in the centre of the park and that's him suspended for the crucial match against Valencia next weekend. 
28' GOOOOOOOOL! Luis Suárez breaks his barren spell and puts Barça ahead! Leganés 'keeper Ivan Cuellar provides a very generous assist, dropping Alcácer's cross in to his path two yards out. Suárez lashes at the loose ball with his left peg. He couldn't miss. 
26'   Gabriel plonks himself on the edge of the box and waits for the ball to come in from the left flank. When it does, he shoots low through a jungle of legs. It gets all the way through, but skids just the wrong side of the post. 
23'   Jordi Alba dashes in to the box and tries to cut the ball back for Messi, who has taken up a position on the penalty spot. Muñoz makes sure the cross can't reach its intended target, stretching out a leg to block the ball behind for a corner. Siovas' clearing header falls to Suárez at the far post, but he snatches at his shot and it flies wide. 
20'   Amrabat curls Leganés first effort of the match in to the crowd. The man on loan from Watford bundles the ball between Rakitic and Piqué on the corner of the box, opens up his body, and aims for the top corner. His connection with the ball is shoddy and it goes high, wide, and Marilyn Manson. 
18'   Pretty stodgy stuff so far at Butarque. Leganés are solid, Barcelona are solid, and they're cancelling each other out. Leo Messi has his first chance to pick the ball up from deep and scamper forward. Naturall, the Leganés defence are having absolutely none of that, and Dimitris Siovas arrives swiftly to trip him up. 
16'   For the second time in the early stages of this match, the ball breaks for Suárez, only for the linesman to hoist his flag for offside against one of his team-mates. This time Alcácer goes beyond the last defender.
14'   Butarque rises to its feet as Leganés earn their first corner of the match. And then sit down again as Luis Suárez fulfills his defensive duties with diligence, nodding clear at the front stick. 
10'   Szymanowski, who spend much of his career at lower-league clubs around Madrid before getting a break with Brondby, whips a cross towards the near post. Piqué watches it on to his instep and cushions it clear. 
8'   Suárez timidly appeals for a penalty after Muñoz hacks the ball away from him once again. Nothing doing there, so Suárez sits on the deck and adjusts his socks instead. Now he jabs an angry finger towards the referee after being penalised for a foul on Ambrabat. 
7'   Alcácer chases a bobbling ball on the right and hooks it towards Suárez, who is lurking around the penalty spot. The No.9 flings himself in the air and tries an acrobatic effort, but Muñoz closes him down and makes the block. Strong start from Barcelona. 
4'   GOOOOOO... No goal. Luis Suárez starts a smashing counter-attack with a first-time ball out to the right, and then finishes it from the centre of the box. But in the intervening period, Jordi Alba had strayed offside. That would have been Suárez' first goal for over a month. 
2'   Barcelona finally give the ball away after 1 minute and 26 seconds. Leganés are sitting deep with two banks of four, as was expected. The home side look fairly content for Barcelona to have possession in non-threatening areas. 
1' Peeeep! Barcelona, wearing a light-blue strip, get the match underway and are immediately serenaded by a volley of whistles. 
The Leganés fans unveil a tifo behind the goal, depicting a man in a suit opening his shirt to reveal a Superman badge with 'Leganés' written on it. Meanwhile, the teams cramp together in the tarpaulin tunnel. Here they come! 
Despite that rough run, Leganés have kept clean sheets in their last four home matches. They're compact, organised, and harder to break down than a Japanese car. 
Leganés are in the middle of a challenging run of matches, and it will be their third consecutive defeat if Barcelona take all three points today. Sevilla and Valencia inflicted the previous two, and next weekend Los Pepineros face a challenging trip to the rugged Galician coast, where Celta Vigo await. 
Luis Suárez comes in to the match under pressure to find the net. The Uruguayan, usually such a reliable source of goals, has only scored three times this season. His last goal came 36 days ago on 14 October, in a draw with Atlético Madrid in the Wanda Metropolitano. 
This is the first time that Ernesto Valverde has named the same starting XI for two matches in a row with Barcelona. Some view his selection as risky, particularly in defence. Gerard Piqué and Samuel Umtiti are both one yellow card away from a suspension that would rule them out of next weekend's crucial match against Valencia. 
Asier Garitano will opt for Watford loanee Nordin Amrabat as a lone striker. The Morocco international has bags of pace, which means he fits well in to Garitano's counter-attacking system. 
Leganés XI: Cuéllar; Zaldúa, Muñoz, Siovas, Diego Rico; Rubén, Gabriel; El Zhar, Eraso, Szymanowski; Amrabat.
Paco Alcácer has been rewarded for his double against Sevilla with another start. 
And on the bench for Barça: Cillessen, Denis Suárez, Paulinho, Deulofeu, Digne, Aleix Vidal, Vermaelen.
Barcelona XI: Ter Stegen; Semedo, Piqué, Umtiti, Alba; Rakitic, Busquets, Iniesta; Messi; Alcácer, Suárez.
Gerard Piqué delayed his trip down to Madrid but has reportedly arrived in the capital and will be in Ernesto Valverde's starting line-up. The Barça boss has only three fit central defenders and two - Piqué and Samuel Umtiti - are a caution away from being suspended next week against Valencia in Mestall.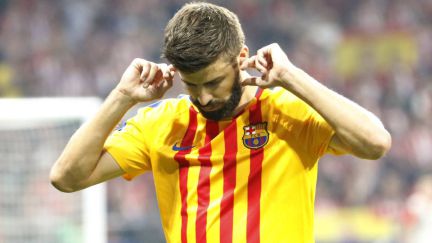 Leganés host Barcelona in what promises to an interesting clash between two of the division's meanest back fives in Butarque. Here's how you can keep up to date with developments from Butarque.