Copa del Rey 2017 last 16 draw: as it happened
Holders FC Barcelona will need to overcome Celta Vigo in the last 16 in their bid to win a fourth successive Copa Del Rey title. Madrid travel to Soria to face segunda outfit Numancia.Champions League draw 2018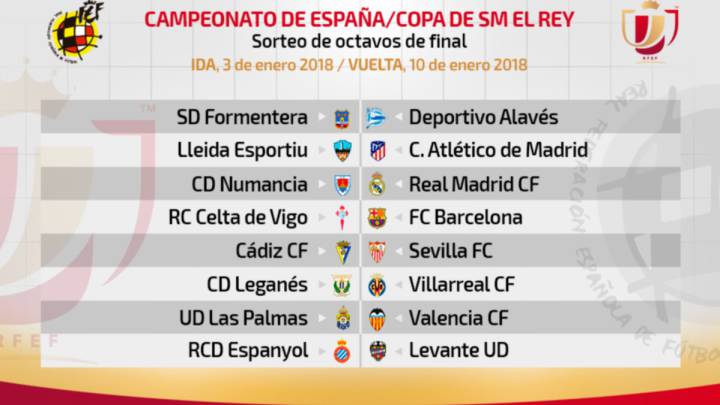 The draw was concluded this morning at the Spanish FA HQ in Las Rozas and despite throwing up no blockbuster tie or derby, it does present many evenly balanced match-ups.
Both 2B sides, SD Formentera and Lleida were quickly drawn form the bowl with the Balearic island side facing last year's beaten finalists Deportivo Alaves whilst Catalan outfit Lleida will travel to the Spanish capital to face Atletico Madrid.
Segunda sides Cadiz and Numancia were drawn respectively with Sevilla and Real Madrid in the two legged affairs that will be held on January 3rd and 10th with the definitive kick-off times and dates to be confirmed by LaLiga.
Copa del Rey last 16 draw online: as it happened
So ...what game grabs the attention? .... Celta-Barça is an obvious candidate and Sevilla v Cadiz could be interesting too....As mentioned games will be played on Jan. 3 (first leg) and the retun leg a week later. Exact ko times will be agreed by LaLiga and TV rights holders. The draw for the 1/4 finals will be held on Jan. 12th at 12:30 CET.
Let's have a swift recap of the eight match-ups: Formentera-Alaves / Lleida-At. Madrid/ Numancia-Real Madrid / Celta-Barça / Cadiz-Sevilla/  Leganes-Villarreal/ Las Palmas-Valencia and Espanyol-Levante
Penultimate match-up will be:  Las Palmas and the Canary Islanders will meet .... Valencia which leaves Levante-Espanyol 
just 4 teams left: Valencia, Levante, Las Palmas & Espanyol...
6 sides left ... with Valencia still lurking along with neighbours Levante UD and Villarreal just a bit further up the coastline....Next up we have: Leganes-Villarreal  
Four games to go, Cadiz still in the fruit bowl....Sevilla, Valencia, Villarreal still to come out too... Next up is Cadiz and the Gaditanos face Sevilla FC 
Next up: Celta Vigo who will face FC Barcelona  
Three ties already confirmed: Formentera-Alaves / Lleida-At. Madrid/ Numancia-Real Madrid 
Camera pans to the Lleida squad who seem happy with the draw....Next up we have: Second division outfit Numancia who will face Real Madrid 
Game two will be a tie between: Atletico Madrid and the side from the capital will face Lleida 
and the Balearic island based team face.... Alaves (last season's finalists)
Finally...we're ready for action....as our MC talks us through the finer details of the draw .... First team out is ..... Formentera....
It's still goals on screen at the Spanish FA HQ as the trophy gleams on it's plinth.
Despite the format of the competiton that does have many, many detractors, there were indeed surprises in the previous round despite the two-legged system. Athletic, Real Sociedad, Betis and Malaga were all eliminated by lower league sides.
It's goals from previous rounds with a .... rocking soundbed and not the usual David Guetta-eque house favoured by UEFA !
....the bad news is that Rod Stweart missed his flight to Madrid this morning and will play no role in the draw process ; )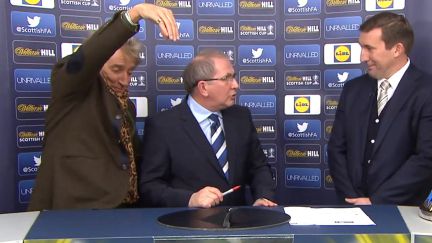 ...that's not to say that the draw process will be free of goals with big euro house soundbeds, reaction from club veterans after the draw etc...
From memory... the draw at the Spanish FA is a rather nimble process with the minimum of ramble ... let's wait and see....
All eyes on the four "modestos" (Formentera, Lleida, Cadiz and Numancia) as the draw time ticks closer....
The final of the competition has been set for April 21st 2018 but as always the usual "soap opera" of where the game is to be played will no doubt dominate headlines once the finalists are known. The Wanda Metropolitano has been put forward as a potential candidate.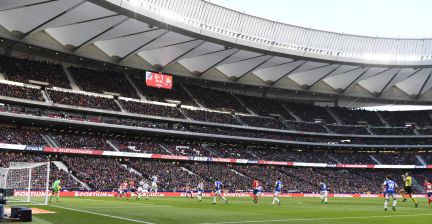 This is what elimination meant to Real Betis last week falling to 2a side Cadiz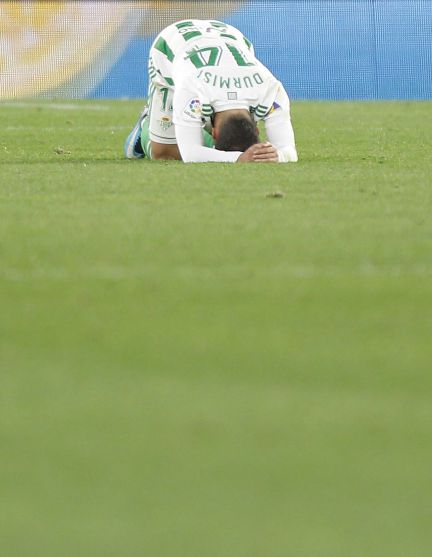 The first leg games of the last 16 will be held on Jan. 3 but as is the case will be spread over the week with the exact ko times being decided by television rights holders. The exact kick-off times will be made known by LaLiga who co-run the tournement with the Spanish FA.
An archipelago derby could be on the cards too with a UD Las Palmas (Canary Islands) and SD Formentera (Balearic Islands) tie
In the overall standings, it's Barça who can boast of most Spanish cup wins with 29 titles. Athletic follow with 23 Copa del Rey wins and Madrid complete the podium with 19 cup wins under their belts.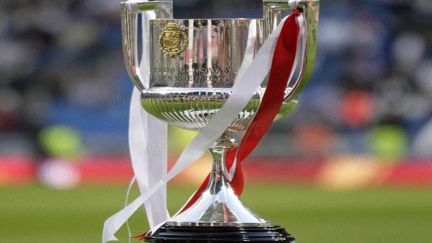 FC Barcelona aiming for their 4th consecutive cup win after despatching Athletic, Sevilla and Alaves in the past three finals.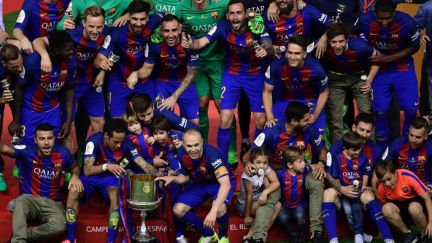 Interesting to see that many Real Madrid fans want to draw Barça in the last 16.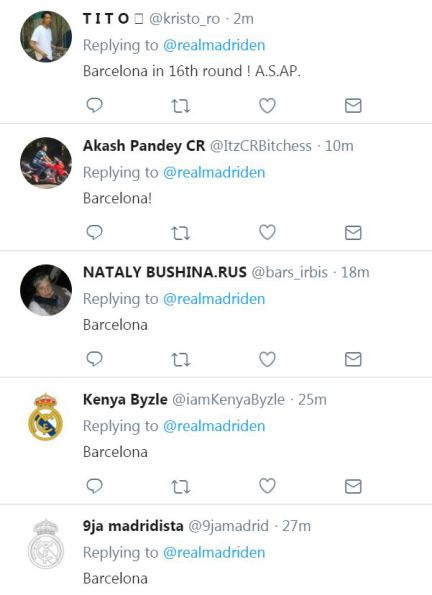 January 2018 is very much Copa del Rey month with the last 16, quarter finals and first leg of the semi final all being staged during the first month of 2018.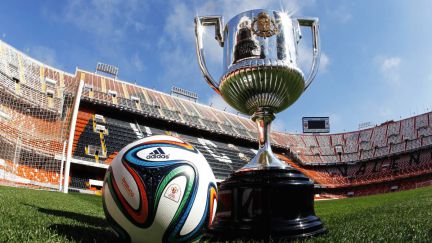 Plenty of intriguing ties possible given the straight draw possibilities: A Clásico, Madrid derby, Catalan derby... 
For those asking what colour do Formentera play in, here is their 2017/18 home shirt (manufactured by Bemiser)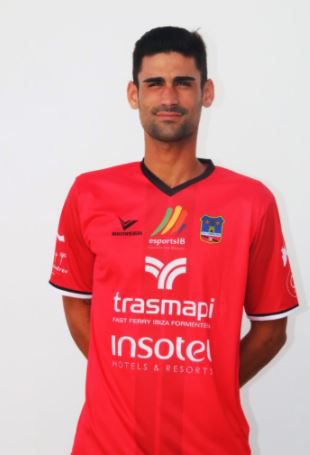 Some of our international fans have been in touch to ask whether or not an early 2018 Clásico is a potential outcome of today's draw. We can confirm that it is. There are no restrictions to who draws who here so just as Real Madrid vs Barça is a possibility, so is Lleida vs Formentera.
Good morning and welcome to our live coverage of the 2017/18 Copa del Rey last 16 draw. The actual ball selection formalities are scheduled for 13:00 CET but we have so much to bring you ahead of then...
...and then there were 16
Sixteen sides are left in the competition as things get interesting with no seeding system to condition the draw.
From LaLiga Santander we have 12 teams: Real Madrid, FC Barcelona, Atletico Madrid, Valencia, Sevilla, Espanyol, Celta, Las Palmas, Alaves. Levante, Leganes and Villarreal.
Two representatives from LaLiga 1|2|3 feature with Numancia and Cadiz in the hat with Lleida and Formentera from 2B completing the line-up.
Games will take place on January 3rd and 10th (2018).