Premier League
De Bruyne and Pogba get stuck in ahead of Manchester derby
Manchester United's French midfielder didn't mince his words and these were not greeted well in the blue half of the city. The Belgian responded.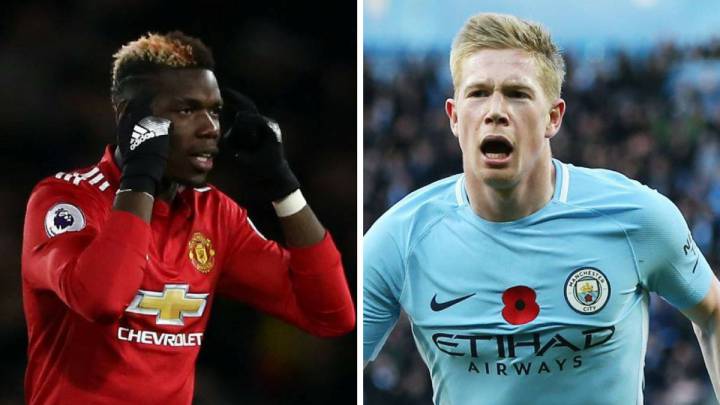 Sunday sees the first meeting of the season between Manchester United and their local rivals City. And even before a ball is kicked, the tension around the match is already starting to build as Paul Pogba's comments get some backs up across town, leading to a response from Kevin de Bruyne.
Pogba hoped for injuries to key City players
Manchester United midfielder Pogba will be starting his three-match suspension after his red card for a reckless challenge on Arsenal's Hector Bellerin. Before that ironic turn of fate had been sealed, the 24-year-old France international had said last week that he hoped "very important" City players would suffer injuries and suspensions in the title race.
In response to the idea that these things happen for a reason De Bruyne said:
"I don't believe in that shit. I'm a very straightforward guy," before adding, "If someone believes it is karma then OK. Everyone has their right to their opinion.
Unlike Pogba, the Belgian star didn't wish harm on others:
"I don't want anyone to get injured. It's a competition, you want to play against the best teams and the best players.
"He's a massive player. I know him a little bit. He's unbelievable. He took a red card and that's the way it goes - you have injuries and suspensions."
City looking for Premier League breathing room
Leaders City are eight points clear of second-placed United ahead of their first meeting this season at Old Trafford and a win would open up an 11-point advantage at the top.
"It means we (would) almost have a four-game advantage. It's a good gap but doesn't mean anything," De Bruyne added.
"Football goes very quick. It's a busy two months when things can change but the way we're going is good and we need to continue that."
De Bruyne has not travelled to Ukraine for City's final Champions League group match against Shakhtar Donetsk on Wednesday because he is suspended.