Cristiano Ronaldo wins 2017 Ballon d'Or in Paris
The Real Madrid forward won the prize for the fifth time in a ceremony at the Eiffel Tower. Barcelona's Lionel Messi and PSG's Neymar completed the podium.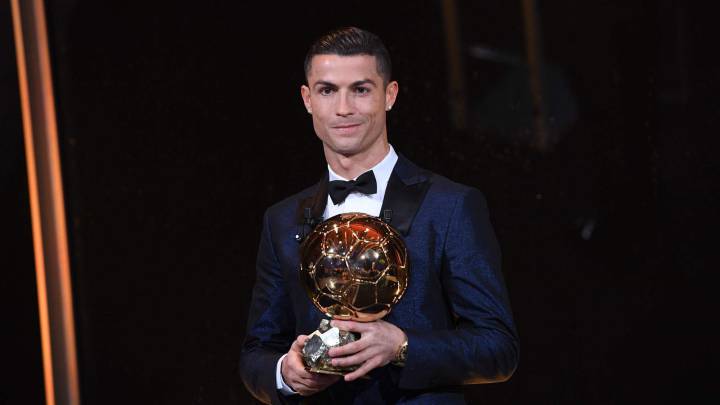 Cristiano Ronaldo has won the Ballon d'Or prize for the fifth time at a ceremony held in Paris, France. The Real Madrid forward topped the podium ahead of Lionel Messi (Barcelona) and Neymar (PSG).
---
Read what Cristiano Ronaldo said after winning the 2017 Ballon d'Or.
---
Ronaldo powered Real Madrid to double
The Portugal international was instrumental in propelling Real Madrid to a Champions League and LaLiga double in the 2016-17 season, the first time Los Blancos had achieved such a feat since 1958. Ronaldo topped the scoring charts in the European competition with 12 goals, 10 of which were scored from the quarter-final stage onwards.
Despite a sluggish start to the LaLiga season, the 32-year-old has continued his scintillating form in the current Champions League campaign. He made history on Tuesday night as a sumptuous goal in the victory over Borussia Dortmund confirmed his status as the first player to score in each match of the group stages.
Ballon d'Or added to 'The Best'
Ronaldo first won the Ballon d'Or in 2008, and the prize has changed hands between him and Lionel Messi ever since. He also got his hands on the trophy in 2013, 2014, and 2016.
This is not the first piece of indivual silverware Ronaldo has won this season. The Ballon d'Or will slot alongside a FIFA The Best gong on the former-Manchester United star's mantelpiece. Ronaldo picked up that prize at an event hosted by Idriss Elba in London in October.
CR7 the heavy favourite ahead of the event
Ronaldo was the overwhelming favourite going in to the ceremony on Thursday evening with odds of 1/20.
Tipsters became even more confident when images of commemorative "Quinto Triunfo" Nike football boots leaked on Wednesday. The one-off pair are both gold in colour, and like gold dust: only 1,000 will be commercially available.