Real Madrid: Bale not fit to face Sevilla, Zidane confirms
Ahead of Saturday's game, Real Madrid's boss discussed Cristiano's Ballon d'Or win, the fitness of Vallejo, Bale and Varane...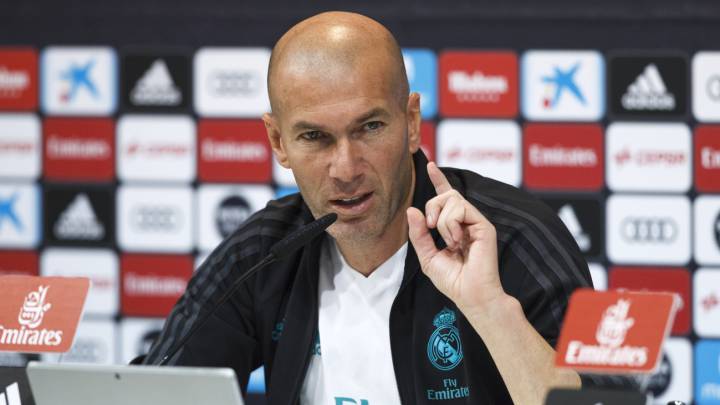 Real Madrid coach Zinedine Zidane's pre-Sevilla press conference:
Support for Sevilla head coach Eduardo Berizzo: "On behalf of the whole club, I'd like to send him a big hug, I don't think he's going to be able to be with us tomorrow."
Dani Carvajal's additional one-match Champions League ban for 'forcing' a yellow card against APOEL: "You can't prove it [that it was a deliberate attempt to get himself booked]. I don't think he was [forcing the yellow]. It wasn't his intention. We're going to appeal and hopefully they'll take the match away. It wouldn't be fair on us."
How long do you think Cristiano Ronaldo will stay at Real? "Forever. There's always the same debate, but I think he's going to finish [his career here]. He's happy at Real Madrid, he's at the best club in the world and there's no doubt."
After Cristiano's fifth Ballon d'Or, what more can be said about him? "As you've said, so much has been said about him and there are no more words to describe him. A player could spend 15 years here and never achieve what Cristiano has. He's made history at this club and I hope he continues in the same vein until he retires here."
Message to the Bernabéu crowd: "The fans are very important. I want to send a message to our fans: Tomorrow is an important day and we need them right behind us. We want them to come to the game and help the team from the first minute to the 90th."
Will Jesús Vallejo be available to play tomorrow? "Jesús will be with us [in the squad]."
Raphael Varane's muscle injury: "It's nothing major. He's unavailable tomorrow, but he'll be with us at the Club World Cup."
Is Real Madrid's indifferent LaLiga form this season down to relaxation after the euphoria of having won so many trophies? "It's certainly not a case of relaxation. It isn't easy for the players to always be at their best; there's no questioning the desire they have to do as well as they can, but it's not always possible. Sometimes things don't come off, but it's not a question of wanting it or not."
Is Cristiano the best in history? "Yes. His figures speak for themselves, so I think so."
Who's better? Zidane or Cristiano? "Me, clearly [laughs]. You know what I think; he's better than me by a distance, but I had a good career."
Will Gareth Bale be fit for tomorrow? "He only did part of the training session with us [today]. No, he won't be with us tomorrow, but the plan is for him to be with us at the Club World Cup, and we'll see if he can play the first game."



LaLiga Santander
*Update 8 de diciembre de 2017