Real Madrid-Sevilla: as it happened, goals, reaction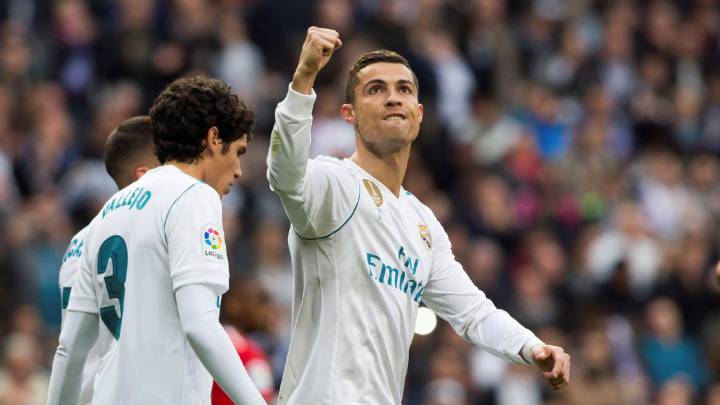 Real Madrid swept Sevilla aside at the Bernabéu in the perfect warm-up for the Club World Cup as Zinedine Zidane's side laid on a stunning display of attacking football that ended the contest by half-time and earned the players a standing ovation from the stands on the 45-minute whistle.
Nacho, who had an excellent game all round, opened the scoring on three minutes by capitalizing on a defensive blunder to fire past Sergio Rico. Cristiano Ronaldo then extended his extraordinary record against Sevilla by adding two to take his tally in LaLiga against Saturday's visitors to 25 in 14 games. The Portuguese first fired low past Rico after an excellent ball from Marco Asensio then beat the Spain keeper from the spot, although Rico can be aggrieved at the ball slipping under his body and into the net after he correctly guessed Ronaldo's intention.
Achraf opens his Real Madrid account
Toni Kroos buried a fourth with the instep of his left boot after a nice interchange with Lucas Vázquez before Achraf Hakimi scored his debut goal for Madrid, running onto a cute assist from Karim Benzema after a sweeping Real break from deep.
After the restart the game was more of a training exercise for the home side as Sevilla sat deep and Real tried patiently, if not particularly urgently, to pick a way through. Benzema rattled the woodwork with a well-taken header from Marcelo's cross but that was a brief flash of interest that punctuated 45 minutes of going-through-the-motions football.
In a nod to Ronaldo's fifth Ballon d'Or, and with the Club World Cup in mind, Zidane took the Portuguese off on 75 minutes to a raucous ovation from the Bernabéu, who had been treated to a display of the number seven's five golden orbs before their side put on a five-star display to seal victory in a single half, in the process scoring more than three times in a game for the first time this season.
Real Madrid vs Sevilla live stream online: as it happened
90'+2' And that is it! Real run out very, very confortable winners against a half-cocked Sevilla side who never threatened to make a game of it after going 2-0 down. Real in good shape as they prepare now to head off to the Club World Cup.
90'+1'   Sevilla get out of their half but the attack fizzles out. Corner for Real, probably the last kick of the game...
90'   Two minutes added. Two more than Sevilla wanted.
89'   Marcelo hoists one into the area but it's too long for any of his teammates to reach.
88'   Ufffff. Asensio tires of the patient approach and spies an opening, shifts it to his left and skies it into the upper tier. Not his best effort, that.
87'   It comes to nought though and Real start from scratch again. 
86'   Isco gets to the byline and pulls it back in Marcelo's direction but Krohn-Dehli is there to clear. Achraf cross and Mercado inexplicably nods it out for a corner with no white shirts in attendance.
85'   Real try to open up the Sevilla defence at cloase quarters but there are too many red shirts in the mix. It eventually falls to Achraf, whose effort is straight at Rico. 
84'   Achraf does well on the right to clip a cross towards Ceballos, who hits it on the volley but doesn't quite catch it and sees his effort bounce harmlessly past Rico's far post.
83'   The game is meandering to a close now, both sides seem to have conformed to the current score line.
81'   Lucas tees up Benzema in the area but he can't bring the ball under his spell and Kjaer doesn't complicate his clearance, hammering it away with a firm boot.
80' Krohn-Dehli comes on for Sevilla, Ever Banega making way. No Ben Yedder today then, which is a curious move by Marcucci.
79'   Marcelo lays the ball off for Isco, who jinks inside into his favourite shooting position but on this occasion his effort is high and not too handsome.
77'   Lucas wins a throw on the right as he tries to outfox Kjaer, who is not in the mood and clips it out from under the canterano's boot.
76'   Real win a corner as Marcelo pings one into towards Benzema.
75' And now Ronaldo makes way to a huge standing ovation from the stands, Isco coming on in his place.
74'   A lovely move across the area from Real almost tees Lucas up and he tries an overhead but connects with Kjaer instead.
72'   Sevilla win a free-kick in midfield and play it short, Real drop back to cover and the visitors are forced to play it all the way back to Rico. That rather sums up their afternooon.
70' Modric goes off to a huge ovation, Dani Ceballos on in his place. Mudo Vázquez also trots off for Sevilla.
69'   Sarabia chances his arm but hs shot is high. Sevilla have really not given Navas much to do this afternoon. The Costa Rica keeper could probably have read a book over the last 70 minutes.
68'   Muriel breaks and is shadowed by Achraf, who recovers from being out of position to outpace the Colombian and turn it out for a corner.
67'   Nacho, he of the sensible black boots, wins out in a tussle with Navas and is floored by the diminutive winger, earning a free kick. Asensio delivers but it's cleared without too much fuss by Sevilla.
66'   Woodwork! Benzema almost gets in on the act but his header rattles the post.
65'   Lucas, who has been everywhere on the pitch this afternoon, does well to recover possession from Carole as the Sevilla left back looked to break.
64'   Ronaldo gets away down the right, cuts inside, beats his man and looks to tee up Benzema but Sevilla get a boot in the way.
63'   Sevilla are parked in their half as Real look to build an attack, Ronaldo and Benzema dropping back into midfield in search of the ball.
62' And it's Kroos who is first off, Marcos Llorente coming on for the final half hour. The German's work is done, and done well.
61'   There's not a lot of urgency from either side now but Sevilla are having a go at at finding an opening to apply a bit of make-up to the score line. Again the final ball is lacking after decent build-up and Real get it clear.
60'   Sarabia fails to control a simple ball in midfield and Real recover possession. Sevilla nick it back though and Navas fires in a dangerous cross but it's too long for Muriel. Sevilla preparing a change and Isco warming up...
58'   Vallejo turns on the afterburners to get across and puts in a fine tackle on Muriel, who was threatening to break down the left.
56'   Muriel gets the better of Vallejo on the right but Modric is there to intercept the cross. The Colombian then scythes down the Croatian, much to the latter's chagrin.
55'   A series of flicks around the area and the ball falls to Benzema, who tries to clip it over the top with the outside of his boot. It's a training game now, with all of Real's players enjoying themselves immensely.
54'   Real working it from side to side as they seek an opening. Sevilla are closing ranks now, trying to keep this not-too-crushing.
53'   That's a measure of the sort of game we've got now. Both Marcelo and Ronaldo consider going for an overhead from Asensio's cross before Sevilla hook it clear.
52'   Sevilla carve out an opportunity with some neat interplay around the edge of the box but Nolito doesn't get hold of his effort and it's an easy gather for Navas. Muriel then gets into the area ahead of Vallejo but his shot is straight at the Costa Rica keeper and he holds it at the first attempt.
50'   This is the fifth time in six games at the Bernabéu that Sevilla have conceded four or more. Maybe that Schuster curse is a thing...
49'   76, 924 spectators in the Bernabéu today.
48'   Sevilla with a period of possession in the oppossition half, Real happy enough to sit back and see where it leads. The home side almost break but a wild ball into touch nips that in the bud.
47'   Real in no hurry to get the ball forward at the start of the second period. Navas breaks down the right and puts in a low cross but there's nobody there to meet it.
46'   We're back underway at the Bernabéu. No changes from either side at half time.
Achraf Hakimi is off the mark for his club after rattling in the fifth. A fine afternoon's work from the teenaged Morocco international.

Can I play you every week? Ronaldo is a real thorn in the Sevilla side.

That was an almost perfect half of football from Real Madrid, who looked like scoring every time they went forward and dealt with Sevilla's attack despite Zidane's defence being a makeshift one. 
45' And there it is! Not a smidge of added time after a blistering half of football from Real, who go into the tunnel to a standing ovation from the stands. Crisis, what crisis?
44'   Sevilla will be very happy to hear the whistle here. Real will champing at the bit to get back out.
43'   Another Real free kick on the left as Asensio is floored. Kroos delivers and Lucas meets it at the far post but it hits him in the chest and plops into the grateful gloves of Rico.
42'   What will stick in Marcucci's craw going in for half time is that Sevilla have not been poor. They have simply been outclassed by a Real side playing in a state of grace.
41' Gooooooooooool! Achraf! The Moroccan international finishes off a lightning break involving Ronaldo and Benzema, who combine to work it out to the left. Achraf comes steaming in and buries a shot past Rico on the run to make it 5-0. Devastating stuff from Zidane's side.
39'   Real have been excellent in this half to be fair, harking back to the best they played last season. Sevilla have been toyed with and dismantled all too easily.
37'   Goooooooooool! Well that, as they say, is probably that. Kroos drives a break through the middle, feeds Lucas, who returns the favour, the German steering a left-footed shot past Rico. 4-0 to Madrid, and as Hudson opined in Aliens, that's "game over man, game over."
36' Nacho clears again from a Sevilla corner as Banega goes in the book for a crunching tackle on Modric. Marcucci is looking a little forlorn on the touchline. What has the Sevilla assistant boss got up his sleeve to pull this back?
35'   Ronaldo! A volleyed effort hits Lenglet and pings to safety. Real really turning the screw now.
33'   Kroos delivers but it's easy for Lenglet, who heads clear. The ball is worked back into the box and Ronaldo tries an acrobatic effort, which goes through the legs of Lenglet but is at a perfect height for Rico.
32'   It's taken short and worked to Modric, who tests Rico from the edge of the area. Free kick to Real on the left now as Marcelo is plonked on his backside.
That's 25 in 15 Liga games against Sevilla now for Ronaldo. Another Real corner...
31'   There wasn't too much protest from Navas about the award. His hands were above his head when he made contact. 3-0 to Real now and it's a long, long way back for Sevilla.
30' Goooooooooool! It isn't the greatest penalty Ronaldo has ever taken but it's hard enough to sneak under Rico, who guessed correctly but couldn't keep it out. Unlucky for the Sevilla keeper there.
30'   Penalty! Navas is adjudged to have got a hand to the ball in a tussle with Marcelo....
29'   Real appeal for a free-kick on Lucas, nothing given. Ronaldo nicks in to grab the loose ball and is floored in the area, nothing given. Spot on both times from the ref. The Bernabéu disagrees.
28'   Lucas gets a bit excited on the right and tries his luck, but his effort is well over. Ronaldo reminds him in no uncertain terms that he was bearing down in the middle. Was worth a punt from there though, in fairness.
27'   Modric with a glorious ball, releases Achraf who crosses low. It evades the first defender by Kjaer is there to hook it clear.
25'   Nacho again, what a game the canterano is having. He just gets a boot to a through ball that would have left Navas one-on-one with his namesake in the Real goal. Excellent work from the number six.
24'   Sevilla try to redress the balance straight away but Nolito is caught offside for the second time. Navas streaks down the right and feeds Nolito but his first-time shot is wide of Navas' far post.
23'   Lest we, or Sevilla, forget, Real were 2-0 up against Dortmund on Wednesday... plenty of game to go and you fancy there's a few more goals in this one.
22' Goooooooooool Ronaldo! The Portuguese continues his incredible record against Sevilla, driving a low shot past Rico from Asensio's through ball. 2-0 to Madrid!
21'   Modric starts a move from deep, feeding Vázquez, who tries to link up with Ronaldo but the Portuguese can't reach it. Banega has a pop at the other end but it was rising all the time and hits the top of the lower tier of the Bernabéu.
19'   Benzema! The Frenchman rises to meet Asensio's searching cross but can't guide his header on target.
18'   Sergio Rico is forced to scamper across his area to prevent a corner from an ill-judged back header. Still jittery at the back, Sevilla are looking more threatening on the attack.
17'   Nolito plucks a long ball from Navas towards Achraf from the sky like a balloon and Sevilla are on the front foot again. Fran Vázquez tries to get on the end of a long ball but it's overcooked and rolls out for a goal kick.
16'   Stats on 15: Real one shot on target, Sevilla 0.
15'   PIzarro gets a sniff from the corner and shapes to shoot but he's leaning back as he hits it and it's off up into row z.
14'   Close! Carole wraps his left around a long effort and Navas is forced to tip it around his post for a corner.
13'   Sevilla work a nice move and a cross is hammered into the box but Nacho is there, again, to hoof it clear. The visitors are starting to settle into the game now.
Nacho opens the scoring.

12'   Banega delivers and it's one into the corridor of uncertainty. Unfortunately for Sevilla every red shirt within reach were uncertain as well and it bobs out on the far side, untroubled by a Sevilla boot.
12'   Free kick to Sevilla on the right...
11'   Solid defending from Nacho, old señor reliable, to cut out a dangerous low cross.
10'   Wide! Ronaldo cranks up his left peg and has a go from just inside the area but it inches past Sergio Rico's near post. Took a deflection apparently as Real have a corner. Nacho gets a head to it and Vallejo pops up un front of Rico but his effort is high and he was nabbed offside anyway.
9'   The visitors seem intent on probing the flanks but surely testing Jesús Vallejo in the middle would be a more profitable plough to furrow. Muriel tries a nutmeg in the area and beats his man but Nacho is there to mop up.
8'   Ever Bánega goes down in a heap after a challenge from Vázquez but there wasn't much in it. Sevilla coming forward again now...
6'   Deary, deary me, Sevilla are rattled here. A simple ball out from the back goes straight into touch.
5'   Simon Kjaer gets across to snuff out a Real probe down the left, conducted by Lucas Vázquez. It's back down the other end now in Sevilla's hands, a throw on the right. Real win possession though and Ronaldo and Vázquez break, but Sevilla usher it out for another Real throw.
4'   How will Sevilla react to that? The visitors look to build an attack but a loose pass goes straight out for a throw.
3' Gooooooooool! That's what Zidane will have wanted. Nacho pounces on a terrible defensive blunder from Luis Muriel to bang the ball in from close range! Real lead, three minutes gone. Dreadful defending from Sevilla there.
2'   It goes all the way back to Navas in the Madrid goal and Real launch an attack, Lucas Vázquez drawing a fine save from Sergio Rico from just inside the area, first warning from Madrid.
1'   Real win an early corner, Marcelo slings one into the mixer but Sevilla nod it away.
1' And we're off! Real Madrid in white, Sevilla in red, todo un Clásico in terms of strips.
The captains have done the necessaries in the centre circle and we're about to get underway. Cristiano Ronaldo is parading his Ballon d'Or around the stadium and applauding the fans.

The last time Sevilla beat Real Madrid was in 2008-09, when the home side were defending champions. The loss, combined with Bernd Schuster's opinion that his side could not beat Barcelona the following week was enough to cost him his job.

The two sides today have not played out a draw in this fixture in their last Liga 24 meetings, with Real winning 15 and Sevilla nine. However, the home side have failed to score in two of their last three Liga outings.

Cristiano Ronaldo has scored more goals against Sevilla than any other club during his career. The Portuguese has bagged a quite staggering 25 in 17 appearances overall, with 23 of those coming in 14 Liga games against today's opposition. This season, he has only managed two in 10 Liga fixtures though.

And indeed, the Frenchman is on the bench for Ernesto Marcucci's side today: David Soria, Correa, Ganso, Krohn-Dehli, Ben Yedder, Sarabia, Geis.

Here's confirmation of Sevilla's line-up, with no place for the in-form Wissam Ben Yedder. Sergio Rico; Mercado, Kjaer, Lenglet, Carole; Pizarro, Banega, Franco Vázquez; Navas, Nolito, Muriel.
Jesús Navas will make a bit of Sevilla history today, equalling Pablo Blanco's club appearance record of 415 games for the Sánchez Pizjuán outfit.

Zidane's bench for today will consist of: Kiko Casilla, Theo, Marcos Llorente, Mayoral, Isco, Kovacic and Ceballos.

Here is confirmation of Real Madrid's starting XI: Keylor Navas; Achraf, Nacho, Vallejo, Marcelo; Modric, Kroos, Lucas Vázquez, Asensio; Benzema, Cristino Ronaldo

For those of you looking to get yourself in front of a TV screen for the LaLiga clash, we've also prepared this useful guide on how and where to watch.

Can Sevilla lift the "Schuster curse" this afternoon?

After Cristiano Ronaldo, with customary modesty, declared himself the greatest player of all time, AS asked Real fans to choose between the Portuguese and his predecessor Alfredo di Stéfano. The results were firmly in favour of the "Blond Arrow."

Real Madrid boss Zidane had a message for Berizzo in his pre-match press conference on Friday, telling reporters: "On behalf of the whole club, I'd like to send him a big hug."

Real Madrid boss Zinedine Zidane has a few selection issues ahead of today's game, not leat at the back. With Sergio Ramos, Dani Carvajal and Casemiro suspended, and Raphael Varane out injured, he'll be forced to field a patched up back four. Here are a few of the Frenchman's options.

Good afternoon! Join us for the build-up to today's 16:15 CET kick-off at the Bernabéu!