Villarreal-Barcelona LaLiga Santander: match report, goals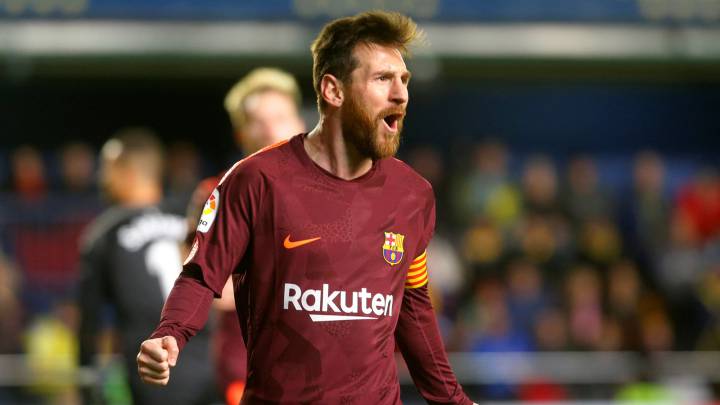 Villarreal 2-0 Barcelona: match report
Barcelona restored their lead at the top of La Liga to five points as Luis Suarez and Lionel Messi struck in the final 20 minutes to edge out 10-man Villarreal 2-0 on Sunday.
Daniel Raba's red card on the hour mark for a wild lunge on Sergio Busquets handed Barca the initiative.
And their pressure told when Suarez rounded off a fine team move before Messi blasted home a second to get the Catalans back to winning ways after successive draws with Valencia and Celta Vigo.
"In the second half after the sending-off we had more chances to win the game," Suarez told Movistar TV.
"They played a very good game tactically and we weren't precise enough, but in the second half we came out with a different mentality to take the three points."
Valencia remain Barca's closest challengers five points back, but Atletico Madrid also maintained their title charge with a 1-0 win at Real Betis to stay six points off the top.
Real Madrid are eight points behind in fourth and Barca will have the chance to go into El Clasico away at Real in two weeks' time with an 11-point lead over their rivals.
Barca host Deportivo la Coruna next weekend, whilst Madrid are in action at the Club World Cup in Abu Dhabi.
Villarreal vs Barcelona: as it happened
90'+3' GAME OVER! Raba's red card really knocked the stuffing out of Villarreal. They were right in it until then.
90'+3'   Into the final minute of added time. 
90'+1'   Asenjo saves again. This time, it's Aleix Vidal who is put through on goal by Messi. Corner.
90'   Suárez curls the shot around the wall and Asenjo saves!
89'   A nasty one on Messi by Mario Gaspar. Helps him up as if to say 'it's the only way I could stop you'.
86' Andre Gomes on for Sergio Busquets.
84'   Strange one as Suárez had another ball on the field and Asenjo was making his way to clear it. Messi doesn't ask any questions though and finishes beyond Asenjo.
83' GOAL! And that is the end of that. Messi with the finish.
81'   Alcácer drives one across goal. Slides wide with Suárez arriving late, just too late.
81'   Messi chips one into Messi at the back post. Drives the volley wide after making poor contact.
78'   Messi moves forward as Barcelona look to kill this one off. Even with the advantage, they haven't truly looked that dangerous. They have the lead, and the ball, and we are heading into the last 10 though.
76'   Trigueros forces a punched save from Ter Stegen. Coming at him too fast and he had to beat it away.
74'   Corner Villarreal and it's headed clear. Barca break but it breaks down.
72'   Messi with the ball into Suárez and he gives and goes to Alcácer. Rounds the keeper as he gets it back and rolls it home. What a goal.
72' There it is! Luis Suárez scores to give Villarreal the lead.
71'   Messi, Alba connection again. And the return, Messi hits the side netting this time.
70'   Suárez fouls Victor Ruiz as he tries to kick the ball.
69'   Villarreal move forward now. They have looked quite comfortable despite the sending off.
68' Paulinho off and Aleix Vidal replaces him.
67'   Alba with another cross. Suárez gets a touch on it and it ratles the upright! So close.
67'   Rakitic gathers a shot from Rakitic that was deflected.
66'   Vermaelen jumps in and gets the ball and the crowd want a red card! He got the ball. 
65'   This is going to be the longest 25 minutes of Villarreal's season.
64' Soriano is replaced by Rukavina.
63'   Worth a try maybe. Villarreal break and Soriano tries one from way out as he tries to lob Ter Stegen. Not working this time.
61'   i don't think raba can have any complaint there. Late, studs up, don't know what he's thinking really.
60' Bakambu booked for talking after.
60' Raba sent off! He goes in on Sergio Busquets late with his studs up. Very silly. 
58'   Messi out to Alba and back again. Messi just drags a glancing shot wide. Lovely effort but just wide.
58'   That's the closest Barcelona have come. Ball comes in low and hard from the left. Asenjo gets his body in front of it.
57' Alcácer replaces Denis Suárez.
56'   Cross arrives in from the left and Bakambu can't get anything on it. They concede the throw. 
54'   Another close call for Barcelona. Ter Stegen gets down and saves.
52'   That is fabulous defending by Rodri, to get back and win the ball back off Lionel Messi. Incredible dedication and excellent defending.
50'   Sergi Roberto leans into Jaume Costa while he's in the air and concedes a free.
49'   Suárez offside again.
48'   Castillejo collides with Vermaelen and concedes a free. Slightly slow getting up to the pace of the game.
47' That is the change. Semedo replaced by Castillejo.
47'   Semedo down and not happy. His thigh seems to be giving him toruble. Castillejo is coming on.
46'   Bakambu breaks free down the left. He has very few options inside and goes alone. Drives it into the side netting.
46'   Back underway for the second half.
Doesn't look like Valverde will make any changes at the break.
Barcelona with 70% of possession but less shots.
Barcelona can't be happy with that. Villarreal with a couple of clear-cut chances, Barca not so much. Are they on their way to their third draw in the league in a row?
45'   Half-time! 
45'   That free comes in, lands to Rodri and he fires wide. Took a nick of a Barcelona player and they have a corner.
45'   Foul again on Raba. Busquets again and he gets a yellow card for that late effort.
44'   Soriano wins Villarreal a throw. Nice and calm now for the home side as they try to see it out until half-time.
43'   Barcelona look to open up Villarreal before the break. It's Villarreal who end up countering though. Bakambu loses out to a strong Gerard Piqué. 
42'   Yet again, another move, this time from the left and Costa crosses but Bakambu is rejected by Ter Stegen. 
39'   Messi crosses with his right foot. Asenjo is happy with that one as it lands in his chest.
39'   Barcelona corner. End to end stuff here!
36'   Barca's turn and Messi cuts inside, gets it onto his left and curls wide. Closer!
35'  Messi drives forward and loses out. Soriano tries to find Raba but poor pass lets him down. Another counter collapses. 
35'   Denis Suárez the main man in a Barca attack but his pass inside is blocked. Suárez picks up where he left off but bloked again. Villarreal break and Soriano strikes! WIDE! Not even close but a nice move by the home side.
34'   Foul by Busquets on Raba. Down the shin. Ref says 'no more!' or something to that effect.
33'   Bakambu links up with Soriano but his pass is off target. Barcelona recover. Villarreal growing into this game and start to dominate Barcelona.
31'   Another one of those cross-field balls to Suárez but he's offside again and Asenjo straight off his line again before he heard the whistle.
30'   Valverde can't be too happy with this one so far.
29'   Looked at replay. Busquets definitely fouled Raba.
28'   Raba drops the shoulder and goes by Busquets. Looked like a trip on the young striker but the referee isn't giving it. Looked a certain foul?! Attack breaks down in any case but Villarreal win it back and back in possession.
26'   Another chance for Villarreal. shot blocked this time.
25'   They do manage it as Barcelona back off. Another cross and almost a goal for Villarreal. Ter Stegen with safe hands as it bounces up to him.
24'   Barcelona have been dominating in the last five or more minutes. Villarreal starting to struggle. They need to get the ball up the field and hold onto it there for a few minutes, if they can.
23'   Messi with one of those unbelivable passes to Alba. So good, in fact, that it even caught Alba off guard. He miscontrols it. Villarreal clear.
22'   Messi with one of those lovely, floated style frees. Nearly beats Asenjo but he cheats a bit to his right and saves.
21'   Messi fouled in a dangerous position. Victor Ruiz the culprit on this occasion as Messi is just too quick for him and he leaves his leg in.
19'   Jordi Alba with a nice cutback for Messi. Too many Villarreal players in the way so he flicks it to the back post instead. Lands to Suárez and he wins a corner.
18'   Villarreal with the chance of the game but Barcelona trying to exert their control back on this one.
16'   Soriano the player with the shot from Gaspar's cross. 
15'   WHAT A SAVE! Ter Stegen with a wonder save. 
14'   Luis Suárez gets in behind but he's offside. Asenjo comes out and gets a nice hand to it before he hears the whistle but dangerous from Barcelona.
12'   Villarreal putting a move together now but Raba is muscled out of it, wants a free, and doesn't get one. Whistles from the crowd but the most important whistle, that of the ref, is silent! 
11'   Soraino in behind but Buesquets stops chasing him just in time to see him called offside. Soriano has a look at the linesman and says it could have gone either way. Linesman thinks thre was only one right answer. Flag goes up!
10'   Rakitic with a cross that looked suspiciously like a shot. Asenjo safe.
9'   Quite a tame start to the game from Barcelona but Villarreal pressing them and forcing them to find solutions around the middle and the visitors not up to speed just yet. 
8'   Paulinho over-zealous in his pursuit of Trigueros and fouls the midfielder.
7'   Diagonal ball to Raba at the back post and he hits a looping header towards Ter Stegen. Not enough power on it to loop over the German but nice idea and decent effort.
6'   Long ball to Bakambu and he tries to clip it over Piqué but the defneder headers out and Busquets is fouled by Rodrigo.
6'   Messi loses out and villarreal try to create something. 
4'   Piqué hits the crossbar from a corner! So close.
3'   Semedo wins it back for Villarreal but loses it again. Jordi Alba down on the ground as he was tripped up accidently bu Jaume Costa. Messi strikes and wins a corner.
3'   Busquets receives the ball off Suárez and gives it straight back but the former Villarreal man's pass forward is wayward. Barcelona recover though and they build again down the left.
2'   Piqué being whistled?! That was for the penalty call last year.
1' We have action!
Messi steps in as Barcelona captain for Iniesta.
Hopeful no controversy in this game like last year in the same fixture.

Just minutes away from kick-off.
The two respective top scorers for either side are Bakambu with nine goals and Messi, of course, with 13.
Suárez of course the most recent. He really played well for Villarreal and forced Barcelona to active the buy-back clause in his transfer to the club. 
A list of former players who lined out for both sides: Denis Suárez, Edmilson Gomes, Giovani dos Santos, Guillermo Amor, Jonathan dos Santos, José Pérez Serer, Juan Antonio Pizzi, Juan Pablo Sorín, Juan Román Riquelme, Juliano Belletti, Pepe Reina, Quique Álvarez, Robert Fernández, Roger García, Sonny Anderson, Xavier Roca
Barcelona have picked up 11 points of the possible 15 with two draws recently against Valencia and Celta Vigo. Villarreal have picked up just five in that same span with losses to Sevilla and Leganés most recently.
Daniel Raba, who joined Villarreal from Club Bansander at age 17, starts tonight. It's his third game in the league for the club and his second start. He scored in his other start!
Denis Suárez looks to be playing in the Iniesta role for Barcelona and Paulinho starts, as usual. Meanwhile, for the home side, no Bacca but Raba starts up front.
Villarreal team news: Asenjo, Gaspar, Alvaro, Victor Ruiz, Costa, rodrigo, Semedo, Soriano, Trigueros, Raba, Bakambu.
Barcelona team news: Ter Stegen, Sergi Roberto, Piqué, Vermaelen, Alba; Busquets, Rakitic, Denis Suárez, Paulinho, Messi, Luis Suárez.
Here is a quick glance of the table before tonight's game. Athletic Club in action and winning against Levante as I type.

Atlético Madrid, Real Madrid and Valencia all win this weekend to pile, well maybe not pile but put, the pressure on Barcelona to win tonight. It genuinely could turn into a four team title race in LaLiga. Diego Simeone spoke after his side beat Real Betis and says they are still taking it game by game. A loss tonight for Barcelona would certainly help them look forward though.
Cédric Bakambu's form earned him a nomination for the CAF African Footballer of the Year award. Here's a run-down of the nominees.

Villarreal boosted by Bacca's return ahead of Barcelona clash. Coaching staff will assess his chances of starring against Barça.

Cédric Bakambu has been in fine form this season and has already bettered his goals tally from 2016-17. The return of Carlos Bacca in time for tonight's game is also a boost for the Submarine and the front two should keep Barça's back line busy.

The bulk of the FC Barcelona first team squad with Mascherano included celebrated a team lunch at Bellavista del Jardín del Norte in the heart of the Catalan capital.

Injured Iniesta misses Villarreal game, Deulofeu left out too. La Liga leaders Barcelona will be without their captain Andres Iniesta for Sunday's trip to Villarreal after the midfielder failed to recover from a muscle strain.

Hello and welcome to our live coverage of the clash from the Estadio de la Ceramica as Villarreal face Barcelona. We'll be building-up to kick-off all day with the latest news and developments surrounding the game.
Villarreal vs Barcelona live stream online: match preview
Villarreal host league leaders Barcelona in the Estádio de la Ceramica with both sides looking to arrest a brief blip on an otherwise uninterrupted march towards their respective goals for the season. The Yellow Submarine have been in excellent form with Javi Calleja taking over on the tiller from Fran Escribá but have suffered back-to-back defeats against Sevilla and Leganés having led in both only to lose after late flurries of goals from the opposition.
Barça still lead the table, with a five-point cushion over second-placed Valencia, but have dropped points in their last two Liga outings against Los Che and Celta.
Both sides were able to field second-string teams in Europe in midweek with their jobs done already done with an eye on Sunday's game, which has ended in a draw in the last two seasons but that the home side have not triumphed in since 2007.
Villarreal
The Submarine are in a precarious position in the league, seven points adrift of Sevilla in fifth and with a chasing pack including unlikely pursuers in Leganés and Getafe and more familiar rivals Celta and Real Sociedad. Despite being such a rarity in Spain – a club run sensibly and within clear budgetary criteria – Villarreal have become accustomed to dining at one of the European tables and a sixth-placed finish is the minimum requirement for Calleja – a run in both current cup competitions purely a bonus.
Another summer of excellent business on the east coast saw the arrivals of Enes Ünal, Rúben Semedo, Pablo Fornals and Carlos Bacca on a shoestring but it has been Calleja's effect on one of the club's existing assets that fired the Submarine's season since he took over in late September. Cédric Bakambu has banged in 14 goals in 19 games this season, 11 of them in the two months that Calleja has been in charge – the same number the Democratic Republic of the Congo striker managed in the whole of 2016-17.
"I still have a long way to go until I'm at the level of Luis Suárez or Karim Benzema," Bakambu said ahead of the game, having never been on the winning side against Barcelona. "But I still have plenty of time to improve."
Calleja noted that after suffering a raft of injuries in recent weeks the return of some key personnel, such as Carlos Bacca, Samu Castillejo and Semedo, "means this game has come at a good time."
"Nobody has beaten Barcelona [this season], but we can't think that we can't beat them. We'll go out with the idea of winning of the game and giving our fans something to cheer about."
It took a 90th-minute Leo Messi goal to prevent that happening last season, but Calleja said there would be no special plan to put the stoppers on the Argentina captain: "The idea is to try and stop him collectively, with the whole team playing as a team."
Barcelona
Ernesto Valverde has a few problems at the back going into Sunday's game with both Samuel Umtiti and Javier Mascherano out injured but Thomas Vermaelen came through the midweek Champions League game against Sporting unscathed and will partner Gerard Piqué in the heart of the back four.
The Barça boss will be keen to maintain his unbeaten record in Vila-real and may elect to play the more tactically astute Sergi Roberto at right back in place of Nelson Semedo, whose attacking instincts can leave space at the back that in the absence of Umtiti may be difficult to plug.
Question marks remain over the fitness of captain Andrés Iniesta but the Barça boss looks likely to play the same formation he did against Valencia away, drafting Paulinho into a midfield four with Sergio Busquets, Ivan Rakitic and Iniesta if fit, playing behind a front two of Leo Messi and Luis Suárez.
Messi, Jordi Alba, Paulinho and Busquets were all on the bench for the match against Sporting as Valverde shuffled his pack in the knowledge that Villarreal are more than capable of giving his side a torrid evening on Sunday.
---
Villarreal vs Barcelona live stream online: selected betting odds
Barcelona are favourites for the win at 4/7 with Villarreal priced at 9/2. A repeat of last season's 1-1 score line pays out at 8/1 while in the scorer stakes Messi is available at 13/5 to open the scoring while Bakambu is at 6/1 to strike first.
Bet on Villarreal vs Barcelona