GULF CUP
Kuwait 1-2 Saudi Arabia Gulf Cup: match report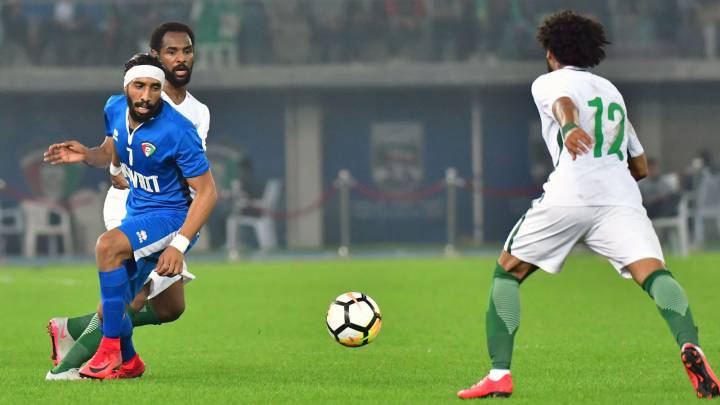 Kuwait 1-2 Saudi Arabia: match report
Saudi Arabia saw off a late Kuwait surge having taken a 2-0 lead into the 60th minute in the opening game of the Gulf Cup of Nations in Kuwait.
Salman Al Moasher opened the scoring after some slack defending from the host nation after 13 minutes and he assisted for Mukhtar Fallatah to make it 2-0 in the second half on 53 minutes.
It looked like Saudi Arabai, who brought a B side to the tournament, were home and dry but Kuwait were buoyed by Abdullah Al Buraiki, who was only on the field 10 seconds before he drove a shot home to make it 1-2.
The home fans were delighted and they nearly carried their side over the line but it wasn't to be as they ran out of steam with Saudi Arabia happy to hear the final whistle as it was a lot closer than they might have liked and than it maybe should have been.
Kuwait v Saudi Arabia: as it happened
90'+4' That's it. Saudi Arabia hang on to beat Kuwait in the opener of the Gulf Cup.
90'+4'   It's nearly over and all the play in the middle of the field. Both sides just trying to clear it away from goal.
90'+1'   Faisal Al Harbi with an open header and he can't direct it beyond Al Qarni. He made it easy for the goalkeeper. What a chance that was.
90'   Last couple of minutes now and it seems Kuwait running out of steam.
85'   Fahad Al Enezi with a header that goes just inches wide of the post. Al Qarni was reaching for it but just wide.
84'   Khaled Al Qahtani thinks he was fouled down the endline and so do the Kuwait fans in the stadium watching but the referee doesn't. Kuwait have to find another route to goal!
82'   Saudi come close to putting an end to this one with a Hawsawi header but it goes over the bar form the corner.
80'   Saudi push forward now. But they can't apply the finish.
77'   Can Kuwait find the equaliser! It won't be for the lack of trying if they don't.
74' Another yellow. Redha Abujabarah taken down by Hazazi. 
71'   Faisal Al Harbi sends it across goal and goalscorer Redha Abujabarah comes in and takes the goalkeeper out of it! Keeper getting treated and Redha Abujabarah getting treatment from Saudi players. They're not happy with his late tackle.
71'   Nearly a goal this time! 
70'   Fahad Al Hajeri with a header from the corner but it's just wide.
69'   Booking for Ahmed Al Fraidifor standing to close to the corner kick. 
68'   So close yet again. Fahad Al Enezi down the left and it misses the keeper, who reaches but can't get it before it's turned behind for a corner. Kuwait really turning the screw. No goal yet! It seems like it's coming though.
66'   Fahad Al Enezi on the left again but his cross is cleared again.
65'   Kuwait moving forward again. Bader Al Mutawa fouled by Nouh Al mousa and he's lucky not to be booked.
64'   Mohammed Al Khabrani down for the Green Eagles now and not looking too comfortable. He might need to be changed.
62'   Kuwait piling the pressure on Saudi. The crowd getting right behind them too.
60' GOAL! Redha Abujabarah just came on and it was literally his first involvement. ball clipped towards him, defender in good position and he absolutely drives it home beyond Al Qarni. 
59' Substitution for Kuwait. Redha Abujabarah coming on.
57'   headed away by Saudi and then Bader Al Mutawa fouls a Saudi defender for the clearance. 
56'   Free for Kuwait now to maybe throw one into the box and see if they can pull one back. 
52'   It's the substitute, Mukhtar Fallatah, who poked home. Al Moasher, the first goalscorer, who set him up!
52' GOAL! 
52'   Saudi moving forward now and Khaled Al Qahtani puts it out for a throw.
51'   That man again, Fahad Al Enezi, breaks down the left. He crosses and Hawsawi has to clear for a corner. Kuwait getting closer.
50'   On second look, it was actually not close at all. 
50'   That was very close! Bader Al Mutawa was away but he was offside. 
48'   Chance for Fahad Al Enezi as he sees his effort from the left saved by Al Qarni.
47'   Ball in behind that Kuwait deal with.
46'   Quite even in the first half but the goal a look at the differences between the sides. Saudi look that little bit more clinical. 
46'   We are back and in place for the second half! 
45'+2'   HALF-TIME! 
45'+2' Fahad Al Enezi with a fairly nasty challenge on Saleh Al Jamaan and he gets booked. Your classic frustrated lunge.
45'+1'   Al Qallaf wins it in the air. 
45'   Saudi wins a corner. 
44'   Saudi building again.
42'   Faisal Al Harbi fouls Nouh Al mousa and Saudi Arabia with the chance to slow things down and wait until the break. End to end stuff here! 
39'   Kuwait trying to move forward for a leveller now before the break. Sami Al Sanea with a strange ball in low and looked like he had mishit it. It lands to a teammate, Bader Al Mutawa, and he drives it wide. 
38'   Another chance. Headed wide.
36'   Kuwait hit the post. Faisal Al Harbi hits it at the back post. Lovely cross lofted into the box and it falls to the attacker but he can't get it on target.
35'   Another dangerous ball, this time from the right, but again Kuwait survive. Too much on it that time as it beats everyone. 
34'   Sultan Al Enezi fouls Ahmed Al Fraidi. Saudi more comfortable now after a brief bright spell by Kuwait.
34'   Bader Al Mutawa drives a cross out behind for a restart. He was hoping, I think, to geta deflection on the ball to win a corner but it never came.
32'   Al Moasher, the goalscorer takes it on the left and cuts inside, playing to a teammated. Eventually comes in from the side, a lovely cross but Al Wallaf in goals punches it away in the air.
31'   he blows the whistle this time though as Salman Al Moasher is fouled by Al Sanea. 
30'   Just before that, Saleh Al Jamaan was bundled over and wanted a free but it wasn't coming from the referee. 
30'   Saudi back in control and looking dangerous. Kuwait win it back and aim a pass towards Al Ajmi down the left but it's too strong. Throw.
28'   How did they miss! Strike from Saudi from outside the box. It rattles the post and comes back to Mukhtar Fallatah with an open goal. He drives over! It looked easier than it was, maybe, but he should have at least hit the target.
26'   They're missing that final pass though. Another long pass dribbles over the line.
26'   Abdulrahman Al Obaid heads away a dangerous cross into the box. Kuwait putting pressure on their opponents now.
25'   He drives it long but Kuwait win it back.
25'   Another attack breaks down. Nouh Al mousa gets a touch on the ball back to his keeper and Saudi have a breather.
24'   Faisal Al Harbi down the left-hand side and he wants a corner but ref points for a goal-kick. 
23' 23' Sultan Al Enezi wins a free and Kuwait have the chance to whip another one in. They've had much longer spells of possession since the goal. Crowd really getting behind them too.
22'   Ball comes to Al Enezi but he's offside. Replay shows it was a good bit off but he signals to the ref that it was just about.
21'   Long ball in over the top again. Kuwait lose out, win it again and Al Sanea takes off down the right. 
20'   Late tackle there on Fallatah. Free to Saudi.
19'   It was Al Hazzaa who needed replacing. He was sustituted for Fallatah.
18'   Kuwait looking more dangerous since the goal. dispossessed in Saudi's penalty area as the visiting side get the ball away.
16'   Obviously a serious enough injury as he needs to go off.
15'   Injury now for Saudi as his teammates gather around him. 
13' GOAL!!!! Lovely ball in around the back, Kiwait defender keeping Muwashar onside, he takes it into him and then slides past Al Qallaf.
12'   Saudi with a very good spell of possession.
11'   Saudi Arabia looking dangerous. They're moving the ball forward. 
10'   Ball in around the back for Al Enezi but he can't reach it as Al Qarnis makes it to it first at the edge of his square.
9'   Al Khabrani sends a ball in behind Kuwait's back line. Lands at Al Qallaf's feet.
6'   Free-kick now for Kuwait. It is sent in towards the box but Al Enezi can't reach it.
4'   A free-kick for Saudi but it drifts harmlessly wide.
3'   Kuwait win it back and try to counter but Al Enezi with the foul and a promising enough attack breaks down. Saudi Arabia back in possession.
2'   Saudi Arabia working it out from the back early on. 
1'   We are underway! 
A very lively atmosphere at the stadium now as both sides line up to get started.
    Nearly ready for action.
National team news for both sides today: 
#Kuwait: Al Qallaf (GK), Al Sanea, Hakem, Al Hajri, Al Qahtani, S Al Enezi, Al Ansari, Al Mutawa, F Al Enezi, Zayed, M Saad
#KSA: Al Qarni (GK), Al Obaid, Hawsawi, Khabrani, Salem Ali, Hazazi, Al Mousa, Al Amri, Al Fraidi, Al Moasher, Al Hazza
A journalist from Al Jazeera, Sana Hamouche, said "The Saudi team came in, had photos taken and stormed out of the conference room," said Hamouche. "When journalists asked the Kuwaiti media official for the reason, he couldn't give anyone an answer. I spoke to him later, and he said the Saudi officials requested microphones of the Qatar-based channels to be removed, including that of Al Jazeera."
It hasn't been plain sailing in Kuwait for Saudi Arabia and the media, as the footballers on the team refused to speak to the media due to the fact that Al Jazeera, the Qatar-based media, were present.
For Saudi Arabia, Mohamed Ibrahim Kanno, a central midfielder just 23 years old, is seen as the potential difference maker.
Juan Antonio Pizzi has not managed a game since taking over the Saudi Aravia post in November. He won't manage at the Gulf Cup either. He will be glad of the break though after waiting less than a month to go from the tumultous Chile role to the Saudi Arabia one. He will, however, be the man on the sideline next summer in Russia and will be paying close attention over the next week with plenty of 'fringe players' looking to make an impact at the tournament.

Gulf cup side Qatar coach Félix Sánchez lauds youth in his team in an exclusive interview with AS

One player to watch in this afternoon's game is Fahad Al Enezi. He is considered to be 'the fastest player in Kuwait' and will want to cause problems for Saudi Arabia from the wing today! 
Kuwait v Saudi Arabia: Gulf Cup live online preview
Saudi Arabia and Kuwait kick off the 23rd edition Gulf Nations on Friday afternoon with plenty of noise around the game. Saudi Arabia, a team who were not going to enter the tournament before relenting and sending a second team along with Kuwait, returning from a ten-year ban from Fifa.
The competition, which has taken place on a biannual basis since 1970, is not recognised by Fifa but that won't stop Kuwait trying to restore pride in the national football team as they return from that two-year ban imposed by Fifa.
As far as history and structure of the Gulf Cup of Nations goes, the competition has traditionally featured seven countries, with the six Gulf Cooperation Council members along with Iraq in the mix. In 2003, however, Yemen were admitted into the tournament. The teams broken into two groups of four and the top two in each group will face each other the semi-finals.
Kuwait
The home side are returning to international football for the first time in two years having been banned by Fifa for political interference. They are the record title holder of the Gulf Cup with ten but the halcyon days of the early 70's and 80's when they ruled football in this part of the world are behind them now.
Their ban has seen them slip to 188th in the world according to Fifa's latest rankings and the fans, mostly at home and in massive numbers, will be looking for a win to start a run into the latter stages of the competition.
Some notable names in Boris Bunjak's squad include most-ever capped player (156 caps) midfielder Bader Al-Mutawa, alongside defenders Ali Maqseed (31 caps), Fahad Al-Hajri (24 caps) and Khaled Al-Qahtani (16 caps), and midfielders Fahad Al-Ansari (31 caps) and Abdullah Al-Buraiki (13 caps).
They are more than 100 places behind Saudi Arabia in Fifa's rankings but on home soil, with two years worth of football pent up inside them and with Saudi bringing a weakened squad, they are hoping for a win to kick things off in style on Friday afternoon.
Saudi Arabia
Juan Antonio Pizzi took over the team after Eduardo Bauza, the former Argentina manager was sacked from his role. Pizzi, the former Chile coach, will not travel with the team to Kuwait, however, as the handling of first team duties has been handed to Krunoslav Jurcic.
"This selection does not mean that we underestimate the competition," said Saudi spokesperson Mohamed Al-Shaikh. "It is part of the strategy agreed with coach Pizzi."
Saudi Arabia have won the competition three times but not since 2003 in Kuwait.
They will have an eye on the World Cup in Russia, as they play the hosts to kick off the competition in June. They bring a young squad to Kuwait with them with Krunoslav Jurcic, Pizzi's assistant, selected as the man to guide the Green Eagles in Kuwait. They have sent what some are calling a B side with one eye on the World Cup and with many of the younger, fringe players trying to stake a claim for a World Cup spot.
Six players born in Saudi Arabia to foreign parents have been included, including Hammam Al-Ajaj, Ali Al-Nimr and Ali Yahya, who come from Yemeni families.