New year, new lease of life for Asensio, Bale, Ceballos…
As Real Madrid stare down the barrel of a 14-point deficit on Barcelona in the league, several players will look to cement their Bernabéu status.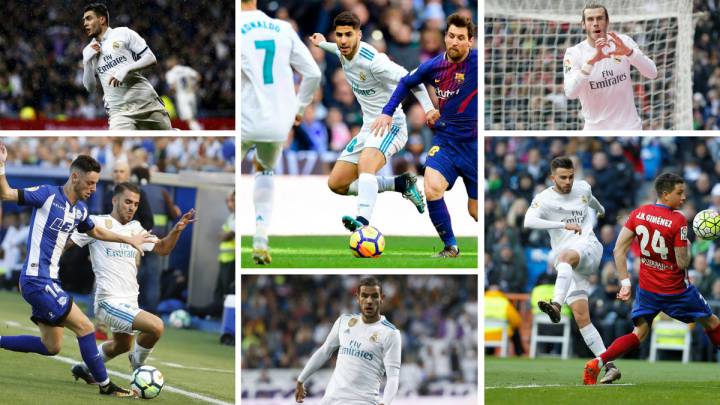 Real Madrid enter 2018 in a position few could have predicted after Zinedine Zidane's side conquered LaLiga and Europe last season. Los Blancos face a 14-point deficit on Barcelona domestically and drew arguably the worst possible opponent in the Champions League last 16 in Paris Saint-Germain after surprisingly finishing second in their group behind Tottenham. However, Real have a few players waiting in the wings to kick off the new year on a different foot.
Bale, the winter signing
The Wales international has only managed 13 appearances so far this season, totalling 785 minutes but he has taken full advantage and outshone his comrades in the BBC attacking line with four goals and five assists. Those numbers will give Zidane hope that, if fitness allows Bale to chalk up a few games, he will represent the equivalent of a new signing in the second half of the season. Bale will also welcome the new year after missing 37 club games in 2017 through injury while also watching from the stands as Wales failed to qualify for the World Cup. However, in his brief appearances this season Bale has been in excellent form and is the team's top assist-provider, alongside Isco. Zidane will pray that he remains fit for the rest of the season.
Asensio, the great white hope
About to reach his 22nd birthday, Asensio is on the verge of becoming a regular fixture in Zidane's starting 11 and is the future fulcrum of Real's attack, when the BBC finally reaches its sell-by date. So far in 2017-18 he is the 13th most-used player under Zidane but the second-highest scorer and third in terms of assists. Working in Asensio's favour are several factors: the loss of form affecting Karim Benzema, Isco's dip in his standard brilliance and the fact that the board view him as a player to mark a generation at the club. To date he has only started nine Liga games, one Champions League fixture and one each in the Copa and Super Cup. In the Club World Cup final Asensio did not feature at all but it seems likely that he will enjoy greater protagonism in 2018.
Ceballos, the Plan B
The midfielder, signed from Betis last summer, has only featured in 13 games and started just four despite Toni Kroos and Luka Modric not performing to their usual high standards and the third man, Mateo Kovacic, missing three months through injury. Still, Madrid have not lost a game with Ceballos in the side: 13 wins and a draw in the Copa against Fuenlabrada. Real's hefty fixture list works in his favour and Zidane's likely recourse to his Plan B in the league should see Ceballos enjoy greater playing time in the second half of the season.
Kovacic, the 4x4
At the outset of the season Kovacic appeared to be gaining weight in the side as an alternative to Kroos and Modric and did an excellent job man-marking Leo Messi in the Spanish Super Cup. Originally an attacking midfielder, Kovacic has adapted to his role as a central midfielder well and adds something extra to Madrid's attack with his driving runs. Unfortunately for the Croatia international injury has robbed him of three months of the 2017-18 season but 2018 could be the year in which he confirms his status as a first-team regular at the Bernabéu.
Mayoral, the Copa candidate
The canterano has had less impact than might have been expected after the departures of Álvaro Morata and Mariano but he is still worth a goal every 104 minutes this season. However, only Jesús Vallejo has featured less frequently and it seems inevitable that Mayoral will be looking for a new side in the summer, whether on loan or a permanent deal. Madrid are likely to sign a new striker in the summer and Mayoral, despite his predatory instinct, has not convinced Zidane of his worth.
Theo Hernández, the next Marcelo
Bought in the summer as a luxury back-up to the Brazilian, Hernández has seen his chances limited by Marcelo's extraordinary fitness levels and the former Atlético left back has played less than Achraf Hakimi on the opposite flank. Should Madrid progress in the Copa and Champions League, Zidane is likely to ration Marcelo's minutes and Hernández should get an opportunity to shine.