Barcelona 2-0 Espanyol Copa del Rey: match report, goals, action
Barcelona overturned a first leg 1-0 defeat with two first half goals and looked comfortable throughout as they make their way to the Copa del Rey semi-finals. Cruz Azul vs America: Liga MX, live online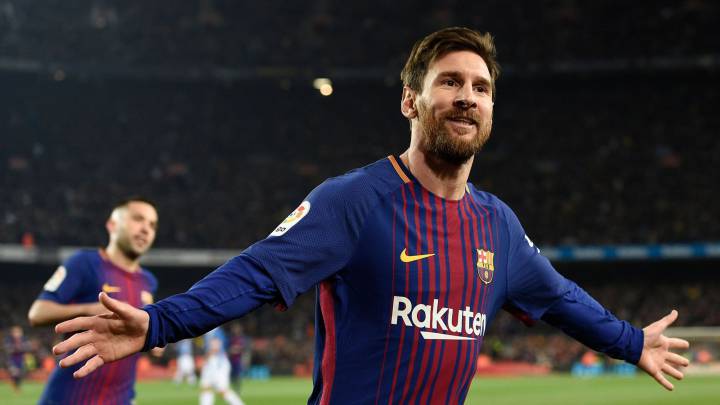 Barcelona 2-0 Espanyol: match report
Barcelona had too much for Espanyol even after giving their neighbours a 1-0 lead in the first leg last week. Barcelona had to be careful not to concede or they would have to score three but you get the feeling that if they really needed to, they could have scored as many as they wanted.
Luis Suarez had Barcelona ahead on the night and level on aggregate after nine minutes after an impressive opening by the home side when he headed home a perfect Aleix Vidal cross at the back post.
Messi made it two with the help of a deflection from Naldo 16 minutes later and the onus was suddenly on Espanyol to find a route to Barca's goal but they struggled immensely in ever troubling Ter Stegen's goal.
Philippe Coutinho made his debut for the blaugranas and looked very tidy on the ball but the second half petered out with Barcelona dominating possession and efforts on goal although Gerard Moreno felt like he should have had a penalty when Jordi Alba seemed to haul him down as he tried to get on the end of a Leo Baptistao cross.
That was all Espanyol could muster though as Barcelona cruise into the semi-final despite the speed wobble in the first leg.
Barcelona vs Espanyol live stream online: updates
90'+3' Game over! Barcelona turn the tiw on its head with two first half goals.
90'+3' Another corner.
90'+2'   Coutinho wins a corner.
90'+2'   Messi drives forward again. 
90'+1'   Three minutes of added time.
90'   That's another foul on Messi that could have done with a card and Valverde wants it. Hermoso jumps across Messi and no card.
88'   What a pass! Messi with a sort of diving header and it hit the post. Comes back to Messi and he tries to head home the rebound. Wow! What a chance.
87'   Umtiti with a foul now on Melendo as Espanyol try to drive forward.
85'   Messi fouled now and the Barca fans are getting a little antsy with the referee's performance.
83'   Paulinho looks to get in behind but can't. Barcelona have to wait for their third goal.
81' Yellow for Paulinho for looking for a card for Navarro.
81'   Baptistao crosses to Gerard Moreno, who looks to be fouled by Jordi Alba. Would have surely been a red card too but ref says no.
80'   Coutinho gives the ball to Suarez and he strikes wide. All Barcelona now with 10 minutes to go. Espantol desperately need a response!
78'   Messi strikes. Just wide! 
77' What a run by Messi. Naldo gets booked for pulling back the jersey.
75'   Coutinho put through by Messi and he crosses to Suarez and it's saved. Rakitic with two more shots and they are saved too. Corner! What a few saves from Pau Lopez.
74' Umtiti fouls Moreno as Espanyol try to build an attack. Absolutely nothing doing for them so far.
72'   Another yellow here. Sergio Garcia takes Suarez out of it. He stood on his standing foot as he cleared the ball.
71'   He does shoot but that's not great at all.
69'   Coutinho fouled outside the box as he tries to go by a defender. Free for Messi to swing in, too difficult an angle to shoot, you'd think!
68' Here is Coutinho. He replaces Andres Iniesta.
67'   Lovely ball by Sergio Garcia and Gerard Moreno tries a chilena but gets it wrong and drives it over the bar.
66'   Coutinho is coming on for Barcelona.
64'   Sergio Garcia replaces Esteban Granero.
64'   Old school Suarez as he takes the ball down the end line and goes by a player but his touch was too heavy.
62' Aleix Vidal replaced by Paulinho.
61'   Espanyol win a throw. Can they get a few chances at goal? They need something.
60'   Messi to Suarez and he strikes wide from a highly-improbably angle.
60' Yellow for Granero. He catches Aleix Vidal and he did go over the ball but did win it.
59'   Iniesta sends a free across goal. Pau Lopez doesn't go for it. Barcelona remain in possession.
58'   Sergi Roberto receives the ball from Messi and drives towards goal and gets stopped in the penalty area. Espanyol clear but they have very few options up front. They'll have to throw the kitchen sink at this soon but do it too soon and you could end up losing 5-0.
57'   Espanyol looking more competent but still struggling.
55'   Shot from Messi. Corner! It was saved by Pau as he turns it around the post.
55'   Barcelona start a counter from the corner.
54'   Poor from Sanchez as he is freed down the right and crosses first time instead of taking it in and bringing it towards goal. It hits Alba and goes out for a corner.
52'   Coutinho is warming up now!
52'   Baptistao freed down the right but Piqué does well to hold him off and the ball rolls over the line.
51'   Suarez with another foul and he needs to be careful. Espanyol discussing it with the ref but card stays in the pocket for now.
51'   Baptistao with a great run and dribbles a shot towards Ter Stegen.
50'   The ball is crossed into the box and Busquets hits it with his shoulder. Pau Lopez gathers.
49'   Suarez wins another free.
49'   Suarez and Naldo having a great battle.
47' Baptistao on fo Darder at the break also.
47'   Barcelona with early possession much like the first 45. They can afford to hold the ball now after their first 45.
46' We are back underway at the Camp Nou. Can Espanyol get a goal!?
45'+1'   Half.time no as Barcelona are going ahead as it stands after an excellent start! 2-0, they lead thanks to Suárez and Messi.
45'+1'   Gerard Moreno is a mile offside as Espanyol try to get one back.
44'   Sergio Busquets with a lovely ball in behind to Messi. It's inch-perfect but Messi can't turn it towards goal.
42'   Iniesta fouled now as the Camp Nou gets on the referee. Iniesta slow to get up but he does and looks fine.
41'   Messi foul now as he presses high up the field. Hermoso the one he fouls. 
40'   Aleix Vidal in the box and takes one down, strikes and hits it over the bar. Deflection helped too. Corner for Barcelona.
38'   Yellow for Jordi Alba for a late tackle now.
37'   Barcelona try to play it out from the back but lose out this time and concede a throw. Espanyol fling it into the box but can't do anything with it as Ter Stegen gathers.
34'   That connection again! So close. Alba plays it to Messi in the box and he side-foots it wide. Pau Lopez grabbing at fresh air that time.
32'   Now Suárez wants a penalty. Ball comes out to him and he pokes it towards goal with his big toe. Cam off Navarro but it his his shoulder. No chance of a penalty.
32'   Messi threads one through to Aleix Vidal and Pau Lopez comes out to collect.
31'   Suarez backs into Naldo and wins a free as he falls to the ground.
30'   Messi kicked now. Free against Espanyol.
29'   Barcelona looking for a third and nearly have it. Comes across to Suarez and his air shot bounces to safety.
28'   Suarez wins it back for Espanyol and Messi gets it, shots and wins a corner.
27' Another yellow card. This time for Messi for dissent. 
27'   Espanyol had just come out of their shell too. 
25'   He struck with his left and it took a deflection. He did so well to win it back after losing it and then hit it with a deflection off Naldo.
25' Messi scores.
24'   Chance! Granero strikes at the front post. Well wide in the end.
23'   Espanyol better in the last couple of minutes. They win a throw now after winning it back and trying to create something down the right.
22'   Good pressure from Espanyol now as Alba and then Iniesta are put under pressure before Barcelona eventually clear.
21'   Gerard Moreno caught with an arm in the face from Rakitic in the air. 
20'   Similat situation again. Messi shoots as he saw Pau Lopez off his line. Wrong option in the end. 
20' Hermoso booked for that foul on Messi too, which seems harsh.
19'   Hermoso with a foul on Messi.
19'   Another ball comes in and Espanyol clear. desperation stuff from them.
18'   Another chance for Messi to swing one in. Piqué makes a move, nearly gets a head to it, and ends up getting a punch on the back of the head from the keeper as he headed the ball.
17'   Worrying for Espanyol as they are just hoofing it. There's only 17 minutes gone and they need to find a way to play out from the back if they have a hope tonight.
15'   Messi flicks it towards Suarez and he backs in before losing out. Rakitic lurking too but Espanyol get it away.
14'   Nearly makes it to Piqué. Cleared and Barcelona recover.
13'   Sergi Roberto held back and wins a free on the right. Messi to send it in as Umtiti and the lads arrive up from the back.
12'   Barcelona, in general, have come out all guns blazing. Rakitic wins it back now for them but concedes a throw. Home side are back in possession anyway.
11'   Messi in the mood. He chases down Pau Lopez and nearly forces a mistake. 
10'   Straight up the other end and Espanyol with a really good effort. it's Gerard Moreno with the strike on his left foot. Ter Stegen with a decent stop.
9' Messi to Aleix Vidal and he crosses to Suarez and it's a goal.
8' Suárez with a foul. He barges Navarro in the back and then gets the yellow for dissent, possibly?
6'   Another corner for Barcelona. Other side this time, won by Aleix Vidal.
5'   Iniesta flicks it towards Messi and Espanyol clear.
5' Pressure builds by Barcelona. the home side are keeping the ball and moving closer to Espanyol's goal.
4'   Messi finds Alba at the back post and he sends it back towards goal. Corner for Barcelona!
3'   Suárez wants a free as he gets tangled up with Naldo and falls over but Antonio Mateu says no. Replay shows it would have been harsh.
2'   Espanyol win it back and Barca press them to win it back again. 
2' Barcelona with all the possession eafter the first minute.
1' We are underway at the Camp Nou.
The teams emerge onto the turf at Camp Nou. This could go a couple of ways but Barca needing a goal will hopefully make it interesting. Espanyol's form in Catalan derbies hasn't been great but the result the last time out could bupy them to a big result here, and after Atlético Madrid and Real Madrid's exit from the Copa, would make for a very strange semi-final draw.
We are ready to go at the Camp Nou after the #GraciasMasche tribute. He leaves for China at the end of the month after almost a decade at the club.

13 degrees in Barcelona tonight for the game.
Mascherano gets a guard of honour and hugs and kisses from his teammates. 
Yerry Mina and Coutinho arriving for the game tonight!

Nelson Semedo doesn't make the squad as the player Ernesto Valverde had to say goodbye to.
That's as strong a side as Barcelona could probably put out given some of their injuries. yo could argue for Coutinho instead of Vidal but he hasn't played yet. The return of Samuel Umtiti a boon for Valverde and that defense even if Thomas Vermaelen was admirable in his place.
One change for Victor Sanchez Flores. He replaces Oscar Duarte with Mario Hermoso from the side that played the first game. No place for goalscorer Oscar Melendo in the side but he is on the bench.
Coutinho on the bench and Aleix vidal the surprise in that Barcelona line-up.
Espanyol XI: Pau López, Navarro, Naldo, Hermoso, Aarón; Javi Fuego, David López, Víctor Sánchez, Granero, Darder; Gerard Moreno
Barcelona XI: Cillessen, Sergi Roberto, Piqué, Umtiti, Alba, Sergio Busquets, Iniesta, Rakitic, Aleix Vidal, Messi, Suárez.
The game kicks off at 21:30 from the Camp Nou and we will have line-ups and reactions to those line-ups as soon as they are released! Philippe Coutinho is in line for a potential Barca debut against his former side, which should be fun.
The game kicks off at 21:30 from the Camp Nou and we will have line-ups and reactions to those line-ups before the game! Philippe Coutinho is in line for a potential debut against his old club, which should be interesting.
Hello and welcome to our live onlone coverage of Barcelona and Espanyol in the Copa del Rey as Ernesto Valverde's side have to battle back from 1-0 down after the first leg. 
Barcelona vs Espanyol live stream online: preview
Ernesto Valverde has called up Philippe Coutinho for the first time along with Yerry Mina as Barcelona look to overturn a 1-0 defecit from the first leg thanks to an Oscar Melendo strike at the RCDE last week.
Barca are still in contention for the treble and Valverde said that his side want to win everything they play in meaning Thursday night's effort to turn the tie in the right direction will be a relentless one.
Espanyol manager, Quique Sanchez Flores said that the tie is "is a new game, completely different" from the first leg and it will be a very emotional affair in the Barcelona derby.
For Barcelona, Andres Iniesta and Paco Álcacer have also been recalled after injuries while Denis Suárez misses out despite being a regular fixture in the Copa this season and relying on the competition for the bulk of his minutes. Coutinho could make his debut against his former side as culés get a first look at their new signing.
Espanyol are not missing any players from their starting XI last week and Sanchez Flores might opt to keep the same formula to see what Barcelona can manage against what turned out to be a resolute side in the first leg. Melendo, the goalscorer, started on the bench that night but started against Sevilla in a 3-0 defeat at the weekend.