Barcelona 2 - 1 Alavés
Barcelona 2 - 1 Alavés: Messi and Suárez goals extend Liga lead
Alavés came to the Camp Nou and set about stopping the Coutinho-enriched Barça attacking line-up. Guidetti's goal put a shock on the cards, till the main men stepped up.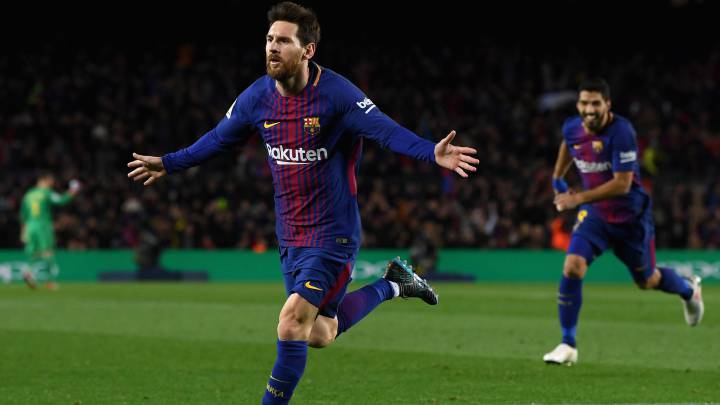 Barcelona vs Alavés: match report
In the end it's another three points for LaLiga's runaway leaders as Barcelona return their 11-point gap between them and Atlético Madrid atop the Spanish league. But the game was far from the comfortable victory that had been predicted. The Basque visitors came with a clear gameplan: defend deep, break up play whenever possible, and by restricting space to their illustrious attacking opponents in their final third, minimise the options to play the killer pass. Goals tend to come for Barça at home, and ultimately they did with their usual protagonists at the fore.
Coutinho starts, Guidetti finishes
Philippe Coutinho had stirred the excitement by making his starting debut and Valverde must have seen this game as the perfect chance to imbed his record signing into the winning habit. As it turned out, the goals didn't come until after the Brazilian had left the pitch. He linked up well with his new teammates but although three quarters of the possession was at the feet of the home side's players, clear-cut chances were at a premium. And it was Alavés who surprised the rather quiet Camp Nou by taking the lead.
Just minutes before John Guidetti's goal, a similar break should have alerted the Barça backline to their frailties. It didn't and straight from a home corner the Swede took off leaving the chasing Umtiti in his wake. The shot was aided with the striker slipping on the wet surface and Ter Stegen was left stranded. That goal came just after 20 minutes and it wasn't until 20 minutes from full time that Barça were able to level things up.
Suárez and Messi rescue Barça
When it did come it was from a familiar boot. Luis Suárez had been presented with December's top scorer award before kick-off and the Uruguyan volloyed home a deep Iniesta cross much to the relief of teammates and fans alike. Faint claims of a handball dissipated - the ball did clip the arm of Pique on the way in - and Barça now went looking for the winner. Step up talisman, Lionel Messi.
After testing Pacheco in the Alavés goal earlier, a free-kick on the edge of the area inside the final 10 minutes was always going to be dangerous. The Argentine's trademark curl and dip was close enough to the diving keeper to give him a chance but despite getting a hand to it, Pacheco couldn't prevent it from hitting the net. It was a shame for someone who had certainly played his part in keeping the hosts at bay.
Controversy but three points
Some controversy will be discussed after the game - Messi's winning free-kick should not have been awarded due to an offside immediately before the foul, and an Umtiti handball was not deemed a penalty - but Barça will not care. They go into February top by 11, in the semi-finals of the Copa and with a tasty Champions League tie to look forward to. Alavés can be proud of their efforts and can take that on to fight away from the relegation zone. Who says LaLiga is not competitive?
Barcelona vs Alavés: how it happened
90'+3' Peeeeeeeepp!!! It's all over and Barça take the win. 11 points gap at the top once again but this was by no means a stroll in the park. Fair play to Alavés who worked hard and would have been worth a point despite being out-possessed.
90'+2'   Messi almost clinches it. In the area where he normally opens his body for a curling left foot, but instead cuts inside and pokes an effort at goal. Pacheco grabs it.
90'   Three minutes to be added.
90'   Foul by Pedraza on Paulinho slows things down for a second.
89'   More controversy as replays show that Alcacer should have been flagged for offside immediately before getting the foul for Messi's free-kick goal.
87'   Shouts for hand ball from those in white shirts as Munir El Haddadi's shot thwacks the arm of Umtiti in the area. Deliberate? No. Could it be a penalty? I've seen them given plenty.
86'   Messi again looking to finish the game off but his dribble in the area is snuffed out by a crowd of defenders. The resultant corner is dealt with and Alavés look to find a way back in.
84' Goooooaaaaaallllllll!! It appears they do!! Messi curls it up and over the jumping wall and has enough dip on it to bring it back down under the bar. Pacheco dives and gets a hand to it but can't push it clear. Barça heading for three points.
83'   Free kick to Barça just outside the area. Hmmm, if only they had someone in their side who knew how to slot this home...
82'   Alavés try to build something down their left but Pique does well to kill it off and calmly gets things started again for his side. That leads to a tidy move with Iniesta touching the ball into the path of Suárez but Pacheco is quickly out to dive on the danger.
80'   Lots of possession from Barça as they try down the left then go back and look through the middle. It all ends with an awful through ball from Rakitic which runs out of play for a goal kick.
76'   Suárez with a good chance to cross to a spare Alcacer but instead the Uruguyan tries the spectacular. It flies over from an acute angle and Alcacer goes spare. Well, politely points out the poor decision making.
75'   Pique has dropped back into his more familiar role but it's been a clear tactic from Valverde to press on the left with Alba and Iniesta offering a constant outlet.
74'   Maripan trips up Luis Suarez and a free kick is awarded in an area that Messi will fancy. He strikes but Pacheco gathers well.
72' Gooooaaaaaaaallllll! Suárez volleys home a deep Iniesta cross from the left. It takes a small deflection off the arm of Pique (who was looking the other way) and the Camp Nou breathes a huge sigh of relief. They have 20 minutes to find a second.
69'   Messi has a chance now but well saved and then the move progresses to a ball in from outside the area from the Argentine. Pique, now playing as a centre-forward it seems, controls it and somehow Suárez can't finish it off. The keeper and defenders do enough.
68'   Two promising chances for Alavés. First a ball in from Sobrino then from Ibai. Sometimes the attacking openings are being treated too slowly by the visitors.
66' Coutinho's full debut comes to an end as he is replaced by Alcacer
65'   Long range hit from Paulinho. Sweet strike but straight at the keeper and held.
64'   Alba now, in his usual place but can't beat the first defender to get his ball in. And just as further danger looks to be coming a deflection falls nicely for Pacheco in the Alavés goal.
62'   The corner leads to a shot from distance from Maripan who shoots high and over.
61'   Just as Barça knock and knock Alavés almost nick a second. Guidetti under pressure picks out Ibai with an incredible spot and just when it looked as though he was in on Ter Stegen the ball got stuck under his feet and the chance was almost gone. Then the ball breaks to Duarte whose shot is deflected for a corner.
59'   More and more Jordi Alba is making his typical runs out wide and is being looked for by Messi and co. So far the defence is holding but it feels like it's starting to creak a little more as each new wave stretches it.
57'   Pacheco with some work to do from a Sergi Roberto cross and then a deflected shot. Deals with them both well.
56'   Guidetti with the ball in Barça's corner and as it bounces wraps his foot around it producing a fine cross. It beats Ter Stegen but support is lacking for the team in white and Pique deals with it.
55'   Corner won from this constant pressure as Duarte just 'gets rid'. Coutinho's inswinger is well cleared, once again.
53'   Messi finds some room on the left side of the area (we may see more of that with Alba supporting) and fires a low cross which is well read and cleared. Alba then tries to deliver and it's away by Alexis.
52' Digne and Semedo go off to be replaced by Alba and Sergi Roberto. 
50'   Good work from Coutinho first to snuff out a potential break and then to start a move forward. Two early subs coming on for Valverde.
48'   Ter Stegen sprints out of his goal to clear any danger from an Alavés ball forward and things almost go wrong. All fine though and Suárez is almost released forward in a rare piece of directness from Barça.
47'   Alavés now get a chance to knock the ball about in the Barça half. The more they can keep the ball the better but they'll be mindful of how quickly their hosts can turn defence into attack.
46'   What will Barça do differently? Likely nothing as chances should come. Immediately they pick up where they left off...with the ball at their collective feet.
We're back underway...
Here's Suárez getting his prize ahead of the game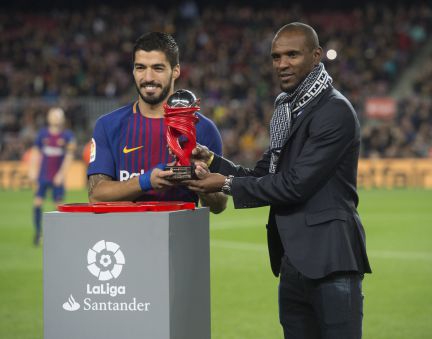 Neat and tidy generally from the hosts - although certainly less fluid than we may have expected - but credit to the Basque side who have closed down well and restricted chances. Barça haven't created too many clear cut openings although on another day Messi would have had a brace - that free-kick and the miscontrol in the closing period of the first half.
It has been an enjoyable enough first half and certainly the scoreline captures the interest of any Liga followers hoping for the runaway leaders to be brought a little closer to the chasing pack. On the evidence of that first 45 signs are that Barça's talented frontline will eventually find a way through but Alavés will come out with more belief than they may have had an hour ago...
45'+2' A ball into the area from Iniesta is cleared and then Coutinho has a chance to deliver from a corner.  Laguardia clears the latter and the referee brings the half to an end. Time for some analysis...
45'   It's further out so Messi curls it into the onrushing players in the area. Well headed clear by Maripan. There will be one minute added to the 45.
44'  Guidetti slides in to dispossess Coutinho well, although maybe he caught the Brazilian. Another FK for Messi here...
42'   What a save!! Pacheco throws himself to his left and gets a hand to a delightful Messi free-kick from around 30 yards out. The save takes the ball onto the post but applause to both players. The free-kick was a peach.
41'   Prepare yourself for some words that don't look right when put together: Messi miscontrols in front of goal! Great lift over the defence from Iniesta and the number 10 just needs to take it down and slot home. He doesn't and we move on.
39'   Alavés get some control of the ball and attempt a couple of crosses into the Barça area from the left. Both hit the seemingly huge Umtiti. Barça then take their ball back...
35'   Over 75% possession for the home team but Alavés are well drilled and their defensive banks are thwarting the clever movement from the Blaugrana. I can't see them holding out...but scoring a second on the break is not necessarily beyond them.
34'   Free kick to Barça on the right. Messi steps to the ball and whips it in towards the goal. Pacheco punches over.
32'   Sustained pressure from the hosts. First a claim from Suárez for a push in the back inside the area. Then, moments later, the ball breaks to Coutinho on the edge of the box. He dummies the first blocker then drives a shot which is deflected for a corner. Corner easily cleared at the near post.
29'   Iniesta tries to find some parity. Linking up well with Messi on the edge of a crowded Alavés area, the Spaniard shifts the ball to his right and pulls the trigger. Well over Pacheco's frame.
27' Ruben Duarte goes into the book after a clumsy challenge on Messi.
26'   Another chance for Alavés. Sobrino's deflected cross/shot loops up and nearly over Ter Stegen. Good punch from the keeper to get it clear.
25'   A few surprised looks around the pitch.
23' It was another break (Barça not learning from the over-exposed defence just a few minutes ago) with Guidetti sprinting with the ball into the open grass on the right flank. No one could catch him and as he approached Ter Stegen's goal, with an option to cross to Hernan, the ex-Celta man struck while slipping and the ball flew into the near side of the goal.
23' Gooooooaaaaaaaallll!!! And it's John Guidetti for Alavés.
22' Yellow for Wakaso Mubarak for a foul on Ivan Rakitic
19'  Lucas Digne trips Alexis and a free kick is given to relieve some of this constant pressure. 
Out of interest Coutinho had what looked like a nasty fall as he failed to control a pass and slipped on his way off the pitch into the hoardings. Think he's fine.
16'   It's all a little hectic for the Alavés defence there but Ruben Duarte eventually clears.
15'   Ibai and Hernan Perez sprint away and they are two on one (Pique). Ibai out to Perez and back across to Ibai who can't do anything to beat Ter Stegen as he rushed out. What a fabulous chance for the guests.
14'   Barça's pressure is getting more and more sustained with Alavés trying to close the spaces but struggling to deal with the quick passing exchanges. Victor Laguardia clears one such move for a corner and then from that the visitors have a great chance to break...
12'   Lovely no-look deft pass from Coutinho to the overlapping Paulinho almost opens up the defence. It's as though those two players...oh wait!
10'   Coutinho involved in a couple of promising moves, first the visiting keeper beating Suárez to ball into the area from the Brazilian and then the same combination being foiled by an assistant's flag. It almost feels like those two have played together somewhere before...
9'   Alavés look to go long but any hope of something happening end with a Wakaso Mubarak hand-ball.
7'   Barcelona with all of the ball at the moment - they can be so selfish at times - as the front six look to pass and move their way into the Alavés area. Lucas Digne picks up a loose ball on the left side of the area and drills it low. Just wide of the right hand post.
5'   First half chance of the game comes from a Suárez cross from the left. Nicely floated over the defensive formation, curling in towards the goal, but too far ahead of the onrushing player.
4'   Iniesta does that thing he does. Just a drop of the shoulder and a step away from his marker, leaving him for dead. Who needs blistering pace when you have what he does? Nothing comes of the attack.
John Guidetti gets an early touch down the right flank but Barça return it calmly to Ter Stegen. The keeper is a little too calm with his clearance and is almost blocked by the sprinting Sobrino. All safe though.
Alavés get us underway and immediately Barça win the ball back and knock it around the back before losing it in the middle of the park.
And we're off...
Teams have shaken hands and the officials are about ready to get us underway. Oh wait, Eric Abidal struts onto the field to hand over the trophy for Decemeber's top scorer. Luis Suárez smiles and accepts.
Under five minutes until kick off and the players are mingling in the tunnel before coming out to the chanting crowds. Let's see how full it gets tonight as the Blaugrana have struggled to get it to maximum capacity.
As well as Valverde's side having an impressive attacking threat, figures published today showed that they were also the side that had conceded the lowest number of goals per match (all competitions) this season. Not good ready for opposition fans.
The Camp Nou is slowly filling up as the players go through their warm-up exercises. plenty excited home fans thrilling at the touches back and forth of Coutinho and Iniesta. They could be in for a footballing treat but then again Alavés will look to make it tight from the off. Easier said than done of course.
Talking of the Copa del Rey semi-finals, Alavés' conquerers Valencia were drawn against Barça in the two-legged semi-final. Despite going down to a 1-4 defeat to Real Madrid yesterday, there was much in their play to suggest that their good form this season will continue and they will be no easy meat for the Catalan giants in their quest for the cup.
Alavés did what few sides have managed this season by beating Valencia midweek. Unfortunately for them, their 2-1 win only managed to level the Copa game on aggregate...and sadly for them it was Valencia who progressed to the semi-finals after a penalty shootout.
The referee for tonight's game is Ignacio Iglesias Villanueva who, for those that like this sort of info, averages around six bookings per game.
Barcelona have not failed to score at home this season (something that should be of no surprise to anyone who has followed the club over recent years) and their overall league goals-for column stands at 57. Alavés have recent addition John Guidetti to help out Ruben Sobrino at the scoring end but chances are likely to be few and far between. Alavés have just 16 goals to their name in LaLiga.
So, Valverde has chosen to put Coutinho in the midfield three with Iniesta (who he replaced in his substitute appearance against Espanyol) also in the eleven to create and control the game. It should be interesting to see how they combine...
Alavés starting XI: Pacheco, Alexis, Laguardia, Maripán, Duarte, Ibai Gómez, Medrán, Wakaso, H. Pérez, Guidetti, Rubén Sobrino.
Barça starting XI: Ter Stegen; Semedo, Pique, Umtiti, Digne; Coutinho, Paulinho, Rakitic, Iniesta; Messi, Suarez.
There were suggestions that we may see Barcelona starting debuts for both Coutinho and Mina however with the teams just being announced we can tell you that only one will take to the field for the opening whistle. Here are the teams for both sides:
Good evening from Spain and welcome to our live coverage of tonight's big game from LaLiga as FC Barcelona welcome Alaves to the Camp Nou. The game kicks off at 21:45 but stay with us for all the latest team news before we get down to business on the pitch.
Barcelona vs Alavés: match preview
Top dogs Barcelona welcome relegation-threatened Alavés to the Camp Nou in Week 21 of LaLiga looking, most would say 'expecting', to collect another three points and recoup their 11 point lead at the top. Nearest chaser Atlético Madrid did their job earlier in the day by beating Las Palmas 3-0 but few punters will be banking on the gap staying as it is.
Barcelona team news
The biggest news for the home side is that there could be a double starting debut with record-signing Philippe Coutinho and Yerry Mina in line to begin the game. The former Liverpool player came on as a second-half substitute against Espanyol in the Copa del Rey second leg and impressed with his cameo. Fans will be expecting plenty from one of their new idols. Defintely out of contention for the Blaugrana are Ousmane Dembélé, Thomas Vermaelen and André Gomes.
Alavés team news
Alavés arrive just a place and two points above the drop zone but know that these are the games that do not define their season's end. Any points collected on the road to the top teams are a bonus and holding out for a draw against this year's strongest unit will feel like a victory. The trouble they'll have is preventing Barça from scoring - Juventus were the last team to do that here in April 2017 - so trouble Ter Stegen will have to form part of Abelardo Fernández' plans. Héctor Hernández and Burgui will be missing through injury while Rodrigo Ely and Tomás Pina are suspended.