Atlético Madrid's Jan Oblak joins 100 club in LaLiga
Against Las Palmas the Slovenia international reached his century of league games for the Rojiblancos, with a 64-percent win rate.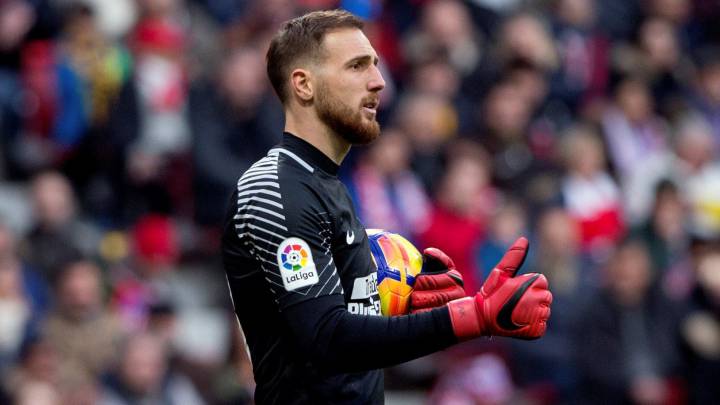 Jan Oblak joined an elite list of keepers during Atlético's 3-0 win over Las Palmas on Sunday as the Slovenia international marked his 100th league match for the Rojiblancos with another clean sheet.
Over the course of the club's history 10 keepers have reached a century of Liga appearances but Oblak stands alone as the stopper with the highest percentage of victories, 64 in 100 games. Second in the list is Thibaut Courtois, who also won 64 of his games between the sticks for Atlético but required 111 games to do so.
The remainder of the keepers to play a century of games for Atlético are Madinabeytia, Rodri, Mejías, Reina, Abel, Leo Franco, Molina and Pazos. Abel holds the record for the most victories at the club, 120, earned over the course of 243 appearances, a win rate of 49.38 percent.
Oblak a key Simeone lieutenant
Oblak also holds the record for the fewest goals conceded at this stage of the season. So far in 2017-18, after 21 games, he has picked the ball out of his net just nine times and at the same stage in 2015-16 he set the bar high by conceding just eight after 21 fixtures.
Oblak joined Atlético in 2014 from Benfica for a fee of 16 million euros. Now in his fourth season at the club, he has become one of the world's best keepers and one coveted by many other sides, which led Atlético to insert a 100-million-euro minimum release clause in his last contract. The board are eager to set that figure even higher but remain confident that Oblak will stay at the Metropolitano for many years given that he is undisputed number one and a key member of Diego Simeone's team.
Keepers with most victories at Atlético Madrid
| | | | |
| --- | --- | --- | --- |
| Oblak | 64% | 64 | 100 |
| Courtois | 57.65% | 64 | 111 |
| Madinabeytia | 54.71% | 87 | 159 |
| Rodri | 51.47% | 70 | 136 |
| Mejías | 51.28% | 60 | 117 |
| Reina | 50.32% | 78 | 155 |
| Abel | 49.38% | 120 | 243 |
| Leo Franco | 44.44% | 68 | 153 |
| Molina | 42.85% | 81 | 189 |
| Pazos | 31.36% | 69 | 220 |