Gerard Piqué very happy to extend Barcelona contract
The blaugrana central defender appeared in front of the gathered media after signing an extension to his contract that takes him to 2022.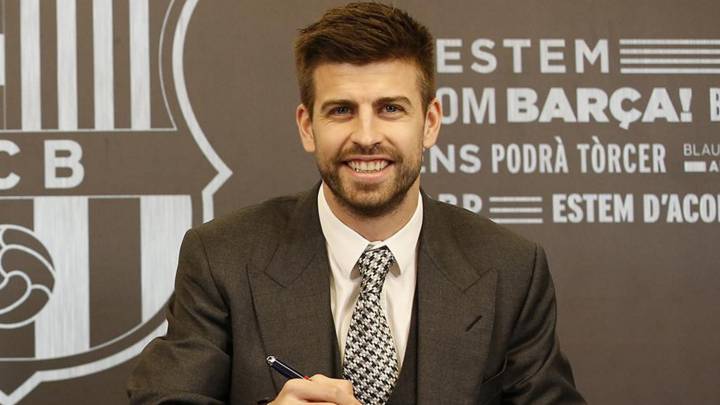 Gerard Piqué signed an extension to his contract on Monday which takes it to 2022. Appearing alongside FC Barcelona president, Josep Maria Bartomeu, the central defender spoke to the gathered media and made it clear how happy he was to be securing more time at the club and stated that he hoped it would not be his final extension with the Catalan giants.
Piqué gives thanks for his new Barça contract
The new contract has a release clause built into it of 500 million euros and Piqué's speech gave thanks to the club and president:
"I am very happy to celebrate this extension," began the Spanish international, "and I hope that it is not the last.
"If I complete this contract it will be 14 years in the Barça set-up plus a further six or seven years at lower levels. I have been a club member since I was born, Barça feels like my home, it is the club of my life and I am happy."
"Thank you president [Bartomeu] for the efforts you have made. Thank you my family for being with me in this dream. I want to enjoy today and this year which is looking good but there is still much to be done. We have to keep going. I am very happy."
After his opening speech Piqué added his signature to a number three shirt, used to commemorate the occasion, before taking some questions from those present.
On his feelings about the extension
"I see staying here as a natural process. I never considered any other option. It is the natural step and we hope to stay here for life. I thought about my family, my children.
We haven't had a bad year. I can say that we have won a title and competed till the end. I hope that we are competitive until the day I retire. For me it's Barça or nothing.
On being Barça captain
"I can always see that. And the other day I said that not being it hurt me. Now I see it differently. I am a different player, and I often get involved in things more than is necessary, making more noise on my account. In the dressing room sometimes it's preferable to have a different profile. I try to help my teammates, to set an example. I know that in some cases I'm not an example, but that's who I am, and who I'll continue to be."
On poking fun at city rivals Espanyol
"I do not regret what I said and today is not the day to comment. I am here regarding the rest of my career at Barça. On Sunday we will go there [to Espanyol for LaLiga game], we'll play and then in the mixed zone I'll give you your headline."
On poor attendances at the Camp Nou
"We are doing well and the people will respond. There are many reasons why the crowds don't come to the games. The schedule doesn't help fans. TV coverage is good and they can see the replays."
On his relationship with Espanyol
""It's how it works. This year you've not heard me talk about Madrid. There are times when you are more embroiled in controversy."