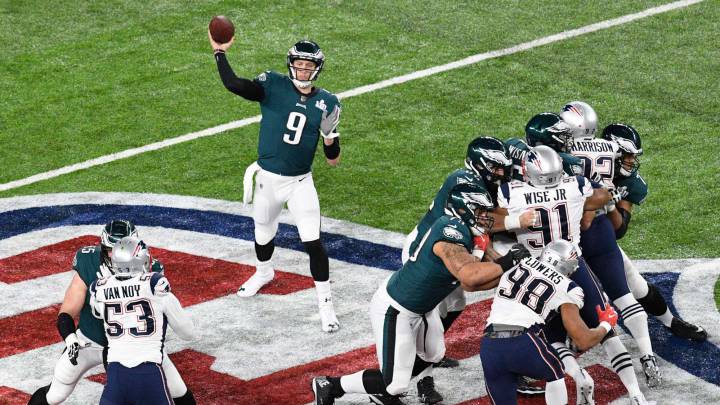 Super Bowl LII live stream online: minute-by-minute commentary
Hail Mary by Brady is no good.
GAME OVER! Eagles win it.
Another first down. Pats have 13 seconds to score a touchdown.
Brady with the 1st down and he finds Gronk. 
Amendola with the catch. 26 seconds left.
Brady almost sacked. He throws it away and that's 4th down.
Nope. Patriots are finished here, it looks like.
    Pass to Hogan is no good.
    Okay, the Patriots need to drive here about 85 yards up the field. Who's ruling them out?
    GOOD! 
Field goal upcoming.
    Okay, maybe not! Ajayi stopped on 3rd down. 
    Eagles about to win the Super Bowl!
3rd and five. 
Eagles witrh another run.
Ajayi with the run.
  That ends it now! Eagles with just over two minutes.
Long with the forced fumble. 
    Fumble and recovery by the Eagles.
That's the game! 
Touchback as Patriots take over. 
Eagles go for the two point conversion and they miss it! 
Okay, so the Eagles go ahead. 
The touchdown pass is still under review.
TOUCHDOWN!
Eagles go ahead. 38-33.
    Ertz with the touchdown. 
Jeffery the target in the end zone and Foles can't connect. Risky play.
Ajayi with the run. He picks up three. 
Agholor once again. First down!
And kick the field goal, of course!
There are 3:07 left here in this one. Eagles might need to just run down the clock.
Agholor once again. They're in field goal range now!
Foles finds Agholor. 1st down and the Eagles closing in on field goal range.
We've got ourselves a game here. 
Eagles run it on first down!
Eagles making a move. Can the score though? A field goal will give them the lead.
They go for it on 4th down and they have it. Ertz with the catch.
    Nope! Eagles can't connect on the third down as Smith catches and can't make the first down. 
2nd down. Foles with play-action and he finds Clement. 3rd down upcoming.
2nd and 6. Foles in shotgun and he looks for Smith. No! 
    Ajayi runs and he picks up four.
Just because the Patriots are so ruthless that if they don't, they might put it to bed on the next drive.
We've got 9:22 left on the clock. Eagles need to score here.
Brady with 457 yards passing so far. He is about to break his own record for most passing yards in a Super Bowl.
The extra point is good and the Pats go ahead.
    Touchdown! Grokowski catches the TD. that was an incredible catch. 
    It was low and to his feet.
Juggled it. Pass to White is incomplete. 
2nd and 1! 
    Burkhead with the 1st down.
Patriots on the move now. Burkhead catches for a gain of five. 2nd and 5.
4th and 11. Field goal by the Eagles. That is good!
Foles finds the reciever and he is immediately swalled up. He loses a couple.
Into the 4th quarter.
Smith. He picks up 8 yards. Foles is having himself an excellent game.
Foles into the end zone! No good. That was a really quick half.
Good effort by Agholor as he picks up the first down on the Jet sweep. 
Blount with the run and he picks up two yards.
    Another catch for Smith. Another 1st down!
Foles' turn to respond. And he starts on the right foot. He finds Agholor down the right side of the field. 1st down.
Hogan with the catch.
TOUCHDOWN! Patriots back in this.
Patriots with the first down. Pass to Hogan is good!
How do the Patiots respond?
It does go to review and it's a TOUCHDOWN!
Clements catches it and that is a fine throw and catch! Incredible stuff. That will go to review though.
That is a TOUCHDOWN! 
Foles with all sorts of time and he throws it towards the end zone but thats's off target.
Blount with the run on first down. He picks up three.
Foles with the play-action and he hooks up with Ertz. 1st down.
3rd and 1!
Pats need a stop! Jay Ajayi runs for close to a first down.
Patriots were closing in but a score here would take the sting out of that comeback.
Eagles are driving here. 
First down by Blount. 
Agholor with the catch and the first down for the Eagles.
It's 22-19 now and Eagles fans might be right to be nervous....
    Okay, we've got a game on our hands!
GRONK! Touchdown.
Gronk catches it on 2nd down. 1st and GOAL! Patriots taking no nonsense in this half.
Brady put under pressure and throws it away. Not sure he meant to throw it away but it ends up on the sideline.
2nd and 7 for the Pats now.
Gronk with the first down catch! 
Brady looks for Gronkowski but can't connect. He was open too.
 Here we go for the second half! Brady with the first drive.
He just reintroduced Cry Me A River. Not a bad effort.
Doing a lovely medley and a dance in the middle of the stadium.
Timberlake with the half-time show. He's doing a good job. A little over the top but that's the Super Bowl!
Time for some half-time music.
A lot to digest in that half!
Amendola with the catch as time expires in the half! 
    Can they manage a touchdown!?
Just three seconds left and Patriots spike the ball.
Brady throws it into coverage and is nearly picked off. Just 27 seconds remaining now in this half and the Patriots are going for it.
Burton with the throw and Foles with the catch. That was genius by Pederson. Patriots reeling now.
I can't help but laugh here! Foles catches the TOUCHDOWN! 
4th down and the Eagles are going for it!!!!!!!
Jeffery wants pass interference but no flag as he tries to make the catch in the end zone.
3rd and goal now as the Eagles pick up nothing on that run!
2nd and goal now for Eagles.
Clement runs for a first down and then some. He is inside the Pats' ten yard line. He broke tackles from three Patriots defenders.
Foles finds Smith but he was juggling the ball and that's not a catch. Eagles trying to extend their lead before the half.
He missed the extra point. Strange one. Gostkowski shanks that on to the left.
    WHITE! Touchdown. He skips by a couple of tackles and into the end zone.
    They're in Eagles territory again.
    Pats looking to reduce the gap here before half-time.
Pats go deep to Hogan! That's a catch. 
A little bit of luck there as the ball bounced off Jeffery but Pats won't be complaining.
    INTERCEPTION! Ball intended for Jeffery but Harmon picks it off.
    Ajayi picks up the first down on the run! Eagles having their way with the Pats defense.
    Smith picks that up! 1st down now for the Eagles. Foles has been so good in tight situations so far.
2nd and 14 now for the Eagles.
False start from the Eagles.
15-6.
Pats kick the field goal. 
White the intended target but his run is blocked and he can't catch it.
    Amendola picks up 2.
Burkhead again!
Burkhead picks up a massive chunk on the pass from Brady. They're into Eagles territory.
Can Brady respond? He's up with the Pats trailing by 12.
TD Eagles! Blount with the run straight into the end zone.
What a catch. Jeffery with the over the shoulder catch from Foles. Another 1st down and a bunch of yards.
That's a first down and a lot more for Ertz. Foles combines with his tight end ofr a gain of 30!
And another hand off to Ajayi. 3rd down for the Eagles.
Foles hands it off to Ajayi.
And then the throw to Gronkowski is no good. 
  Brady was wide open. The throw from Amendola to his QB is no good! 
    Lewis on the run and he picks up 5. Patriots 3rd down.
    White the intended target on that one and he can't make the catch.
Patriots ready to go again after Cooks injury.
Cooks with the catch and he gets nailed. He's down and looks hurt.
Eagles miss! Patriots take over.
Foles almost sacked! He throws it away.
Poor snap, I think, was the reason for that.
Gostkowski with the field goal and he misses! 
Cooks on the end around. He gets stopped behind the line on 3rd down. Tries to jump over McLeaod and has no luck.
White on 2nd down. 3rd down coming up.
    White runs for 5.
Another first down. In the redzone with a pass to Hogan.
Brady in shotgun. Flushed out of the pocket and finds Amendola down the left. 1st down.
Brady looking for Hogan down the middle and misses. He overthrows it.
Lewis with the run. He picks up 8 yards.
Right, Brady's turn! 
Missed the extra point! Eagles still lead 9-3.
Foles goes long and finds Jeffrey! TOUCHDOWN!!!!!
Blount with the run and he picks up whole bunch. 1st down Eagles.
Foles to Agholor and he dodges a tackle before being brought down. 2nd down.
Eagles turn. Foles takes to the field. their return gets them back to the 20-yard line.
Patriots kick the field goal. 3-3 here. Patriots drove forward but stopped in the redzone.
Mills with blanket coverage on Gronk. He defended that perfectly.
James White picks up 6 yards on a catch.
Another play action and Gronkowski is wide open.
Gronk with a first down over the middle. 
Hogan with an end around and he picks up 4.
Brady on play action and he finds Hogan. Another first down.
    White runs on 1st down and he picks up another chunk. Flag on the play. The Eagles had 12 men on the field.
Brady finds White and he gets a first down. He picks up a good chunk of yardage.
No, it's 2nd and 10! 
Brady to Cooks but he loses a yard. 
Tom Brady's turn! Can he respond?
Eagles lead 3-0. Scoring drive on the first one of the game.
The Eagles have to suffice for a field goal.
Jeffrey the target now on 3rd down and he can't catch it. Rowe does well in coverage.
Foles rolls around and fakes the hand-off and throws it out to the back of the end zone. 
Flag. False start on tight end Ertz. Eagles have to go again.
    Foles found the running back so easily there. Blount runs on first down and the Patriots stop him.
Corey Clement makes his way into the redzone! 
    Ajayi picks up the first down.
  He finds Ertz now for a gain of 7. 2nd and 3! Patriots looking for a stop but Eagles looking comfortable.
Foles in shotgun on 3rd down and he finds Smith! He's keeping this drive alive. 
Van Noy stops Ajayi and then Foles misses on the second down pass. 
Foles finds Jeffrey for a first down. 
Another pass and that goes to Agholor too for a gain of two.
Nick Foles takes the snap. He finds Agholor for a gain of four.
Kick off! Eagles to get us started.
    He means business.
We are ready for action. It's minus 17 in Minnesota but Bill Belichick has short sleeves on!
New England trying for their 7th Super Bowl in this century! An incredible feat.
The site for the game!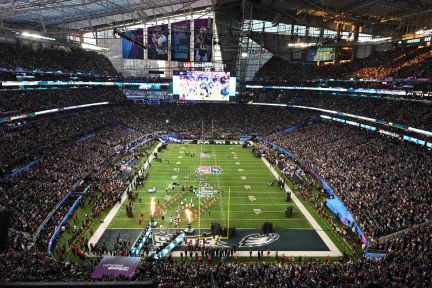 A massive round of applause for Pink after that effort. Time for some football!
Pink singing the star spangled banner! Inspiring stuff.
Just a reminder that this would be a monumental win it the Patriots manage to pull it off. A list of Tom Brady's records.
Rumours swirling that Brady AND Belichick could retire after this season! 
  In case you missed it, US President Donald Trump seemed to indirectly warn tonight's players not to kneel in protest. He expressed appreciation "for those who make occasions like this possible, particularly the brave men and women of our Armed Forces," in a statement issued by The White House said. "We hold them in our hearts and thank them for our freedom as we proudly stand for the national anthem," Trump said. "We send our best wishes for an enjoyable Super Bowl Sunday," Trump said in his message ahead of the game. "May God bless and protect our troops," he continued.
As well as bringing you all the moves, stats and interesting background insights through the night, you'll also get my no-holds-barred opinion on the half-time show! I take no prisoners when it comes to entertainment.
Let's take a look at the teams as they make their way out. There'll be goosebumps aplenty... 
Are you rooting for the Patriots? If so, you're going to like this article. Here are three reasons why Brady and Co. will triumph.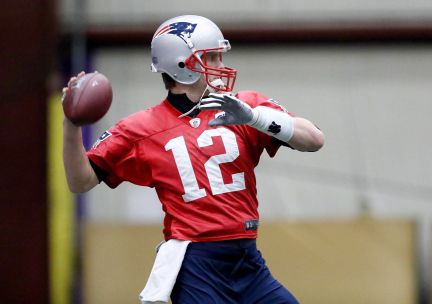 Hello and welcome to live coverage of Super Bowl LII between the New England Patriots and the Philadelphia Eagles. My name is Robbie Dunne and I'll be making sure you don't miss a minute of the biggest event in American sport, some would argue the world.
Super Bowl LII live stream online: game preview
The biggest event in the US sporting calendar was just hours away on Sunday with Tom Brady and the New England Patriots chasing history in their Super Bowl clash with the Philadelphia Eagles.
More than 100 million households were expected to tune in for the climax of a tumultuous National Football League season rocked by player protests and a bitter feud with US President Donald Trump.
A crowd of around 66,500 will huddle under the glass roof of the US Bank Stadium, while Minneapolis shivers in sub-zero temperatures.
Temperatures at kick-off, set for 5:30 pm local time (2330 GMT), are expected to be three degrees Fahrenheit (-16 Celsius), making it the coldest Super Bowl Sunday for a host city on record.
Pop star Justin Timberlake, who headlines the halftime show, will be aiming to avoid controversy, 14 years after the TV-watching nation was scandalized by his duet with Janet Jackson which culminated in the "Nipplegate" furore.
Advertisers are expected to steer clear of politically-charged TV ads, in contrast to last year, when issues such as immigration and women's rights were tackled.
It follows an NFL season plunged into acrimony in September, when Trump disparaged as "sons of bitches" the mostly African-American players kneeling during the national anthem in a protest at social injustice.
The protests later dissipated after the NFL pledged $100 million to a players' group which would go towards various charitable causes.
Trump, a friend of the Patriots' billionaire owner Robert Kraft, will watch the game at his Mar-a-Lago Florida estate, where he is hosting a viewing party.
He will be among millions of fans waiting to see whether Brady, 40, can claim a record sixth Super Bowl win or whether the underdog Eagles can claim their first Lombardi Trophy.
Brady will become the oldest quarterback in history to win the title if he successfully leads the Patriots to victory.
Win or lose, Brady will become the oldest non-kicker to play in the Sunday showpiece, 16 years after guiding the Patriots to his first Super Bowl crown in 2002.
Sunday's finale comes one year after Brady inspired New England to the greatest comeback in Super Bowl history, when the Patriots overturned a 28-3 third-quarter deficit to beat the Atlanta Falcons 34-28 in overtime. Since then the veteran quarterback has shown no signs of being on the wane.
On Saturday, he became the oldest recipient of the NFL's Player of the Year award, the third time he has won that honour. It follows a season in which Brady threw for 4,577 yards and 32 touchdowns with eight interceptions.
Lying in wait for Brady and head coach Bill Belichick are an Eagles team who powered into the Super Bowl with a 38-7 rout of the Minnesota Vikings.
The Eagles sealed their place thanks to a dazzling display from quarterback Nick Foles, the back-up who was thrust into the starting position after an injury ended Carson Wentz's season in December.
Foles, 29, was only 16 when Brady won his third Super Bowl ring, against the Eagles in 2005.
If there is a gulf in experience between Brady and Foles, a chasm separates Belichick and his Eagles counterpart Doug Pederson.
Belichick, 65, has won seven Super Bowl rings, two as an assistant with the New York Giants and five as Patriots' head coach, in a career spanning five decades.
Pederson, 50 and only two years into his first head coaching job, was leading a high school team in Louisiana when Belichick won his fifth Super Bowl in 2005.
Pederson, however, says the Eagles are embracing the role of underdogs.
"I've been an underdog my whole career, my whole life," Pederson said. "I think that's the mentality of our football team. I think that's the mentality of our city, and I'm OK with that."