Barcelona's Piqué tries to silence Espanyol fans
After scoring the equalising goal against local rivals Espanyol, Gerard Piqué caused more controversy as he celebrated in front of the home fans with his finger on his lips.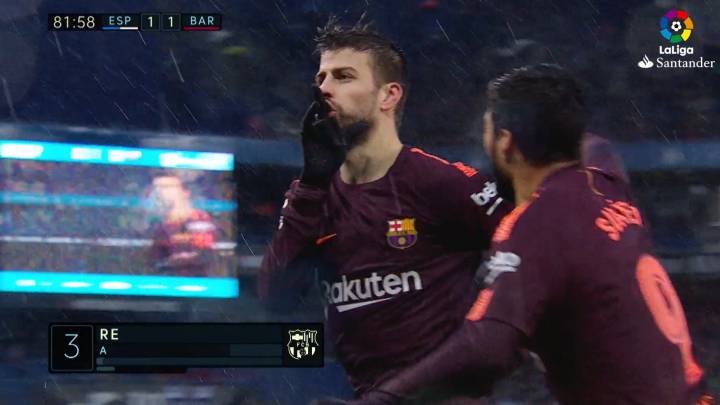 After the last couple of weeks' controversy between Barcelona's Gerard Piqué and Espanyol, which even had the Spanish football authorities intervening, tempers were heated in the Catalan derby at the RCDE Stadium.
Piqué winds up Espanyol
The Barcelona centre-back had caused the issue by suggesting that Espanyol should not be considered their city rivals as they were 'Espanyol de Cornellà', from the suburbs rather than the metropolitan area. Despite his manager Ernesto Valverde criticising his comments, the Spaniard said he did not regret what he said after their Copa del Rey clash, and after scoring the goal that brought parity late on in the Liga fixture, he cranked the temperature up a further notch.
The goal came in the 81st minute cancelling out Gerard Moreno's header around 15 minutes earlier. As he celebrated he ran to the home fans, who had been booing him all game, and his finger to his mouth. This gesture to keep quiet was met with even more abuse.
And it didn't end there. Moreno put in a scything challenging right through Piqué which had them quickly squaring up and Umtiti getting involved in the discussion. Not long after the final whistle, the social media lover got posting...