BARCELONA
Valverde mulling over plan A for Eibar or keeping an eye on Chelsea
Barcelona can not stumble at this important point in the season and Ernesto Valverde needs to make sure his decision on Saturday against Eibar and Chelsea on Tuesday are right.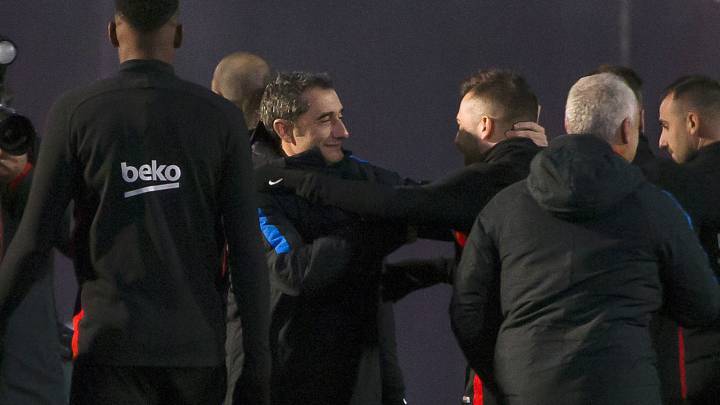 Ernesto Valverde's pulse is starting to rise in Barcelona these days. With Atlético starting to creep closer and the battle of Stamford Bridge just around the corner, the management of his personnel in the coming week will be under plenty of scrutiny especially when you factor in Barca's two draw in two weeks in LaLiga.
The invoice that came after the Copa del Rey was not cheap. Draws with Espanyol and Getafe came after being pushed to the limit by Alavés the week before. They were left with their tongues hanging out after the two-legged Valencia affair in the Copa semi-final with Valverde giving maximum priority to the league since its start. They remain unbeaten but are cutting it closer and closer by the week.

They have to be careful not to falter now after leading LaLiga for 23 weeks on the trot but they must also give full respect and attention to the Champions League coming too. They have failed away from him in places like the Calderón, Etihad, Parc des Princes and Juventus Stadium and they also have a history in Stamford Bridge where Chelsea will be waiting for them.
With that in mind, Valverde will weigh up the pros and cons with Jon Aspiazu, his assistant coach. They will have just 75 hours between the Eibar game and their trip to Chelsea but it is possible that Andres Iniesta is the only player that they decide to protect in the coming days. The rest will be a case of moving chips into place tactically. Iniesta has a substitute for these kinds of situations with Phillipe Coutinho signed in January for this very case. He is expected to row in place of the Spaniard with his involvement in the Champions League not allowed.
They could also use Ipurua as a testing ground. Eden Hazard is Chelsea's most potent attacking threat and Barca's specialist in that position is suspended: Nelson Semedo, so it remains to be see what Valverde does against Eibar.
Vermaelen rejoins the group but might not travel
Three weeks after breaking down at Real Betis after playing 13 consecutive games, Thomas Vermaelen returned to training with the group. With his return, Valverde has all of his players to call upon at a vital stage in the season. Valverde's plan is to keep the Belgian for London and he will most likely not travel to Eibar but he will also not start in London. Ousmane Dembélé, who missed training on monday with a stomch issue, also joined back in with training. The French player could be important in the two games and he needs a boost after a slow start to life at the Camp Nou.