Real Madrid 3-1 Getafe LaLiga: goals, as it happened, report
Cristiano Ronaldo scored twice after Gareth Bale's opener at the Bernabéu. Portillo briefly restored hope from the spot for ten-man Getafe.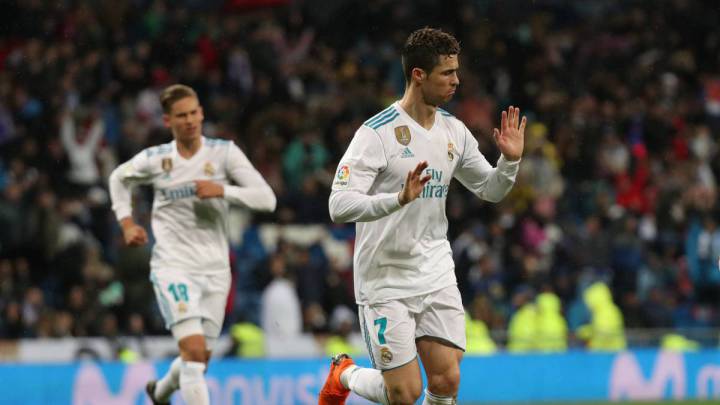 Cristiano Ronaldo scored goals 300 and 301 of his LaLiga career as Real Madrid cruised past ten-man Getafe in a match that served as an ideal warm-up for Tuesday evening's Champions League skirmish with PSG.
Gareth Bale opened the scoring for the home side with a crisp finish from inside the box. Ronaldo added a second on the brink of half time, ghosting on to the end of Karim Benzema's pass before shooting low in to the bottom corner.
Madrid's task became easier when Loic Remy received a second yellow card at the start of the second half. The former Chelsea striker's crime was a clothesline tackle on Nacho, with whom he had grappled throughout the first half.
Yet Getafe - effectively assured of their LaLiga status after a strong first season back in the top flight - soon had a chance to reduce the arrears when Nacho felled substitute Jorge Molina in the box. Replays revealed that it was a clean tackle. Nevertheless, Francisco Portillo drilled the ball down the centre to haul Getafe back to within a goal of their hosts. Ronaldo reacted immediately. The No.7 nodded in to the net at the far post, only to see the linesman hoist his flag to indicate offside.
Ronaldo sealed the win in the 79th minute with a header from Marcelo's cross. He promptly left the pitch, his work done. A bigger task lies ahead in three days.
Real Madrid 3-1 Getafe: as it happened
90'+3' FT. 
90'+3'   Gareth Bale goes close again! Asensio slots him through with a subtle pass, but the Welshman is thwarted by the 'keeper, who has rushed off his line well. 
90'+2'   Gareth Bale shaves the outside of the post, with a low curler from inside the box. Marcelo's mesmering footwork in the build-up was the highlight. 
90'   The linesman's board shines from the touchline. There'll be three minutes of added time. 
87'   Marcelo has been superb since coming on. The Brazilian flashes forward and drives the ball across the six-yard box. Somehow, it evades everyone. 
85' A final change for Getafe: Dani Pacheco comes on for Francisco Portillo. 
83'   Molina throws an arm up in disgust at the referee. He felt he wsa tripped by Nacho, who is already on a yellow card. 
81'   Casemiro fancies a slice of the action and lashes a shot from 25 yards. The result delivers a reminder of why he's a defensive midfielder and not an attacking one. Goal kick. 
79' Double change for Madrid: Ronaldo and Llorente go off, Asensio and Kovacic come on. 
78' GOOOOL! Cristiano Ronaldo gets his second goal! The No.7 nods Marcelo's cross in at the near post, and that will be his last contribution. 
76'   Martínez dives at the feet of Karim Benzema to prevent the striker latching on to Isco's cut-back. 
73'   Ronaldo tries to dazzle Djene with a flurry of stepovers. Djene stays cool, watches the ball, and wins the tackle.
72'   Djene turns Marcelo's cross behind for a corner, which sails straight over the box and out for a throw in on the other side. Madrid have upped the tempo since conceding. They know that they need another one, just to be sure. 
69'   Excellent passage of play, from members of both teams. First, Carvajal curls a gorgeous cross along the six-yard line. Ronaldo stabs his toe at it, and Martínez responds with a split-second reaction save. 
67'   GOOOOO... No! Ronaldo nods Marcelo's cross in at the far post. He's wheeling away to celebrate when he spots the linesman's flag is up. As with the penalty, replays show it was the incorrect decision. Ronaldo was onside. 
65' GOOOOOOL! Portillo tucks the penalty straight down the middle. All of a sudden, there's a game on. 
65' Before the penalty is taken, Marcelo will take Theo's place. 
64'   PENALTY TO GETAFE! Jorge Molina is scythed down by Nacho and the referee points to the spot. Replays reveal it was a superb tackle, he cleanly took the ball. 
63'   Zidane is looking surly with his hood up on the touchline. He'll be more pleased than his body language suggests. A (so far) routine evening ahead of the Champions League. 
61'   Theo makes a key interception - similar to the one he made in the first half - to stop Molina sneaking in behind the defence. This has been the left-back's best game for a while. 
59' Another change for the visitors. Mora ambles off, Gaku takes his place. The same Gaku who scored twice against Madrid for Kashima Antlers in the 2016 Club World Cup. 
57' Getafe substitution: Ángel goes off, Jorge Molino comes on. A striker-for-striker subsitution, but with a more physical presence coming on. 
55'   Bale thunders through the centre as Madrid's one-man advantage becomes increasingly clear. He lays it off to Benzema, who thuds a cross in to the chest of Antunes and behind for a corner. Getafe clear their lines after the referee spots some overzealous grappling and blows for a foul. 
53' Portillo is the next man in to the book for an increasingly dispondent Getafe. He shoves in to the back of Theo, when he was in his own half and going towards his own corner flag. Needless. 
51'   Another nice touch from Bale. The beneficiary is Benzema this time. The No.9 hits a low shot that Martínez is equal to. 
50'   Bale keeps a move flowing with a lovely scoop movement of his left foot. Carvajal proceeds to put that skill to waste by overhitting a pass intended for Isco on the flank. 
47' Remy is off! He clotheslines Nacho and receives a second yellow card. A clearer bookable offence, you will not see. His hairband never did appear, in case you were wondering. 
46'   This new-look Loic is working well. Remy twists inside from the left side of the box and forces Navas in to a save low to his left. Moments later, Damian has a go from 30 yards. Bright start to the second half from Getafe. 
46' Peeep! Off we go! 
The teams are plodding down the steps in the tunnel ahead of the second half, and the big news is that Loic Remy has, quite literally, let his hair down. His locks are flowing free. I'll let you know if there's a late hairband application. 
And those 300 goals have come in 286 games. Not bad. 
45'+2' There goes the whistle. 
45'+2'   Ronaldo looks to make it three before half-time, gets right under his shot, and sends it in to the crowd behind the goal. 
45'+1' GOOOOOOL! Cristiano Ronaldo cuts through the scrappiness with a sharp shot in to the corner. It's all about the eye-of-the-needle pass from Benzema, who slice Getafe open and allowed Ronaldo to cut in on his left foot and beat Martínez. 
45'   The match is meandering towards half-time. Getafe are safe, Madrid aren't going to win the title, and the result is a rather stodgy affair. 
42'   Getafe have completed just over 52% of their passes so far. They'll have to be neater than that after the interval. 
39'   Benzema bundles through a couple of challenges on the left before flashing the ball to the edge of the 'D'. Gareth Bale swings his left peg at it and misses completely. It carries on straight through to Carvajal, who shaves the post with a low drive. 
37'   Isco curls a sumptuous cross towards Benzema at the far post. The Frenchman made contact, but only after clambering all over Damian's back. The referee toots his whistle for a foul. 
35'   There are half-hearted appeals for handball after Djene scrambles around on the floor. The referee parts his arms in dramatic fashion to indicate that there's nothing in it. 
33' Nacho returns the foul he received from Remy a few minutes ago, and the centre-half sees his name scribbled in the referee's little notebook. 
31'   Antunes lets his compatriot Cristiano Ronaldo slip past with some meek defending at left-back. Ronaldo slids the ball across goal looking for Benzema, but Martínez dives out to the edge of his six-yard box to claim it. 
30'   Theo shapes a devilish cross from the left flank. It scythes through a crowd of bodies before thudding in to Djene's midriff and in to Martínez's arms. 
28'   Theo extends his left leg to steal the ball from Ángel, who would otherwise have been clean through on goal. 
27' Loic Remy gives Nacho and elbow to the chops and receives a yellow card for his trouble. 
24' GOL GOL GOL! Getafe fail to clear Isco's inswinging corner, allowing Benzema to chip the ball in to the centre. It comes off Isco's shoulder and sits up perfectly for Gareth Bale to drill it in to the bottom corner. 
22'   Getafe enjoy a spell of possession in Madrid's half. Damian squares it for Fajr, who hits a chip intended for Ángel straight at Navas. 
19'   Djene is good. Really good. He scampers across the back line to nab the ball from Theo's feet. Benzema is swiftly navigated, and then the counter-attack starts. Ángel bombs along the right flank, cuts inside, and hits a low shot that's easy for Navas to smother. 
17'   The Madrid midfield isn't particularly balanced at the moment. Isco keeps drifting in to the No.10 role, which is precisely where Benzema wants to drop in to. The result is congestion. You can't help but feel that Dani Ceballos - who is not even on the bench this evening - would have been a more tactically sensible choice alongside Casemiro. 
16'   Marcos Llorente is penalised for a very soft foul on Antunes. The No.18 throws his hands in the air and the Bernabéu growls with disapproval. 
14'   Cristiano Ronaldo goes through on goal, but he was lingering a good five yards offside when the pass came in. In any case, the Portugal international slices wide of the neat post. 
11'   Madrid are enjoying plenty of possession, but most of it is in their own half. They eventually edge forward and knock the ball around the Getafe box, before Isco puts too much on a diagonal pass intended for Carvajal. 
9'   Djene nods Isco's delivery clear with Ronaldo lurking behind him. 
8'   The referee penalises Loic Remy for leaning in to Isco, and Madrid will swing in a free-kick from the right touchline. 
6'   Arambarri scoops a ball over the to for Ángel - Getafe's leading scorer with 11 goals - to run on to. On the moist surface, it skids straight through to Keylor Navas, who is sporting a rather abrupt new undercut. 
4'   Madrid appear to have set up with their regular 4-3-3. Casemiro is the holding midfielder with Llorente and Isco either side of him. 
2'   Ronaldo scampers down the left flank. Benzema is in a good position in the centre, but the cut-back is a little behind him and the move breaks down. 
1'   Getafe live up to their good name of 'dirtiest team in Europe' after 40 seconds, when Mauro Arambarri swings his arm across Isco, sending the Madrid man down to the deck clutching his face. 
1' Real Madrid get us up and underway! 
In fact, we'll have a minute silence before kick-off in memory of Quini, the Sporting, Barcelona, and Spain striker who passed away last week. 
Referee Melero López is overseeing the coin toss. Once that and the pleasantries are done with, we'll be underway. 
The two teams are trotting down the steps of the Bernabéu tunnel. The Madrid players are sporting white jackets above their shirts. The stadium is still pretty sparsely populated. 
Real Madrid XI: Navas; Carvajal, Nacho, Ramos, Theo; Llorente, Casemiro, Isco; Bale, Benzema, Ronaldo. 
Getafe XI: Martínez; Damián, Djene, Bruno, Antunes; Portillo, Arambarri, Fajr, Mora; Ángel, Remy.
With ten minutes until kick-off, let's recap the teams... 
It's a big game tonight for Djene, Getafe's impressive Togolese centre-half. He has performed superbly in his first season in the Primera División. The 26-year-old very fast over five yards, better in the air than his stature would suggest, and isn't bad with his feet.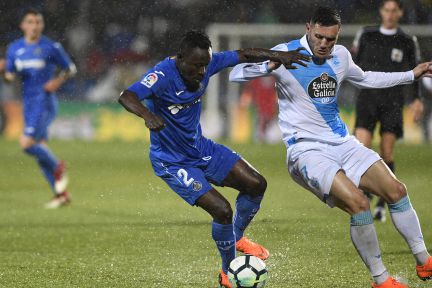 Real Madrid could have ride with some punches at the Bernabéu. Getafe are the dirtiest team in the top five European leagues... 
Good evening! Welcome to our coverage of the LaLiga clash between Real Madrid and Getafe, which kicks off at the Bernabéu at 20:45 (CET). We'll be with you up until kick off with team news and the like, before then providing minute-by-minute updates of the action.