Gareth Bale cuts a frustrated figure
The Wales international trudged to the dressing room in Paris while his team-mates applauded the travelling support. It is his toughest spell since joining Madrid.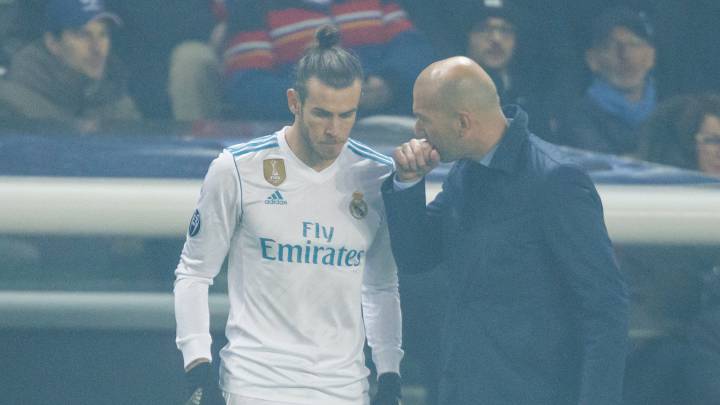 Gareth Bale cuts a frustrated figure. He was a substitute at Parc des Princes on Tuesday evening as Real Madrid knocked PSG out of the Champions League, just as he was in the first leg at the Santiago Bernabéu. Zinedine Zidane opted instead for the industriousness of Lucas Vázquez.
Bale with his head down at PSG
Bale took the decision on the chin, but does not appear happy with his current bit-part role. After referee Fellix Brych blew the final whistle, all the Real Madrid players went to show their appreciation to the travelling Spanish supporters. All except Bale. While his team-mates thanked the away end, Bale walked, head down, straight to the dressing room. It is another indication of his disconnect with the group.
That disappointment at being left out of the starting XI was apparent in the first leg. On that occasion, Zidane favoured Isco. Bale, meanwhile, was captured on camera yawning on the bench. When the time came for him to make his impact, he was slow to get ready. And, finally, Bale did not pay heed to Sergio Ramos' call to go over and thank the fans. Like in Paris, he trudged down the tunnel.
Giggs revealed Bale's displeasure
"Bale wasn't happy that he didn't start the PSG game," said Ryan Giggs, Bale's new coach with the Welsh national team.
Zidane handed Bale a starting role in the following match: the visit to Real Betis in LaLiga. Yet he was hauled off after 73 minutes during which he only completed one dribble and was thwarted twice by Adán when he shot on goal. The 28-year-old returned to the bench for the match at Butarque against Leganés, shone once again from the start against Alavés, and was ineffectual against Espanyol.
Bale is experiencing his most difficult spell since arriving in Madrid in 2013 and likelihood of him staying until the end of his contract in 2022 appears more remote than ever. The matches against PSG have left a mark on Gareth Bale.



Champions League
*Update 7 de marzo de 2018