Catalan Super Cup | BARCELONA-ESPANYOL
Dembélé lashes out at Piatti in Catalan Super Cup
The Barcelona forward reacted badly to a hard challenge from behind, which could well have seen him sent off.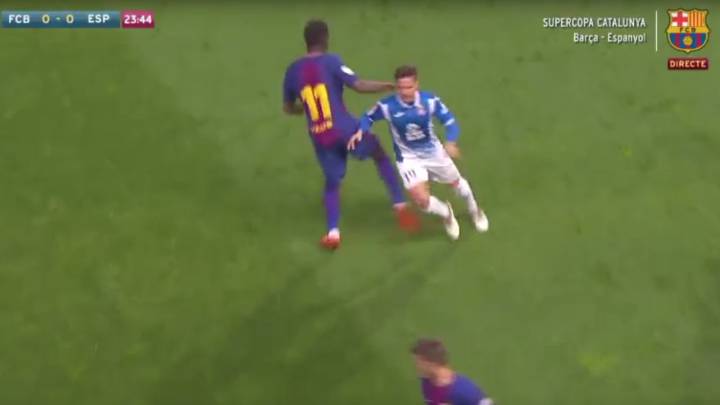 Ousmane Dembélé was close to receiving his marching orders in the final of the Catalan Super Cup between Barcelona and Espanyol. The Barcelona forward reacted badly to a tough tackle from Espanyol's Piatti in the 23rd minute, but the referee, likely taking into account the nature of the competition, decided to calm the pair down without showing cards.
Piatti and Dembélé told to calm down
The incident was sparked by an excessively rough challenge from behind by Piatti on Dembélé, a foul that in either Liga or Copa would have been a clear yellow card. Dembélé was enraged by the challenge and aimed a kick at his rival, an action that likely would have been punished with a red card in official competition. Piatti in fact protested to the referee on that very point, but the official was having none of either player's complaints and told them to calm down and say sorry to each other.
The match finished 0-0, with Barcelona taking the title on penalties 4-2.