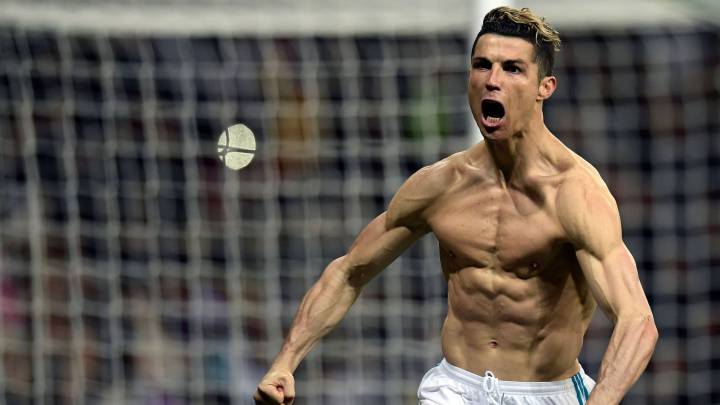 Real Madrid 3-1 Juventus: match report
Cristiano Ronaldo smashed home a penalty in the seventh minute of stoppage time to take Real Madrid through to the Champions League semi-finals on Wednesday, despite a 3-1 defeat on the night to Juventus after a remarkable comeback attempt by the Italians.
(AS' resident ref says Vazquez should not have been awarded a penalty.)
Juve had produced a stunning performance at the Santiago Bernabeu, Mario Mandzukic's brace and a Blaise Matuidi goal putting them 3-0 up in little over an hour, levelling the tie on aggregate after Real's 3-0 victory in Italy last week.
But as extra time loomed, English referee Michael Oliver awarded a penalty for a clumsy challenge by Medhi Benatia on Lucas Vazquez in the area.
A furious Gianluigi Buffon was sent off for his protests at the decision, and it wasn't until the 97th minute that Ronaldo was able to take his spot-kick, beating substitute 'keeper Wojciech Szczesny from 12 yards.
Mandzukic twice headed in right-wing crosses at the back post for Juve in the first half, and a horrible Keylor Navas error allowed Matuidi to make it 3-0 on the night in the 61st minute.
Real had looked vulnerable, but the late drama meant they would not suffer an embarrassing exit to match that of rivals Barcelona at the hands of Roma 24 hours earlier.
90'+7' GAME OVER!
90'+7'   What a finish that was. Absolutely incredible stuff. 
90'+7' Ronaldo buries it. 
90'+7'   Into the seventh minute of added time now. Szczesny vs Ronaldo.
90'+3'   Michael Oliver being crowded around by the players. This is mayhem.
90'+3'   Last kick of the game. Szczesny goes in goal.
90'+3' Buffon sent off for mouthing at the referee.
90'+3'   Real Madrid attack down the left and it's sent into the box. Ronaldo heads back towards Vazquez and Benatia fouls him. Penalty.
90'+2'   Ball into Ronaldo and that is safely to Buffon. He takes it and starts Juve off again. 
90'+1'   Three minutes of added time here.
90' Benatia hell bent on getting a yellow. Late on Asensio and then fouls Kroos straight after. 
90'   Isco cross is blocked and Juve repel another Juventus attack.
89'   Real Madrid with all of the ball now. Sent across to Marcelo and into Isco's path. He clips it towards goal. Send straight back out where it came from. Throw Real Madrid.
88'   Mandzukic clears and Real Madrid send it into the middle of the field. Throw Real Madrid.
86'   Carvajal with a cross into the back post. Ronaldo heads over.
86'   Kroos on the ball and finds Ronaldo. Benatia takes him out of it. Ref plays advantage.
85'   Short free and Navas gathers that one easily. Bernabeu back singing now as they try to urge their side on.
84'   Vallejo hacks Higuain down. 
83'   Perfectly poised now. Good back and forth to this. 
80' Worked short and out to the left before it's sent all the way across the box to Isco. He hits the ground and crosses but Douglas Costa picks it up and drives forward. Marcelo pulls him down. Free and a yellow for Marcelo.
80'   Cross from the left and Cheillini heads that over his own bar. Juventus playing with fire here. 
79'   Varane gets the ball ad swivels. He strikes but that's just inches wide.
78'   Marcelo drives forward and plays it to Isco. He strikes but Buffon saves and that's a corner. So close. 
76'   Ball lobbed in towards Khedira. Blocked out and for a corner. Juventus looking dangerous and Real Madrid's defence looking shaky.
75' Kovacic for Modric.
74'   That was far closer than it possibly needed to be. Ronaldo shot and it's blocked with Buffon scrambling to his left. Corner met by Varane's head.
73' Douglas Costa booked now for a foul on Asensio.
72'   Juventus on the break. That's poor. They lose it and Real Madrid attack through Keylor Navas.
71'   Ronaldo wanrs a corner but Sandro's slide forced the ball onto Ronaldo's leg.
70'   Real Madrid have calmed this down but there's still more tension here than in a tennis racket at the US Open.
69'   Asensio sends it over with Ronaldo pretending to line it up as a decoy.
68'   On the edge of the square. Asensio stands over it with his left.
68'   Alex Sandro with another foul on Vazquez this time. 
66' Ronaldo on the break. He stops and Alex Sandro takes his legs from under him.
66'   Corner Juventus. 
64'   Real Madrid back on the ball now. Can they go from 2nd to 5th gear.
63'   Cross sent in and that's to nobody. What is happening to Real Madrid? They've fallen apart. 
62'   Ronaldo bundles over with two defenders around him. Benatia and Pjanic. Looked more a dive than anything.
61' Howler from Keylor Navas. Matiudi comes in from nowehere and knocks it home. What was Navas at.
59'   Modric gives the ball away and it falls to Higuain eventually. He strikes and Navas saves. Another good chance and good save. Juventus looking more dangerous when they attack.
58'   Ball into Ronaldo and he catches it. Buffon equal to it though. Good chance and good save.
56'   Juventus weather the storm and attack now. Before Carvajal wins it back and feeds Isco. He plays it to Modric and Real Madrid in a nice position here.
53'   Real Madrid starting to lay it on noe and Juve defending but they could break any minute. Mandzukic with an elbow to Carvajal's mouth and he's lucky not to get another yellow.
53'   Dangerous ball headed clear by Chiellini.
52'   Ronaldo wins Real Madrid a corner. He goes arounf Chiellini and Benatia covers for his partner. 
51'   Isco fouled on the break. Real Madrid get a breather.
50'   Matiudi gets the ball stuck around his feet and Real Madrid recover. Ball sent long to Ronaldo. Juventus win it back.
48'   Marcelo loses it again. Douglas Costa strikes.
47'   The two subs combine. Vazquez to Asensio and he's offside. Bernabeu in full voice now.
46'   They are two massive substitutions. We are back underway at the Bernabeu.
Vazquez on for Casemiro. Asensio on for Bale.
Where do Real Madrid go from here? They have to be nervous after Barcelona last night. And they only had one at half-time. Zidane needs to make a few tweaks to ensure that doesn't happen again.
45'+2'   Free for Juventus. No time for that though. Half-time.
45'+1'   Varane gets a head on the cross from the free. Hits the crossbar. So close. Real Madrid continue to apply pressure. 
45'   Ronaldo on the ground now after a cruncher from Chiellini. 
45'   Douglas Costa launches one into the box. Great delivery but Varane heads clear. 
44'   Some really nervous moments for Real Madrid at the back. They eventually deal with it but never convincing. Real Madrid break and Ronaldo hits the ground. No penalty and he should be ashamed for even looking for it.
43'   Khedira with loads of room to run into. He eventually meets a Real Madrid jersey and they win it back but Matuidi wins it off Modric. Could have been a free but ref says no. 
42'   Carvajal with a cross that looked more like a shot but ended up being neither and just went straight into the crowd.
41'   Bale into the box and Ronaldo goes down. Michael Oliver wags his finger and says no chance, Cris.
41'   Another dangerous ball into the box. Real Madrid recover with Casemiro absolutely hoofing it into touch, nearly. Ronaldo passes to Marcelo and he keeps it in play.
39'   Real Madrid try to get themselves back into this. 
37' GOAL! Mandzukic makes it 2-0. This is a clinic of soaking up pressure and then hitting on the counter.
36' Lichtsteiner with a wrestling move on Ronaldo off the ball and gets himself booked. He's complaining but he manhandled him.
35'   Isco growing more influential in this one too.
34'   Buffon stood up well to that and saved. Isco probably should have scored. Maybe. It was a really tight angle.
34'   Douglas Costa with a promising run but Carvajal wins it back. Real Madrid counter like a light and Ronaldo feeds Isco, who misses a one-on-one. Corner!
34'   Real Madrid have definitely recovered after that early blip.
33'   Varane wins it back off Higuain. Real Madrid break. Isco shoots over.
32'   Marcelo into Isco and he loses his footing and the ball. Cesmiro wins it back and sends it out to Isco, who has recovered his balance. He sends it back to Kroos, who is arriving like a train onto the ball. He strikes but it's blocked and Khedira kicked in the head as he rebounds it.
30'   Juve starting to suffer a little but more now. Real Madrid with loads of the ball. Ronaldo fouled now. Lichtsteiner the culprit.
30'   Ready to be crossed in. Kroos sends it in and it lands to Marcelo at the back post. He drives a shoot back towards goal and that rises up and over Buffon's goal. Half-volley, nice contact but wide.
29' Mandzukic fouls Carvajal and the yellow the right-back got earlier is now given to Mandzukic. Definite yellow.
28'   Navas found himself under pressure from Higuain but he stays calm and clears. Real Madrid keep the ball. Bale squeezed out and Juventus win it back.
27'   Modric the man to take the ball and slow things down as Real Madrid settle back into possession.
26'   Buffon launches clear and Douglas Costa fouls Marcelo in the air.
26'   Varane loses possession and concedes a throw.
24'   Fell just nice to Khedira after Casemiro fails to header the ball away. Drives a shot towards goal but it's actually over. Hit it nice and clean but always rising.
22' Carvajal with a nasty one on Mandzukic's ankle. Booked for his troubles too.
21'   Carvajal recovers after Marcelo coughs up possession and can't keep pace with Douglas Costa as he breaks free. Counter broken up well by Carvajal.
20'   Ronaldo fouled by Benatia. Unfortunate for the defender and the Bernabeu want a card but it's not coming.
18'   Bale delivers with the outside of his left and that's headed clear. 
17' Di Sciglio is taken off for Lichtsteiner.
17' Pjanic booked for a foul on Isco. He pulled him back and gets himself a yellow.
17'   Di Sciglia sends one towards Costa and he tries to get there before Navas but can't. 
16'   Lichsteiner coming on for Juventus as Di Sciglio is injured, it looks like.
14'   Corner comes in and Mandzukic knocks it straight into the path of Navas and he saves. 
14'   Again! Ball sent into the box from the right and that's cleared. Corner.
14'   Isco has the ball in the back of the net after a couple of lovely stepovers. Isco finishes but no dice.
12'   Carvajal to Ronaldo and he plays it to Kroos and then Isco but he can't finish. Lightening fast counter attack.
12'   Carvajal crosses but that's way too deep. Ronaldo gives him the thumbs up but it was a poor delivery. Real Madrid back in this game now.
10'   Casemiro clips one towards Carvajal and they attack down the right. Ronaldo backheels to Modric and he finds Bale. Buffon saves and Bale backheels into the side netting. Good chance for Real Madrid. Really good attack and broke down Juventus quite easily. Lovely footwork by Modric.
9'   Bale down the right. His cross is deep to Ronaldo. He takes it down and strikes but it's blocked.
7'   Varane beat by Douglas Costa. He sends it into the box and Higuain almost makes it 2-0! Navas saves.
6'   Modric fouled by Matuidi in the middle.
6'   Juventus back on the ball and try to break Real Madrid down again. Buffon playing around with the ball and eventually picks it up.
5'   Di Sciglio sends a ball across the box and that is a laser. Mandzukic can't get anything on it.
4'   Varane with a foul in the middle and that's a free to Juventus.
3'   They have another chance! 
2'   Ball floated in by Kheira and Mandzukic heads home. 
2' Mandzukic! GOAL! What just happened.
1'   30 seconds in and Real Madrid pressing like crazy. Juventus win a throw. No way Real Madrid letting the visitors settle into this tonight.
1'   We are underway at the Bernabeu.
Real Madrid transform when the Champions League music plays. It just finished and the transformation is complete! Game on. 
    Juventus and Real Madrid in the tunnels and ready for action! Juve wearing their custard yellow jerseys. Real Madrid in their classic white.
Emilio Butragueno says before the game that "the objective is to win in front of our people". So, that's the end of any idea that Real Madrid were going to be happy to sit back and play out a 0-0 draw. Should make things very interesting.
Navas warming up.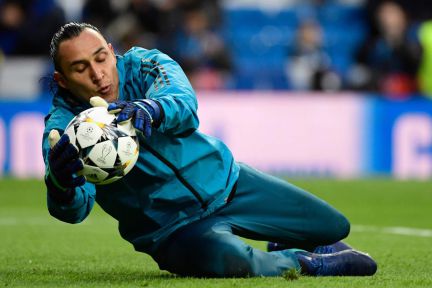 Wonder who'll be the busier of the two tonight. Buffon admitted this could be his last Champions League game recently while Keylor Navas seems to have solidified his place in Real Madrid's future.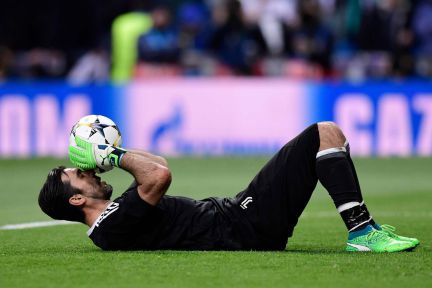 Something else weighing on the minds of Juve players is that they have never scored more than two at the Santiago Bernabeu and need to score three tonight provided Real Madrid don't score - something that also seems unlikely.  Zinedine Zidane's men have racked up 62 goals in 24 home matches so far this campaign, establishing a per-game average of 2.58.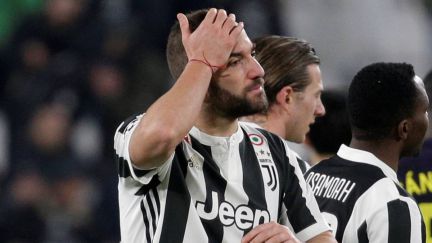 Madrid probably accept that Juventus will score but if they can get one! Varane said during his press conference last night that Real Madrid don't know how to play for a draw. They'll be going to crucify Juventus in order to send a message out to anyone of Liverpool, Roma and Sevilla/Bayern, who might be getting notions for the semi-final.
No surprises in Juventus' side. Pjanic could make a difference in the middle and they'll need plenty of control there if they want to hassle Real Madrid's 3-0 lead. Key for them is testing Vallejo early. If they can unsettle him, they might have a field day. Mandzukic and Higuain will be using all of their knowledge of the dark arts to try and throw him off his game.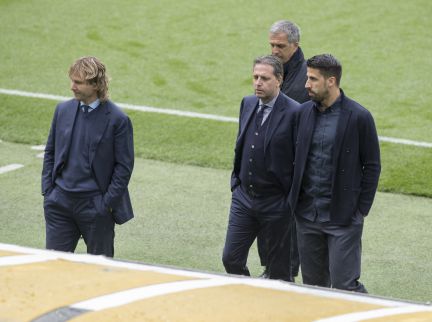 The big news is that Gareth Bale starts ahead of Karim Benzema. It was only a matter of time before Zidane had to accept reality and drop Benzema and Bale has worked his way into the team. It all depends now on whether that trio of Bale, Isco and Ronaldo works and where Bale plays. Does he start as a striker alongside Ronaldo - which hasn't worked in the past - or on the wing with Isco playing in a more advanced role.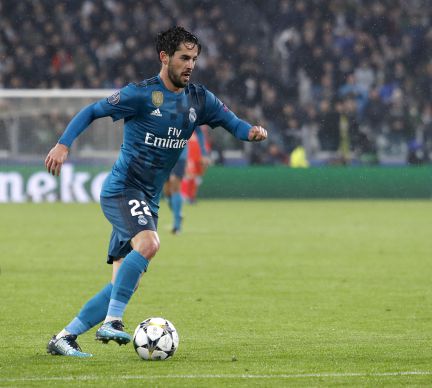 Real Madrid XI: Keylor, Carvajal, Varane, Vallejo, Marcelo, Casemiro, Kroos, Modric, Isco, Bale, Cristiano Ronaldo
    Juventus XI: Buffon, De Sciglio, Benatia, Chiellini, Alex Sandro, Khedira, Pjanic, Matuidi, Douglas Costa, Higuain, Mandzukic.
Hello and welcome to the Champions League quarter-final second leg coverage between Real Madrid and Juventus with kick-off from the Santiago Bernabeu at 20:45. Real Madrid lead 3-0 from the first leg and Juventus have plenty of work to do for themselves! Follow all of our updates and they try their best to turn over that deficit.
Real Madrid vs Juventus live: as it happened
Real Madrid vs Juventus live: preview
It will take something extraordinary to top Cristiano Ronaldo's goal in the first leg as Real Madrid ran out 3-0 winners over Juventus. The Serie A leaders don't have to look to far for inspiration, however, as Roma thumped Barcelona last night to knock the Spaniards out of the Champions League despite trailing after the first leg. Kick-off from the Santiago Bernabeu is at 20:45.
Real Madrid have issues too. Sergio Ramos is suspended, Nacho is injured and Jesus Vallejo is poised to start and play in his first ever game in the Champions League alongside Raphael Varane. Casemiro was an option given Vallejo's own fitness issues but Zidane has faith in the young Spanish defender. Gareth Bale remains on the outside looking in and Isco was rested for the Madrid derby on Sunday with an eye on European football. Modric too, along with Casemiro. Karim Benzema didn't start and Zidane admits that his first choice striker "is having a rough time of it" and might opt for more speed in his side.
Juventus are missing Paulo Dybala after he was sent off against Real Madrid the last time out and Rodrigo Bentacur is also out but Allegri will welcome Miralem Pjanic back into his squad. Giorgio Chiellini says, "For long stretches of the first leg we would have deserved much more than a draw but instead we found ourselves two goals down and a man less". That might be true but they are in the position they are in and need desperately to score the first goal to neutralise the home fans and give Real Madrid a fright.