Five candidates to replace Arsene Wenger at Arsenal
Speculation was rife before the announcement but now that it has been confirmed, the question on everyone's lips is who will be the next manager of The Gunners.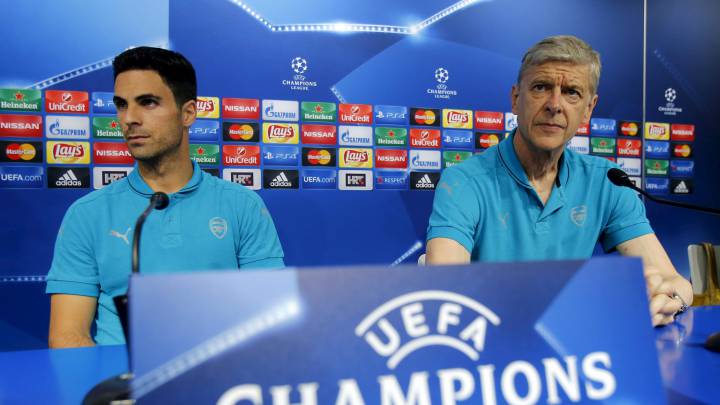 Arsene Wenger, after 22 years in the dugout, will leave Arsenal at the end of the season. This was the official announcement made by the club on Friday morning, less than a week before the Europa League semi-final first leg against Atlético Madrid. So, who is most likely to come into the soon-to-be-vacant managerial role?
Many names have been put forward over recent months and years as potential successors to the successful Frenchman and we consider five of those, some currently in work with other clubs.
Five potential successors to Wenger
Miker Arteta
The Spaniard spent five years with Arsenal, two as captain, and has been touted by many as a solid candidate to take over when Arsene eventually decided to give up his mantle. He knows the club well and maintains a strong relationship with them, and in particular, Raúl Sanllehí, the head of football relations.
Currently working alongside Pep Guardiola at newly-crowned Premier League champions Manchester City, he brings with him a good deal of knowledge despite not having been the number one. Would Arsenal see that as too big a risk to take?
Carlo Ancelotti
After a surprisingly disappointing recent spell with Bayern Munich, the Italian is still awaiting a top offer and Arsenal may be just the one. There have been some reports that contact has already been made between the Gunners and the former Real Madrid, PSG, Chelsea, AC Milan and Juventus manager. Experience is not in question; youthful exuberance and modern thinking could be.
Rafa Benítez
The Spanish coach has a strong reputation in England after his successes with Liverpool, culminating in the 2005 Champions League win in Istanbul, and the good job he is currently undertaking at Newcastle United. He brought the Magpies back to the Premier League and has moved them to a comfortable mid-table position in spite of limited resources. His apparent affinity to the northern city and fans may mean he prefers to push the club to new heights next season but a chance to prove himself again with one of the heavyweights may be too good to ignore. If he has all the attributes to be an Arsenal fan favourite is still in the balance.
Luis Enrique
After the titles won during his three seasons at Barcelona, nine of a possible 13, Luis Enrique chose to take a sabbatical. He could, if the financial package and resources available to him were to his liking, be an appropriate fit although if he indeed is at the top of the club's wanted list then they may face competition from Chelsea and PSG according to various reports.
Brendan Rodgers
The former Liverpool manager - who took The Reds to the brink of their first Premier League title playing some exciting football - is now strolling to league and cup trophies in Scotland with Celtic. The lack of competition there may see the Northern Ireland manager return south to prove his worth.
There are a raft of other names being pushed around - including Monaco's Leonardo Jardim and Germany's Joachim Löw - although a previous favourite for the job, Thomas Tuchel, seems to be on his way to Paris instead of London. Some have suggested, in light of the latest developments, that Tuchel to Arsenal and Wenger back to his homeland to take on the PSG project has a neat conclusion to it. We'll have to wait and see...