Barcelona vs Real Madrid: Barça didn't do guard of honour so we won't either, says Zidane
Real Madrid coach Zinedine Zidane spoke to the media today ahead of Sunday evening's Clásico against Barcelona at the Camp Nou.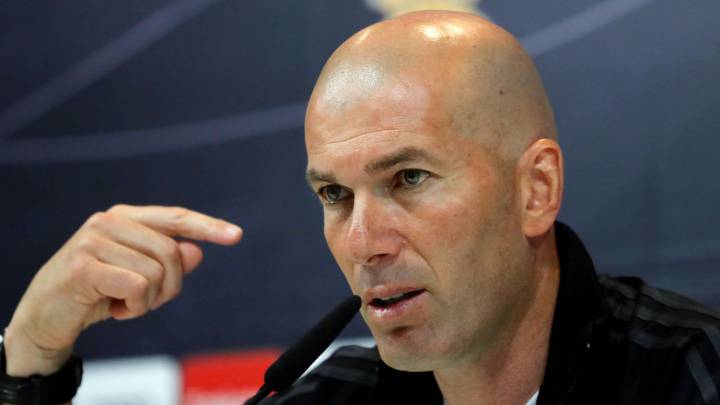 Ernesto Valverde: "This Clásico will be 'decaffeinated' because we've already won LaLiga"
Zidane's pre-Clásico press conference: as it happened
  Unsurprisingly, the key point of interest in Zidane's press conference was the guard of honour issue - and the Real Madrid boss really couldn't have been more categorical, explaining that Barcelona won't be getting one because they didn't do likewise for Los Blancos after their Club World Cup win in December. Thanks for reading!

And that's your lot from Zizou!
Avoiding injuries in Clásico: "We can't think about that. We have to focus on the game and on playing with intensity. It's true that this year, because the title is already decided, there is less expectation, but that's normal. Before the match it's like that, but when the game starts I don't think that'll be the case."
  What does the Camp Nou have that particularly motivates your players? "Nothing in particular. It's another game, but against Barcelona it's normal for there to be more motivation. Lately our form has been good there, but things change."
Has Real Madrid's league season been a flop, regardless of the outcome of the Champions League? "No, it's hasn't been a flop. It hasn't been a good season in LaLiga; thats true. Particularly our start to the season."
Is it more important for you to win LaLiga than the Champions League? "It's more difficult. I've always said that: it's more difficult."
  Guard of honour for Barcelona: "After the Club World Cup, it wasn't important for them to give us a guard of honour. It's said that they weren't in the competition, but that's not true. You get into it through the Champions League [which Barça were in]. They didn't give us one. What's most important is respecting what they've done: They've won the double and I respect that, and I congratulate them on that. We're not going to do something they didn't do."
  On Sergio Ramos: "Sergio is our leader, our captain. To say that he's important for everyone is an understatement. He's an example of commitment who motivates everyone around him. I'm pleased to be able to share in some of his career with him."
  With the Champions League final coming up,  will you be keeping certain players back? "No, not at all. I'm not going to think about that. If that were the case, there'd be no point playing tomorrow or in our remaining league games. If a player isn't at 100%, though, he won't play; but as for the rest, they'll play as always."
 On Isco and Varane, who have been carrying niggles: "It's a game in which three points are at stake; the outcome of the league isn't going to change, but we have to do everything to win. As for the players who have had niggles, if a player isn't right then they won't play, but we have enough squad depth to replace them."
 You've said there'll be no guard of honour, but will you pay tribute to Iniesta in any way? "He's a player we admire and who isn't just any other player - we all know what he's done and the type of person he is. We can only congratulate him and wish him all the best of luck for the future."
Zidane: "We're in good shape, we've rested well and we're ready for tomorrow's game"
And out comes Zidane!
Good afternoon! Join us for live updates from Zinedine Zidane's press conference ahead of tomorrow night's Clásico against arch rivals Barcelona!
Zidane's pre-Clásico press conference: preview
Fresh from securing a third straight Champions League final place, Real Madrid visit arch rivals and freshly-crowned Spanish champions Barcelona in the season's second LaLiga Clásico on Sunday (20:45 CEST). Will Los Blancos give Barça a guard of honour? (In a word, no.) Can they scupper the Catalans' hopes of managing the first unbeaten league campaign in Spain since they themselves did it back in the 1930s? Expect such juicy topics, and more, in Zidane's pre-match press conference at Real's Valdebebas training ground today, from 12:45-ish.