BARCELONA VS REAL MADRID
Valverde: "Clásico will be 'decaffeinated', we've already won"
Barcelona coach Ernesto Valverde confirmed that Andrés Iniesta will train on Saturday, but refused to be drawn on the matter of a guard of honour.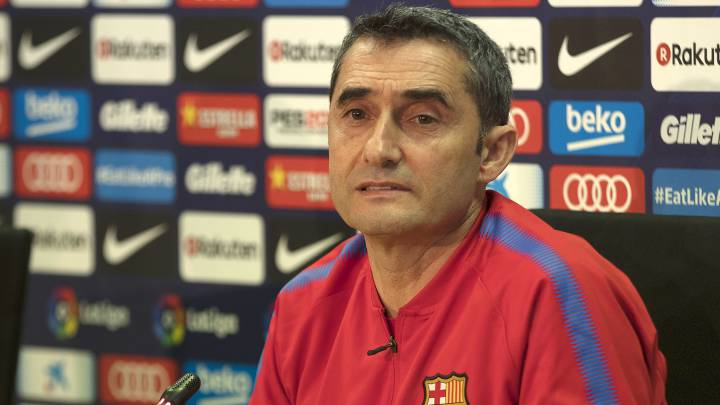 Barcelona coach Ernesto Valverde spoke to the press on the eve of the Clásico against Real Madrid. Valverde discussed the importance of the match given that Barça have already been crowned LaLiga champions, Andrés Iniesta, and whether the Madrid players should form a guard of honour.
Guard of honour doesn't matter to Valverde
El Clásico is el Clásico. How motivated are you for tomorrow?
As you say, el Clásico is el Clásico and it's a significant match in the season. Fortunately we're already champions but there are still a lot of incentives due to what it means for our fans and theirs. It's a match that both sides want to win. We won the first Clásico this season and they'll come here wanting to end our unbeaten run.
The occasion has been marked by Real Madrid's refusal to form a guard of honour. Zidane insists that it's his decision…
We've already spoken a lot about that and it's not particularly important. It's fine, it doesn't matter to me.
Will the match be 'decaffeinated'?
Yes, it will be because we've already won. I'd like all the Clásicos to be decaffeinated like this.
Zidane has said that winning the league is harder than winning the Champions League. Does a double or a Champions League win deserve more credit?
That's down to what each individual thinks. LaLiga, for us coaches, is what tells you how you're doing throughout an entire year. The best team wins at the end. There are more factors at play in the Champions League. Tomorrow we'll face a team that knows how to compete. There are factors you have to control in the Champions League, you have to make sure you have luck on your side. Sometimes in the Champions League there are more teams in the mix to win it. When you give things value you always think about the things you've lost. We appreciate and value that Madrid have got to the final, and they'll also value what we've done.
Would you understand if Zidane makes changes?
The final isn't too far away for Madrid, but what they do is their problem.
Iniesta appreciate by all
As it's such a big match, should Andrés Iniesta be publically recognised?
I understand what you're saying about the importance of the game, but it's not the last game of the season. And I don't know if Andrés is going to play tomorrow. He has recognition from the people, from every fan because of what he means to Barça and Spanish football. You notice it in every stadium. We still don't know when Iniesta's final game will be.
How did Iniesta tell you that he was going to leave?
He told me about a month or six weeks ago and obviously I wasn't going to say anything. It was something he thought about a lot. When someone with such experience tells you this, you don't try to convince them otherwise or tell them to think about it. Everyone knows where they're at and he's not a young player.
Do you think Iniesta will play?
We hope he'll be ready. He took part in some of the training session yesterday and he'll do all of it today. I'll speak to him and see how he's feeling. If he's doing well and feeling solid, he'll be available. But he knows the level you have to be at in games like this.
What are Barcelona playing for tomorrow?
To keep the run going, to stop them winning, to beat them. We're up for el Clásico regardless of whether it means we'll be champions. We know about the repercussions and how important it is.
What would you have preferred at the start of the season, the double of the Champions League?
Ask me at the start of next season, I don't know. Coaches who have a bad time of it in LaLiga don't finish the season, like what happened with Berizzo. LaLiga lets you know how you're doing, it's a barometer. In the Champions League, one moment, just one, and you're out, like what happened to us this year.
Does Luis Suárez have to be careful with what he's been saying about Griezmann?
I've got no doubt that he was talking figuratively because we're all respectful. Nobody is taking for a fact something that we don't know will happen.
Do you want Liverpool to win the Champions League?
Let the best team win.
LaLiga Santander
*Update 5 de mayo de 2018



LaLiga Santander
*Update 5 de mayo de 2018