Liverpool and Salah show signs of exhaustion in the final stretch
Jürgen Klopp's Premier League side have not yet secured a place in next season's Champions League and have two games to avoid a major disappointment.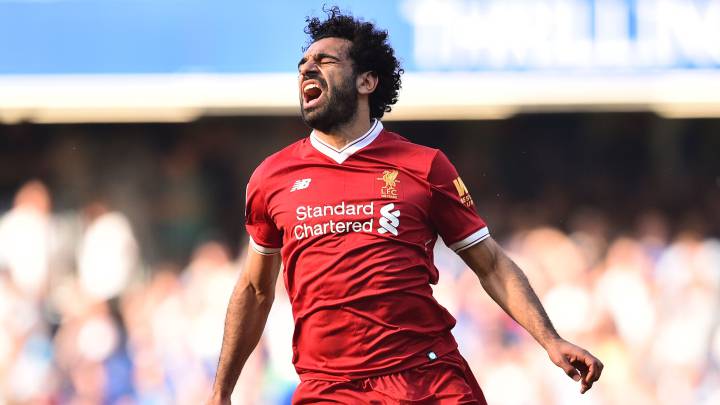 Rather than describing the differing scenarios that Liverpool are facing, their surprising situation after the loss to Chelsea is summed up in one sentence: the final league match against Brighton is their most important of the season so far. Win that and they are in the Champions League. If not, they will be depending on the results of Chelsea and Tottenham. Overcoming Real Madrid in Kiev would also qualify them for Europe's main competition. Two games will define a campaign that has had its ups and downs, but one that has also been full of praise. "This is my life," Klopp said. "Everything is decided at the last minute."
Three into two: Chelsea, Spurs and Liverpool
Chelsea have to play on Wednesday at home to Huddersfield, a team fighting to stay in the Premier League, and then will finish the season at Newcastle, a team with nothing significant at stake. Tottenham also face Newcastle, at Wembley on Wednesday, and then finish with a trip to Leicester City.
Either way, it's worth remembering that Liverpool have not lost at Anfield in the league this season (the only team not to have lost at home) and Brighton, who ensured their stay in the Premier League after beating Manchester United, have the second worst away record, with only two wins and 11 points in 17 games. This is a repeat of last season for Liverpool, who appear tired and are suffering a loss of freshness from Mohamed Salah who has gone three games without scoring. They have left everything right to the last moment, just as when they needed to beat Middlesbrough to secure fourth spot 12 months ago.
Rafa's Liverpool set Champions League precedent
If The Reds do finish fifth and then go on to defeat Madrid they would repeat the situation of Rafa Benítez's Liverpool. The manner in which his side beat AC Milan in the 2005 final, famously down 3-0 at halftime, fueled pressure on Uefa to see their efforts rewarded with an additional participant given the chance to defend their title, which previously hadn't existed. Since that season, the European Champions have always played the following year. With the Premier League done and dusted, Liverpool will travel to Kiev...