Champions League final: Real Madrid 3-1 Liverpool match report
Real Madrid won the Champions League for the third time in a row thanks to goals from Karim Benzema and Gareth Bale (2) despite a Mane strike. Jamaica vs USA: Gold Cup live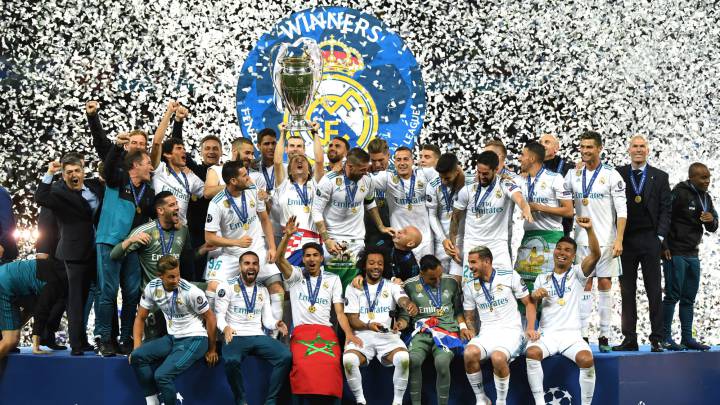 Real Madrid 3-1 Liverpool: match report
Real Madrid won their third Champions League in three attempts thanks to a superb performance from Gareth Bale off the bench that saw him score twice. It was a game sold as Mo Salah versus Cristiano Ronaldo but when the former went off in the first half with a shoulder injury, it was up to someone else to be the hero. And Bale fit the bill.
Liverpool started better than their opponents and had a couple of chances early on as Real Madrid weathered the storm. Sergio Ramos collided with the Egyptian, Salah, and he fell to the ground in tears just minutes after it looked like he would carry on.
The exit of Liverpool's best player gave Real Madrid impetus and they were close on a number of occasions at the end of the first 45. Benzema did have the ball in the back of the next but he was offside in the build-up. And Liverpool survived the scare.
When they appeared for the second half, Real Madrid were even more lethal in attack. Isco hit the crossbar before Benzema pounced on a loose throw by Karius and rolled the ball home in what has to be one of the stranger goals you'll see in the Champions League final.
Sadio Mane, who stepped up when needed in place of Salah, poked home a header as he levelled matter just minutes after the opener.
If Benzema's goal was strange, Bale's was superb. He landed a chilena after coming off the bench to give Real Madrid the lead yet again and with minute remaining, he drove a shot towards the German keeper and it slipped through his hands.
That's how it would end for Real Madrid as they claim three in a row and 13 European Cups in total in their history.
Champions League Final, Real Madrid vs Liverpool live!
90'+3' GAME OVER! Real Madrid win their third Champions League on the bounce. Incredible scenes.
90'+3'   A pitch invader ruins Ronaldo's chance to score at the death. 
90'   Cross comes in and Real Madrid deal with it. They're in control now. A foul by Van Dijk on Bale. Another few seconds off the clock. 
88'   Firmino fouls Nacho now. Every foul a sign of frustration for Liverpool. 
87'   Madrid just holding the ball now.
87'   You'll Never Walk Alone rings out around the stadium but it's over for Liverpool, you'd had to think!
85'   Bale breaks free and has Ronaldo to his left but he wants a hat-trick. 
84' Karius with a howler. Bale scored. And that is game over. What a poor mistake from the goalkeeper.
83' Milner replaced by Emre Can. 
82' Ramos goes down under a challenge from Mane. Yellow for Mane. Fruatration from the attacker.
80'   Ball into the box and it bounces nicely for Benzema. He strikes and forces a really good save from Karius.
78'   Milner with the ball on the left and he doesn't know what to do with it. Loses it before Liverpool win it back.
78'   Liverpool with some possession now but no breakthrough yet.
77'   Modric picked off. Liverpool trying to counter.
76'   Hand ball by Lallana as he tries to break. Linesman flags it, who had a really good view of it.
76'   Offside. It was sent to Bale but four Real Madrid players were offside.
75'   TAA catches Nacho with his foot and Real Madrid with a free to cross in.
74'   And Ronaldo breaks. He shoots but that's deflected out for a corner. Robertson the man.
73'   Offside. Shot comes in after Firmino kicks it off Casemiro's arm. Liveprool want a penalty but absolutely no chance. Navas gathers the shot, which was offside anyway!
72'   Ronaldo takes the ball down the right and Van Dijk sees him off. 
71'   Navas grabs the corner.
70'   Mane hits the bottom of the post. Navas stretching and didn't have that one. Corner as it took a deflection.
70'   Ramos punches the corner away.
69'   Ramos covers and puts out for a corner as Mane lurks. Ramos down with a cramp but he's okay.
68'   Ball into Mane but Ramos covers and puts it out for a corner. 
65'   What an impace. How do Liverpool come back from that.
64' Bale with the goal! He finishes a Marcelo cross with a chilena. What a finish! No chance whatsoever for Karius. 
62'   Isco was almost playing as a striker before he went off. Let's see how this changes things for Real Madrid. Bale played inside to start beside Benzema.
61' Isco replaced by Bale.
61'   Van Dijk heads the corner clear.
61'   Cross and Isco wins it. shoots and Karius saves. 
61'   Real Madrid building again.
60'   Couple of crunching tackles now. Modric gets cleaned out by Robertson but he got the ball.
59'   Navas cleards as Firmino closes in on him.
58'   Mane is down now. Unclear as to what happened to him but he's up and jogging around.
57'   Marcelo cross. Headed out by Liverpool.
57'   Ronaldo and Lovren do battle and the Croatian slides in to put it out for a corner.
55' Mane with a goal. Headed down into the path of the Senegalese attacker. Just like that we have two goals. 
54'   Cross comes in from Liverpool and Varane heads just out of Firmino's reach. Excellent save from the French defender. Corner.
54'   Robertson with a cross and Casemiro fires it into the air. 
53'   Ramos takes a hand to the face and hits the ground. Mane the one who fouled him.
52'   Karius tried to throw it out and Benzema knocked it home. What a mistake that is.
51' Karius drops it. Benzema swoops and slots it home. 
51'   Ball over the top and Karius gathers it.
50'   Firmino with a foul on Marcelo.
50'   Ramos with a long and risky ball across to Nacho. throw for Liverpool. They can't keep it though and are struggling.
49'   Ball into the box again and Real Madrid have really started this second half well.
48'   Isco lofts one over Karius from Marcelo and then a deflection. Hits the crossbar! So, so close. 
48'   Benzema with a really dangerous ball into the box. Karius gathers. 
47'   Benzema wins it and plays it back. Real Madrid attacking again. 
47'   Robertson with a ball into Mane and he backheels before Modric recovers.
46'   No changes for either side.
46'   We are back underway in Kiev. Liverpool win a goalkick.
Two teams are back out now and we are ready for action.
45'+3'   Casemiro and Firmino collide in the air and that's half-time as they recover.
45'+3'   Benzema gets a half a yard and shoots. Wide! He has Karius scrambling. Liverpool crying out for half-time.
45'+2'   Mane wins it off Isco but he's too deep to do any damage. Liverpool just trying to get to half-time now.
45'+2'   Kroos sends it in and that's headed out by Robertson.
45'   Marcelo down the left and TAA comes in to put it out for a corner.
45'   Three minutes of added time.
45'   Nacho with a shot. Ball came in at the back post and the sub drives it into the side netting with the side of his boot.
44'   Ball into Mane and he has absolutely no chance of getting to that.
44'   Benzema down the left now. Marcelo tries to drive forward before Van Dijk wins it off him. Liverpool struggling here.
43'   Benzema has the ball in the back of the net. Offside though. Ronaldo headed the shot towards Karius and he saved but it was Ronaldo who was offside. Close from Real Madrid and Liverpool are in trouble here.
42'   Marcelo with a lovely ball into Benzema and he touches it down to Ronaldo but he can't get his shot away. Real Madrid keep the ball anyway and build again but slower this time.
41'   And then Mane wins it, turns Ramos and cross but Modric wins it and Real Madrid break. Ronaldo with a poor pass into the center. and Liverpool break. Then Real Madrid win it back! This is lively.
41'   Varane tries a ball to Isco but he's offside. 
41'   Mane and Ramos collide. Ramos wins the free.
40'   Ball over the top to Benzema but Van Dijk heads it into his path. Isco and Benzema link up before Liverpool win it back.
39'   Modric down the right and in the penalty area. Tries a cross and that's put behind for a corner.
39'   Liverpool fans booing Real Madrid players in possession.
38'   Real Madrid dominating posession now. 
37'   Milner with a ball over the top and Lallana can't get to it before Navas does.
37' Nacho replaces Carvajal.
36'   The game was tipping along just nicely and now two long stoppages for two injuries. Heart-breaking stuff. 
35'   Carvajal is down injured and he's crying.
34'   Ramos with a long ball across to Carvajal. 
32'   Real Madrid definitely encouraged after the sub of Salah. They're growing in confidence.
32'   Ball into the box and Benzema gets a shot away. Blocked with loads of Liverpool jerseys around him. 
32'   Benzema plays it to Modric and he shots but Robertson blocks it.
31' Lallana replaces Salah. Not ideal for Liverpool but let's see how they react. Can Real Madrid get back into this one. 
30'   Salah goes off.
29'   Salah can't continue. His shoulder is at him and he is crying.
29'   Corner comes in and it's a free out to Real Madrid.
28'   Mane down the left and he wants a corner. He gets it! 
27'   Marcelo gives the ball away to Salah, who has just recovered and come back on.
26'   Salah seems to have hurt his shoulder. He was pulled down by Ramos but it was just an accident, it seems.
25'   Marcelo tries to win a throw but ref says it's Liverpool theow. 
24'   Liverpool with more chances to start this one. Real Madrid, if it was anyone else, might be worried! 
23'   Two shots! Firmino with a shot that's bloked and then TAA shoots as Navas makes a really good save.
22'   Long ball into Mane and Firmino. The Brazilian heads it towards Mane but Ramos recovers.
22'   Carvajal fouled by Milner. The right-back stays down and the ref has a word with Milner. Not much in it really.
21'   Isco fouled by Salah as he tries to find a route out of the middle.
21'   We have an injury. Wijnaldum has an issue but he's okay. 
20'   Allez, Allez, Allez coming from the Liverpool fans.
20'   Navas with a clearance and that's over Marcelo's head.
19'   Corner comes in and Van Dijk heads it over. Navas out and trying to punch it away but the big Dutch defender got to it first. 
18'   That's when Liverpool are dangerous too though. Mane breaks and has Salah over the top. Doesn't find him. Liverpool win a corner in the end.
17'   Milner loses out to Marcelo and Real Madrid on the attack again. Isco on the left and finds Ramos. Isco sends the cross in and Liverpool clear.
15'   Another break dies with an Isco mispass. Real Madrid win it back and attack down the right. Carvajal won it back and fed Ronaldo. The Portuguese blazes over! That was really close and a snapshot of how dangerous Real Madrid can be. Not that we needed it.
14'   Real Madrid manage a break but Kroos passes it well behind Benzema. Klopp with a big clap for his players. That's a lack on concentration from Real Madrid.
14'   TAA with a cross after some pressure from Liverpool. Navas punches it away. Liverpool all over Real Madrid here.
13'   Kroos fouls Mane as Liverpool look to break. No card. Probably more unlucky than anything else.
13'   Isco kicks Mane in the head. Looks like the Liverpool player had his head too low. 
12'   Ramos with a couple of quick passes. Isco dropping deep as he tries to influence the game. Liverpool really well set up.
11'   Benzema took a knock and doesn't look very comfortable but he'll be alright.
11'   Marcelo strikes but he pulls that one well wide.
10'   Mane down the left and he wins a throw. Mane drives down the wing again and Firmino can't get clean contact on the pass back to him. Real Madrid recover.
9'   Cross comes in and Firmino gets his angles wrong and heads it wide. Or else he just connected too well with the ball. Either way, it's a goalkick.
8'   Alexander-Arnold almost in around the back now and Navas comes out to save. Brave from the Costa Rican.
7'   Ball in behind from Milner as he finds Firmino and he looks for Mane. Varane's speeds sees him recover. Marcelo clears. Close though!
6'   Real Madrid with very little time on the ball but they get some now. No room in front of them though.
6'   Nicely worked and Milner plays to Salah. Salah shoots but Modric blocks.
5'   Milner and Salah stand over it. They're sussing this one out between themselves. 
4'   Marcelo fouls Salah. Looks like he bought that free for himself. Referee having none of it from Real Madrid players.
4'   Ball in from Alexander-Arnold and Real Madrid put it out for a throw.
3'   Salah with a ball towards Mane and he shoots. It hits off a few players and Real Madrid clear. Liverpool have started better, maybe?! Hard to tell.
3'   Isco's offside but that was a lovely ball into the box. Karius punches away.
1'   Ronaldo fouled by Lovren down the left hand side.
1'   Salah with a poked ball towards Mane and Varane recovers in the penalty area.
1'   Liverpool get us underway! The 2018 Champions League final has begun.
Ramos and Hernderson up for the toss and we are nearly ready for action.
    Lovren with a kiss for Modric as he passes him as the teams shake hands. THIS IS IT!
The teams take to the field to the Champions League anthem. Salah looks a bit nervous. Ronaldo is locked in.
    Anyway, back to why we're here. Ronaldo and Klopp and Ramos and Henderson in the tunnel and their focus is incredible. Big smile from Klopp.
So, Dua Lipa is on the stage and it's very weird and out of place. Every single final we do now, we say the same. Ridiculous.
Bale didn't warm up in the final last year either having missed out on the starting XI.
    Klopp trying to psych Liverpool out of it. He's standing watching Real Madrid's players warm up. Classic Klopp.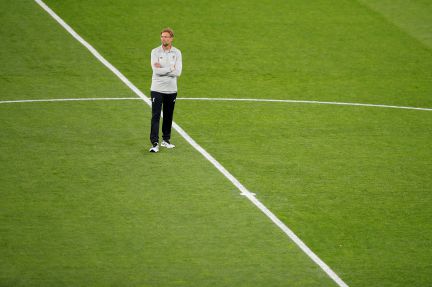 Bale obviously upset about not starting as he doesn't join the subs to warm up as they come out in Kiev.
Real Madrid have played against English opposition 37 times. 15 wins, 11 draws, 11 losses. Their worst record is against Chelsea having played them three times and never won - two losses and one draw.
    Klopp has played Real Madrid six times, won three drew one and lost two. In four of those games, there were three goals or more. 
Zinedine Zidane may have enjoyed a chuckle when a question during his pre-match press conference was slightly mistranslated to ask whether he thought he was a better player than Jürgen Klopp - "maybe a bit better," the Frenchman smiled - when the pair's coaching qualities were the poser in point. We'll find out this evening who is the better coach, at least over 90 or 120 minutes in Kiev, but Klopp could hit a volley with the best of them as a player as well.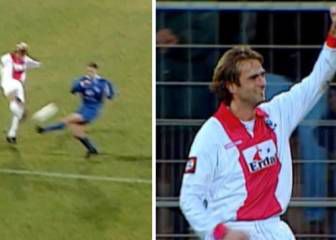 The Ballon d'Or could be at stake tonight too.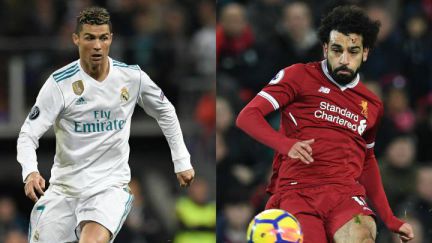 The one thing you'd say about Bale on the bench is that he is far more effective than Benzema coming on. If he doesn't start the Benzema is not going to turn a game around.
Real Madrid won't get to keep Ol' Big Ears if they win their third consecutive Champions League and here's why...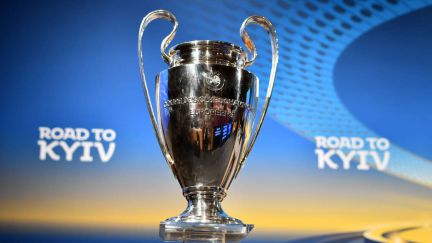 Liverpool XI: Karius; Alexander-Arnold, Lovren, Van Dijk, Robertson; Milner, Henderson, Wijnaldum; Salah, Firmino, Mane.
    Real Madrid XI: Navas, Carvajal, Ramos, Varane, Marcelo, Casemiro, Kroos, Modric, Isco, Benzema, Ronaldo.
Cadena SER are reporting that Gareth Bale has been dropped for the Champions League final and the front three will be Isco, Benzema and Ronaldo.
Lots of Spanish media are now suggesting that Gareth Bale has been left out of the starting XI. 
There have been three red cards in European Cup finals and they all came in the last 12 years. Lehmann, Drogba and Cuadrado the culprits. 
Quite a few players have represented both sides in tonight's final, with varying degress of success in Madrid and on the banks of the Mersey.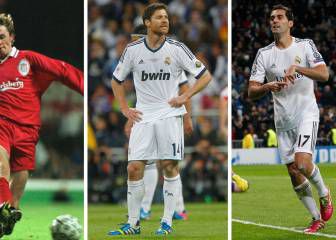 Our resident referee Eduardo Iturralde González is full of praise for tonight's referee Milorad Mazic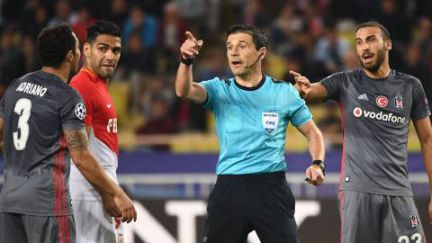 Our very own Tomás Roncero, the world's biggest Real Madrid fan, is in Kiev, soaking up the atmosphere in the fan zones.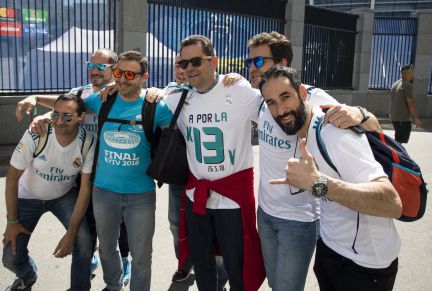 Four years ago Ronaldo was left absolutely raging at Milorad Mazic after Portugal were dumped out of the World Cup by Germany, losing 4-0, after some controversial decisions from the Serbian referee (including a red card from Pepe after Müller clutched his face dramatically). They meet again tonight, with Mazic in charge of the Champions League final.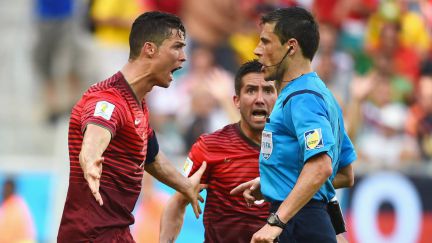 Good afternoon! Join us for live build-up to tonight's Champions League final!
Champions League Final, Real Madrid vs Liverpool: preview
Two European heavyweights. On trophy. Real Madrid are aiming for their 13th and Liverpool their 6th. All eyes are on Kiev on Saturday 26 May as the Spaniards, who have dominated the competition recently, take on the English side, who have tasted their own share of sucess in Europe. Kick-off from the Olympic Stadium in the capital of Ukraine is at 20:45 CEST. The talk leading up to the Champions League final has been about Mohamed Salah and Cristiano Ronaldo and the two do look like they will be fighting for a Balon d'Or in a few months. The two players have even been compared but Ronaldo says they are very, very different.
Zinedine Zidane would give nothing away when discussing his Champions League final team in the build-up. After Ronaldo, Isco and Bale started in the final game in La Liga against Villarreal and played well, it looked like they would start as the front three. But nobody seems sure. He has a full compliment of players to call on and Sergio Ramos says they will leave their souls on the pitch when the idea that Real Madrid might not be as hungry as Liverpool came up.
Liverpool have just two injuries with Joe Gomez and Alex Oxlade-Chamberlain out for the final. Meanwhile, James Milner and Emre Can returned from injury recently to enter the squad for the Champions League final. Klopp laughed off claims that neither he or Zidane had a clue what they were doing regarding tactics. Everyone expects it to be a high-paced final given the German's track record for high pressing and that alone will make it a tactically interesting battle. He stopped Ronaldo once before with Borussia Dortmund and he explains the method he used to do that before the game and it might just work again althought you suspect he has something novel up his sleeve.